See All 5 of Utah's National Parks on One Memorable Road Trip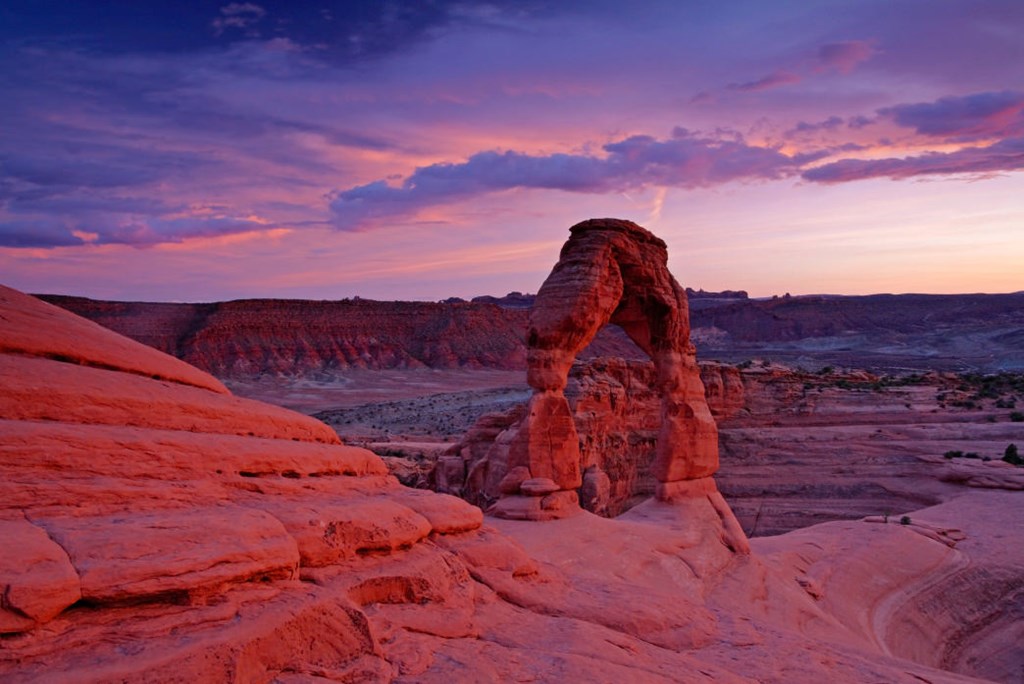 Each year, millions of travelers venture to the Beehive State to explore these surreal sights for themselves, and while you could spend weeks exploring Utah's Mighty 5 parks, you can hit the highlights in just over a week.
Towering red rock hoodoos, vast panoramas, and colorful sandstone cliffs in otherworldly landscapes are just a few of the geologic wonders you can expect to see in Utah's five national parks. Each year, millions of travelers venture to the Beehive State to explore these surreal sights for themselves, and while you could spend weeks exploring Utah's Mighty 5 parks, you can hit the highlights in just over a week.
Start your road trip in Salt Lake City, then make your way to the red rock wonderscapes of Arches and Canyonlands, on to the natural bridges and arches of Capitol Reef, see the kaleidoscopic hoodoos of Bryce Canyon, and finally wrap up your trip amongst the sandstone canyons and emerald pools of Zion.
Don't worry about looking for hotels or trying to find a nearby town—Utah has plenty of KOAs along the way. Whether you take an RV, sleep in a tent, or stay in a cabin, KOAs are found in convenient locations near the parks and have amenities like clean bathrooms, showers, picnic tables, and even swimming pools!
Follow this 8-day itinerary to see the best parks have to offer—with a few scenic bonus stops along the way.
Day 1
Salt Lake City to Arches National Park
Distance: 230 miles
Set off from the picturesque peaks of Salt Lake's Wasatch Mountains for the red desert landscapes of Arches National Park. With the highest density of stone arches in the world—approximately 2,000 sandstone formations—see a few from the scenic 40-mile drive through the park and short walk on access trails to see even more.
Your best bet to see Delicate Arch, the park's most famous landmark, is head out early at sunrise to beat the crowds and the heat. It's worth the 1.5-mile uphill trek to see this Utah license plate icon in real life.
As you drive, look for large formations like the Three Gossips and Balanced Rock. Check out the Windows Trail for the park's tallest arch (Double Arch) and beauties like The Window and Turret Arches.
Closest KOA: Moab
Just 15 minutes from Arches National Park and on the road to Canyonlands National Park, make the Moab KOA your base camp for exploring Utah's red rock desert country. Cool off in the new resort-style pool and camp with class in deluxe cabins.
Day 2
Arches National Park to Canyonlands National Park
Distance: 35 miles
Get an early start toward Utah's largest national park, Canyonlands. This park dazzles with sweeping views of red rock spires and pinnacles and is cut into three distinct districts by the Green and Colorado Rivers: Island in the Sky, The Needles, and The Maze. The backcountry nature of the remote Maze and far-off location of The Needles makes Island in the Sky the easiest one-day visit destination.
You'll sit 1,000 feet above the surrounding landscape on the Island (a.k.a. mesa top), which means stellar views of the desert rock canyons formed by the Green and Colorado River's powerful waters. Make your first stop Mesa Arch and take the easy half-mile trail to a dramatic arch perched on a 500-foot cliff.
Follow the road to its terminus to reach Grand View Point at the tip of the mesa. Follow the simple, accessible two-mile round-trip trail for Island in the Sky's best view, showcasing Monument Basin's spires and river-carved canyons.
Day 3
Canyonlands National Park to Monument Valley
Distance: 130 miles
See one of the largest collections of petroglyphs on your way to Monument Valley at Newspaper Rock State Historic Monument—just 20 miles from Canyonlands. The petroglyphs were carved by American Indian civilizations around 2,000 years ago and feature over 650 designs!
Continue to Monument Valley to experience landscapes that look like they're from another world. The Navajo Tribal Park here (technically it's just over the border in Arizona) showcases rugged desert, sandstone towers and mesas, and the famous Totem Pole, a 500-foot high formation that looms above the land.
Follow a 17-mile unpaved road to see iconic formations, or book a Jeep tour with a Navajo guide on backroads and ancient sacred lands. The park's only self-guided hike, the Wildcat Trail, loops four miles through the Wild West and passes the best-known rock buttes.
Where to Stay: Monument Valley KOA Journey®
Located in the middle of Monument Valley, this KOA has a dog park, RV and tent sites, plus new bathrooms and showers.
Day 4
Monument Valley to Capitol Reef National Park
Distance: 197 miles
Break up today's long drive to Capitol Reef with a stop at Utah's first national monument, the awe-inspiring carved formations of Natural Bridges National Monument. Declared a monument in 1908, the three natural bridges were carved by water and can be seen from a nine-mile scenic drive.
Back on the road, drive through several small Utah towns until you reach Capitol Reef, a lesser-visited national park that is home to the Waterpocket Fold, a multi-colored sandstone rock formed into canyons and reefs.
Drive along the scenic road and see sandstone cliffs, immense red rock towers, and slot canyons that you can hike down into if you need to stretch your legs. Take the dirt road spur into the Grand Wash to see where trekking pioneers once walked and get the same view of Cassidy Arch that they once had. See the massive Hickman Arch on a short, easy loop trail along the road.
Visit the historic Fruit and wander the park's orchards to harvest ripe apples and peaches (when in season). Then visit the Gifford Homestead to see what pioneer life was like. (Don't forget to buy a slice of homemade pie for the road!)
Day 5
Capitol Reef National Park to Bryce Canyon National Park
Distance: 111 miles
Depart Capitol Reef on Scenic Byway 12, Utah's only All-American Road and one of the country's most beautiful drives. Travel through small farm towns, passing alpine forests, aspen stands, and brilliant red rock formations on the way to Bryce.
Break up the day with a stop at Hell's Backbone Grillin Boulder, an American farm-to-table eatery that uses produce from their own organic garden and locally produced meats, and then continue on up Boulder Mountain's famed Hogsback (with sheer drops on both sides) to Grand-Staircase Escalante National Monument. If you have time, stop for a hike and a dip in Escalante's Calf Creek Falls. Pass through tiny Cannonville before arriving in Tropic.
Closest KOA: Cannonville / Bryce Valley KOA Holiday®
Just 12 miles from the park entrance, this campground in Tropic is tucked between the cliffs of Grand Staircase-Escalante National Monument. A quiet basecamp for exploring the area, there's also a pool for lounging.
Day 6
Bryce Canyon National Park
Early morning is a magical time to see Bryce Canyon's majestic hoodoos and spires lit up by the rising sun. Set your alarm clock early and visit the scenic viewpoints to look down into the pink-cliffed amphitheater before the crowds arrive.
Formed thanks to thousands of years of wind and water erosion, the best way to see the hoodoos is up close as the pioneers once did—on horseback. Book a guided three-hour horseback tour down into the canyon's center that visits sights like the Wall of Windows and bristlecone pine trees.
Day 7
Bryce Canyon National Park to Zion National Park
Distance: 80 miles
There's no better place to end your Utah road trip than at the state's first national park, Zion. It opened in 1919 and features a deep, 15-mile long canyon carved into the sandstone by the Virgin River.
The striking rock towers, deep slot canyons, and dramatic viewpoints bring visitors in droves, making it Utah's most popular national park. If you aren't afraid of heights, the single must-do hike in the park is Angel's Landing. Climb nearly 1,500 feet from the canyon floor to reach the apex—a narrow land bridge reached only by grasping onto chains bolted into the rock with sheer drop-offs on both sides. The five-mile trek can take 3-5 hours, but the view of the canyon from the top is worth the effort.
Looking to escape the crowds? Head to the Kolob Canyon side of the park for dramatic views and stellar hikes.
Closest KOA: St. George / Hurricane KOA
The central location of the KOA here makes it easy to access one of the nearby state parks (if you want to stick around for awhile) as well as the amenities in town. But with a pool and mini golf on-site, you might not want to leave!
Day 8
Zion National Park to Salt Lake City
Distance: 310 miles
After eight days of road tripping, you've reached the end of your Utah national park adventure. But if you're driving back to Salt Lake City and looking for one last adventure, make it Zion's Emerald Pools. Follow a red dirt trail to a classic Zion cliff face where a waterfall pours down into a pool below. Turn back here or continue up to the Middle and Upper pools to see colorful rock walls and water surrounded by lush vegetation.
Stop in Springdale for lunch then stock up on souvenirs and gasoline before hitting the road for Salt Lake City.
Closest KOA: Salt Lake City KOA
Whether you're looking to venture into the city at night, or just need a crash pad before your flight home, the Salt Lake City KOA is it. Located near the airport and downtown attractions, you can catch the TRAX light rail from the KOA to either destination.
Written by Jenny Willden for RootsRated in partnership with Kampgrounds of America.
---