As far as fun-filled road trips go, this weekend on the wild side of Pennsylvania and New Jersey is pretty hard to beat.
Few places offer such diverse and exciting road trip opportunities as Eastern Pennsylvania and Western New Jersey, so if you want to experience some of the area's best-kept secrets, then this is the trip for you.
This weekend drive on the wild side features delectable homemade confections and delicious regional specialties, an iconic horror movie location, architectural wonders, and even some world-class hiking along the Appalachian Trail!
Start your trip at Delaware Water Gap National Recreation Area and then follow the handy map at the end of this article.
---
You might not know it, but a big chunk of the Appalachian Trail is located just an hour outside of Manhattan! The Delaware Water Gap National Recreation Area is 70,000 acres of Mother Nature at its very best.
Inside this massive park is a little something for everyone, whether you're looking to kayak down the river on a four-hour float, take a dip at one of the three lifeguarded beaches, hike more than 100 miles of trails, or just enjoy a scenic drive through the beautiful country.
Do any fishing? Make sure to bring your pole. The National Parks Service keeps the fishing areas full of native and stocked game.
Tip: Be sure to check the park's official schedule before your visit. It regularly hosts tons of great events such as yoga retreats, geology hikes, and map-and-compass skill-building events!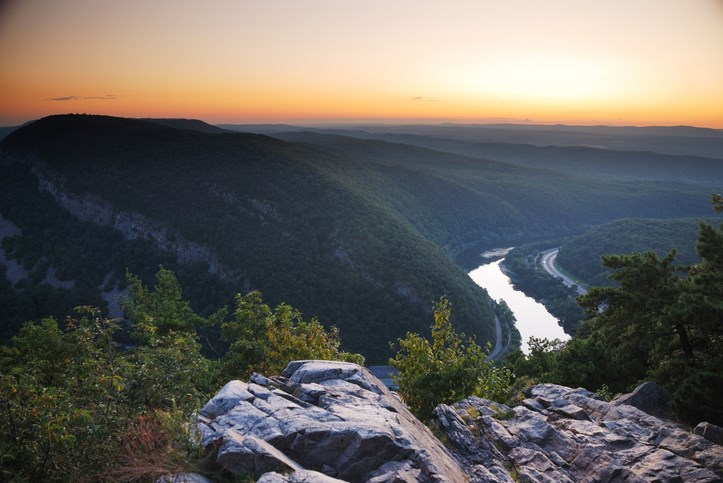 If you're a candy fan (and who isn't?), you can't skip a stop at Callie's Candy Kitchen as you cruise through the Poconos. This little candy shop has a big reputation when it comes to satisfying a sweet tooth with its homemade confections.
With live candy-making demonstrations, loads of free samples, and a sweet selection that would make Willy Wonka jealous, Callie's is the perfect place to load up on snacks before a weekend road trip. Be sure to check out the mini candy museum while you're there!
2. Honesdale / Poconos KOA Holiday
Located just outside of the hustle and bustle of the Poconos' most popular attractions, the Honesdale / Poconos KOA Holiday is the perfect home base for a weekend adventure in Eastern Pennsylvania.
This campground features plenty of space to stretch out, fire pits for s'mores, and loads of activities such as mini golf, fishing, and wagon rides!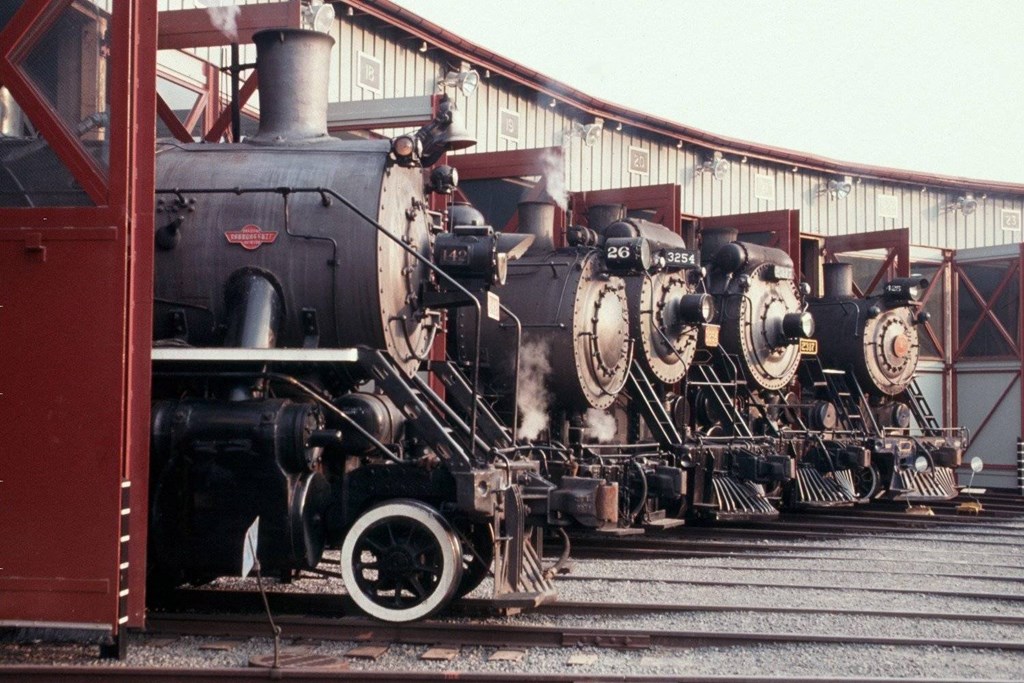 Seeing just how complicated and massive a railroad turntable and roundhouse is, and then considering how busy it must have been when railroad transportation was at its peak, is surprisingly fascinating. At Steamtown National Historic Site, you can get up close and personal with some vintage locomotives and some well-preserved historic buildings that house exhibits dedicated to the importance of railroads in Pennsylvania's history. What better way to kick off a weekend adventure than to appreciate that you get to travel by car and not locomotive?
You can say that your weekend got so wild, you wound up in jail! Okay, it's technically a jail museum, but it's still pretty cool. This nineteenth-century jail was where a lot of "Molly Maguires" (a sometimes-violent Irish-American gang) were held before execution. Keep an eye out for the cell with a mysterious handprint that won't wash away and can't be painted over!
5. Allentown KOA
Allentown KOA, located a short drive from the incredible Dorney Amusement Park, is the perfect place to get away without sacrificing comfort or convenience.
Take part in planned campground activities such as bingo or weekend hayrides, cool off in the pool, and drift off to sleep to the sounds of the peaceful stream that runs through the camp.
On Saturday nights, keep an eye out for the ice-cream truck that makes a lap through the grounds!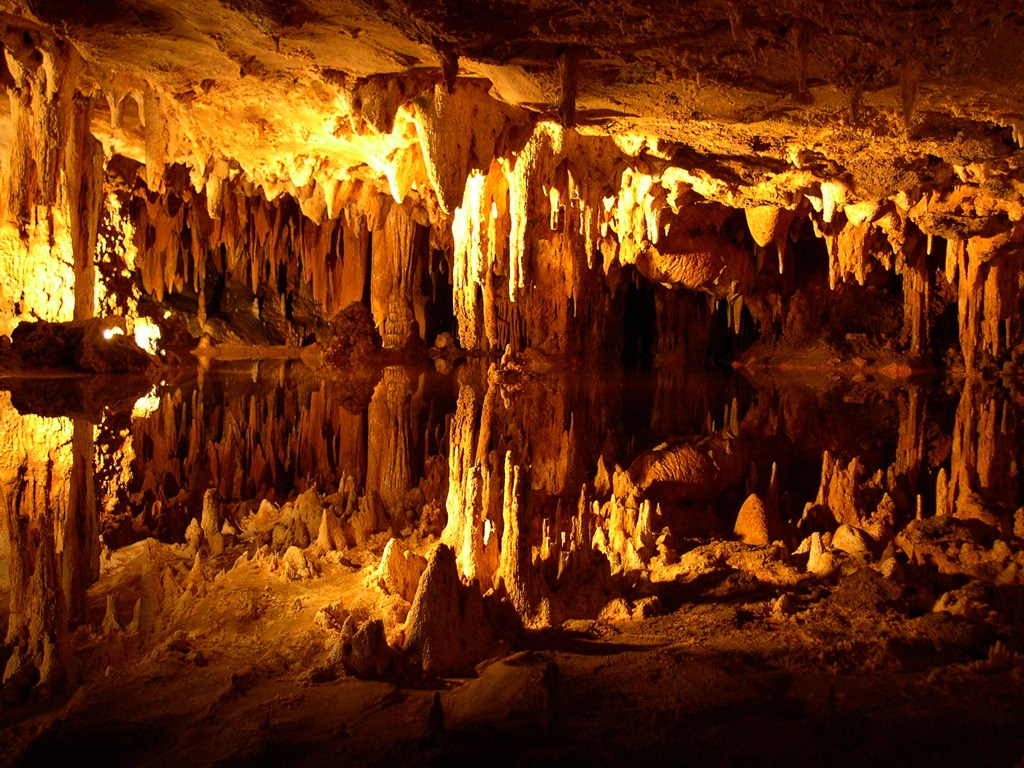 Since 1930, Lost River Caverns has been taking curious visitors deep into the Earth on a fascinating adventure. Knowledgeable guides will lead you on a half-hour, easy-going walking tour of the limestone caverns while filling you in on the history of their discovery and the science behind their origins.
The highlight of the tour is when the guide flips off the lights to show you just how dark and silent the inside of the caverns can get.
On the way out, be sure to check out the gift shop, where you can snag a few shiny souvenir gems and even pan for gold!
Here's a tip: regardless of the season, Lost River Caverns stay around 51 degrees, so plan to visit on a hot day for a fun cool down, but bring a sweatshirt just in case.
For a great meal in a classic Irish pub with a Manhattan vibe, stop into Porter's Pub. Long considered one of the best lunch options in Easton, Porter's Pub has a sizable menu full of juicy burgers, crispy wings, and desserts to die for. They've even got a good selection of meat-free options.
Sure, the food is fantastic, but wait until you see the beer selection. They have so many beer options that they've issued a challenge to repeat customers: If you can manage to try 40 different brews on the member's club list, you'll get your name on a custom beer stein, which will hang from the pub's ceiling in your honor. Get to sippin'!
Tip: Call ahead to make a reservation if you know when you plan on dining. The little pub has a habit of filling up quickly on the weekends.
When it comes to keeping the kids entertained on your weekend adventure, you can't do much better than The Crayola Experience. There are four floors of unique creative activities, so you're bound to have a blast, too.
Set the rascals loose, and they'll have the time of their lives turning melted wax into incredible art pieces, watching their drawings come to life on a massive projection wall, and even creating their very own crayons.
After working up an appetite, head to the cafeteria, where pizza, PB&Js, and other kid-friendly food will keep picky palates happy.
Fun fact: The Crayola Experience is home to the world's largest crayon!
What better way to celebrate your arrival in New Jersey than with the holy grail of hot dogs?
Hot Dog Johnny's has been a local treasure for decades, a status they've earned from their unique take on the perfect wiener: Rather than grilling over a flame, Hot Dog Johnny's deep-fries their dogs in peanut oil. The result is a perfectly crispy hot dog with an exotic flavor you won't find anywhere else.
Pair your hot dog with a side of fries and a local root beer, and you just might start finding reasons to take more weekend road trips near Hot Dog Johnny's.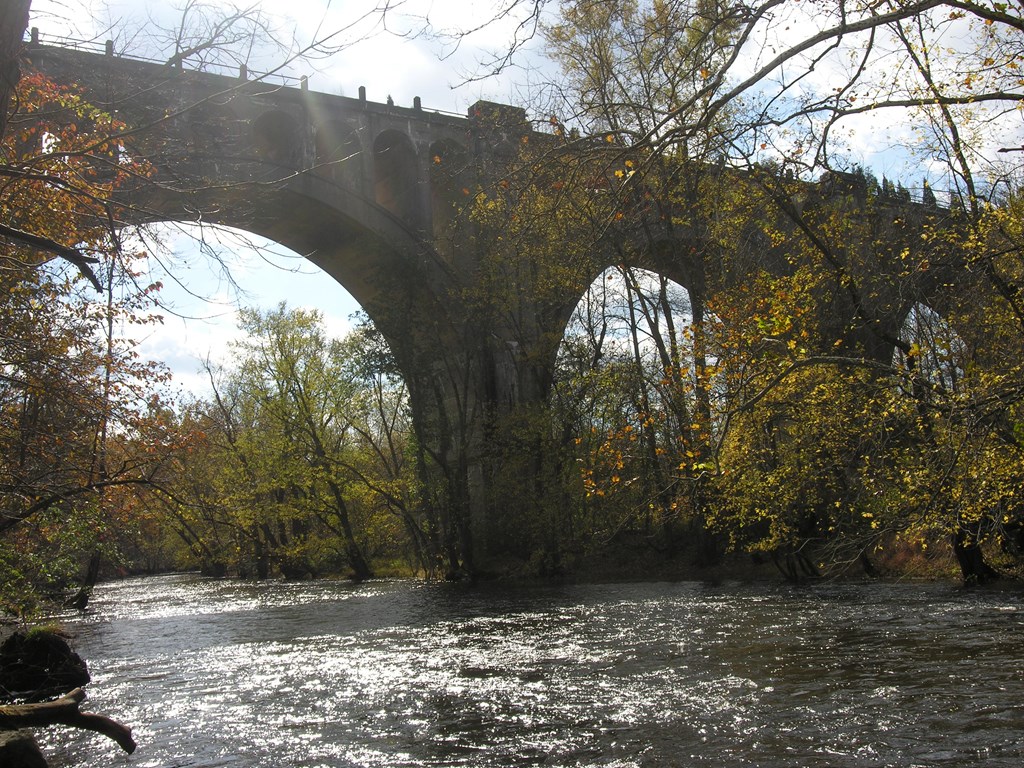 For fans of architecture, a stop at the Paulinskill Viaduct is a no-brainer. This awe-inspiring structure, now abandoned, was considered to be one of the "wonders of the world" when it was built in 1908.
Constructed by the Delaware, Lackawanna and Western Railroad, the seven arches of the Paulinskill Viaduct stretch 1,100 feet across the Paulinskill River. When the rail line went out of business in the late 70s, New Jersey took ownership of the property, and the incredible span has been abandoned ever since.
Today, the trestle is an urban explorer's dream, but mind the "no tresspassing" signs. This hidden gem is best appreciated from the road.
If you didn't know better, you might think that the Blairstown Diner was just another small-town greasy spoon. But horror fans will recognize this diner as a featured location in the original "Friday the 13th" movie!
While you might be inclined to stop just for the photo op, you'll be happy to discover that the food at the Blairstown Diner is just as killer as a movie-screen maniac. In fact, the grub offered up here is well above standard diner fare.
Before you snap a picture of your visit to horror history, grab a stack of pancakes (the best you've ever had), and save room for a slice of pie. The owner has even been known to don a hockey mask and pose for photos!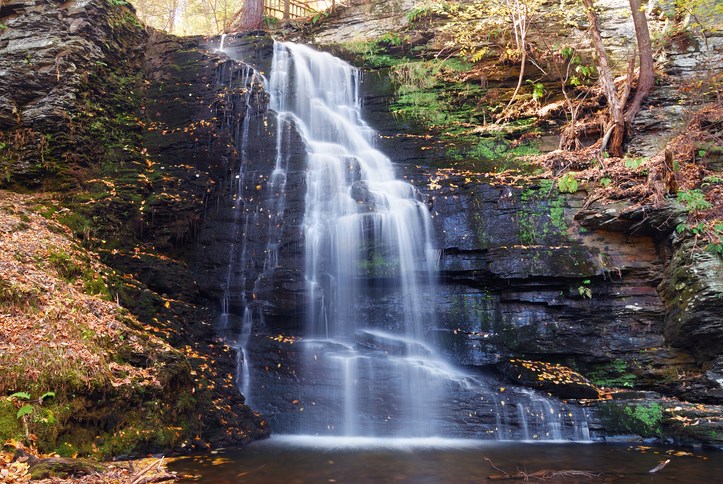 Considered the "Disney World of Hiking," Bushkill Falls isn't just one of the most beautiful parks in Pennsylvania, it's also one of the most accessible.
Whether you're a seasoned hiker or just want to take in the view and stretch your legs after driving in the car for the past few days, Bushkill Falls offers three comfortable treks that will get you up close and personal with the great outdoors. Well-maintained trails twist and turn through the forest, eventually crossing paths with one or more of the park's eight incredible falls.
Bushkill Falls also offers fishing, mini golf, and even several exhibits that cover the history of the falls, the early Native Americans, and the local wildlife.
If hiking a chunk of the Appalachian Trail seems a bit too daunting, head to Dingmans Falls, which acts as a perfect "CliffsNotes" version of the area's best hikes.
With two waterfalls surrounded by massive hemlock trees and babbling brooks, boardwalk-style wooden trails, and hiking loops that you can complete in less than an hour, Dingmans Falls offers all of the stunning beauty of Eastern Pennsylvania.
The best part? Access to the park is totally free.
14. Delaware Water Gap / Pocono Mountain KOA Holiday
Since the 60s, this KOA has been providing guests with a home away from home. In fact, people just can't seem to gush enough about this campground.
Yearly upgrades and additions have helped the Delaware Water Gap / Pocono Mountain KOA Holiday consistently remain one of the area's most highly recommended getaway options.
It's no surprise either, since, on top of the stellar cabins, camping spots, and RV sites, the campground offers a heated pool, regular hayrides, gem mining, pig roasts, and even painting classes for guests!
---
As far as fun-filled road trips go, this weekend on the wild side of Pennsylvania and New Jersey is pretty hard to beat.
Who would have guessed that you could go on an underground adventure, create your very own crayon, eat at a diner featured in an iconic horror movie, and hike the Appalachian Trail in a single weekend?
---
This article appears courtesy of Roadtrippers.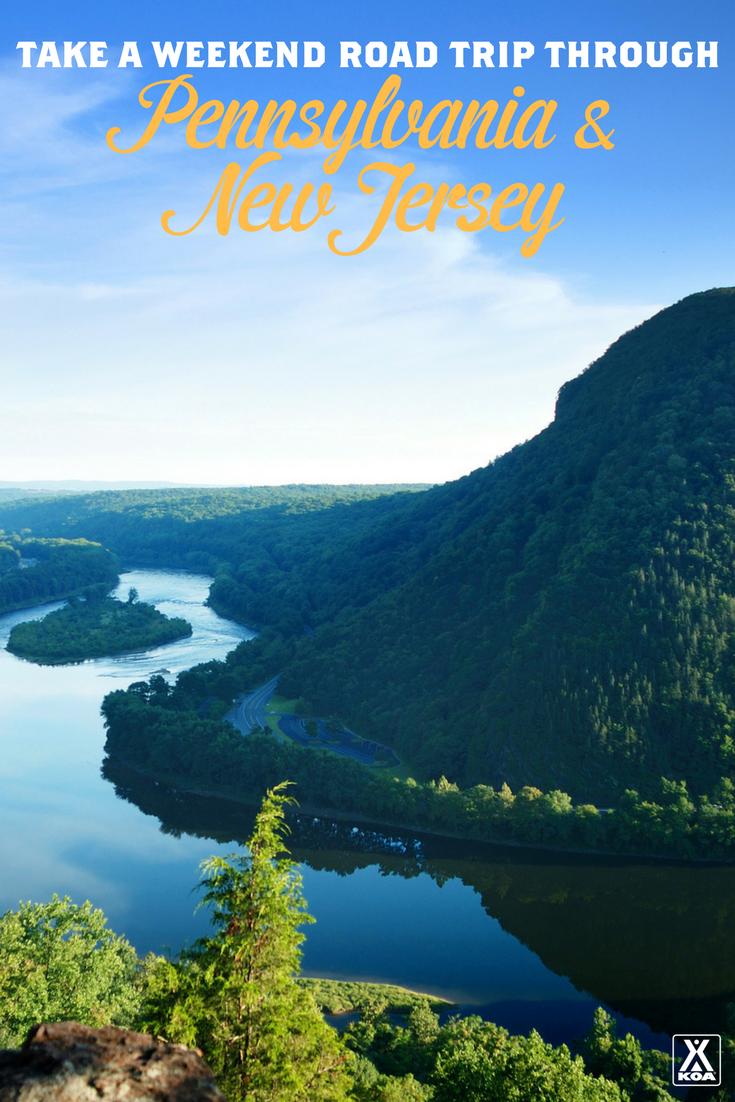 Save
Save