Hit the road and experience some of the most beautiful highways in North America with our list of ten truly stunning road trip routes.
From sea to shining sea, North America has some truly magical scenery. In fact, we could consider ourselves quite spoiled with the vast beauty of things we can see by hopping in our car and heading out on an adventure.
From the colossal Redwood forests, to the swift gulf stream waters, and much more in between, there is little you won't be amazed by when traveling down the road here in North America.
Whether it's a packed highway near Los Angeles, or a completely deserted road in the middle of North Dakota, there is beauty to be found in all of the roads you'll take on a North American journey.
However, there are some particularly iconic drives on this continent that are worth a special visit — a visit to appreciate the stretch of land for all of its glorious reasons.
And we are here to share with you our favorites — what we consider to be the most scenic drives in all of North America. Even better, these drives all have KOA Journey®, KOA Holiday® and KOA Resort® campgrounds nearby perfect for overnight stays during your scenic road trip.
So follow along, grab a notebook, and start planning your next road trip to one of these fabulous spots.
10 Scenic North American Drives

1. 17-Mile Drive | California
Though called the 17-Mile Drive, this one actually measures in at just 10 miles. While we aren't sure where the other 7 miles come in, we are sure that this is a road you need to take.
Branching off of the famous Highway 1, the 17-Mile Drive is privately owned, and runs between Pacific Grove and Carmel via the stunning Del Monte forests. This will be your sneak peek at the highly-coveted, VIP-only Pebble Beach golf community.
Though there is an entry fee to access this road, it is well worth it. The harbor seal sightings and the quiet, stunning sunsets cannot be beat.
KOAs nearby:
Salinas / Monterey KOA
Moss Landing KOA Express

2. Going to the Sun Road | Montana
This 50+mile-long, two-lane road across Glacier National Park is not an easy road to travel. Many years, the road doesn't open until June due to snow and rain that render it completely undriveable.
However, despite the need for the cooperation of the weather, the patience to get you through the slow drive, and the concentration, once you have begun your drive up the Going to the Sun Road, you will understand why it's all worth the trouble.
This road takes you through some of the most spectacular views in the entire Northern Rockies, up to the top where the white peaks of the mountains meet the crisp blue sky, and true beauty is found.
KOAs nearby:
St. Mary / East Glacier KOA Holiday
West Glacier KOA Resort
Whitefish / Kalispell North KOA Holiday

3. Trail Ridge Road | Colorado
Winding up to an elevation of 12,183 feet, Trail Ridge Road takes you through Rocky Mountain National Park via the highest continually paved road in the entire United States.
Not only will you feel on top of the world while driving on this epically high road, you will also enjoy seeing much of the world below you, particularly the wildlife.
Keep your eyes on the road, but also keep them out for bighorn sheep, elk, and deer. An added bonus of traveling this road is that you'll come across the famous Stanley Hotel in Estes Park — the inspiration behind Stephen King's thriller The Shining.
KOAs nearby:
Estes Park KOA

4. Route 12 | Utah
To see the red rocks this state is famous for in all their glory, you want to plan a trip down Route 12.
This road bridges Capitol Reef National Park and Bryce Canyon National Park, and its 124 miles offers a lot more in between than stunning red rocks.
You'll find yourself stopping into the charming real western towns such as Tropic and Boulder, and as well as possibly hopping out on some of the nearby trails for a quick hike.
Though it takes just 3 hours to drive the road, you'll want to plan for much longer than that to appreciate all that this stretch of land has to offer.

5. Blue Ridge Parkway | North Carolina, South Carolina, Virginia
If you're on the hunt for the ultimate Appalachian scenic drive, then this 500-mile long road through the Great Smoky Mountains National Park and Shenandoah National Park will perfectly fit the bill.
Though gorgeous any time of the year, Blue Ridge Parkway is particularly stunning during the fall when the leaves turn. You've never seen leaves like this in your life — and chances are, this will become an annual drive for you.
While on your journey, take some time to appreciate the more than 50 species of birds that live in these parts. Also, stop by one of the mines of the Appalachian Mountains to pick yourself up a gem to take home.
KOAs nearby:
Wytheville KOA Holiday
Fancy Gap / Blue Ridge Parkway KOA Journey
Lynchburg / Blue Ridge Parkway KOA
Natural Bridge / Lexington KOA Holiday
Harrisonburg / Shenandoah Valley KOA Holiday
Asheville East KOA Holiday
Asheville West KOA

6. Sea to Sky Highway | British Columbia
This two hour drive encompasses some truly wonderful sights. In a span of just 100 miles, you'll come across a number of different things that nature has to offer.
From lakes and mountains, to waterfalls and fjords, you are bound to be blown away by all you can see in this short distance.
Be sure to make some stops along the way, including a trip to the Sea to Sky Gondola where you can take in some unforgettable mountain views and snap some pictures to remember.
One of the nicest things about the Sea to Sky Highway is the quality of the road. It was completely redone for the 2010 Winter Olympics, so the smoothness and safety factors of it are a fabulous added bonus.

7. U.S. 1 | Florida Keys
You'll feel as if you've driven right into paradise as you travel down U.S. 1. Say goodbye to the mainland, and head to Florida's famous 120-mile-long island chain, where beaches, bars, and water toys of every kind await.
If you prefer to stick to the road, you're sure to have an equally fabulous time.
U.S. 1 connects all the islands from Key Largo to Key West, and takes you through some magical coral reef parks and across the 7 Mile Bridge, known to be one of the longest bridges in the entire world.
KOAs nearby:
Sugarloaf Key / Key West KOA Holiday (currently under reconstruction)
8. Vermont Route 100 | Vermont
This 200 miles of paved road is quite pristine — in the sense that there are just 3 stoplights the entire way.
The lack of stop lights allows you to soak up all of nature's glory, almost entirely uninterrupted. Green Mountain National Forest will surround you as you drive and the winding road takes you on a journey through the area's beautiful valleys.
In addition to not having to wait at a red light, you'll also appreciate the lack of fast food places. You'll find your fair share of fruit stands and country inns, but no McDonalds anywhere in sight. This road is all about sticking to the basics of nature.
KOAs nearby:
Quechee / Pine Valley KOA Holiday
Brattleboro North KOA Journey

9. Pacific Coast Highway | California
It's hard to make a list of the most scenic drives in North America and not include the iconic PCH. Considered one of the top drives in the entire world, the Pacific Coast Highway takes travelers all the way from Los Angeles up into the northern beauty of California — over 500 miles in total.
You'll follow the ocean the entire way, making this an awe-inspiring drive, but one that is also a bit dangerous. Cliff drop-offs and stretches of road without cell service mean that it's best to pay attention while driving, and let your passenger snap the photos.
But be sure to pull off to the side of the road so that you too can enjoy the scenery of the waves crashing against the rocks, and the surfers hitting the water.
The stops worth making along the way are too many to name, but know that you'll never go wrong with any of the sightseeing along the one and only Pacific Coast Highway.
KOAs nearby:
Manchester Beach / Mendocino Coast KOA
Cloverdale / Healdsburg KOA
San Francisco North / Petaluma KOA
Santa Cruz North / Costanoa KOA
Santa Cruz / Monterey Bay KOA Holiday
Moss Landing KOA Express
Salinas / Monterey KOA
Avila / Pismo Beach KOA
Santa Margarita KOA
Ventura Ranch KOA
Los Angeles / Pomona / Fairplex KOA
Acton / Los Angeles North KOA

10. 89-A | Arizona
You'll feel as if you've time traveled back to the Old West when you set out on 89-A. Chances are good you'll recognize the famous red rocks of John Wayne's classic movies, and you'll certainly feel the elevation gain as you travel up 89-A from Wickenburg to Flagstaff.
This road is the definition of windy, especially when you get up towards Jerome. Once upon a time this was a hot mining spot, and now it's a great little town with a whole lot of character.
Sedona is a town you won't want to pass through without stopping. Pop into a crystal shop to get some healing gems, and head up to Slide Rock where you can slide your way through the cool waters of Oak Creek.
Continue on to Flagstaff, where all of a sudden you'll find yourself among ponderosa pines and in a funky college ski town.
KOAs nearby:
Williams / Exit 167 / Circle Pines KOA Holiday
Flagstaff KOA
If we wanted to cover all the scenic drives in North America, we'd be writing for the next 10 years. The beauty that exists on the roads here is unlike anywhere else in the world.
However, everyone has their favorites, and these are ours. We hope you are able to see for yourselves the beauty of these places, and possibly find some new spots to add to a list of your own.
---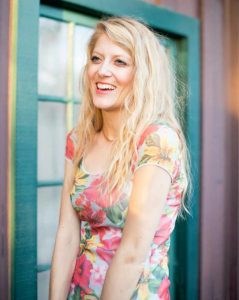 Leslie, a.k.a. Copy Girl, is a copywriter who gets butterflies from telling stories through words.
Her voice comes from a place filled with passion, dreams, and lots of sugar. "Cake over steak" is her go-to motto.
With over 10 years of experience in crafting words, and years of embarking on travels that have taken this Montana girl to some incredible places, Leslie love the adventures of both body and mind her writing takes her on.
Everywhere she goes, she takes this advice with her:
"Hold on to your divine blush, your innate rosy magic, or end up brown." – Tom Robbins, Jitterbug Perfume
To see what Leslie's up to in the writing world, visit her website here.
---