A

diverse landscape, UFOs, Route 66 and more make New Mexico one of the ultimate destinations RV trips.

Whether you're trucking down Route 66 in search of classic road trip stops, observing debris from crashed spacecraft, or diving into the most incredibly blue swimming holes you've ever laid eyes on, this trip will show you firsthand why they call New Mexico the Land of Enchantment, and you can take it all in from the comfort of your RV!
This New Mexico tour starts at a campy museum that's not to be missed.
---
The truth is out there… and there's a good chance you might find it at the International UFO Museum and Research Center!
Full of incredible relics, original news clippings, and stunning displays, this quirky little museum covers Roswell's brush with the extraterrestrial in a fun and interactive way.
Kids will especially love the detailed replicas of the spaceship that allegedly crashed in the New Mexico desert, while adults can explore a library filled with some of the weirdest titles relating to ufology.
There's also a gift shop where you can snag some alien-themed goodies, and the staff will even mail a postcard for you, so your friends will know you haven't been abducted while camping out.
Fort Sumner's Billy The Kid Museum is dedicated to the famous outlaw, but you might be surprised to discover that it's so much more than a memorial.
The museum, family-owned since the 50s, houses tons of great artifacts like Billy the Kid's actual rifle, but it's also home to more than 60,000 historical items from the local area. You'll find fossils, old horse-drawn wagons, antique kitchenware, and even a big collection of classic cars!
To top it off, just outside of the museum sits Billy the Kid's grave, fittingly, covered in steel bars.
The best part? All of this only costs a measly five bucks!
For an authentic Route 66 diner experience, pull into KIX on 66, where the chrome tables, jukebox full of 50s hits, and classic diner grub will transport you back in time.
This place is so authentically 50s, that it's regularly used as the setting for pin-up photo shoots!
You can't take a trip down Route 66 without grabbing a few souvenirs, and Tee Pee Curios is the best place to do it. Sure, it might look the part of a classic tourist trap (which is half the fun of visiting), but once you step inside, you'll see that it offers more than just novelty mugs and kitschy key rings.
Not only does Tee Pee Curios carry a huge supply of higher-end gifts and unusual finds, but it's also one of the few shops along Route 66 that has a Southwestern Association for Indian Arts certification, meaning that it sells authentic American Indian crafted items, not mass-produced knockoffs. Load up the RV with souvenirs for everyone back home!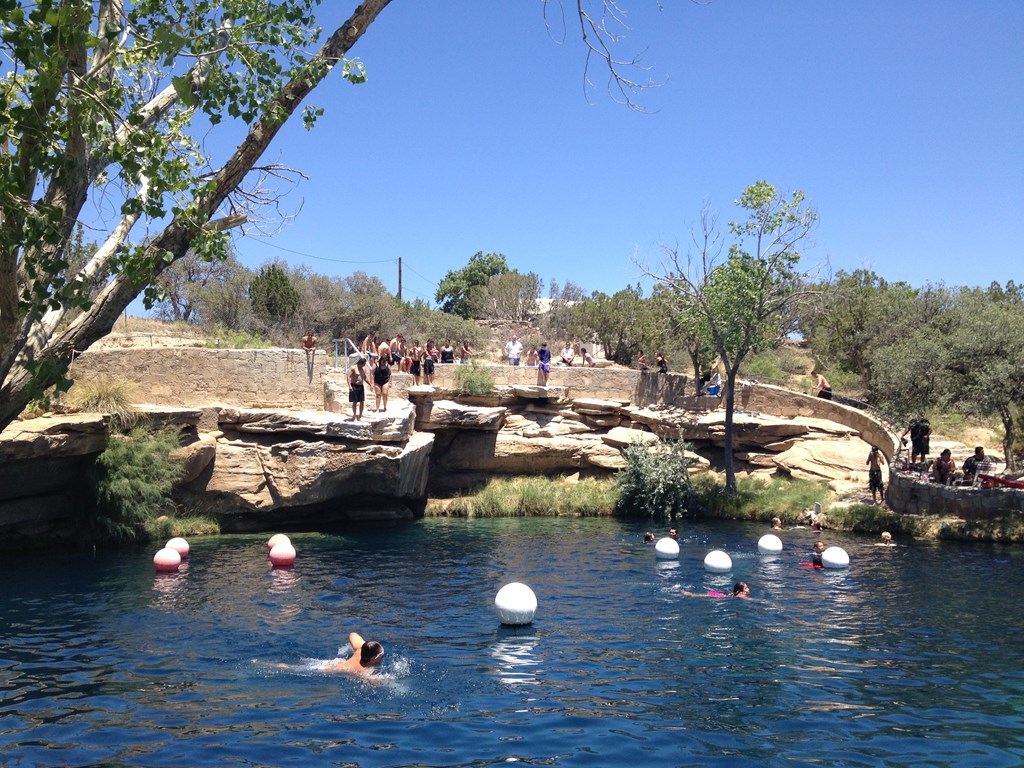 The stunning azure waters of Santa Rosa's Blue Hole might make you question your vision, but don't worry, you're seeing straight. The water really is that blue!
The swimming hole's eye-popping hue has attracted visitors for hundreds of years and comes courtesy of a natural phenomenon called the Santa Rosa sink. Today, the Blue Hole is home to a conference center that dedicates considerable time and effort to keeping it just as pristine as it was the day it was discovered.
The crystal-clear water has a visibility of a hundred feet, and its constant 62-degree temperature makes it the perfect place to get out of the RV and cool off on a hot day.
Fun fact: The Blue Hole offers more than just swimming! If you have a SCUBA certification, you can dive in and reach a depth of 82 feet!
If there's one common remark about the charmingly weird Tinkertown Museum, it's usually something along the lines of, "I don't know what I'm looking at, but I love it!"
An amazing attraction for people of all ages, the Tinkertown Museum is the result of one man's obsession. Throughout the museum are hundreds of intricate carvings, painstakingly crafted mechanical doodads, and tons of funky coin-operated machines that will put a smile on anyone's face.
While you might have a hard time describing this hidden gem, one thing is for certain: You'll never see anything else like it.
Tip: Be sure to bring a few quarters! Admission to the amazing Tinkertown Museum is only $3, but many of the coolest pieces are coin operated and well worth the scratch.
For an amazing Route 66 meal, make a pit stop at the 66 Diner in Albuquerque, where you can load up on classic grub such as burgers and fries, strawberry shakes, and the biggest banana split you've ever seen.
The 66 Diner doesn't just serve authentic 50s-style food… it goes out of its way to look the part, too. Chrome tables, a jukebox loaded with period-appropriate records, and waitstaff decked out in 50s-style outfits make this place a blast from the past.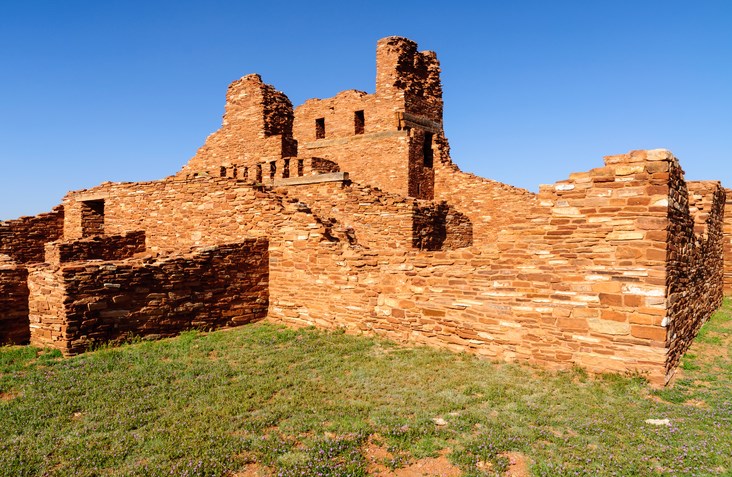 The Salinas Pueblo Missions National Monument is a must-visit destination for history lovers. Covering three pueblo ruins, the monument stands as a reminder of the Pueblo people who have occupied the New Mexico desert since the ninth century.
The self-guided tour only takes about half an hour, and will lead you through the ruins while educating you on the cultures that build the impressive structures.
Tip: Be sure to stop by the visitor center in Mountainair first. They'll give you the scoop on how to best experience the three separate sites that make up the monument.
Perhaps the most legendary dive in San Antonio, the Owl Bar & Cafe has earned a reputation for one thing: its famous Green Chile Cheeseburger. One bite, and you'll understand why.
Cheap prices, friendly staff, and a quirky atmosphere have further cemented the Owl Bar & Cafe as a must-visit staple of the San Antonio area, among visitors and locals alike. The Cafe's 25 years in business attest to that.
After your meal, be sure to add to the thousands of dollar bills pinned to the wall. At the end of the year, they donate the cash to charity!
Escape the desert heat at the Alamogordo / White Sands KOA! With a pool where you can cool off, a shady covered patio, and a sweet rec room, and pedal go-karts for rent, there are plenty of ways to find enjoyment here when you're not relaxing in your tent, RV or cabin.
Pro tip: they'll rent you some sleds to take with you if you decide to visit White Sands National Monument– speeding down the pure white gypsum dunes will put your childhood sledding hill to shame!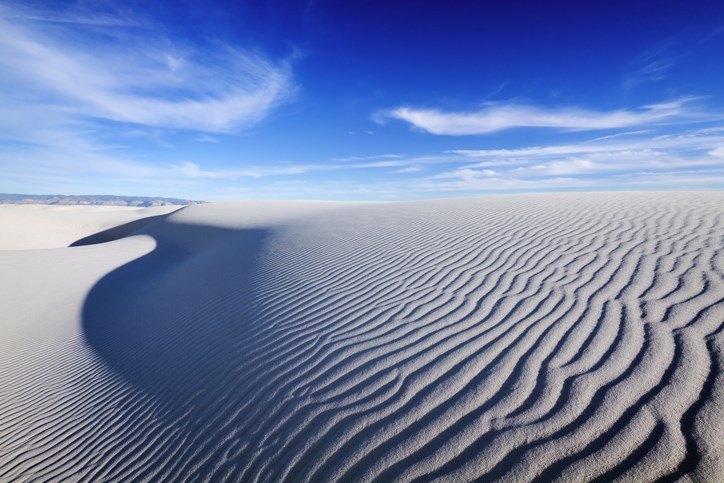 The dunes at the White Sands National Monument really have to be seen to be believed. Good thing they're on your trip route!
From just reading about the Monument, you might wonder what's so great about a big sandy desert, but once you find yourself in the park, you'll marvel at the absolute magnitude of the place and its glistening white dunes.
White Sands National Monument is one of the few places you can "get away from it all," as you find yourself standing in complete isolation, with no signs of civilization in any direction. It's truly one of the most peaceful places in America.
Tip: Be sure to pack a sled in the RV! Hitting the dunes will put your old sledding hill to shame.
You've been to a forest before, but how about a forest where the trees are made of missiles?
The White Sands Missile Range Museum is an incredible museum that celebrates "rocket science" in its purest form. In fact, it's thanks to the experiments that took place at the White Sands Missile Range that we ended up putting men on the moon.
The museum houses loads of interesting artifacts, well-designed exhibits on rocket history, and the aforementioned "missile forest," where you can walk among dozens of actual rockets!
This museum is located on the military base, so you'll have to pass a security check to get in. Make sure you've taken care of those warrants before you visit.
Not only does the Las Cruces KOA Journey location come with the well-maintained campsites, friendly staff, and great amenities that are standard to each location, but this KOA campground also has something extra special: a stunning view.
When the sun goes down, cozy up to your campfire and take in the twinkling lights of the nearby city. We guarantee you've never had a campsite with scenery like this. Ask for an RV site with a view, and enjoy the sunrises and sunsets!
In Truth or Consequences, you come for the crazy name and stay for the natural hot springs.
A small resort town with a year-round population of nearly 6,000 people, Truth or Consequences is home to ancient hot springs that have been soothing aching joints for centuries. Today, you can walk into the charmingly restored bath houses and soak for an hour or two in the natural mineral water.
So just how did it get that crazy name, anyway? Way back in 1950, Ralph Edwards, the host of the radio quiz show "Truth or Consequences," announced that he would air the program from the first town that renamed itself after the show. Hot Springs, New Mexico, jumped at the chance, and the rest is history!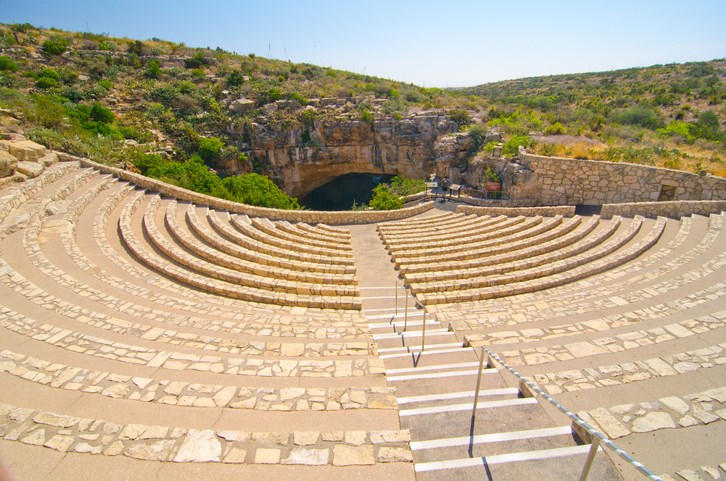 Hidden deep beneath the Chihuahuan Desert are more than 119 limestone caves, and get this: You can explore a whole bunch of them at Carlsbad Caverns National Park!
Whether you're an experienced caver or just looking for an hour of underground fun, Carlsbad Caverns offers incredible cave tours for all ages and skill levels.
You'll descend 800 feet into the Earth on a 1.2-mile trek, but once you see the awe-inspiring subterranean sights, all that huffing and puffing will be worth it.
Hey, if you're going to get a workout, you might as well do it inside a true natural wonder, right?
With quiet and roomy campsites, clean facilities, and a regular schedule of fun activities, the Carlsbad KOA Holiday makes the perfect home away from home while on your road trip.
Got pets in the RV with you? Take them to the doggie obstacle course for some exercise! Getting hungry? You can skip the wiener roast and order a supreme pizza from the on-site restaurant and have it delivered right to your RV!
You might never camp the same way again…
---
With stunning natural wonders, quirky roadside attractions, and some of the best food in the nation, the Land of Enchantment is practically built for the Great American Road Trip. What are you waiting for? Load up the RV and hit the road!
---
This article appears courtesy of Roadtrippers.