The rich history of ancient cultures meet inspiring landscapes in a dream vacation tour of the "Land of Enchantment" – New Mexico.
New Mexico's nickname, "Land of Enchantment," describes both the scenic beauty of the state and the fascinating mix of cultures found there—Pueblo, Apache, Navajo, Anglo, Spanish, Mexican. It also celebrates a rich history that goes all the way back to prehistory. An excursion through enchanting northern New Mexico allows you to experience all of this and more.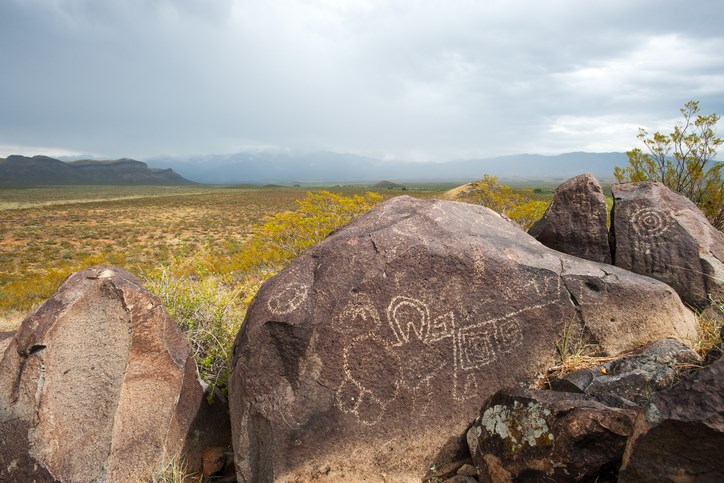 Your loop through the Land of Enchantment can start with a trip to Old Town Albuquerque, where you'll discover the city's origins (dating back to 1706) and its cultural center (five museums and scores of shops, restaurants and galleries). Then you can travel further back in time, beginning with Petroglyph National Monument. Less than 20 miles from both Albuquerque KOA Journey and Albuquerque North / Bernalillo KOA, the monument stretches 17 miles along Albuquerque's West Mesa and features designs and symbols carved into volcanic rocks hundreds of years ago.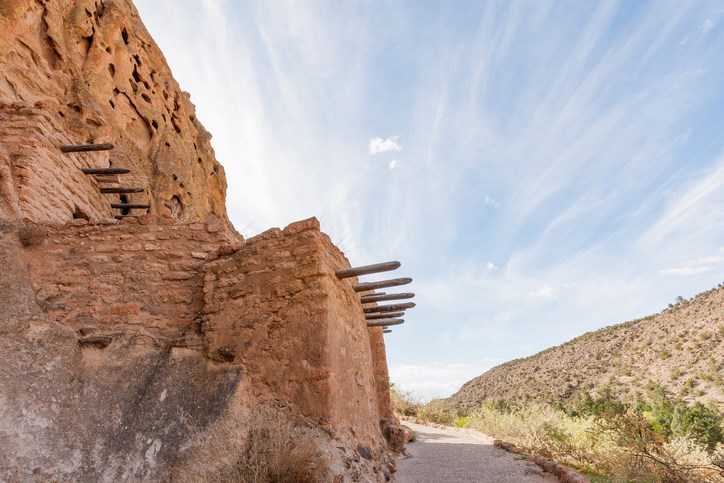 An hour-and-a-half north of Bernalillo, you can explore the dwellings carved into the soft cliffs of Bandelier National Monument. And if you drive about an hour west on I-40 and set up camp at Grants / Cibola Sands KOA Journey, you'll be within 40 miles of both El Malpais and El Morro national monuments. Accessible from Highway 117, El Malpais is a collection of cinder cones and lava tube caves, including hiking routes marked by a series of rock piles called cairns. Along Highway 53, El Morro National Monument might be described as an ancient guest book—a waterhole at the base of a sandstone bluff where travelers long ago carved their names, dates and messages.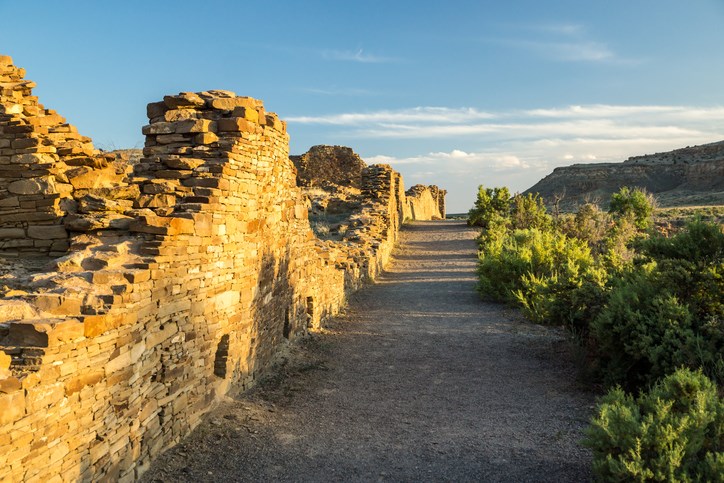 For more insight into the region's original inhabitants, point yourself toward the northwestern corner of New Mexico, about two-and-a-half hours north of Grants (and 34 miles south of Colorado's Durango KOA Holiday), to Aztec Ruins National Monument. "Aztec" is a misnomer, as its remarkable buildings actually were constructed by Ancestral Puebloans. But history echoes at this World Heritage Site—in the 400-plus masonry rooms of a 900-year-old Pueblo Great House and even in the ancient builders' occasional fingerprints left in the mortar.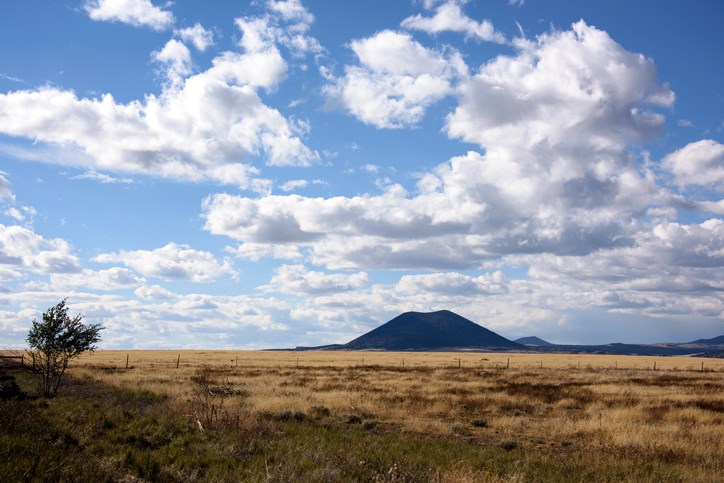 Now cut across northernmost New Mexico, a full day's drive along Highway 64 through a region that has long inspired artists and historians. Rumble through Taos and Angel Fire and Cimarron until you reach the city of Raton. Along the Santa Fe Trail, Raton Pass was the highest point—7,834 feet above sea level. Raton KOA Journey is only a half-hour west of Capulin Volcano National Monument. When the volcano erupted some 60,000 years ago, mammoths and giant bison may have witnessed the explosion. Today, you might spot mule deer and black bear amid the pine forests on the cinder cone rising more than one thousand feet above the surrounding landscape.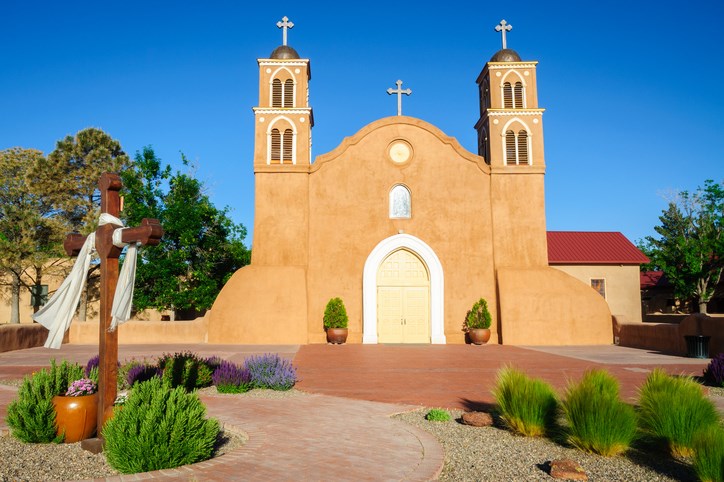 So how best to conclude your excursion through the Land of Enchantment? By returning two or three hours southeast, settling in at either Las Vegas, New Mexico KOA or Santa Fe KOA Journey, and exploring the endlessly enchanting capital city. Roam Santa Fe Plaza or Canyon Road. Enjoy the Pueblo-style architecture. Visit the San Miguel Mission or Palace of the Governors. And don't miss out on the delectable local cuisine, which is as eclectic as New Mexico.
OWNER'S TIP: "While in Santa Fe, don't forget to explore the Roundhouse, the nation's only round capitol building and highest in elevation at seven thousand feet. From a bird's-eye view, it resembles the Zia sun symbol that adorns the New Mexico state flag. There's an interior Rotunda that rises 60 feet, topped by a stained-glass skylight. It's a working work of art." – Phyllis Pasekoff, Santa Fe KOA Journey
ALONG THE WAY… Don't miss Bandera Volcano and Ice Cave, a short drive east of El Morro National Monument. You can follow one trail around the side of the 800-foot-deep volcano crater, one of the country's most accessible examples of an eruption aftermath. Then you can take another trail to the Ice Cave, where it's always 31 degrees and where reflected sunlight makes the natural layers of ice glisten green and blue.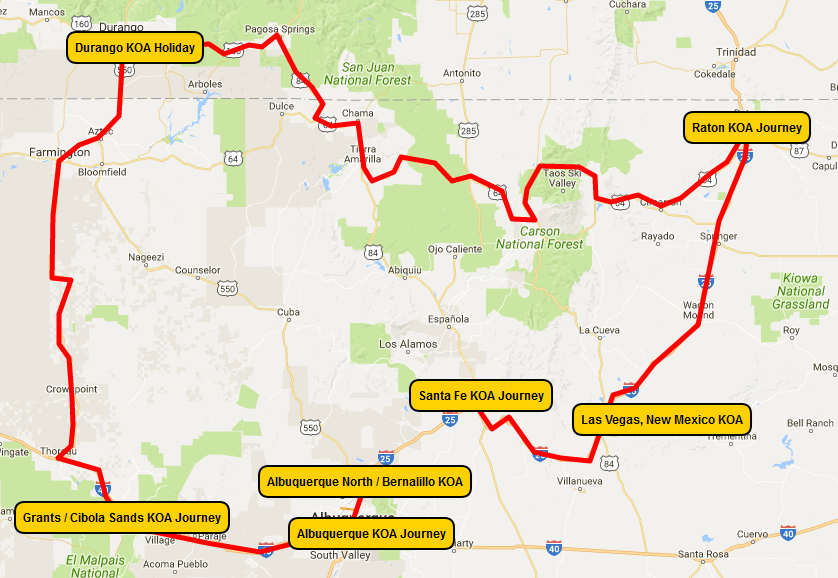 EDITOR'S NOTE: 2016 was the 100th Anniversary of the National Parks Service, the agency that oversees more than 400 National Parks, Monuments and Seashores across the U.S. This story was part of a special series featuring great trips you can take to some of America's wonders.

Inspired? If you are headed toward any of our National Parks or Monuments, check out this list of KOA campgrounds near National Parks and Monuments.
Don't forget! If you're ready to plan that dream trip you can save big on stays at all your favorite KOA campgrounds with Value Card Rewards. You'll earn reward points, enjoy members' only offers – including our new Value Card Reward Savings which could save you big with over 500,000 coupon offers – and save 10% off any site at any KOA.
---
ABOUT THE AUTHOR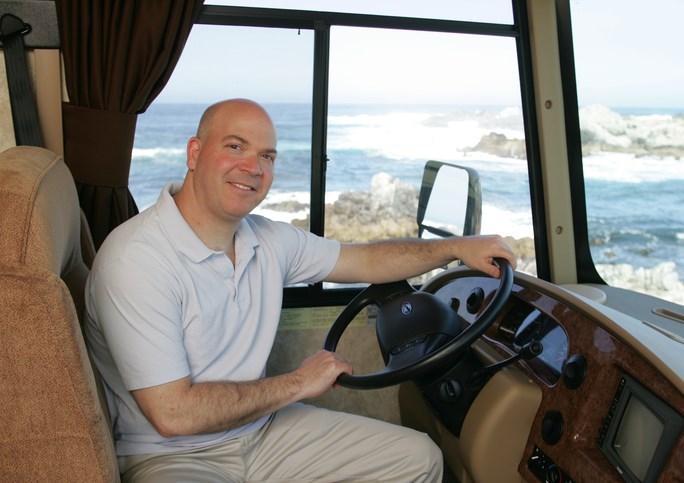 Author Brad Herzog (BradHerzog.com) has written more than 30 books, including three acclaimed memoirs in which he examines big-picture concepts while passing through some of the tiniest dots on the U.S. map. The American Book Review has described his travelogue trilogy as "the new classics of American travel writing." Herzog lives on California's Monterey Peninsula with his wife Amy and their two sons.
Save