When you're camping, taking a hike on nearby trails is a great way to explore the terrain and get immersed in nature. But a hike into the unknown takes a little preparation to ensure a safe and fun experience.
The Mountaineers organization of expert hikers created a list of ten essential categories to pack items from for all hiking outings. The following list of suggested items to pack for a day hike can be adjusted to make sense for the weather and conditions you might encounter on your journey.
We'll also review how to pack the necessary items for easy access inside your backpack. Make sure you're starting on the right foot by wearing comfortable hiking boots with lots of treads to support your most important tools—your feet!
Planning to Take Day Hike? Here's What to Pack
1. Navigation
Of course, you'll want to avoid getting lost. A paper trail map of the area will help keep you oriented, and a hand-held compass will point you in the right direction. If you lose your way or experience an emergency, send an SOS via a GPS personal locator beacon to alert rescuers of your whereabouts.
2. Sun Protection
Eliminate ultraviolet light by packing sunglasses, a wide-brim hat, and sunscreen. Pack a cooling neck wrap or bandana to wick away sweat on warm days. Wearing a long-sleeved shirt and long pants will help protect your skin from sunburn and, as a bonus, protect from bug bites and scratches from prickly plants.
3. Insulation
Depending where and the time of year you're hiking determines how many clothing layers to wear and pack. Bring a lightweight insulated jacket and a light rain jacket if it is cool and wet out. Or if it'll be downright frigid, bring a change of long underwear, wool or moisture-wicking socks, gloves, and a warm hat.
4. Illumination
If the plan to be back at camp by dark doesn't quite happen, having a light source with you is vital. Flashlights or lanterns work but using a headlamp will keep your hands free on the trail. Pack fresh batteries to keep the lights going strong.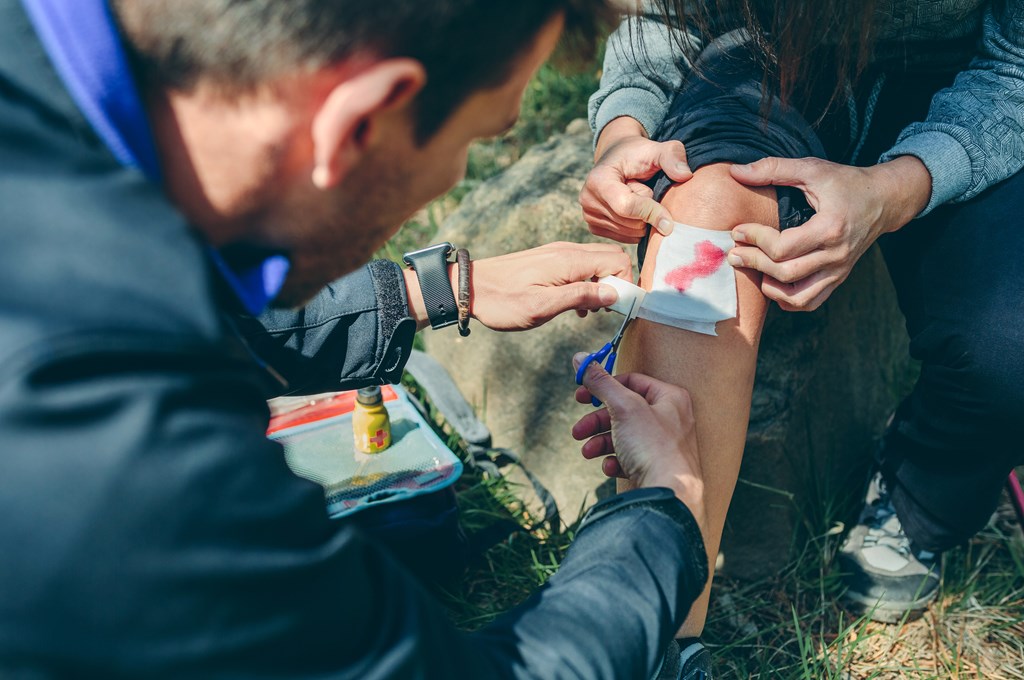 5. First-Aid Kit
Start with a pre-made first-aid kit and add things you might need, like elastic bandages, ankle or knee brace, and bug repellent. Toiletries fall under this category, like hand sanitizer to clean up on the go. Baby wipes, toilet paper, and waste collection bags are a must.
6. Fire Source
You aren't planning on starting a fire when you go on a simple day hike. But in an emergency situation, you might need a fire to cook, to use as an emergency signal, or for warmth. Packing a butane lighter is the simplest way to prepare for these scenarios.
7. Emergency Repair Kit
You can purchase pre-made outdoor repair kits stocked with items like duct tape, splints, a whistle, a signaling mirror, fishing wire and hooks to mend hiking equipment and survive the night. Pack a multi-tool pocket knife to serve food, shave fire kindling, and do gear repair. Bring items to repair equipment specific to your activities on the hike. And it's essential to have a water collection bag and filter to purify water in case your supply runs low.
8. Nutrition
Stopping for lunch on the trail should be a trip highlight. Make a sandwich you'll look forward to eating, and bring some fun treats like potato chips and candy. Bring extra snacks that don't need to be cooked, like trail mix, energy bars, and jerky.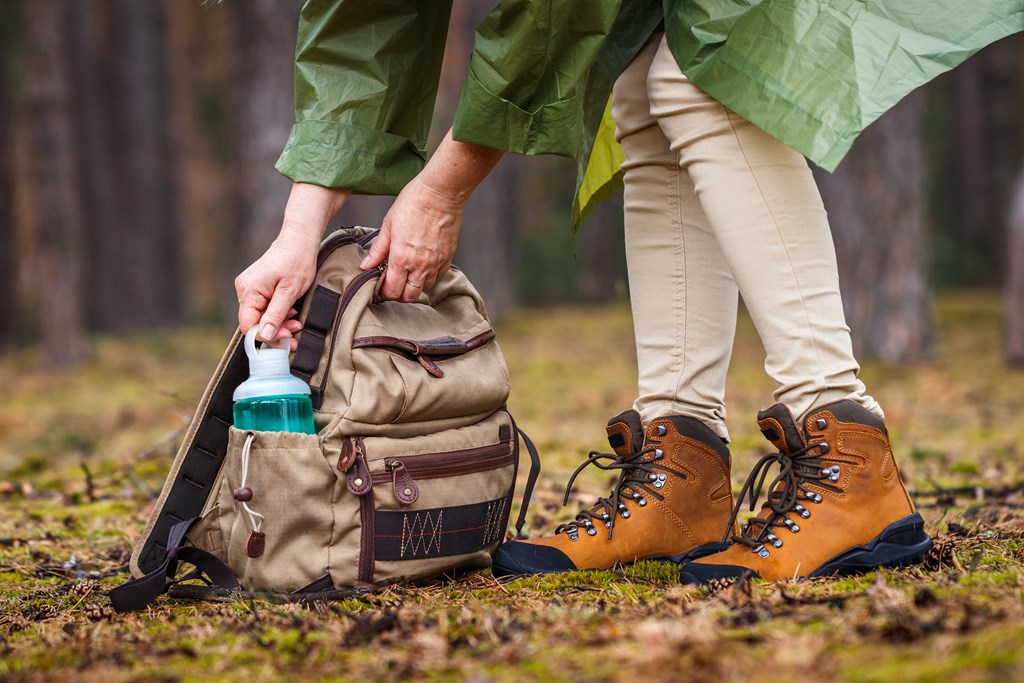 9. Hydration
Load your pack up with water. Drink before you feel thirsty, and sip about a half liter of water per hour. For a four-hour hike, you'd need two liters of water, half a gallon, per person. Pack two 32-ounce water bottles or a 64-ounce water bladder.
10. Emergency Shelter
On a day hike, you aren't planning to be on the trail at night, but emergencies happen. Bring a lightweight tarp, bivvy sack, or space blanket to protect yourself from severe weather or nighttime conditions. Shelter inside or under them to generate warmth if you get stuck away from camp.
11. Pack Items for Day Hike
Now that you have everything together, it's time to organize them in your hiking backpack. At the bottom of your pack, place the items you probably won't need to pull out but are essential to have with you in case of emergency—think repair kit, shelter, and extra clothes. Keep things you'll most likely need during your hike in the middle of the pack, like protective gear and light jacket. At the top of your bag, stow food items you don't want to get squished. And keep water bottles in the backpack's exterior mesh holders, toiletries in outside pockets, and noisemakers at the ready.
---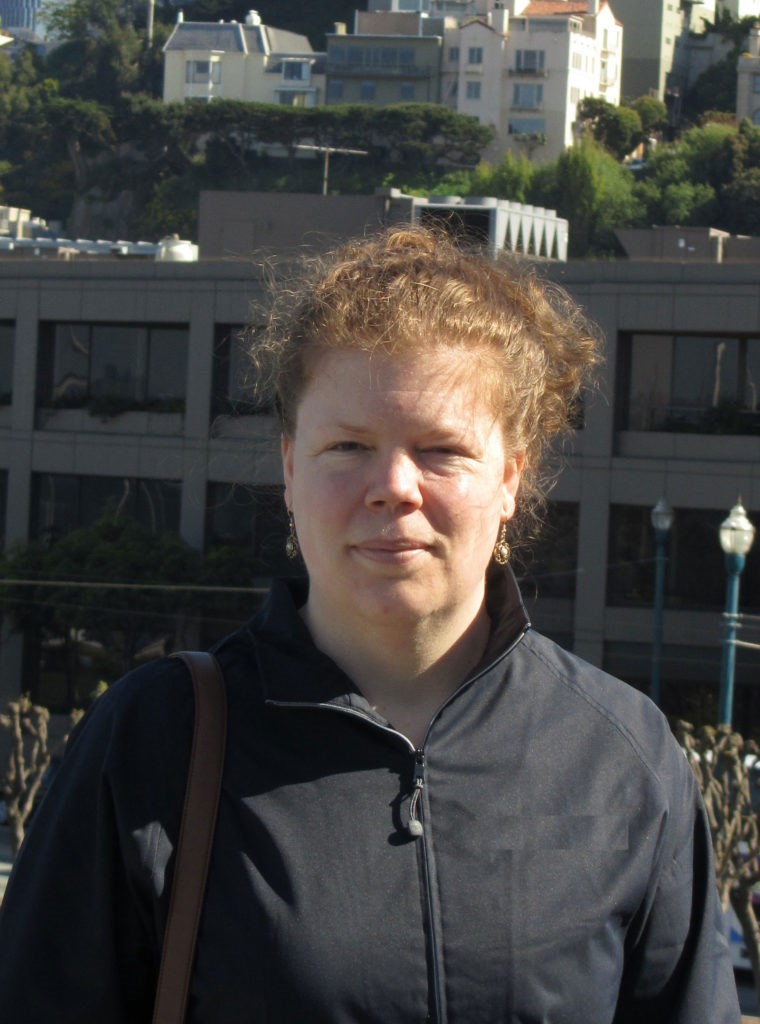 Eva Barrows is an accomplished San Francisco Peninsula freelance writer and book editor. She writes for regional magazines like PUNCH and Edible Silicon Valley and was editor-in-chief of Live&ThriveCA magazine. She founded the online literary journal Imitation Fruit in 2007 and has enjoyed promoting fellow writers and artists ever since. Read more of her travel writing at www.evabarrows.com.