How to Introduce Your Kids to Campfire Cooking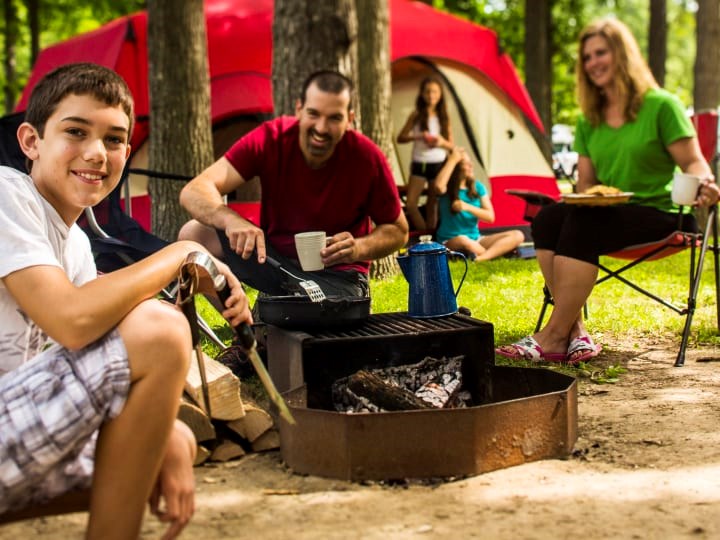 Some of the most cherished childhood memories are made around a roaring campfire. The crackling wood and enticing smell of burgers, bacon, and steaming mugs of coffee and cocoa are as much a part of the adventure as hiking the trails by day and cozying up in your sleeping bag by night. As your kids grow up, you want to teach them how to be competent in the outdoors. And one of the best ways to share that knowledge is by cooking together over the campfire.
It's never too late to start encouraging little ones to join in the fun by bringing them into simple culinary tasks, such as helping assemble foil packet dinners and s'mores around the picnic table. School-age kids will love roasting hot dogs or kabobs on long skewers at the campfire ring. As children get older, they can contribute in more ways, from menu planning to setup and breakdown of the camping kitchen to ingredient prep and actual cooking. Here's how to get started teaching your kids to be campground chefs, with insider tips on campfire cooking as a family.
Meal Planning
Start your culinary camping adventure with a fun planning session a week or so before your trip. Brainstorm favorite dishes for your meals in the great outdoors, then help your kids think through how you can prepare them over a campfire. The final result should be a meal plan that includes something for everyone in your group and lets even the youngest campers feel involved.
Building a Fire

Most scouting programs recommend 10 years as the appropriate age for children to learn fire-building skills, but since maturity levels can vary widely, you're the best judge of when to let your kids work around the fire ring. It's never too early to start teaching fire safety, however: Be sure to remind kids to keep all fires contained within the fire ring, monitor dry conditions and wind, never leave a fire unattended, and keep a full bucket of water nearby to control flames and stray embers.
A simple and fun way to involve young campers is to have them gather downed twigs and branches for kindling (if that's allowed at your campsite, of course; be sure to purchase cut logs at the campground store). Under adult direction, let the kids build a log teepee in the middle of the ring with a handful of kindling at the center. As you light the fire, they can blow gently on the kindling, keeping a safe distance as they watch the sparks turn into flames.
Leave No Trace Principles
Teaching Leave No Trace camping principles to your kids goes hand-in-hand with campfire etiquette and fire safety. Is there a drought or fire ban? Is the wind strong enough to carry embers from your fire into the underbrush nearby? Is wood readily available, or has the area been picked clean by previous campers? Weighing the pros and cons of building a fire before you strike a match will be an invaluable tool in promoting fire safety, as well as teach your kids learn how to evaluate a campsite and keep a fire contained.
Cooking 'Round the Campfire

To avoid fire-related accidents, set ground rules early on and reinforce them frequently until they become a habit. A few guidelines to implement: No one enters the cooking area without close adult supervision. No loose clothing and jewelry, and sandals or open-toed shoes are not allowed while cooking. Long hair should always be tied back. Hands and utensils need to be washed frequently, a perfect task for up-and-coming camp chefs, and potholders are a must when handling pots, pans, foil, and utensils.
Teach your kids the importance of keeping foods separated to avoid cross-contamination between cooked and uncooked ingredients. Also emphasize the reasons for cooler storage when it comes to perishables like meat, cheese, and eggs. Only teens with adult approval should be handling knives, sharp grill forks, skewers, and food as it goes on and comes off the grill.
Clean Up
Outdoor kitchen clean-up is a critical part of the meal, for both the environment and the health and safety of your diners. Make sure food that hits the dirt goes in the trash, and once all waste and recycling has been collected after the meal, have the kids walk it to the campground collection area to avoid unwanted wildlife at your campsite.
Set up a mobile dishwashing system with portable plastic bins for soaping, rinsing, and drying dishes. Don't forget environmentally friendly dish soap and rubber gloves to withstand hot water to help sanitize dirty dishes. Before it gets too dark, do a final kitchen check with the kids, awarding prizes for campers who spy last-minute clean-up opportunities.
Perfect Recipes for Young Chefs

An easy, hearty option to kicking off the day is breakfast burritos around a morning campfire. Tortillas are loaded up at the picnic table with pre-cooked eggs and sausage, cheese, and veggies, then wrapped in foil and placed on the grill for a warm and filling brekkie.
For lunch or dinner, one-pot campfire stew is a hands-down winner. The kids can help pre-cook and freeze ground beef at home, as well as chop veggies. Then, at the campsite, throw the veggies and meat into a cast iron Dutch oven, along with tomato soup and beef broth, and let your stew simmer over a bed of hot coals. Even if your crew doesn't like stew, the Dutch oven is a great camping tool, and you can come up with all kinds of one-pot meals using pasta and a protein—let your kids be creative.
For little ones who can't go a day without mac and cheese, you can make the staple at home and pack it a foil pan. Warm it over the campfire—just remember to keep it moving to avoid burnt spots.
For dessert, Campfire Cones are a crunchy twist on traditional s'mores. Let your campers fill waffle cones with marshmallows, chocolate or butterscotch chips, nuts, berries, and banana chunks. Wrap the cones in foil and toast them lightly on the grill until the filling melts into a gooey, delectable treat. (Just serve them as soon as you can after dinner—that's a lot of sugar to burn off before crawling into a sleeping bag!).
Camping is already a kid-favorite activity, but when you get the whole family involved in the cooking, it's even more fulfilling for everyone. For recipe inspiration, start with a simple online search: The internet is filled with creative campfire recipes, and chances are you'll find an easy campfire version of your family's favorite meal. So for your next camping trip, why not go beyond the hotdogs, and see what else you and the kids can bring to the (picnic) table.
Written by Ann Gibson for Matcha in partnership with Kampgrounds of America.
---