A hearty roast smothered in fresh veggies and simmering in a thick, spicy broth. Crusty gingerbread cake dripping with syrupy cinnamon apple sweetness. Sound like the kind of mouth-watering comfort food you can only make at home? Leave the trail bars behind because you'll be creating these campground show-stoppers in your cast iron Dutch oven.
This sturdy cooking vessel (often, but not always, with three legs) has been a mainstay around American campfires since the early 1700s. It has endured for good reason: It's a one-pot wonder that only gets better over time. It's virtually indestructible, and you can use any utensils as there's no protective coating to damage. Clean up is easy with warm water and a soft cloth since harsh detergents, scouring pads, and dishwashers remove the seasoning that bakes to a natural finish with every use. The one drawback: It's very heavy. But for car-campers with space to spare, it's the perfect choice to make complex meals for a crowd. Bring out the best in your campground cooking with these Dutch oven tips and recipes.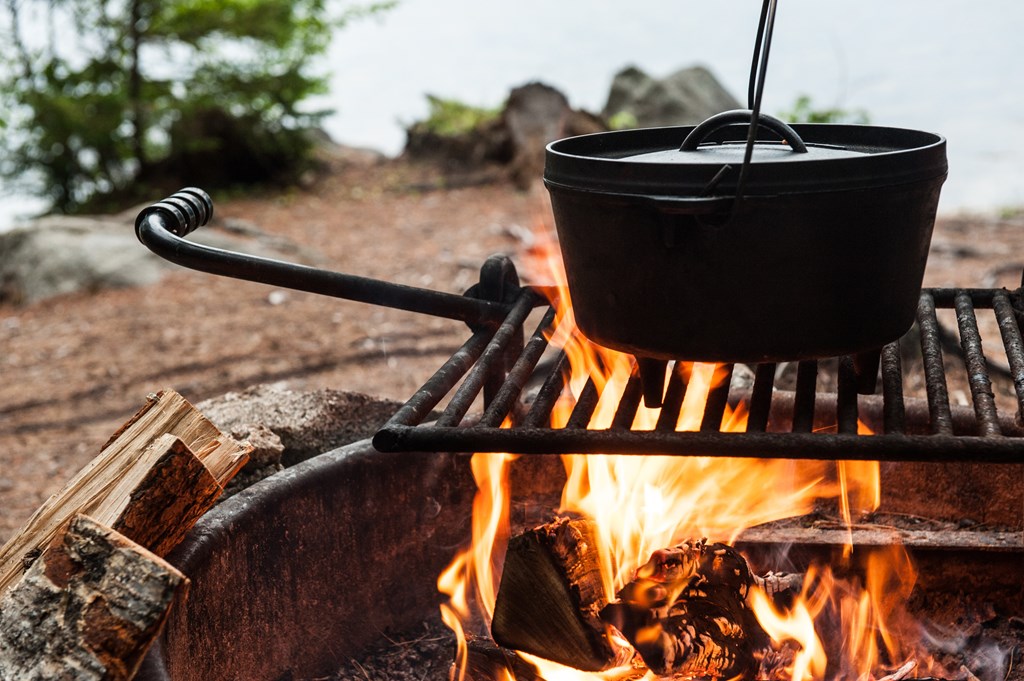 Polish Your Technique
Cast-iron cookware has properties that make it very useful, both inside and out. It's slow to heat up, but the cast-iron retains heat for a long time, making it an excellent option for cooking stews, soups, and braises. You can use it for roasting, frying, boiling, and baking. Treat your Dutch oven as an actual oven to prepare cakes, crumbles, and other desserts. (Sure, you have to guess a bit about the temperature, but most often you still get wonderful results). The traditional outdoor Dutch oven has three legs to create better balance over the uneven surfaces of a wood fire or bed of charcoal briquettes, and the air circulation allows the cast iron to distribute the heat evenly.
The lip running along the outer edge of the lid is there to help regulate temperature as well. Place hot coals on top for 360-degree, evenly distributed cooking that works particularly well when roasting. Build to a high temperature by using about the same number of coals on the lid and under your pot, then sear meat to seal in juices and lock in flavor.
For simmering and making stews, place most of your coals under the pot at a ratio of about four to one to hit that low-and-slow zone that tenderizes your meats, softens your vegetables, and allows flavors to mix and mingle to a fall-off-the-bone succulence. Frying and boiling also require you to build most of your heat from the bottom, while you'll get the best baking results from piling most of your coals on the lid at a three-to-one ratio. Use this technique to give your cakes a springy softness and your biscuits and breads a perfect crumb. They're great for fruit cobblers, which develop a crispy crust that's hard to duplicate by any other cooking method. One tip for baking: Line the pot with parchment paper before adding your batter to simplify clean-up.
A Little TLC Goes a Long Way
Take good care of your Dutch oven and it will be in your family for generations. Season the pot and lid regularly with cooking oil to prevent sticking and keep that polished finish. Use a paper towel to rub the oil into all surfaces both inside and out, then place the pot in a preheated 250-degree oven for two hours and let it cool. Before the first use, repeat this process three times—then season after each camping trip. Never season the pot with animal fat or lard since it can turn rancid. Between camping weekends, store your Dutch oven in a pillowcase or carrying bag, placing one paper towel inside to absorb moisture and another folded between the rim and lid to allow air to circulate.
Handy Accessories
All you need for delicious campsite dining is your Dutch oven, but a few accessories will make your life easier. A pan scraper comes in handy to scrape off bits of baked-on char. A silicone mat protects your picnic table surface as you gather 'round the pot to dish out servings. A campfire tripod stand lets you simmer your dinner and reheat leftovers with the pot hanging suspended over the fire ring, and a heavy-duty metal lid lifter makes it possible to maneuver the lid, even when balancing coals on top.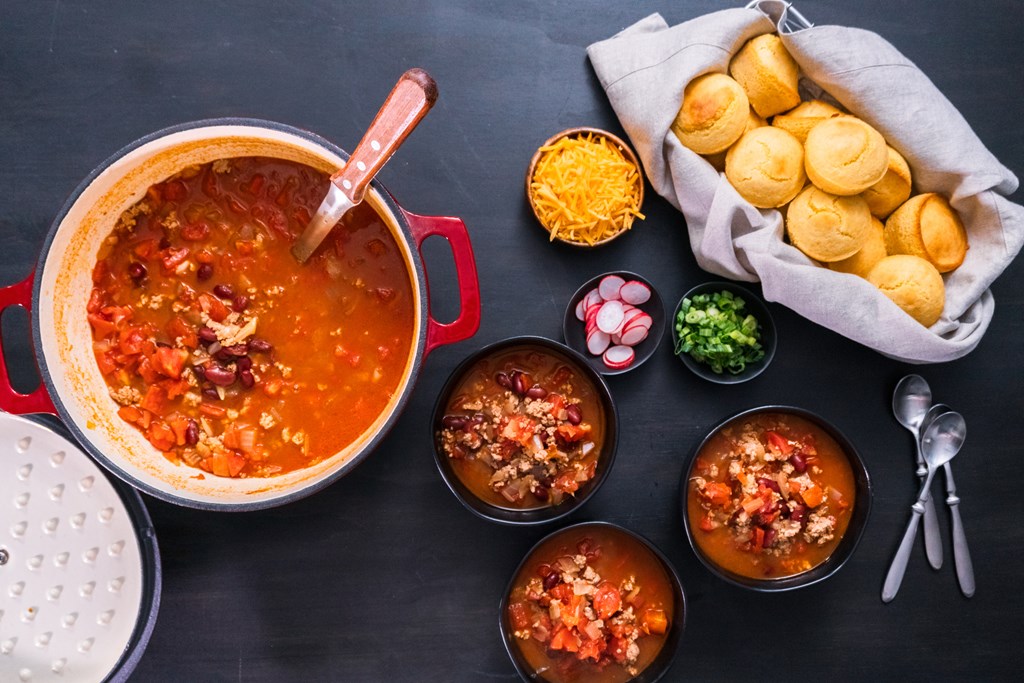 Home Run Recipes
Ready to get started? Try these recipes on your next camping trip:
5-Layer Country Breakfast
Your campers will love waking up to this hearty casserole from Happy Money Saver. Brown ground sausage, top with hash browns, and saute to a crunchy, golden finish. Optional additions are green peppers and onions. Next, crack a dozen eggs and place evenly over your casserole, sprinkling with salt and pepper. Top with your favorite shredded cheese and place canned biscuit dough on top. Replace the lid and top with hot coals to bake the dough until browned on top.
Mediterranean Sea Bass
Impress your camping crew with Lodge's sophisticated seafood dinner by lantern light. Saute diced onion, then add diced tomatoes and juice. Fold in black olives, feta, dill, lemon juice, and lemon zest. Season with salt and pepper, place sea bass filets on top and replace the lid to steam 4-5 minutes. Serve with crusty baguettes.
Easy Dutch Oven Chili
Traditional chili uses cuts of beef that can take a long time to cook. This recipe uses ground beef, ground turkey, or Italian sausage to allow for a speedier cook time. Warm the Dutch oven over hot coals. Brown the meat and remove it along with any excess grease. Add chopped onion, green pepper, celery, and zucchini to the pot and saute until soft (cut the veggies at home to make things easier at the campsite). Return the meat to the pot and add salt, pepper, cumin, chili powder, and oregano (add some red pepper flakes if you want more heat). Stir for a minute or two and then add a can of diced tomatoes, beans, and about four cups V8 juice. Cover with the lid, add a few coals to the top of the Dutch oven, and let it simmer for an hour or so—if you can wait that long. Top with cheese, cilantro, and sour cream. Crackers or Fritos make a nice crunchy addition as well.
Brown Bears in an Orchard
For a crowd-pleasing alternative to s'mores, warm cinnamon applesauce in the Dutch oven until bubbling. Then add gingerbread mix and water to form the cake batter. Spread batter over the applesauce, replace the lid, and bake with three coals on top to every coal underneath for 40 minutes or until a knife inserted in the gingerbread comes out clean. Optional add-ons: raisins or dates, ginger, walnuts or pecans, and peeled, thinly sliced apples.
Once you get the hang of cast-iron cooking, the culinary world opens up to you at the campsite. Go sweet or savory. Make hearty breakfasts for a crowd or intimate dinners for two. You now have a versatile cooking tool at your disposal, which makes camping even more fun.
---
About the Author: Kampgrounds of America
Kampgrounds of America is the largest system of open-to-the-public campgrounds in the world, with over 500 locations across the United States and Canada. Founded in Billings, MT in 1962, KOA's family of campground brands – KOA Journey, KOA Holiday and KOA Resort – today serve more than a million camping families each year. KOA is dedicated to "connecting people to the outdoors and each other" by providing people with a variety of camping experiences and the information they need to make the most of their camping trip. Read more of their camping and travel resources by visiting KOA.com/blog.
---