Sun-kissed skin, the sound of rolling waves and breathtaking mountaintop views: These are what you can expect from a South Carolina vacation. The state is a beloved destination by many with so much to see and do. In fact, the tourism industry is booming here, supplying one in every 10 jobs in South Carolina and raking in nearly $24 billion in revenue each year. Are you ready to find out what makes this state such a popular vacation destination? Check out our favorite things to do and places to stay in the Palmetto State to help you plan your SC vacation.
10 Interesting Facts About South Carolina
Georgia may be called the Peach State, but South Carolina outproduces its neighbor in peaches. In fact, SC triples the number of peaches produced by Georgia each year.
The Angel Oak, located in Charleston, SC, is one of the oldest living trees in America, estimated to be about 500 years old.
The state tree, the sabal palmetto, was used as material to build forts during the Revolutionary War.
Perhaps you've heard of Hootie & the Blowfish, or their lead singer's solo hit "Wagon Wheel." Darius Rucker is a native of the Palmetto State and even started up his band's career playing at local bars near the University of South Carolina in the 1980s.
Morgan Island, SC, also known as Monkey Island, is an island off the coast that is home to free-range monkeys. While you cannot step foot on the island, you can take a boat ride to see the monkeys from afar.
South Carolina is home to 47 state parks and 7 National Parks, all waiting for you to explore.
This southern state is a golfer's paradise, offering more than 350 golf courses to choose from.
The first airport in South Carolina opened in 1927 and was located in Spartanburg, a city in the northwest area of the state.
You'll find more than 60 miles of uninterrupted beaches on South Carolina's coastline.
 The United State's first public college, museum and playhouse were all established in the South Carolina coastal town of Charleston.
Best Things To Do In South Carolina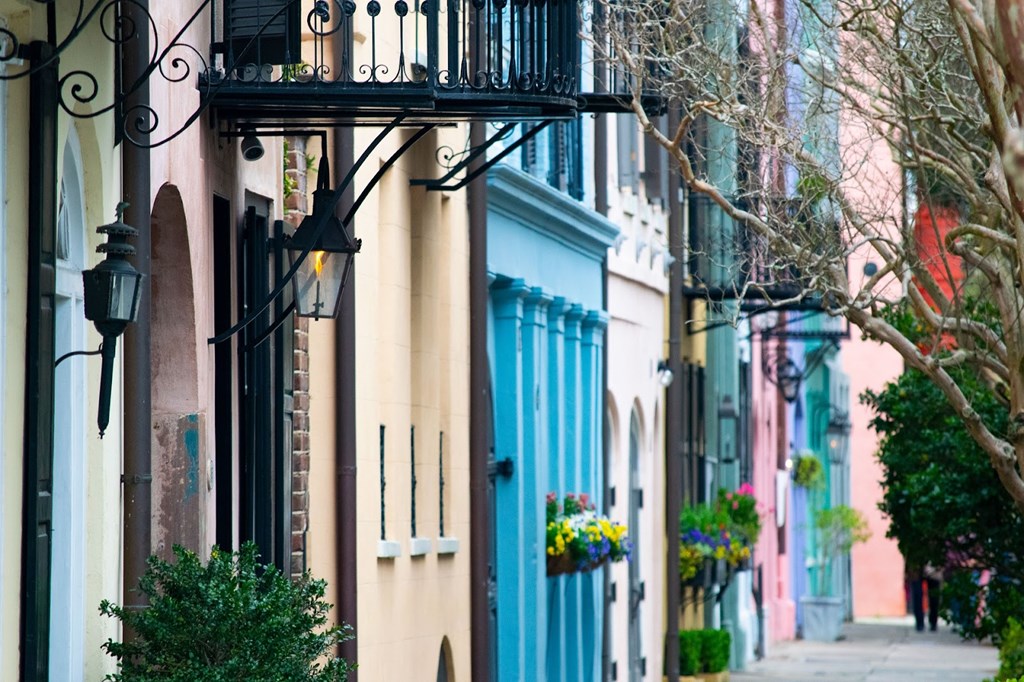 Charleston's Historic District
As one of early America's wealthiest colonial towns and current laws in place to keep it preserved, Charleston is a destination unlike any other. Walk the streets of this historic town and marvel at the pastel-colored homes. Take a gander through the various vendor stalls at Charleston City Market and adventure down to The Battery to watch the rippling waves, and if you're lucky, catch a peek at some dolphins.
Lake Marion
Lake Marion is the largest lake in the state of South Carolina, spanning over 110,000 acres. It's an ideal spot for any family vacation with a wide variety of adventure opportunities. Catch big fish, take a boat out to view the sunset on the water and check out the Santee National Wildlife Refuge. After your full day of excursions, settle down at KOA's nearby campground in Summerton where you'll find some of the best lake camping in South Carolina.
Beacon Restaurant
If you're staying or camping near Spartanburg, make sure to grab a bite to eat at America's second-largest drive-in restaurant. Take a stab at their "chili-cheese-a-plenty" burger and top it off with a plate of peach cobbler.
Jone's Gap State Park
Located in the northern part of the state, Jone's Gap State Park is a must-see destination for outdoor lovers. This park is an unforgettable, peaceful mountain cove with over 60 miles of trails spanning 13,000 acres of mountain woodlands. Lace up your hiking boots and get ready to explore!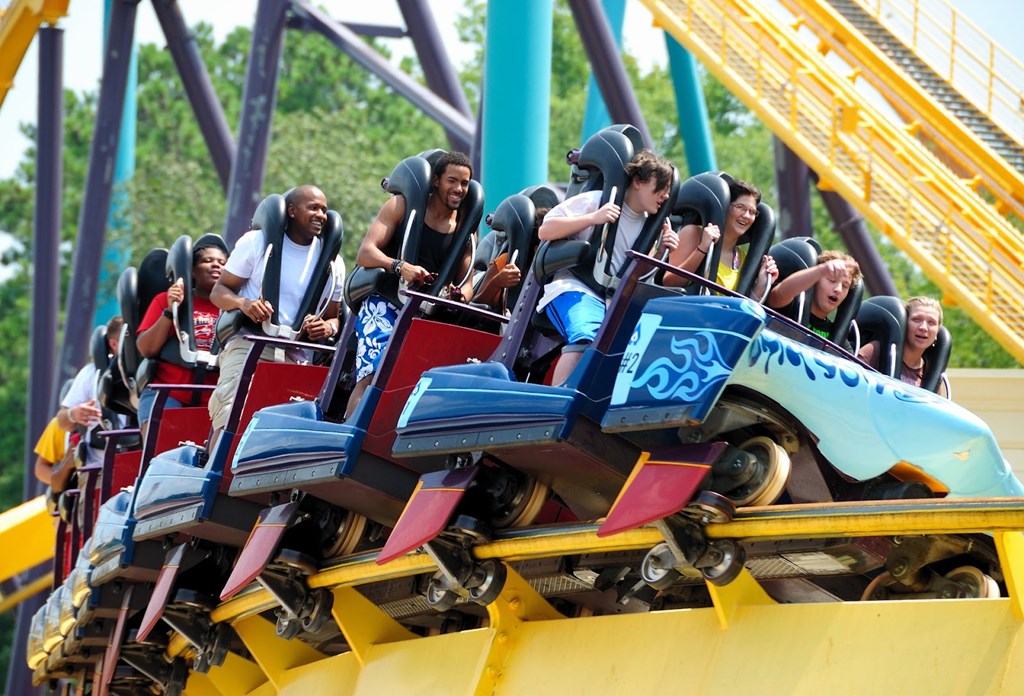 Carowinds
Although the address is technically in North Carolina, Carowinds actually spans both states. Enjoy a day filled with thrilling roller coasters, wild waterpark experiences and great eats. Traveling in October? Make sure to check out one of the park's biggest events, SCarowinds. After a day of excitement, get some rest at our nearby KOA in Fort Mill where you'll find some of the best camping in South Carolina.
Riverbanks Zoo and Garden
Home to over 2,000 animals, representing more than 350 different types of species, Riverbanks Zoo and Garden is something the whole family will love. Take a peek at larger-than-life elephants and witness the beauty of Siberian tigers at this zoo in "the real southern hot spot," Columbia, SC.
Take a Beach Day
With 60 miles of uninterrupted beaches, South Carolina is the perfect beach vacation destination. Whether you'd like to lounge in the sand in Myrtle Beach, splash in the waves at Edisto Beach or search for seashells on Folly Beach, KOA has the best beach campgrounds in SC for you to rinse off the day's adventures and get a good night's rest.
Explore Columbia's Culinary Scene
When traveling to the south, you know you're going to find mouthwatering meals, and South Carolina is no exception. In the state's capital, you'll discover an array of delectable offerings. For breakfast, we recommend trying out The Devine Cinnamon Roll Deli. For dinner, check out Cantina 76 for delicious tacos and drinks. Then pick up dessert from Kaminsky's and head back to our Newberry / I-26 / NF Sumter KOA Journey to rest your head and settle your full stomach!
Hollywild Animal Park
If you're visiting Spartanburg, South Carolina, between Memorial and Labor Day, be sure to check out Hollywild Animal Preserve. Here, you'll find approximately 300 animals, many of which have been "ZooperStars" of well-known movies, TV shows and commercials. Experience the drive-through safari adventure with your crew to check out the animals up close at one of Spartanburg's top things to do.
Places To Camp In South Carolina
KOA offers multiple campground locations in South Carolina that you can trust. Common amenities include:
Clean bathrooms
Spacious campsites
And so much more!
Whether you're looking for camping in the South Carolina mountains, lake camping or convenient camping locations near the beach, KOA has what you need. Our South Carolina campgrounds include:
Book Your South Carolina Vacation With Koa
Ready to plan the adventure of a lifetime? Book where you'll be camping in South Carolina today!
---
About the Author: Kampgrounds of America
Kampgrounds of America is the largest system of open-to-the-public campgrounds in the world, with over 500 locations across the United States and Canada. Founded in Billings, MT in 1962, KOA's family of campground brands – KOA Journey, KOA Holiday and KOA Resort – today serve more than a million camping families each year. KOA is dedicated to "connecting people to the outdoors and each other" by providing people with a variety of camping experiences and the information they need to make the most of their camping trip. Read more of their camping and travel resources by visiting KOA.com/blog.
---