This summer, we're encouraging women to share their love of camping during #CampLikeAGirl2016. Experience a girls' weekend with KOA – and mix up some cocktails too!
To us, camping like a girl means camping with a bit of class and a little sass. It means sharing time with girlfriends in the great outdoors. Time to get away, de-stress, reconnect, adventure and have fun. Spending the days hiking, biking and exploring, then relaxing around the campfire under the stars with friends – and maybe a glass of wine, or two – can lead to lots of laughter and memories made.
Whether you and your friends are purists looking for the sweet simplicity of a tent or camper, or you prefer the creature comforts of a soft bed, bathrooms and a gas grill, gathering all your women friends for a camping trip can be a blast!
We've gathered a few ideas to help make it easy, fun and delicious. Set a date, collaborate on preparing one of our favorite camping menus, mix up some drinks (we've got you covered bellow!) and kick back. Consider dressing up your site with a few festive lanterns or twinkle lights. Or maybe a simple tent set up is more your style. Bring bocce, horseshoes, or try your hand at cards. Options are endless!
Then, book a campsite somewhere tried and true or fun and new and you're ready to roll. The National Parks turn 100 in August. Maybe there's a park you've always wanted to explore? Could it be a beach getaway? Quiet cabins by a sparkling river somewhere?
For the easiest weekend imaginable, KOA offers a variety of Deluxe Cabins and even teepees, airstreams and yurts. Or book a few neighboring campsites and load up your tents, campers or RVs.
Our girls weekend took us to the Carbondale KOA in Colorado, where sweet little vintage log cabins sit on the banks of the Crystal River. Close to Glenwood Hot Springs, bike trails and an adventure park, it was a great fit for the women in our group. We biked and swam and grilled up amazing food. Take a peek!
Now all that's left for you to do is take a weekend away from work, partners, kids  and obligations and join the girls' club celebrating the great outdoors!
Let us know how it goes! Share your pictures on social media with #KOACamping and #CampLikeAGirl2016
Campsite Cocktail Party
If you like a little sip while camping, these two drinks will definitely wet your whistle. Pretty, sparkly fruit-filled sangria and a wickedly cool and crisp dirty martini. Plus indulgent baked Brie to get the party started. Cheers!
Sparkling White Sangria
1 bottle white wine (such as sauvignon blanc, pinot grigio or chardonnay)
1/2 cup peach schnapps
2 cups fresh fruit (Sliced peaches or nectarines, blueberries, raspberries, strawberries, blackberries, apples, etc.)
2 cups club soda or seltzer water
Combine white wine and schnapps in a pitcher. Add fruit and seltzer. Gently stir and let sit for 5-10 minutes for flavors to combine. Pour over ice. Makes 6-8 servings.
Dirty Martini
1-2 tsp. olive juice from a jar of pimento stuffed olives
2 oz. good quality vodka
ice
pimento stuffed olives
For one drink: Pour 1-2 teaspoons of olive juice into a glass. Combine 2 ounces vodka with ice in a shaker and shake well. Strain over olive juice. Garnish with olives.
Baked Brie
1 (8-ounce) wheel of Brie
2-3 Tbsp. raspberry, fig or apricot jam, if desired)
heavy duty aluminum foil
fresh fruit, crackers or crusty bread, for serving
Tear a large square of foil. Place Brie in center of foil and spread with jam, if using. Wrap in foil and place in hot coals, for about 5-7 minutes until cheese is melty.
---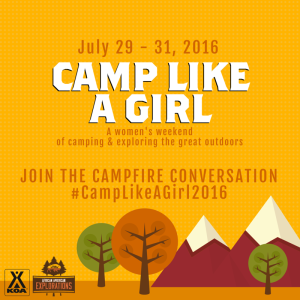 Camp Like A Girl is a grassroots initiative to invite girls and women around the country to enjoy the great outdoors. We're encouraging women of all ages to experience the outdoors. Gather your girlfriends, take out your daughters, getaway with your sisters; there is no wrong way to Camp Like a Girl.
Mark your calendars and reserve your favorite spot for July 29 – 31. Whether you're a seasoned outdoors adventurer or looking to expand your horizons, this is a weekend for women and girls to get out and camp!
Connect and share your camping weekend using #CampLikeAGirl2016.