Dream Vacation: Big Tree Bonanza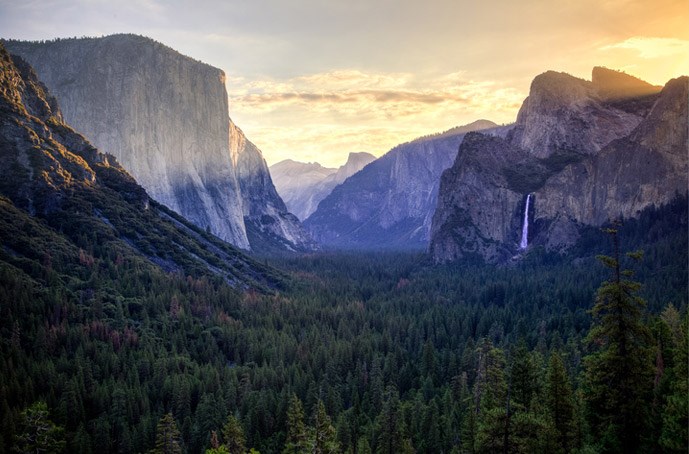 Yosemite National Park's vistas and the worlds tallest trees—the giant sequoia—inspire awe on this California dream vacation.
Don't miss the forest for the trees, they say. But hey, don't miss the trees themselves either. In fact, you can design a spectacular California journey around a trek toward tremendous trees and the remarkable national parks that preserve them.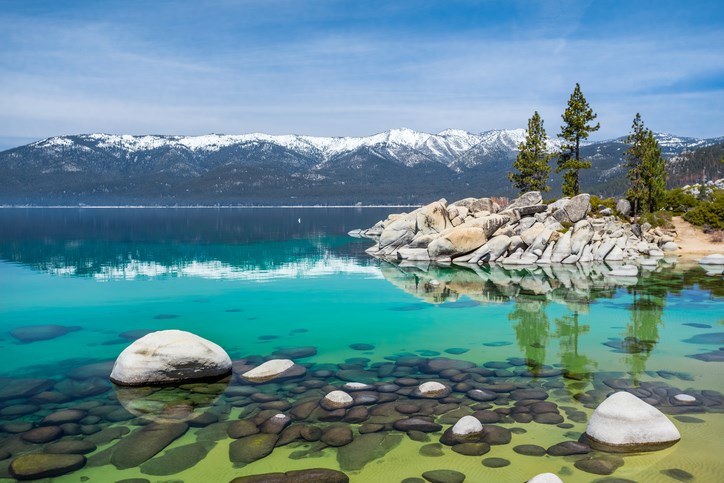 You can launch your tour at another superlative. The largest alpine lake in North America, Lake Tahoe straddles a pair of big states. Two thirds of it is in California, the rest in Nevada. You're bound to find clarity there—as in crystal clear water, cobalt blue skies, and a breathtaking view of the surrounding mountains. Mark Twain, who spent some time in the area, once declared it "surely the fairest picture the whole world affords." He wrote that in a book that he called Roughing It. But you don't have to rough it. Just stay at Lake Tahoe KOA, a few miles from the lake's south shore.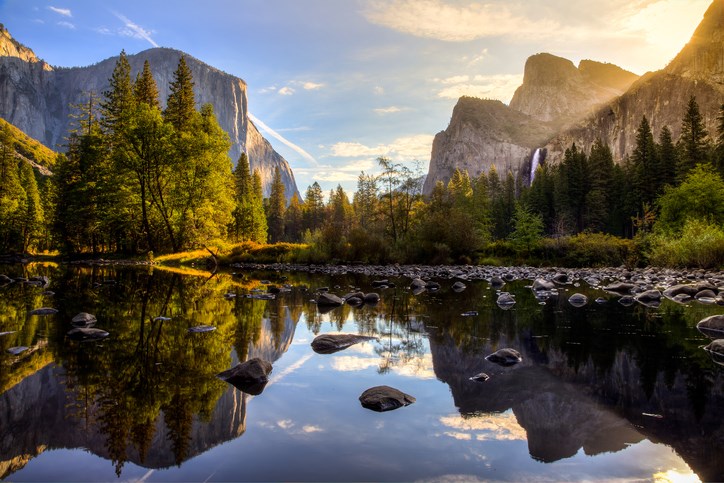 Now, head toward central California. Drive about four hours to a basecamp at Yosemite West / Mariposa KOA, and you can explore the natural wonders of Yosemite National Park, which famed photographer Ansel Adams described as "a glitter of green and golden wonder in a vast edifice of stone and space." You'll certainly marvel at the granite cliffs of El Capitan and Half Dome, as well as Yosemite's waterfalls, some of them plummeting more than one thousand feet to the valley floor. But the area essentially was first protected—when Abraham Lincoln signed the Yosemite Grant Act of 1864—to save the giant sequoias. And the Grizzly Giant in Mariposa Grove may be the most impressive of the bunch. It's over 2,700 years old, nearly 210 feet tall and more than 30 feet in diameter at its base. That's a big tree.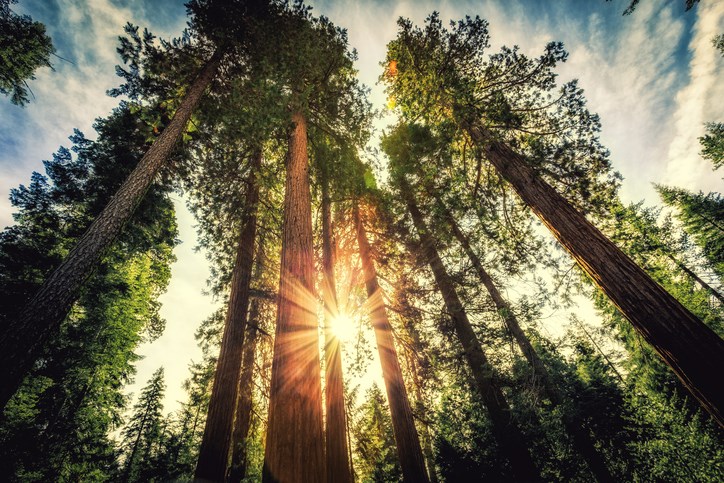 Less than an hour south from there is Visalia / Sequoia National Park KOA. From the campground, you can seek out a pair of wondrous places encompassing the most rugged portions of the southern Sierra Nevada. The majesty of Kings Canyon National Park is evident in its deep valleys, dramatic rock outcroppings and enormous trees (the park's Grant Grove is home to the General Grant Tree, the world's second-largest tree by volume). In fact, legendary conservationist John Muir once called the region "a rival to Yosemite."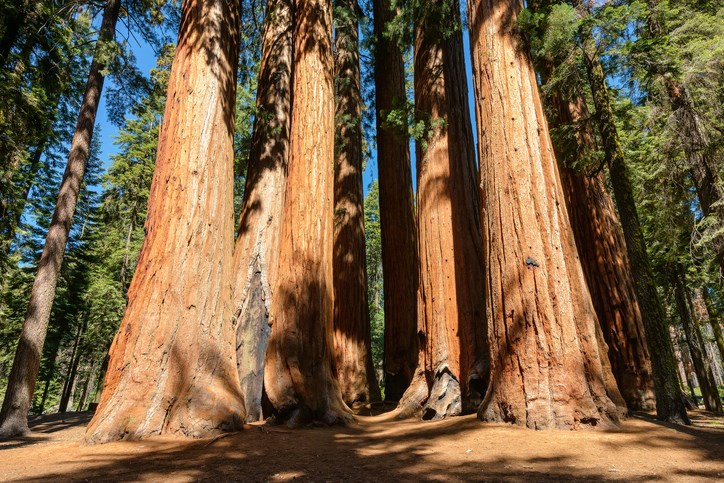 Just south of Kings Canyon, you can put a very tall exclamation point on your Big Trees Bonanza with a jaw-dropping journey into Sequoia National Park, truly an unforgettable experience. Sequoia trees are generally considered the world's largest living things, and four of the five largest of those can be found in Giant Forest. The trees are so extraordinary that a two-mile stroll along Congress Trail feels like a hike through another planet, taking gawkers past bright orange behemoths with names like Chief Sequoyah, General Lee and the President. But the highlight of the walk stands guard at the trailhead, a giant with one massive thick limb rising at sharp angles like a flexing muscle. There are trees taller than the General Sherman Tree, which rises nearly 275 feet high. And there are trees with more thickness (a 102.6-foot circumference). But there are none with a more impressive combination of the two. At 52,500 feet cubic feet, it is simply the World's Largest Living Thing. You'd flex, too.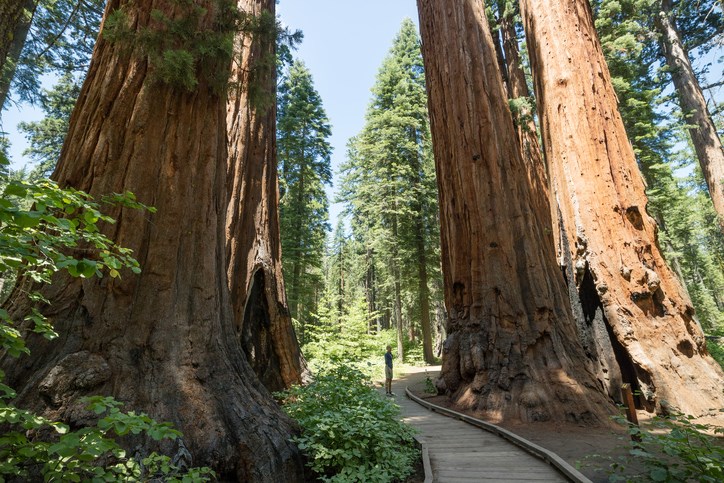 OWNER'S TIP: "Due to a restoration project, Yosemite's Mariposa Grove is currently closed to visitors until spring 2017. But you can still see giant trees in the park. Both Tuolumne Grove and Merced Grove—each about an hour from our campground—boast about two-dozen giant sequoias if you're willing to hike a mile or two. The massive trees won't disappoint." – Becky Bailey, Yosemite West / Mariposa KOA
ALONG THE WAY… Don't miss Calaveras Big Trees State Park. About midway between Lake Tahoe and Yosemite if you detour onto Highway 4 and cruise just northeast of a town named Arnold, you'll find a park that preserves two groves of sequoias—about 1,100 trees in all. The largest tree, in South Grove, is 250 feet tall and named after zoologist Louis Agassiz.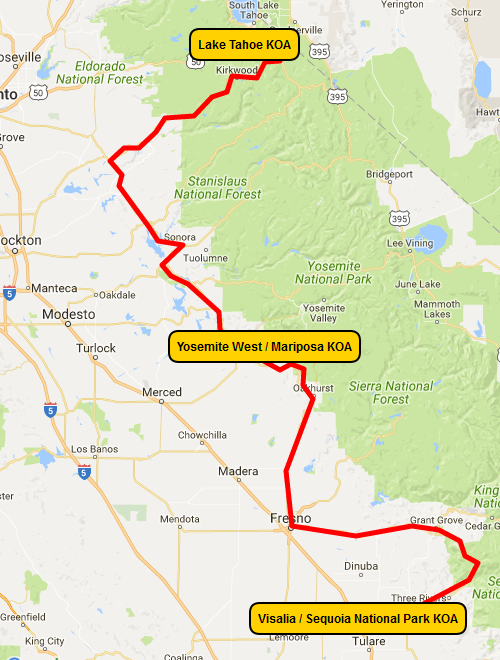 EDITOR'S NOTE: 2016 was the 100th Anniversary of the National Parks Service, the agency that oversees more than 400 National Parks, Monuments and Seashores across the U.S. This story was part of a special series featuring great trips you can take to some of America's wonders.

Inspired? If you are headed toward any of our National Parks or Monuments, check out this list of KOA campgrounds near National Parks and Monuments.
Don't forget! If you're ready to plan that dream trip you can save big on stays at all your favorite KOA campgrounds with Value Card Rewards. You'll earn reward points, enjoy members' only offers – including our new Value Card Reward Savings which could save you big with over 500,000 coupon offers – and save 10% off any site at any KOA.
---
ABOUT THE AUTHOR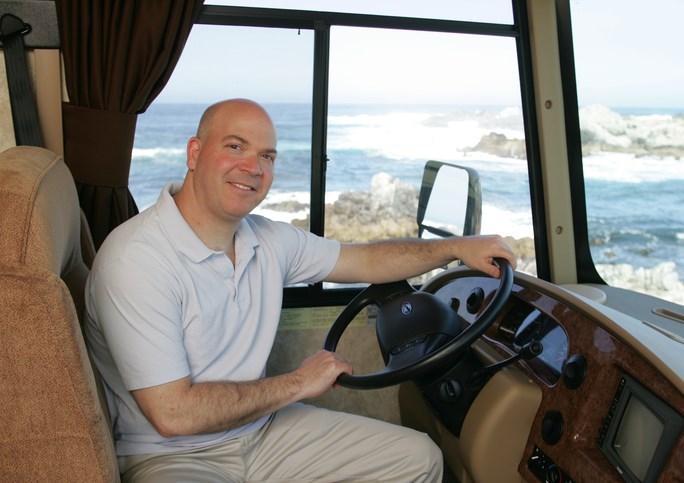 Author Brad Herzog (BradHerzog.com) has written more than 30 books, including three acclaimed memoirs in which he examines big-picture concepts while passing through some of the tiniest dots on the U.S. map. The American Book Review has described his travelogue trilogy as "the new classics of American travel writing." Herzog lives on California's Monterey Peninsula with his wife Amy and their two sons.