By Jennifer Grambs – KOA Kompass Travel Correspondent
Photos by Jeff Grambs
If you're an animal lover—and who isn't—this will make you smile. Pet campers
at KOA have included a horse, wolf, well-behaved pigs (both pot-bellied and slightly
slimmer), the kind of monkey that sits on your shoulder, a parrot, cockatiel and, I'm not kidding, a lion and Bengal tiger.
Then there are the dogs, cats and assorted four-legged creatures that are cherished members of the families who own and manage campgrounds. It's a fact that these beloved pets and their people get to live a remarkable KOA lifestyle: meeting and greeting visitors, romping around in Kamp K9 play areas and enjoying nature in general. It's a good, outdoorsy life the rest of us have been waiting all winter to embrace.
For frequent travelers like me with family and pets in tow on the road, KOA can feel like a welcoming animal kingdom where campers, both furry and not, co-exist. None of these lovable animals, large or small, were available for interviews when I got the idea to write about the world of pet camping at KOA. Except for Roxy Hart. She's our adventurous, outspoken Tibetan terrier who has been road tripping with my husband, daughter and me since she was a puppy.
Rough and tough Roxy, who resembles a small sheepdog on her best days, has spent at least 10 years (that's seven dog decades) exploring America from east to west coasts with every mountain and prairie in between as her playground. So far, she's traveled thousands of miles and napped in countless KOAs where tents, RVs and cabins have been her outdoor shelters. The number of grilled hamburgers and s'mores she's begged for would amaze you. She doesn't care for hot dogs.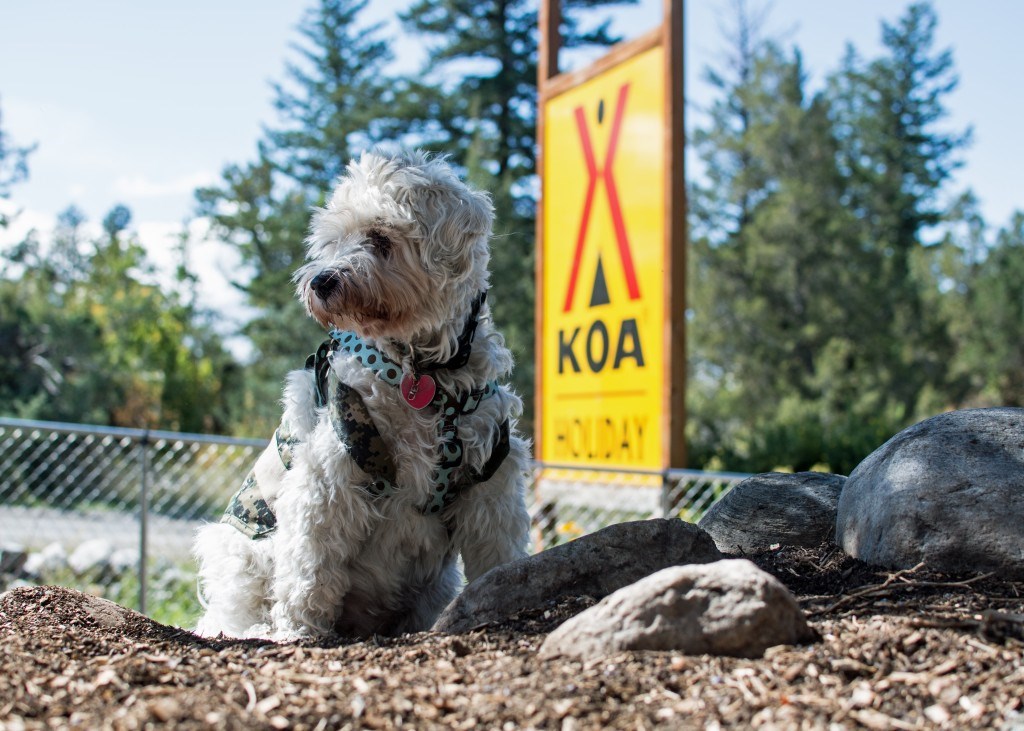 Two truths become obvious when I consider Roxy and what it takes to keep your pet
happy and safe in a camping environment: first, campgrounds that really welcome pets, as all KOAs do, tend to be happy places. Second, campground owners with pets of their own understand the commitment that pet camping requires. KOA's pet-friendliness is a very cool thing. So, chatting with Roxy recently (yes, you can!) was a revelation as she pawed over pictures of past vacations and remembered campgrounds and owners from recent journeys. Here are some stand outs.
"Do You Know You Have a Dog On Your Roof?"
Well, sure, Cor and MaRia Bijvank know there's often not one, but two, dogs on their roof in their Greybull, Wyoming KOA campground
Just look up when you get there. Countless visitors do. The dogs like to romp
above the A-frame store near the couple's living quarters that's equipped with a doggie door for easy rooftop access. That's where Roxy first saw the Bijvank's boxer dogs when we all posed for a photograph in 2013. Roxy hasn't met the newest addition, Jacoba, a lovable rescue Bichon who keeps Bonnie the boxer company since she lost her companion awhile ago.
"Do we know we have a dog on our roof?" MaRia repeats the unavoidable question
that campers keep asking her."Of course we knew it. After 10 years, you know."
Then there was the matter of a well-mannered, regular (not pot-bellied) pig traveling with a family from Alaska. They wanted to camp at Greybull. Where did Cor and MaRia put them up? Not on the roof. Cor tells me this particular pig was welcomed "because he was housebroken." Apparently, good pigs are rewarded so everyone nestled into one of Cor's artfully-constructed cabins. Roxy's a little jealous, she's not big on sharing perfect little camping abodes.
Greybull, with its spectacular views of the Bighorn National Forest and proximity to wild horse sanctuaries, was a kind of spiritual haven for Roxy and all of us. Observing your dog as she looks into the eyes of magnificent horses trotting freely alongside your slowly-moving car is one of those experiences that makes an impression.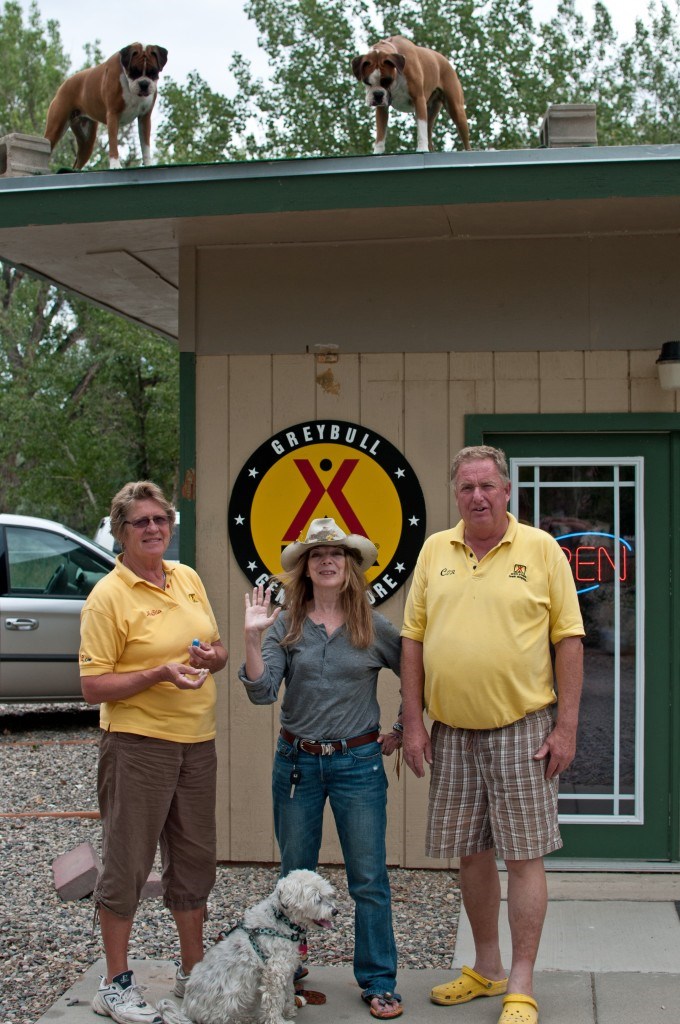 Lions and Tigers…Oh My!
A log cabin doghouse in a pet playground called Bark Park is where dogs get to unwind at the Elkhart Co/Middlebury, IN KOA
That's cute enough, but owner Hope Perkins takes her love of dogs and enthusiasm for KOA camping even further by making certain that all her pets' names start with a "K" for KOA. So there are Kiah and Kimball, who are Hope's corgis, and Koi, who belongs to her son, Nick. To complete the K tradition, the family cat (or should I write KAT?) is named Kamper—with a K, of course.
But this KOA's most unusual pet camping story happened seven or eight years ago when a "sort of traveling petting zoo" arrived, as Hope tells it.
That's how it came to be that a lion and Bengal tiger were actually guests for a night at this campground that's located in the middle of Amish territory. Hope, true to her love of animals and eager to accommodate KOA guests, agreed to the unusual request. She says neither the lion or tiger ever stepped out of the fifth wheel that was their traveling home. She didn't see or hear them. Not even one roar.
It turns out they were quiet, respectful campers who apparently paid attention to traditional camping etiquette and observed lights out, as all good lions and especially Bengal tigers should.
The next morning they went on their merry way.
A Campground and an Animal Kingdom
Zoey, the labradoodle, and Ollie, a French bulldog who's not quite two, are all set for opening day at the Durango, CO KOA Owner, Jay Coates told Roxy and me that he guesses that over the last 23 seasons he and his wife Carol have had as guests just about every breed of dog you can think of. Not to mention a few left-behind cats who found homes with them.
There were even mule rides, for a time, that have been replaced with weekly duck races.
The ducks are not the quacking kind. They're plastic.
Browsing through Jay and Carol's albums, you'll feel the love. Pets all around you:
Look, there's a cockatiel sitting on Carol's shoulders. Is that the tiniest of chipmunks at the registration counter? Dogs and cats, pups and kittens riding in carts, napping, even sitting on deck chairs. We're talking about a lot of years of pets camping here with
owners who obviously adore them.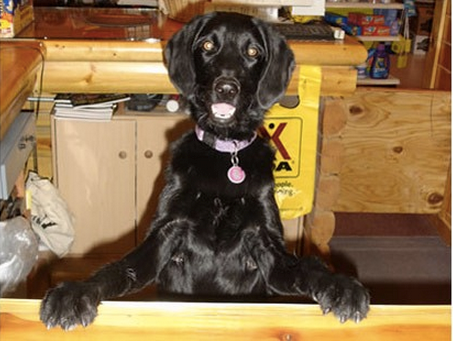 And Now, Paws Up From Roxy
Of course, I don't actually know how Roxy feels about camping. I hope that her wagging tail means happiness when she sees that familiar yellow sign. From a pet owner's point of view, it's nice to check into KOA campgrounds that celebrate our dog, just as we do.
Pet camping is really people camping with a plus.
****
Jennifer Grambs is a journalist who has published three books about traveling in the United States as part of the American Traveler series.
Jeff Grambs is a photographer with a website at GrambsPhoto.com and former broadcast news writer.