Meet the new Coshocton KOA featuring plentiful amenities, group space and even a corn maze!
The Colonial Campground in Coshocton, Ohio had been built in the 1950s or 1960s as an addition to a public swimming pool which had since been filled in.  In 2013, when Ryan McPeek looked at the property with his father John and mother Shelley, the campground was predominantly filled with long-term campers, frequently contract workers who needed housing. The park was full, but it needed a little much needed attention.
"Having that client base helped get us going," Ryan explains. "It allowed us to afford to fix up the park."
Today, the Coshocton KOA features beautiful pull-through and back-in RV Sites with both full and partial hookups.  Many have been redesigned to accommodate the needs of today's largest RVs and are perfect for either a weekend getaway or a longer stay.  Tent Sites are also available.   Amenities include a family-friendly playground, free Wi-Fi and a newly-renovated indoor event center ideal for weddings, family reunions and other social events.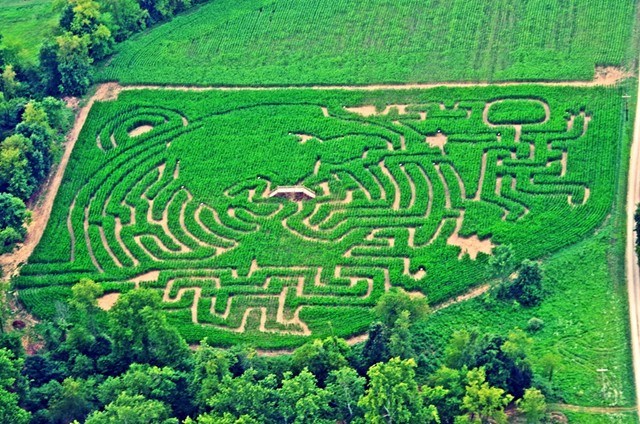 In 2015 the McPeeks also added a corn maze to the property that is as much for the Coshocton community as it is for guests visiting the campground.
"This is a big production that lasts 9 weeks. We have games, a hayride, a corn box and concessions. This year's theme is space exploration, and it will change every year."
Ryan and Camille live near the campground, and both work there full-time.  They also give a great deal of credit—and thanks—to Ryan's parents John and Shelley.
"I told my dad before I bought it that I couldn't do it without his help," says Ryan. "My dad just retired, so he'll be more involved. Mom works here a lot too, and we couldn't get a lot of things done without them.  They'll see something falling behind, grab ahold of it and just make it happen."
This fall, Ryan and Camille are looking forward to beginning construction on a swimming pool. They also are already making plans for future changes.
"We like living here and adding something to the community," says Ryan. "Having this as our home continues to motivate us make this park the very best it can be."
Located at 24688 County Road 10, the Coshocton KOA is one of 490 open-to-the-public KOA campgrounds located throughout the U.S. and Canada. It is open year-round.
For more information, please phone 740-502-9245 or visit www.koa.com. Reservations may be made online or by calling 800-562-1633.
---