If you're an avid hiker looking for a new adventure seeking and some lovely vistas to sit on a rock and have a little picnic on, North America of course offers a ton of challenging hikes. No matter how many years you've been at the trails, there are always new ones to explore.
From the rugged canyons of Utah's Canyonland to the brisk alpine meadows of Canada, there's a trail to satisfy every hiker's desire. To make your journey even more enjoyable, we've paired each hike with a nearby KOA campground to ensure that you have a comfortable base to prop your feet up after your trek. So, grab your hiking boots and get ready to explore some of the most challenging and well known hikes in North America.
Looking for a New Hiking Adventure? Try These 11 Challenging Hiking Trails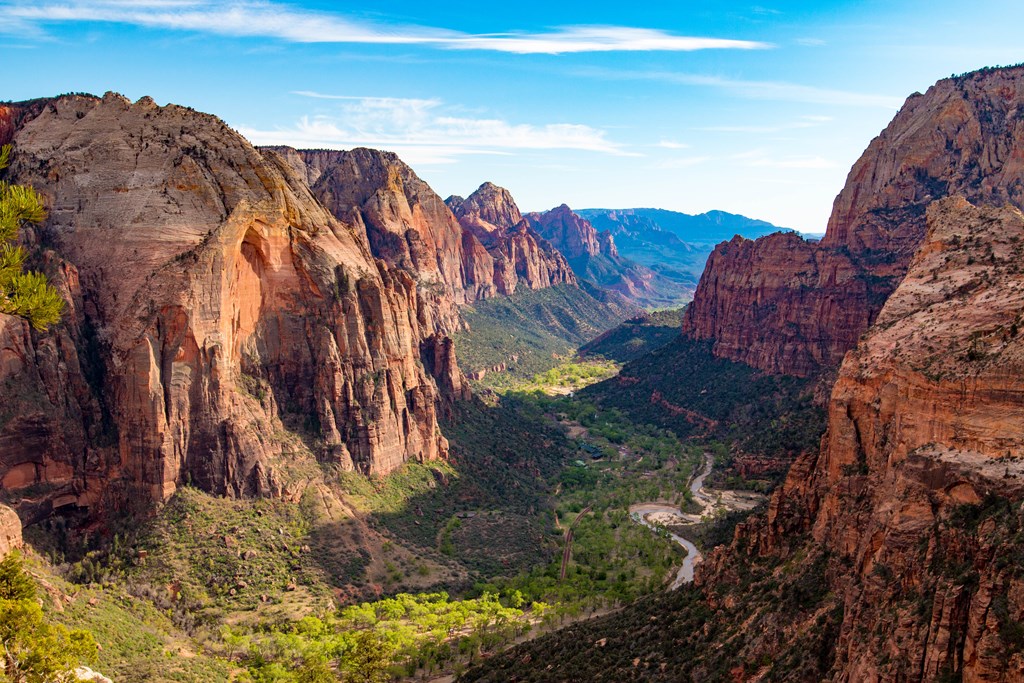 1. Zion National Park, Utah – Angels Landing Hike
Angels Landing is not for the faint of heart, but if you're reading this blog you've probably heard about it. A thrilling and challenging hike with steep switchbacks and a narrow ridge trail that leads to breathtaking views of Zion Canyon, Angels Landing is one of the most popular destinations in Zion. Many who go want to experience the adventure of that final narrow ridge, and get an Instagram photograph. Its now famous name descends from Methodist minister Frederick Vining Fisher who, on his first visit to Zion Canyon in 1916 allegedly quipped only an angel could land there.
We'll note that in light of the pandemic, a permit is now required to reach the top due to the number of people hiking the trail. The hike is strenuous, so again not for the new hiker as it can make even pro climbers a bit nervous.
KOA Campground: The closest KOA campground to Zion National Park is the St. George / Hurricane KOA Holiday, which is about a 30-minute drive from the park entrance. Make sure to book ahead because this is a very beloved campground.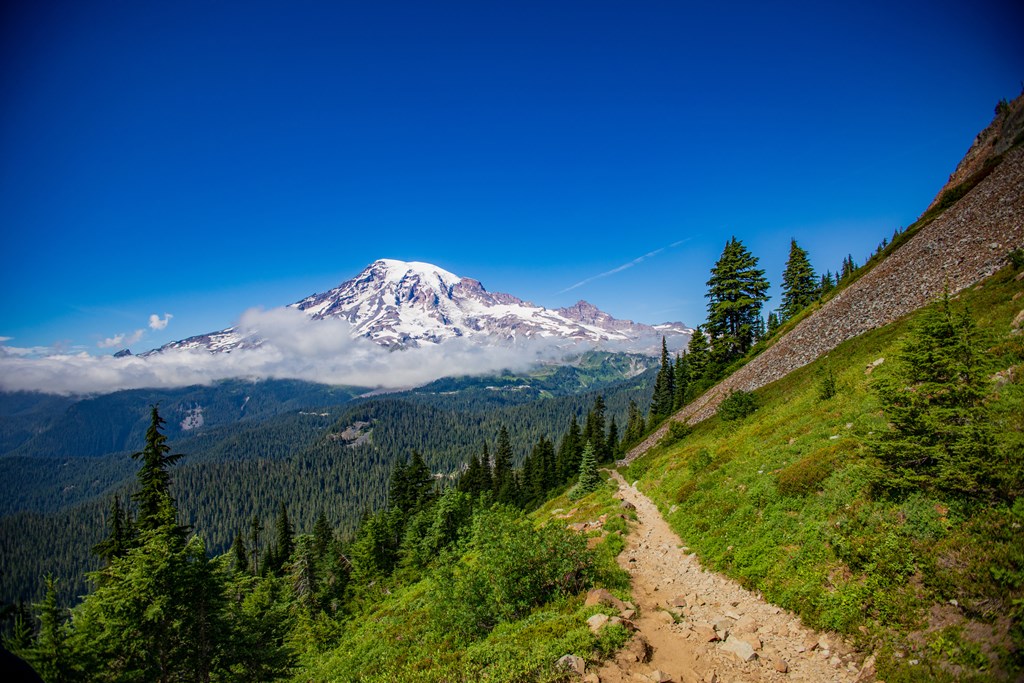 2. Mount Rainier National Park, Washington – Wonderland Trail
Oh, Mount Rainier. One of our favorites. The Wonderland Trail is a hiker's dream, encircling the iconic Mount Rainier and offering a 93-mile loop. This multi-day adventure takes you through lovely forests, wildflower-filled meadows, and high alpine terrain, with breathtaking views of the mountain. It's a strenuous hike with lots of elevation gain and loss. Perhaps the biggest aspect in planning to hike the Wonderland Trail is you knowing your hiking skills, abilities and habits.
Nobody knows your skill level better than you. Do you live and hike primarily in mountainous terrain and climates, or lower elevation areas? Hiking on flat terrain for 93 miles is far easier than having to climb up three thousand feet with a full pack day, after day, after day. A wilderness permit is required for all overnight camping in the park. Due to high demand during the summer season, it is strongly recommended to make a wilderness permit reservation if you are planning to hike the Wonderland Trail. Hikers doing the complete Wonderland Trail are limited to camping in designated camps only – the use of cross-country zones is not permitted.
KOA Campground: To rest your feet, head to the Ellensburg KOA Journey in Washington. Just across the Oregon boarder, the Astoria / Warrenton / Seaside KOA Resort offers easy access to beach views before or after your hiking adventure.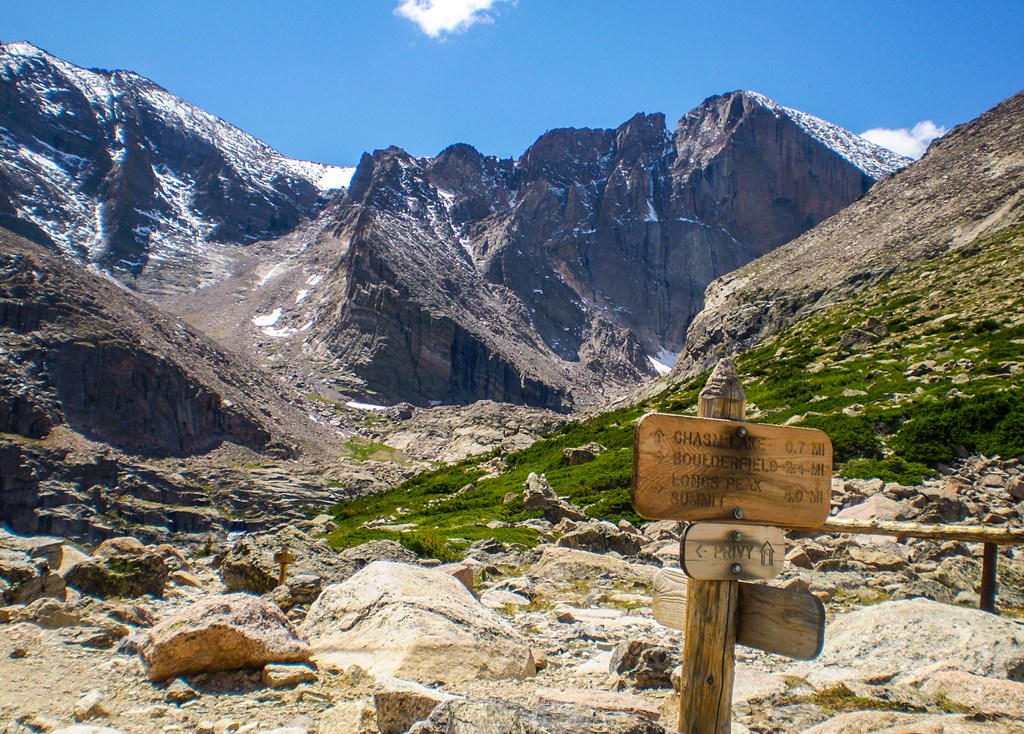 3. Rocky Mountain National Park, Colorado – Longs Peak
Longs Peak is a mountaineer's dream, offering a true alpine challenge. A challenging 14,259-foot peak in the Rocky Mountains, the Keyhole Route takes you through rugged terrain, including steep sections and boulder fields. Your reward at the summit? Unmatched panoramic views of the Rockies.
Keep in mind this is a very popular area for backpacking, camping, and hiking, so you'll likely encounter other people while exploring. The best times to visit this trail are June through September and unfortunately you'll need to leave pups at home as dogs aren't allowed on this trail.
KOA Campground: After your climb, the Estes Park / Rocky Mountain National Park KOA Holiday is conveniently located in Estes Park, a beautiful gateway town to Rocky Mountain National Park and well worth the stop.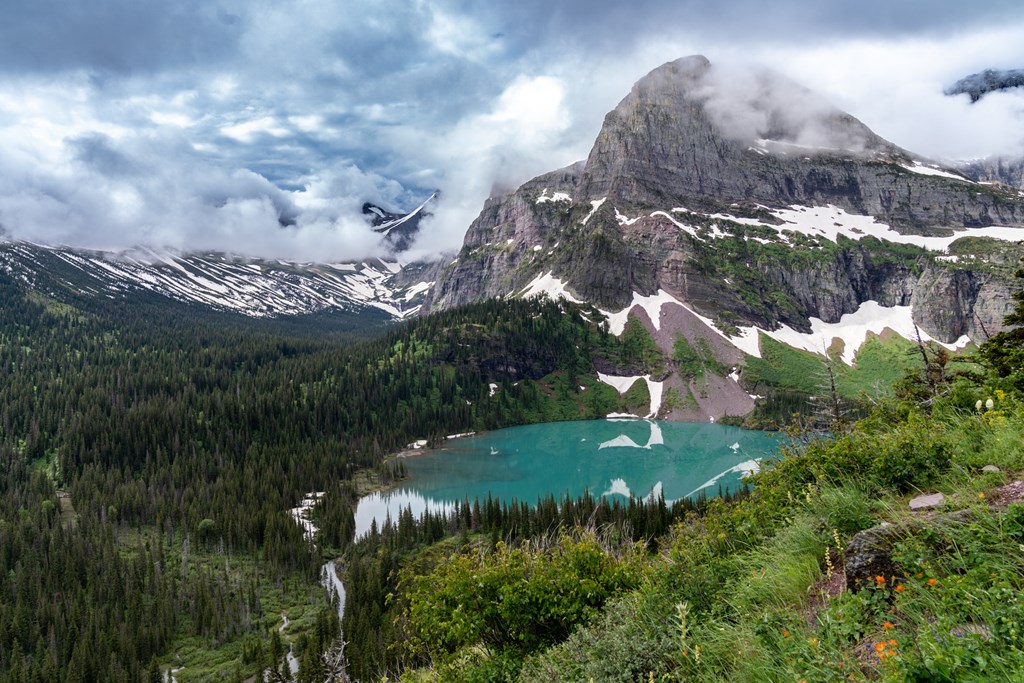 4. Glacier National Park, Montana – Grinnell Glacier Trail
Grinnell Glacier Trail is a bucket-list hike that takes you to a vanishing glacier. Along the way, you'll hike through meadows, cross a glacier-fed stream, and witness stunning vistas of crystal-clear lakes. The hike begins from the Grinnell Glacier Trailhead, located roughly one-half mile past the turn-off for the Many Glacier Hotel. However, you can shave 3.4 miles off your roundtrip hike by taking the two shuttle boats across Swiftcurrent Lake and Lake Josephine, which we highly recommend. Please note that if you choose to go that route, there is a fee to board the two boats.
From the boat landing on the south shore of Lake Josephine hikers should proceed along the trail that leads towards the right. After walking a very short distance you'll reach a junction where you'll turn right to continue towards your destination.
KOA Campground: At the end of your trek, retreat to the lovely and very popular West Glacier KOA Resort, which is situated just outside the west entrance of Glacier National Park. If you're coming from the east side of Glacier, book a stay at the St. Mary / East Glacier KOA Holiday for some totally incredible views.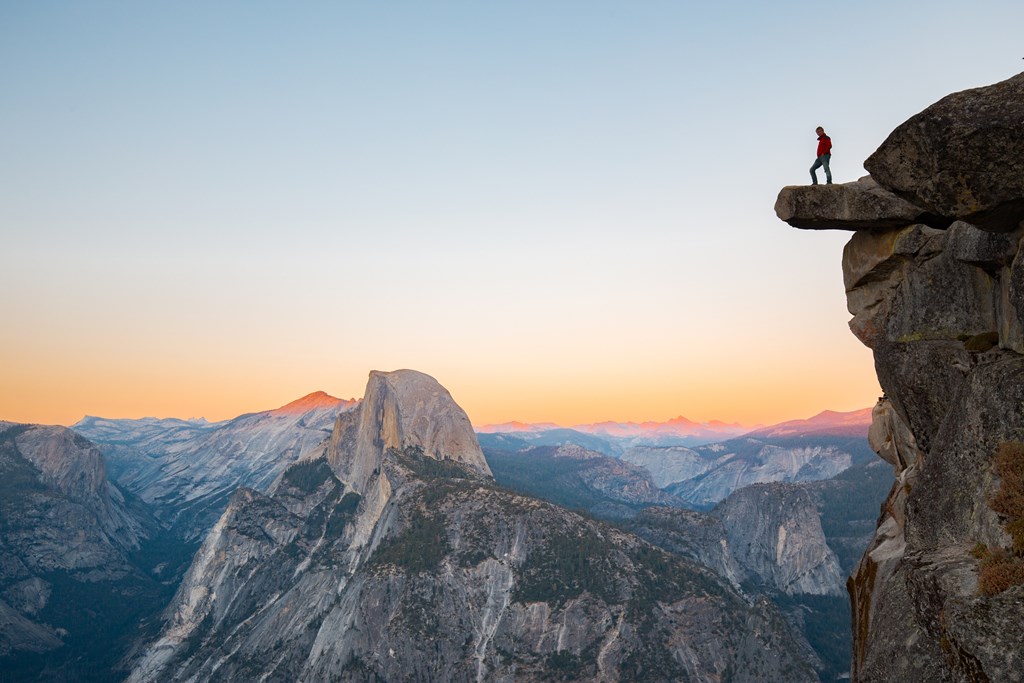 5. Yosemite National Park, California – Half Dome Hike
Rising nearly 5,000 feet above Yosemite Valley and 8,800 feet above sea level, The Half Dome hike is the stuff of legends, famous for its cable-assisted final ascent. Despite an 1865 report declaring that it was "perfectly inaccessible, being probably the only one of the prominent points about the Yosemite which never has been, and never will be, trodden by human foot," George Anderson reached the summit in 1875, in the process laying the predecessor to today's cable route.
It's a trek for experienced hikers, with spectacular views of Yosemite Valley. Ascend the cables to reach the iconic summit and take a peep at the expanse of the valley below. Today, thousands of people reach the summit. For most, it is an exciting, arduous hike; for a few, it becomes more of an adventure than they wanted.
However if you plan to hike Half Dome you must have a permit. For day hikers, permits are available by lottery in March, with a limited number available two days in advance. Backpackers, including those who want to camp in Little Yosemite Valley, should request a Half Dome permit with their wilderness permit.
KOA Campground: Currently, you won't find a KOA location near Yosemite National Park. However, with more than 30 KOA campgrounds across California, you'll find lots of convenient options as you make your way to Half Dome.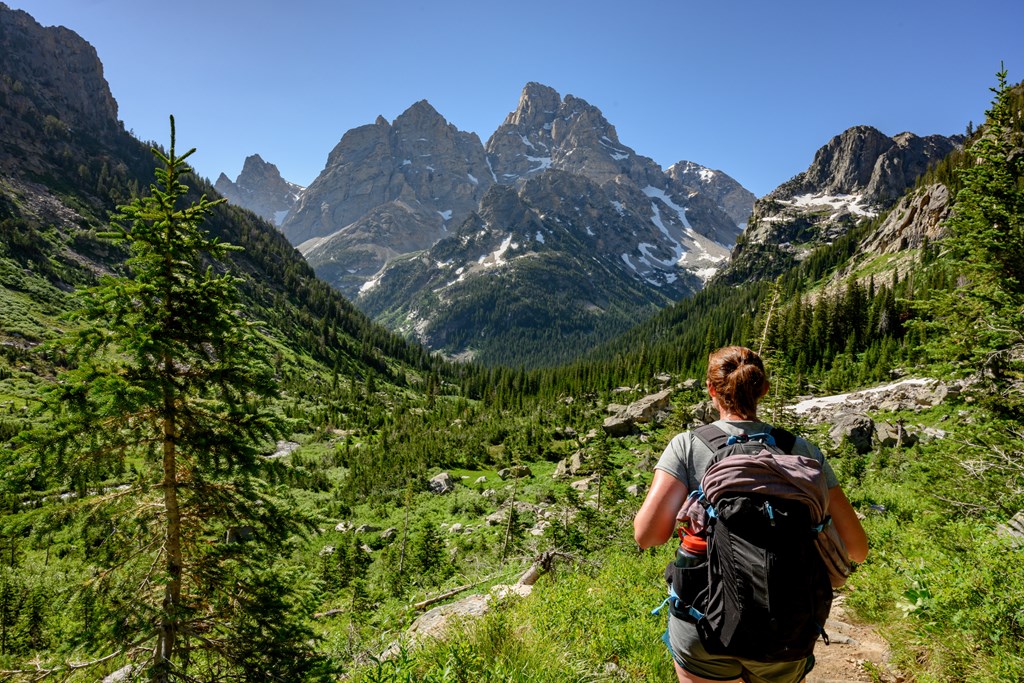 6. Grand Teton National Park, Wyoming – Grand Teton Summit
Climbing Grand Teton is a challenging mountaineering experience with steep snowfields and exposed rock sections. It requires technical skills and equipment.
Climbing Grand Teton is a mountaineer's ultimate challenge, offering a mix of technical climbing and high alpine terrain. The summit rewards you with jaw-dropping views of the Teton Range. After your epic adventure, head to the Jackson Hole/Snake River KOA for a comfortable and well-deserved break.
KOA Campground: Less than an hour from Grand Teton National Park, Dubois / Wind River KOA Holiday offers Wyoming hospitality and a variety of ways to stay.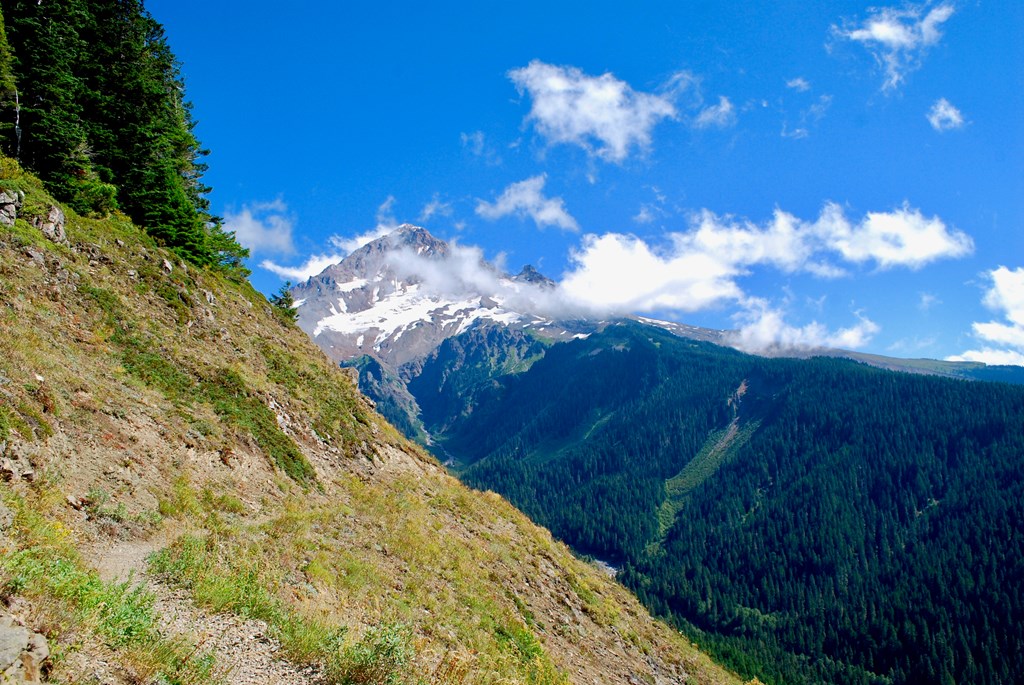 7. Mount Hood National Forest, Oregon – Timberline Trail
The 41.5 mile Timberline Trail, which circles Oregon's highest point, Mount Hood, dropping in and out of glacier-carved canyons, is a classic that should be on everyone's bucket list. The trail offers challenging terrain and stunning views of glaciers and alpine landscapes, as well as glaciers, wildflower-filled meadows, and volcanic rock.
It's also a National Historic Trail. Numerous tent sites along the trail and an easy permit system make tackling the Timberline in two to four days straightforward.
KOA Campground: The Cascade Locks / Portland East KOA Holiday is approximately a 1.5-hour drive from Mount Hood and provides a comfortable stay for hikers.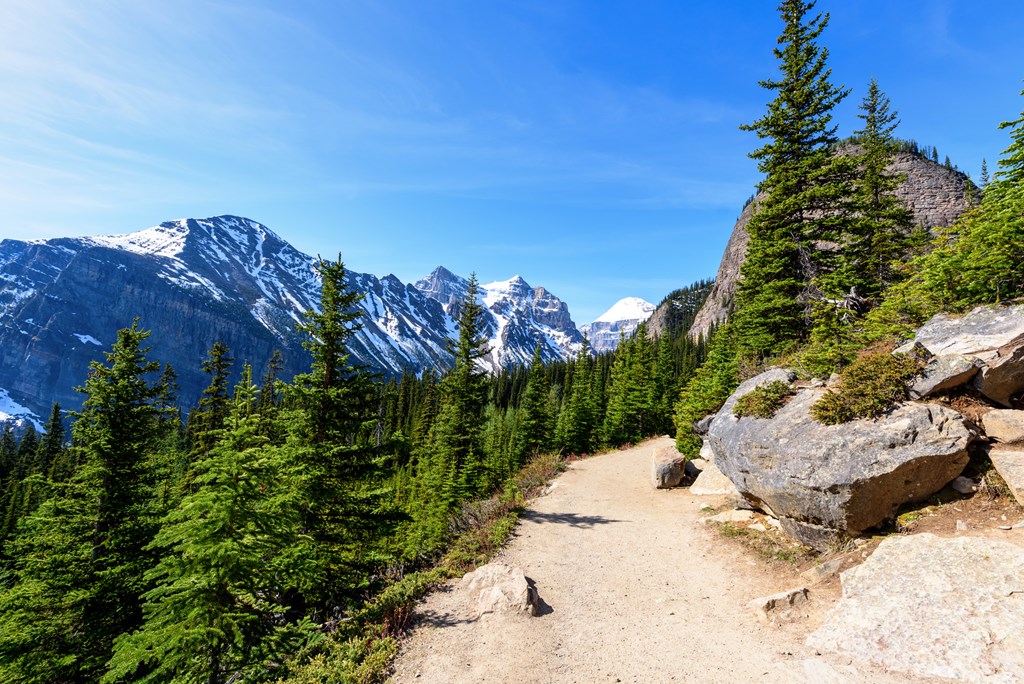 8. Banff National Park, Alberta – Lake Louise to Lake Agnes Hike
In the heart of the Canadian Rockies, Banff National Park offers amazing scenery. The Lake Louise to Lake Agnes hike takes you to the charming Lake Agnes Tea House, nestled in the mountains. Enjoy handmade cakes and a variety of loose-leaf tea while seated at the original rustic tables and chairs used by adventurers since the earliest days of the tea house in 1905.
The 3.5 km forested trail that connects the shores of Lake Louise to the tucked-away Lake Agnes has drawn eager hikers up to this hanging valley for over a hundred years.
KOA Campground: You'll find three KOA campground locations within a few hour drive of Banff. There are two KOAs in Alberta and one nearby in British Columbia.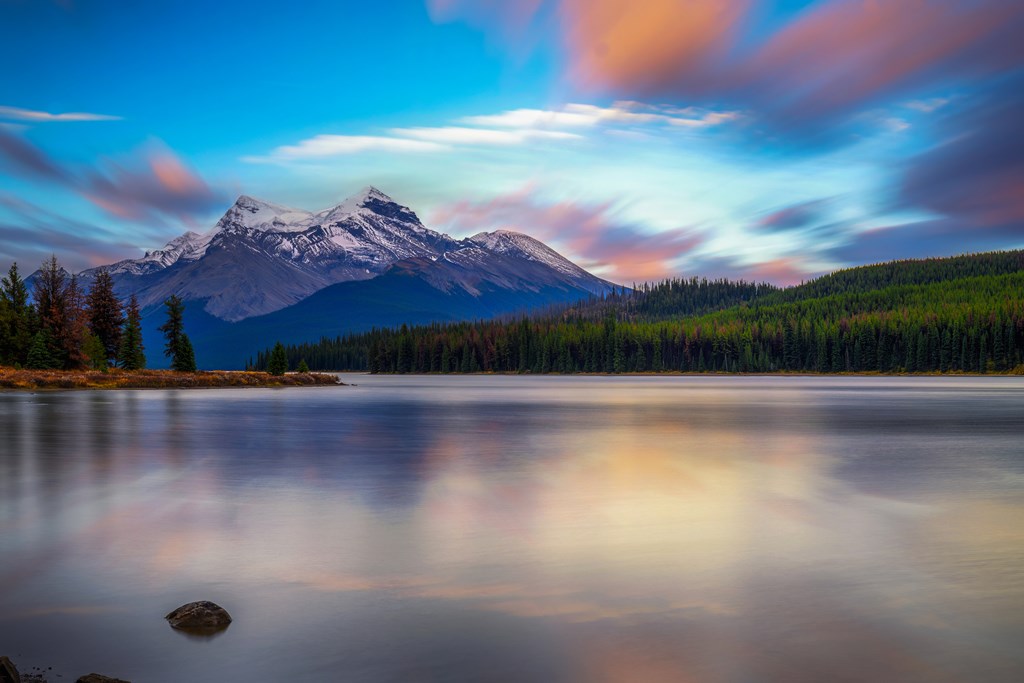 9. Jasper National Park, Alberta – Skyline Trail
The Skyline Trail hike in Jasper National Park rewards you with incomparable mountain views for 25 kilometers, almost two thirds of its 44.5 km length. This is a world class hike that consistently ranks in the top 10 hiking trips in Canada. It rewards you with fantastic mountain panoramas, beautiful valleys and lakes as well.
On this hike in particular, expect any type of weather on this hike from sunny, hot days to rain and snow. Warm clothes and rain gear are a must. Since the Skyline is one of the most coveted backcountry hiking trails in Jasper, this is also a note that securing a permit for this trail can be challenging. However, if you're lucky enough to obtain one, you're in for a wonderful high-alpine adventure.
KOA Campground: The Hinton / Jasper KOA Holiday is located in Hinton, Alberta, and provides a comfortable camping option for those exploring Jasper National Park.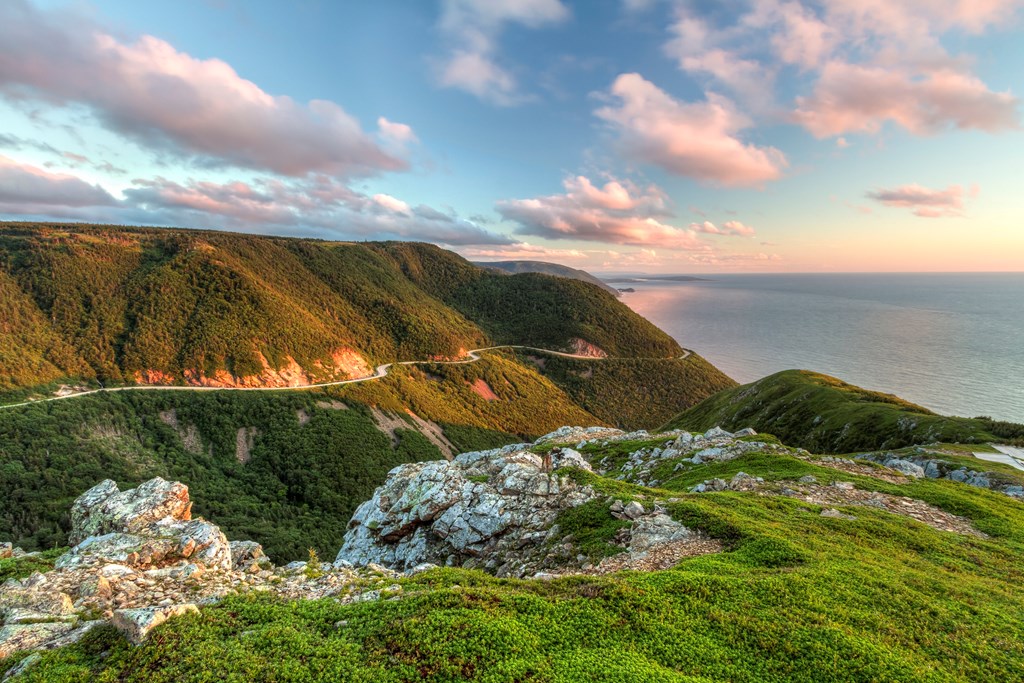 10. Cape Breton Highlands National Park, Nova Scotia – Skyline Trail
In Eastern Canada, Cape Breton Highlands National Park offers coastal beauty and breathtaking vistas. The Skyline Trail is a must-do, offering panoramic views of the Gulf of St. Lawrence.
One of the most popular wildlife on the Skyline trail would have to be the moose! You'll have to keep this in mind when planning your hike, you are more likely to spot a moose if you hike early in the morning before the trail gets busier over the day. If you do spot one you may want to take a photo but please keep your distance, and keep in mind they are wild animals and can be unpredictable. Other wildlife that are seen are rabbits, whales, and different species of birds.
KOA Campground: The North Sydney / Cabot Trail KOA is conveniently situated near the Cabot Trail and Cape Breton Highlands National Park.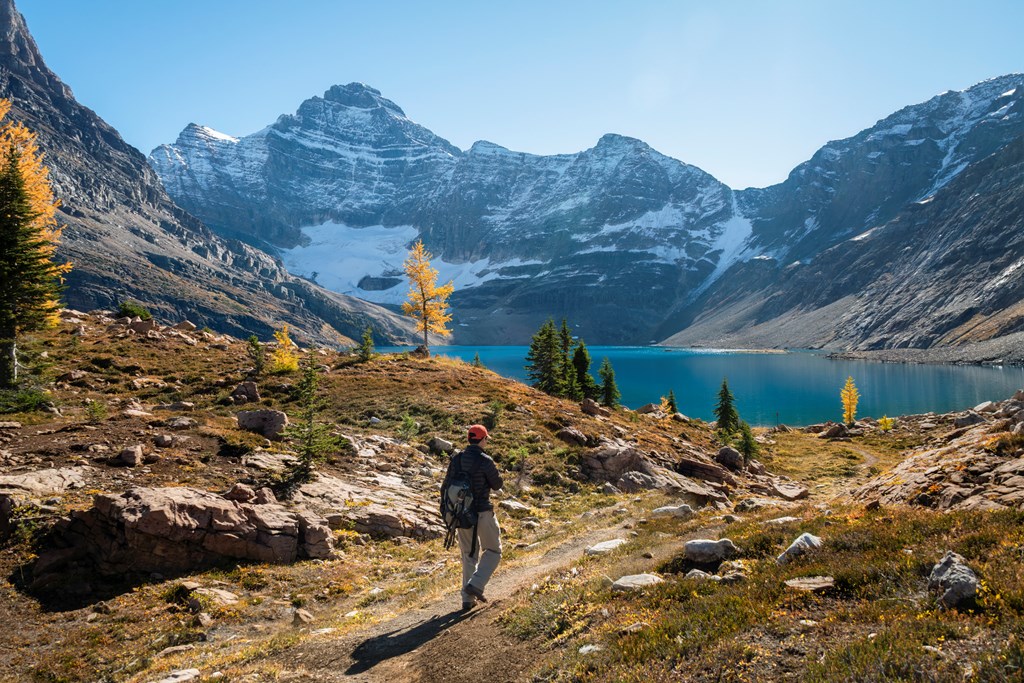 11. Yoho National Park, British Columbia – Iceline Trail
Yoho National Park is on the traditional territory of the Ktunaxa, Blackfoot, and Cree First Nations. The word Yoho comes from the Cree expression for "awe and wonder," and this park sure does live up to its name.
Yoho National Park, in British Columbia, is a hidden gem known for its beautiful wilderness. The Iceline Trail showcases the park's beauty, with vistas of glaciers and waterfalls. It can be hiked a few different ways: a 20-km single-day loop, a 14-km out-and-back trip, or as part of a multi-day backcountry camping trip. Be aware, there are 3 kms of switchbacks once you get started!
KOA Campground: While a bit of a drive, Cranbrook / St. Eugene KOA Journey is an awesome campground to visit on your way to Yoho National Park with spacious RV sites and premium amenities.
Well, there you have it folks. From the famous Angels Landing in Zion all the way to the rugged Canadian Rockies, these hikes offer an extended chance to connect with nature and test your hiking skills. With conveniently located KOA campgrounds, you can enjoy the best of both worlds—adventure by day and comfort by night. So, pack your gear, hit the trails, and connect with nature to create memories that will last a lifetime. Happy hiking!
---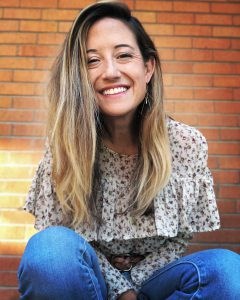 Lindsey Hall is an award-winning mental health speaker and writer, focusing on what she refers to as "the nitty gritty topics not discussed." She is the author behind "I Haven't Shaved in Six Weeks," a blog written to humanize the stigmas of eating disorders and treatment.
Through her published writing and work in public relations, she has had the privilege of speaking around the world on nuanced topics such as Body Dysmorphic Disorder, Exercise Addiction, Orthorexia and other eating disorder behaviors, and has been featured in publications including TODAY Show, CBS, Washington Post, Cosmopolitan, Women's Health, SheKnows, SHAPE Magazine, Refinery29, and more.
An outdoor enthusiast (and Colorado girl) at heart, Lindsey loves to hike wherever possible and is currently focused on taking her white Dodge Ram ProMaster van around the world with her lovely cat, Smudges. Together, they have traveled in over 40 states and even across borders into Canada to conquer the trails!
Follow Lindsey Hall on Instagram.