If Munich is too far, head to one of these great American Oktoberfests.
'Tis the season to shamelessly drink copious amounts of beer in the name of tradition. 'Tis the season of Oktoberfest.
But what is the tradition that you'll be drinking to celebrate?
Strangely enough, Oktoberfest started as a wedding celebration in 1810. And, it also started as a non-alcoholic festival.
Obviously, Oktoberfest has undergone some seriously massive transitions over the past 200+ years, and has evolved into what it is today: an annual festival that celebrates German tradition with the help of tasty Bavarian food and of course, the star of the show, beer.
While the original Oktoberfest (which also happens to be the biggest) takes place in Munich, Germany, there are plenty of other Oktoberfest celebrations that are much closer to home, and much closer to a fabulous KOA campground as well.
So if you're looking for some tasty food, some fun costumes, and more beer than you know what to do with, read on to see the best places in the U.S. to celebrate Oktoberfest.
---

OKTOBERFEST ZINZINNATI
Cincinnati, OH
September 15-17
Though this Oktoberfest only lasts for one weekend, those three days pack more punch than any Oktoberfest in the U.S. Oktoberfest Zinzinnati sees over 500,000 people partake in its German-loving festivities, and it is clear why, simply by learning how the whole festival kicks off.
This Oktoberfest begins with "Running of the Wieners," during which over 100 wiener dogs (okay, dachshunds) dress up in hot dog costumes and run to their owners. You'll also see the festival hold its own Olympic Games, called the Goodwill Games that features events such as a barrel roll, and a beer stein race.
And you cannot miss the world's largest Chicken Dance, likely to get better the more beer you drink.
KOAs nearby:
Lebanon / Cincinnati NE KOA Holiday
---

OKTOBERFEST DENVER
Denver, CO
September 22-23 & 29-30
This city hosts Oktoberfest celebrations spanning two weekends. Even better, being the nice city it is, Oktoberfest Denver is not only free, it is also pet-friendly.
And Denver really likes beer.
This Oktoberfest gulps through twice as many kegs of beer than any other Oktoberfest in the States.
Aside from the straight-up drinking of beer, there are plenty of beer-related games and events to enjoy while at this festival. The Keg Bowling National Championships are among the favorites, as well as the Stein Hoisting Competition that challenges participants to hold a full 1.5 liter stein up in the air as long as possible.
This wouldn't be an Oktoberfest without bratwursts being incorporated in some way, and for Denver's Oktoberfest, that means a bratwurst eating contest, which crowns the annual winner the Brat King.
KOAs nearby:
Denver West / Central City KOA Holiday
Denver East / Strasburg KOA Holiday
---

OKTOBERFEST BY THE BAY
San Francisco, CA
September 22-24
Boasting possibly some of the most gorgeous views of any American Oktoberfest, Oktoberfest By the Bay in San Francisco is also among the most traditional in the country. Oktoberfest By the Bay features a 21 piece Chico Bavarian Band that keeps the spirit alive throughout the entire weekend, and Bavarian dancers will be there as well to wow you with their skills.
In addition to the delicious beer you'll be indulging in, this Oktoberfest will also offer world-class pretzels and sausages to keep you sane, and able to drink more beer.
Traditional dirndls and lederhosen are welcomed with open arms to Oktoberfest By the Bay, so you best get shopping now.
KOAs nearby:
San Francisco North / Petaluma KOA
---

ALPINE VILLAGE OKTOBERFEST
Torrance, CA
September 8 – October 28
Awarded the title of "one of the best Oktoberfests in the world" by USA Today, Alpine Village Oktoberfest is certainly something worth checking out. It is also the largest and oldest Oktoberfest in the L.A. area, so you can guess how massive and tradition-laden this celebration is.
Bands travel all the way from Germany to play at Alpine Village Oktoberfest, so prepare to be dancing your clogs off. Also be prepared to participate in the festival's yodeling competition, as well as its pretzel-eating and stein-holding contests.
There is guaranteed to be no shortage of tasty German treats and a constant flow of beer at Alpine Village Oktoberfest.
What more could one ask for?
KOAs nearby:
Los Angeles / Pomona / Fairplex KOA
---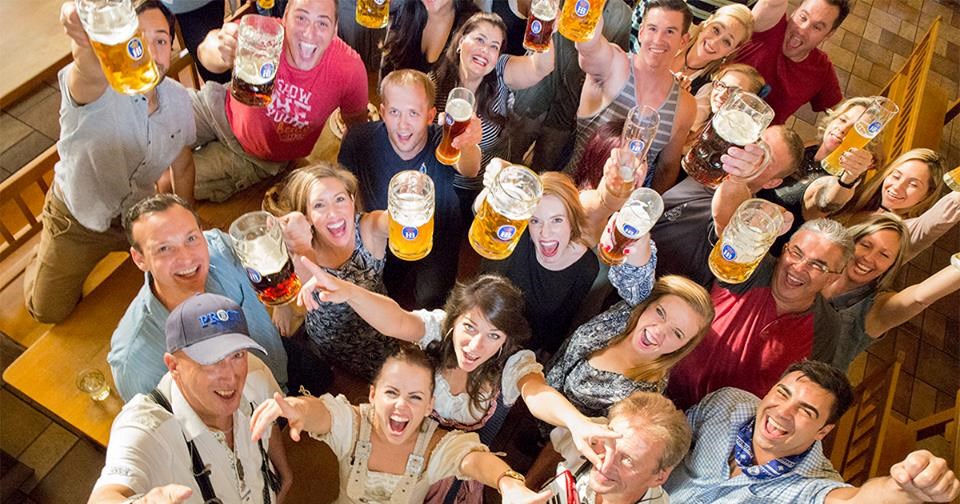 HOFBRAUHAUS LAS VEGAS
Las Vegas, NV
Mid September to late October
If nothing else, this Oktoberfest gets an E for effort. Hofbrauhaus Las Vegas is held in an exact replica of the original Hofbrauhaus in Munich. Now that's love and dedication we can appreciate.
But there's a lot more to appreciate at this Oktoberfest. Hofbrauhaus Las Vegas features live entertainment every night (it is Las Vegas, after all), as well as traditional foods including pork shanks and, of course, sausages.
The beer is really where the gold is at with this Oktoberfest, however. The original 400-year old recipes of German beer, from the Duke of Bavaria himself, have been passed down and used to make the beer served at Hofbrauhaus Las Vegas.
That's enough to pull anyone off a poker table to try a sip of that beer.
KOAs nearby:
Las Vegas KOA Journey at Sam's Town
---

WURSTFEST
New Braunfels, TX
November 3-12
This town is deep in German heritage — it was settled by Germans in 1845, and hasn't stopped celebration its home country ever since. While most Oktoberfests begin with the tapping of a keg, Wurstfest in New Braunfels begins with a traditional, and very ceremonial, biting of the sausage.
This festival has expanded greatly in past years to include a carnival, an entire Bavarian marketplace, a craft beer garden, food trucks, and multiple stages for live music.
The theme of Wurstfest is "Sprechen die Fun (Do you speak fun?" and it seems the festival goers are incredibly well versed in the language of fun, bratwursts, and beer.
KOAs nearby:
---

OKTOBERFEST FRANKENMUTH
Frankenmuth, MI
September 14-17
Over 20 years ago, Oktoberfest Frankenmuth was the first Oktoberfest in the United States to be blessed by the original Oktoberfest in Munich. And it hasn't let the motherland down ever since.
This little Michigan town is full of German heritage and culture, and is often called "Little Bavaria." Though not as wild as other Oktoberfests, Oktoberfest Frankenmuth is one of the most traditional. And, like Oktoberfest Zinzinnati, it too opens up its celebrations with a wiener dog race.
The brewery in town makes a fabulous beer just for this event, called (unsurprisingly) Oktoberfest. You'll find this pouring out of every keg at this party, and throughout the rest of the year.
KOAs nearby:
---

LINDE OKTOBERFEST TULSA
Tulsa, O
October 19-22
People from all over (more than 60,000 in fact) travel to Tulsa, Oklahoma to search for an authentic German Oktoberfest experience. And they'll certainly find it here at Linde Oktoberfest Tulsa. Featuring over 60 beers from all over the world, beer lovers of all kinds will find something to fill their bellies with during the festival.
This Oktoberfest offers family-friendly carnival games and rides, but also provides adult entertainment in the form of beer-themed games and tournaments.
Races seem to be a reoccurring theme with Oktoberfests, and this one in Tulsa has both a beer keg race, and, our favorite, the wiener dog race.
And don't even get us started on the food. Turkey lakes, schnitzel, and famous Bavarian cheesecake will keep you going as you make your way through more beer than you thought possible.
KOAs nearby:
Tulsa NE / Will Rogers Downs KOA Journey
---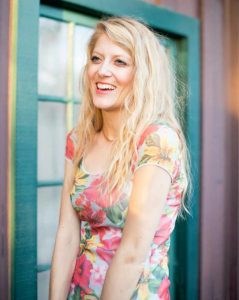 Leslie, a.k.a. Copy Girl, is a copywriter who gets butterflies from telling stories through words.
Her voice comes from a place filled with passion, dreams, and lots of sugar. "Cake over steak" is her go-to motto.
With over 10 years of experience in crafting words, and years of embarking on travels that have taken this Montana girl to some incredible places, Leslie love the adventures of both body and mind her writing takes her on.
Everywhere she goes, she takes this advice with her:
"Hold on to your divine blush, your innate rosy magic, or end up brown." – Tom Robbins, Jitterbug Perfume
To see what Leslie's up to in the writing world, visit her website here.
---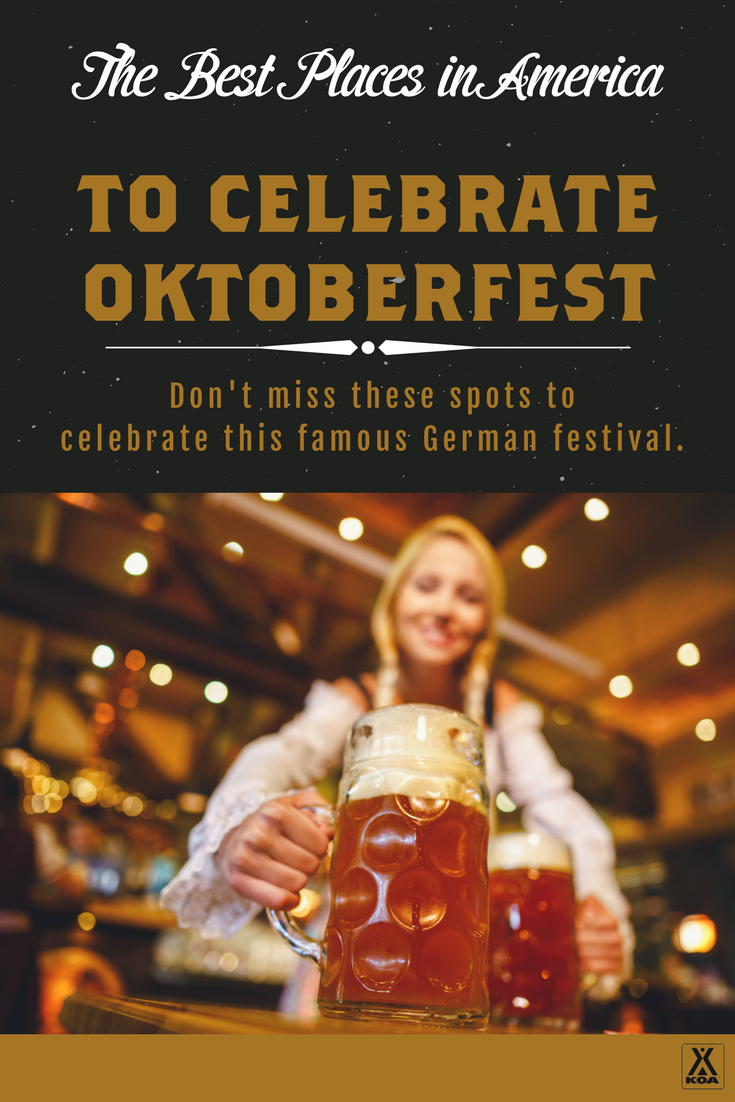 Save
Save