Top 10 Camping Movies To Watch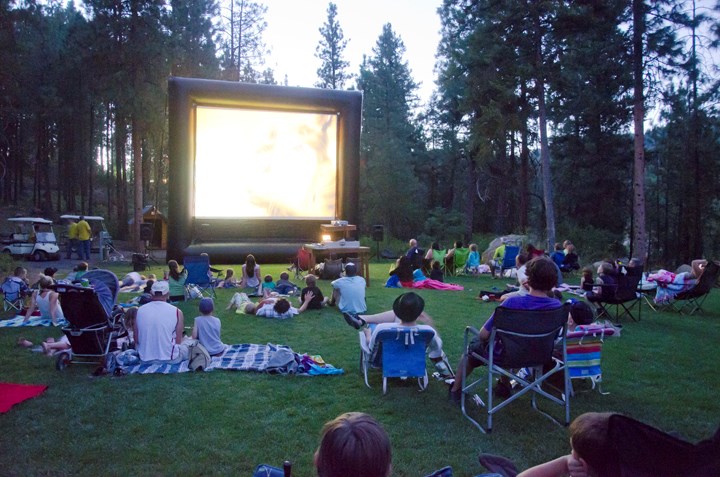 If you're reading this article, it's probably safe to say you love camping. After all, who wouldn't love spending time outdoors, getting lots of fresh air and having some good, old-fashioned fun?
But since most of us can't spend every day—or even every weekend—at our favorite KOA campground, we have to find another way to enjoy camping. And movies are a great way to do it.
So we asked our campers what their favorite camping movies were. We got over 100 submissions—which we have narrowed down to the top 10 just for you. Some you'll agree with—some you might be surprised by…but they all have one great thing in common: camping.
#1: RV (or Runaway Vacation) (2006–PG)
Follow Bob Munro (Robin Williams) and his family as they hit the road for a laugh-filled cross-country trip in a rented motorhome. There are some laugh-out-loud moments as well as some heart-touching ones. It's full of great music, too.
#2: The Great Outdoors (1988-PG)
All that Chet Ripley (the late John Candy) wants is a peaceful family vacation. Then his brother in-law Roman Craig (Dan Aykroyd) shows up and peace and quiet go down the drain. This is a classic movie with one of the greatest man versus animal fight scenes on film.
#3: The Long, Long Trailer (1954-NR)
If you haven't seen this timeless film, put it on your list of "have to's." You'll love seeing the late Lucille Ball and Desi Arnaz in their glory days, playing a honeymooning couple with an oversize camping trailer. The cooking scene alone (with Lucy in a dress and pearls) is worth the cost of the rental!
#4: The Parent Trap (1961-NR)
Despite a later version released in the 1990's, KOA campers say that it is the original Hayley Mills version that rules the screen. If your kids (or grandkids) haven't seen one girl playing two girls wreaking havoc on two coasts and one summer camp…it's time to get this one into the player. "Let's get together, yeah, yeah, yeah…"
#5: National Lampoon's Vacation (1983-R)
Clark Griswold (Chevy Chase) and family leave Chicago for a dream trip to Wally World in a car ("The Family Truckster") that resembles a tank rather than a station wagon. And once they pull out of their driveway, everything that can go wrong does.
#6: Meatballs (1979-PG)
A second-rate summer camp is the setting for this film, which stars Bill Murray as the head counselor of Camp Northstar. The summer caps off with an Olympiad with rival Camp Mohawk, with potato sack races, hot dog eating contests and more.
#7: Deliverance (1972-R)
Three men are pushed to their physical and emotional limits on a canoe trip in the Georgia backwoods. Starring Jon Voight, Burt Reynolds, Ned Beatty and Ronny Cox, this is definitely not a light-hearted camping movie.
#8: Wild Hogs (2007-PG13)
Four friends (John Travolta, Tim Allen, Martin Lawrence and William H. Macy) from the 'burbs embrace the freedom of the open road to experience the biker lifestyle. That is, however, before they cross paths with a biker gang.
#9: The Adventures of Priscilla, Queen of the Desert (1994-R)
Set in Australia, this film follows three cross-dressing performers into the Outback in their lavender-colored school bus that acts as both a dressing room and their home on the road. While well outside the traditional camping film genre, several campers gave the thumbs a big thumbs up for the film's humor and music.
#10: The Blair Witch Project (1999-R)
Shot largely in black and white, this is a fall camping must-see only for the brave-hearted. This "documentary" follows students as they try to find their way out of the woods while fearing for their lives.
And what films didn't quite make the top 10? Well, there are quite a lot of them actually, including Continental Divide, Dirty Dancing, Ernest Goes to Camp, Goonies, Into the Wild and more.
Don't see your favorite film listed? Tell us yours, below.