Thinking of getting something vintage? Keep these items in mind before you buy.
If you're here reading the KOA blog, you are likely are a seasoned road tripper and camper. Whether your choice of road tripping vehicle is a car, bus, or an RV, some of your greatest memories probably involve getting in your vehicle and adventuring somewhere.
Well, you are in good company here. We too are huge fan of road trips, camping, and adventures.
Sometimes, that new way of seeing all the beautiful sights of the U.S. doesn't come in the form of a brand new, shiny trailer. Sometimes, that new way of seeing all the beautiful sights of the U.S. comes in a trailer that has had its fair share of love in the past.
We are talking about vintage trailers. We've already shared the top reasons for buying a vintage RV here, so be sure to check that out. From opportunities for the ultimate DIY projects, to a great way to save money, vintage RVs can be a dream come true for many campers.
However, we want to make sure that the investment you're going to make in your vintage RV is a wise one. Vintage items of any type vary greatly in quality and reliability, and your RV is no exception.
That's why today, we are sharing with you the top things to look for when buying a vintage trailer to ensure that your investment will bring you loads of fun this summer, and for many summers to come.
1. Solid Flooring
As you can imagine, replacing the floors of an RV is no easy undertaking. Thus, when looking to purchase a vintage RV, it is a good idea to make sure that the floor is solid and does not have any soft spots.
If you end up with a weak floor that requires replacement, you will be forced to remove any seating, bed, and any other pieces of your RV that are built into the floor.
Sound like fun? We sure don't think so.
2. Free of Water Damage
Water damage can be one of the worst things to happen to an RV, vintage or not. Any leak can become a major problem over time and work its way into damaging a great deal of the RV.
Thus, be sure to check every square inch of the vintage RV you're considering buying for water damage. Some key places to look are:
Corners where the wall meets
Near windows
In cupboards
Vents
However, be aware that many RV owners know that water damage is a major red flag for potential buyers. Thus, some RV owners looking to sell their water damaged vintage RV may attempt to mask the water damage by painting over it.
This means that you should be a little weary if you are considering a vintage RV whose interior has been repainted.
It is not always the case that an interior paint job means the seller is trying to cover up water damage, but it a sign that you should do some more in-depth investigation to make sure that the painting was done purely for esthetics.
3. Whole and Unbroken Axle
You want the axle, the springs, and the bolts of your vintage trailer to be solid. Axle replacement can cost a pretty penny, so be sure to check this before grabbing for your checkbook.
4. Original Windows and Window Hardware
The older the camper is, the less likely you are to find windows for it that are still being made.
It is possible to get replacement windows and hardware via a vintage trailer restoration outfit. However, that means they'll be taking the windows and hardware out of some of their trailers for you to use in yours — which, in turn, means that in addition to charging you a high price for vintage windows or hardware, they will also charge you an additional fee to pull the windows or hardware off of their units.
Thus, it is best to make sure that your vintage campers has all original window frames and hardware intact.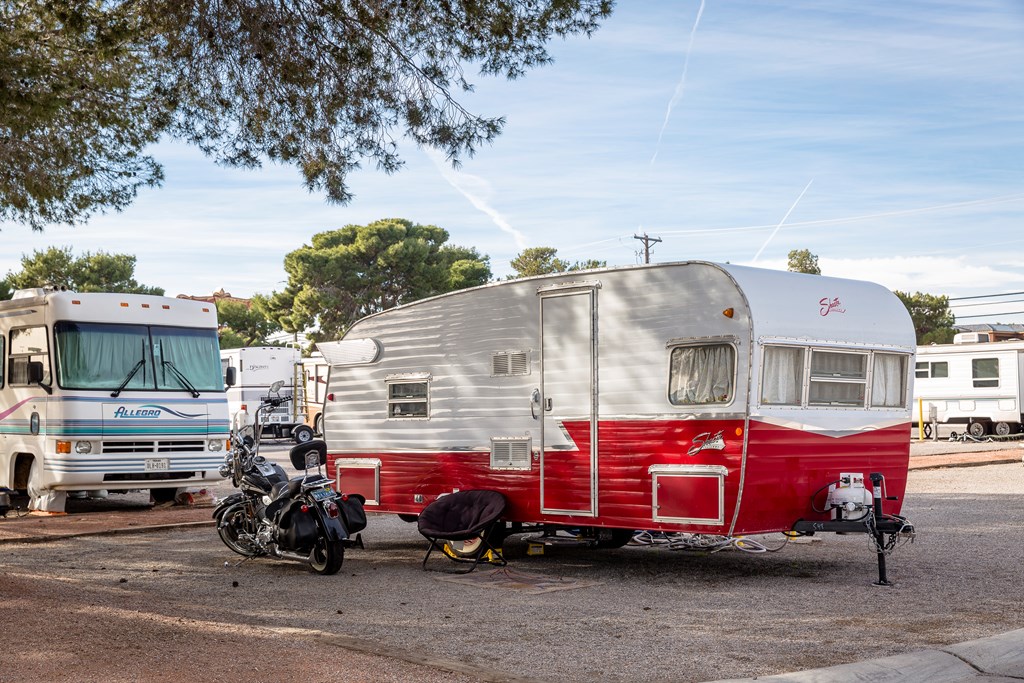 5. Working Electrical Systems
While replacing electrical systems in your vintage RV isn't a difficult thing, it is certainly a time-consuming one.
Why?
Because you have to remove all of the walls in your vintage trailer to get to the wiring. For some, this may be no problem.
However, if you were lucky enough to find a trailer with wooden walls that are in great condition, you don't want to be removing those walls, and run the risk of breaking them — remember, this trailer is called "vintage" for a reason!
6. Void of Bad Smells
Bad smells in a vintage trailer can mean a few different things: rats, urine, or mold. None of those are things that you want in your new vehicle (or anywhere, for that matter).
Check to see if the trailer's cushions also smell bad — if so, see if recovering them with a new fabric is an option. Replacing a vintage trailer's cushions does not come cheap.
However, if you determine that the bad smell is not from rats, urine, or mold, but is rather more of a wet wood smell, then you should definitely walk away from that trailer and keep on hunting for the right one.
7. Properly Functioning Appliances (As Well As Propane Lines)
You will want to see if the stove and fridge are working properly. Not only will this make things easier and the trailer more ready for you to use, but a properly functioning fridge and stove means that the propane lines are working as well.
Broken propane lines are a deal-breaker because of the safety risks involved, so do not forget to check this out before you buy.
8. Clear Title
It's always best to have a clear title for the vintage trailer you're about to purchase. Some states allow you to get a title with just a bill of sale, but others may require more. If the title is not in the name of the seller, most DMVs will not transfer the paperwork to you, which means that you won't be able to register the trailer.
Not good.
Check your state's DMV rules ahead of time, and make sure that the seller's name is on the title prior to transfer.
9. Strong Tires
Needing to replace the tires on your vintage RV is not a deal breaker, just be sure you know ahead of time that the tires need to be switched out for new ones. Be aware that new tires likely will come at a high price. However, the safety of you and your vehicle depend upon those tires, so don't overlook this part.
There you have it! Our top 9 things to look for when buying a vintage trailer.
If you are careful about inspecting all of the above things when looking for your new trailer, and it passes all the tests, congratulations on becoming the proud new owner of your very own vintage RV!
---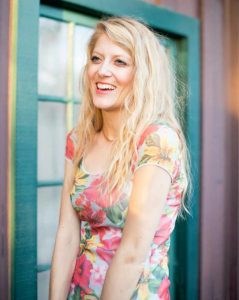 Leslie, a.k.a. Copy Girl, is a copywriter who gets butterflies from telling stories through words.
Her voice comes from a place filled with passion, dreams, and lots of sugar. "Cake over steak" is her go-to motto.
With over 10 years of experience in crafting words, and years of embarking on travels that have taken this Montana girl to some incredible places, Leslie love the adventures of both body and mind her writing takes her on.
Everywhere she goes, she takes this advice with her:
"Hold on to your divine blush, your innate rosy magic, or end up brown." – Tom Robbins, Jitterbug Perfume
To see what Leslie's up to in the writing world, visit her website here.
---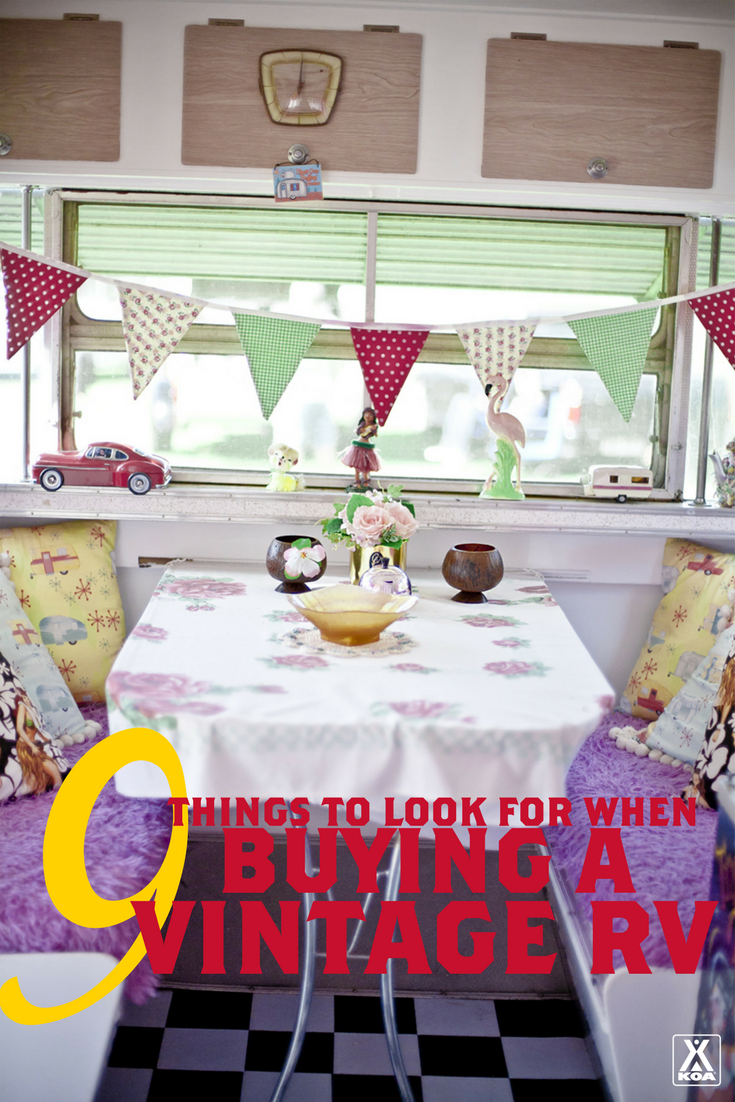 Save
Save