California is the ultimate playground for nature lovers and recreation enthusiasts. Where else can someone ski, hike, and swim … all on the same day?
It's no wonder, then, that mountain biking and mountain bike trails (MTB) are hugely popular in the state — it's not hard to find thousands of miles of scenic trails to suit all ages and skill levels. Many mountain bikers get a thrill from the mental and physical challenge of completing a lengthy and/or technical ride. It's satisfying to feel that "good kind of muscle ache" at night, to continually improve one's riding skills, and to feel at one with nature on a particularly beautiful tour.
Every mountain bike trail is a new adventure. It's great exercise, too. And you can't deny that biking in California promises fantastic scenery and views.
Whether you're a devoted biker from way back or want to see for yourself what all the hype's about, check out these California mountain biking trails on your next outdoor adventure! No need to buy all the gear before sampling this fun activity; many of the locations below will let you rent bikes, and some even offer a shuttle to various stops on the trail.
So go … ride, revel in what your body can do and the natural wonder surrounding you.
Where is the Best Place to Mountain Bike in California? Try These Trails
1. Flume Trail and Tahoe Rim Trails (Lake Tahoe)
Some weeks after Memorial Day, these two Lake Tahoe trails are newly snow-free and rideable for mountain bike singles and groups. The 14-mile, moderately difficult Flume Trail Mountain Bike Ride is not for the faint of heart (or those who dislike heights). It does, however, boast spectacular vista views. The trail extends 7,000 to 8,000 feet in elevation, with more than a 1,000-foot climb in the first four miles.
The park's Tahoe Rim Trail Ride is a bit more level and sets riders off on a breathtaking scenic tour. The first part of the trail follows along Mt. Rose Highway before descending through the meadows (also known as "Sheep Flats") and journeying over a bridge before briefly joining the Ophir Creek Trail. Riders report the Tahoe Rim Trail is well-marked. It's quite convenient, too, as cyclists can choose from two shuttle routes leading to two distinct bike rides, ending at the bike rental shop and cafe.
KOAs nearby:
Lake Tahoe KOA
Coleville / Walker KOA Holiday
Reno KOA Journey at Boomtown
2. Sycamore Canyon Wilderness Park
Sycamore Canyon Wilderness Park in Riverside, California is a favorite of both new and experienced mountain bikers thanks to its comprehensive trail variety and great views. Bikers can choose from two main loops: The 5-mile North Loop has step climbs at both start and finish, as well as small stream crossings. The Southern Loop Ride is much flatter but still includes some technical sections. (A "technical" trail section refers to any part of a trail where you have to really focus on what line to take, as you'll encounter things like rock gardens, roots, and sharp turns). The North Loop trail keeps riders busy with several short, steep grades.
The no-fee park, with its natural and wild terrain, offers an ideal weekend escape that's not too far from civilization. Some bikers did report seeing rattlesnakes at this wilderness park, so here's a reminder that caution in the California wilds is always recommended.
KOAs nearby:
Banning Stagecoach KOA Journey
Palm Springs / Joshua Tree KOA Holiday
Temecula KOA at Vail Lake
3. Laguna Coast Wilderness Park
The forty miles of mountain biking trails at Laguna Coast Wilderness Park take riders through some of the most scenic natural areas of Orange County.
Per the park guide, mountain bikers here will see Southern California as it has existed for thousands of years. Picture it: Coastal Sage Scrub covering hilltops and slopes, along with native grassland and Maritime Chaparral. Rocky bluffs tower above canyon trails. The area also features some of the state's few remaining coastal caverns, and visitors will find habitats along the water lined with Willow, Oak, and Sycamore trees. In the summer, bikers can easily pass through the seasonally dry creek bed, which flows again after the winter rains.
There are plenty of paths to choose from here, with 40 designated hiking trails and 38 mountain biking trails.
KOAs nearby:
Temecula KOA at Vail Lake
4. Downieville Downhill
Downieville in the Lost Sierra/Northern Sierra Nevada region is home to the annual Downieville Classic mountain bike race. The summer race is renowned for its weekend of racing and partying, where mountain bike enthusiasts from all over the country participate in a 26.5-mile cross-country trek (the Downieville Classic Cross Country race) and a 15-mile downhill trek with a 5,000 vertical drop.
The cross-country race follows an old "Gold Rush" era route from the mountain town of Sierra City to the crest of the Sierra Nevada and descends more than 5,000 vertical feet into downtown Downieville. The Downieville Downhill drops 5,000 vertical feet in 15 miles — from Packer Saddle to the town of Downieville — and is considered to be one of the longest and most demanding downhill mountain bike races in the country.
KOAs nearby:
Oroville / Feather Falls Casino KOA Journey
Reno KOA Journey at Boomtown
Placerville KOA Journey
Lake Tahoe KOA
5. Backbone Trail (Santa Monica Mountains)
This mountain bike route will check all the boxes for an on-trail adventure. If it's a whole experience you're seeking, look no further than these forty-three miles of biking trails nestled within the breathtaking Santa Monica Mountains.
For those who notice nature while they pedal (and who doesn't?), the trails within the Backbone Trail are said to cross some of the best-protected stretches of coastal Mediterranean habitat in the world and showcase amazing biodiversity. Visitors can experience deep, wooded canyons, rocky outcrop spires, ocean vistas that include the Channel Islands, and sweeping inland views of the San Gabriel Mountains and Downtown LA.
Mountain biking enthusiasts say they love these trails' well-marked, picturesque single tracks. There are even a couple of waterfalls that riders can pause to take in just off the beaten path.
KOAs nearby:
Ventura Ranch KOA Holiday
Banning Stagecoach KOA Journey
Temecula KOA at Vail Lake
6. Big Bear Lake (Snow Summit Bike Park)
The Snow Summit Bike Park at Big Bear Lake Resort is a ski-turned-bike resort when the seasons change, and as such, it features lift-served downhill and cross-country riding. The resort is ideal for families and groups because it includes terrain for all ages and abilities, including downhill trails, cross-country jaunts, and leisurely rides around town.
The resort also has handy amenities like bike rental, seasonal passes, lessons, and even a station for tune-ups and repairs. Even the very littlest riderscan start their mountain biking career strong on mini trails like the "Small Wonder", "Mini Pump Track", and "Sky Builder Park" — a safe place to build confidence and learn skills like smooth turns, pumping and cornering techniques, and small jumps.
KOAs nearby:
Banning Stagecoach KOA Journey
Palm Springs / Joshua Tree KOA Holiday
7. Marin County (Mt. Tamalpais and the Birth of Mountain Biking)
Many consider Mount Tamalpais in Marin County, California to be the "Birth of Mountain Biking". That's because in the late 1960s and early 1970s a group of Marin teens who called themselves "The Larkspur Canyon Gang" rode vintage 1930s and 40s single-speed balloon tire bikes on Mt. Tamalpais and through Baltimore Canyon.
Soon after, off-road riding and racing grew to be a passion for youth in Marin County (and beyond) as the young adults located, collected and restored old balloon-tire bikes. The riders and their growing group of friends explored trails and fire roads on and around Mt. Talalpais (known as "The Mountain").
The region's Dias Ridge Trail, a 6.2-mile out-and-back trail near Sausalito, is ranked number one in Tamalpais State Park. The single track (which was at one time a fire road) offers great views of West Marin and San Francisco. Trail reviews indicate this is a moderately challenging ride and takes an average of three hours to complete. It is open year-round.
KOAs nearby:
San Francisco North / Petaluma KOA
8. Avenue of the Giants
What could be better than biking in the company of California's thousands-of-years-old redwoods? The Avenue of the Giants at Humboldt Redwoods State Park lets you do just that. Visitors could even make a weekend of it. The 32-mile long, relatively flat trail is conducive to overnight camping at nearby sites and has fun and convenient stops at souvenir shops, restaurants, and treehouses along the way.
During the last century, loggers made their way to California — and this park in particular — to cut down giant trees for building materials. Now, these forests and spectacular trees are protected. From the acquisition of a single grove in 1921, the founders of the Save the Redwoods League have raised millions of dollars to build and expand the state park. Today, Humboldt Redwoods stretches 53,000 acres — an area almost twice the size of San Francisco. It is home to the largest expanse of ancient redwoods left on the planet.
KOAs nearby:
Santa Cruz North / Costanoa KOA
Santa Cruz / Monterey Bay KOA Holiday
Moss Landing KOA Express
Salinas / Monterey KOA
9. Forest of Nisene Marks & Soquel Demonstration Forest in Santa Cruz
Mountain bikers regularly flock to The Forest of Nisene Marks in Santa Cruz and its network of more than 30 miles of trail. The area's got it all, no matter if you're a beginner or a pro. Views of the Pacific Ocean? Check. Beaches to pitch a tent on? Check. Optional obstacles? Check.
Here, lush second and third-growth forests surround miles and miles of well-maintained trails. The Forest of Nisene Marks is another forest in recovery after severe deforestation in the previous century. The area is now considered a monument to forest regeneration.
KOAs nearby:
Santa Cruz North / Costanoa KOA
Santa Cruz / Monterey Bay KOA Holiday
Moss Landing KOA Express
Salinas / Monterey KOA

10. Mt. Hough, Quincy
Mt. Hough (pronounced "huff") is a newer trail system in Quincy, California, developed by the Sierra Buttes Trail Stewardship on its mission to create more recreational destinations for outdoor enthusiasts. The trail winds its way down 10 miles of singletrack, from the top of Mt. Hough to Spanish Creek at the bottom. Some riders consider it a new and exciting alternative (or companion) to the Downieville Classic, particularly for kids and families.
Many mountain biking sources claim there are plans to lay out dozens of more miles at Mt. Hough in the coming years.
KOAs nearby:
Oroville / Feather Falls Casino KOA Journey
Reno KOA Journey at Boomtown
Red Bluff KOA Journey
Mt. Lassen / Shingletown KOA Holiday
11. Cowles Mountain, San Diego
If a challenge calls to you, make your way to Cowles Mountain in San Diego. This city trail is ideal for experienced and thrill-seeking bikers, as it features tough and technical singletrack climbs, railroad ties, chunky rock gardens, and steep rutted switchbacks. A 5.4-mile loop with a maximum 25 percent grade is guaranteed to get the blood pumping.
It's not all sweat and tears, though. Riders are periodically rewarded with views of San Diego at the top of the climb.
KOAs nearby:
San Diego Metro KOA Resort
Boulevard / Cleveland National Forest KOA Holiday
Temecula KOA at Vail Lake
12. Kern River Area
The many trail options along the Kern Rivera Sierra Mountain Bike Trails and Rides ensure riders can take their pick of difficulty level, location, and scenery. The classic trails are maintained by the volunteer efforts of the Southern Sierra Fat Tire Association and Stewards of the Sequoia.
The Sierra Nevada wilderness route is nestled among waterfalls, canyons, and mountain peaks. It is recommended to visit this region of trails in November and December to avoid uncomfortable (even dangerous) summer heat waves. Other well-known hazards along the Kern include snakes, sand, and deep ruts. However, if riders decide to make the trek in March and April, they will be greeted with a fantastic display of native wildflowers cheering them along.
KOAs nearby:
Visalia / Sequoia National Park KOA Journey
Lost Hills KOA Journey
Bakersfield KOA Journey
Lake Isabella / Kern River KOA
13. Tioga Pass Road
Biking at Tioga Pass Road in Yosemite National Park is a bucket list item and ideal for a weekend trip (though even 30-minute or 1-hour rides here will inspire). Some consider it the ideal annual ride, particularly on the three days of the year when the trail is reserved for bicycles only. The starting point is at Tuolomne Grove Trailhead, and the entire ride is an out-and-back with four or so opportunities to turn back if riders wish to.
Riders are encouraged to wear layers as the temperatures can vary wildly depending on where and when you roll through beautiful pine forests, climb mountain meadows, and travel alongside granite cliffs.
Keep one eye open for deer, bears, or even mountain lions grazing and lazing about the roadside.
KOAs nearby:
Coleville / Walker KOA Holiday
Placerville KOA Journey
Lake Tahoe KOA
Mountain biking is a great way to get exercise, log unforgettable hours in the outdoors, experience new places, and meet new people. And California is bursting with beautiful biking trails.
It's not hard to see why so many get hooked on this sport. Bikers of all skill levels love the feeling of getting up early with the sun and embarking on miles and miles of trail before stopping for lunch or a bite at a notable sandwich shop or a cozy cafe. Then, they head out again to engage with wild and wonderful terrains.
Whether you love a leisurely ride, a demanding sprint, or a little bit of both, California has something for everyone when it comes to the best mountain biking.
---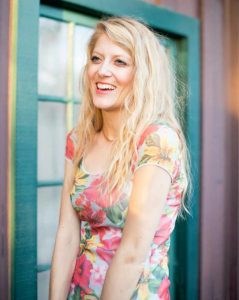 Leslie, a.k.a. Copy Girl, is a copywriter who gets butterflies from telling stories through words.
Her voice comes from a place filled with passion, dreams, and lots of sugar. "Cake over steak" is her go-to motto.
With over 10 years of experience in crafting words, and years of embarking on travels that have taken this Montana girl to some incredible places, Leslie love the adventures of both body and mind her writing takes her on.
Everywhere she goes, she takes this advice with her:
"Hold on to your divine blush, your innate rosy magic, or end up brown." – Tom Robbins, Jitterbug Perfume
To see what Leslie's up to in the writing world, visit her website here.