4 Must-Have Cast Iron Outdoor Cooking Equipment
If you are looking for campfire cooking equipment, cast iron is your new best friend. The durability and versatility of cast iron cooking equipment make it ideal for campfire cooking. Cast iron outdoor cooking equipment typically performs far better over an open flame than wrought iron campfire cooking equipment because wrought iron easily expands or melts when heated.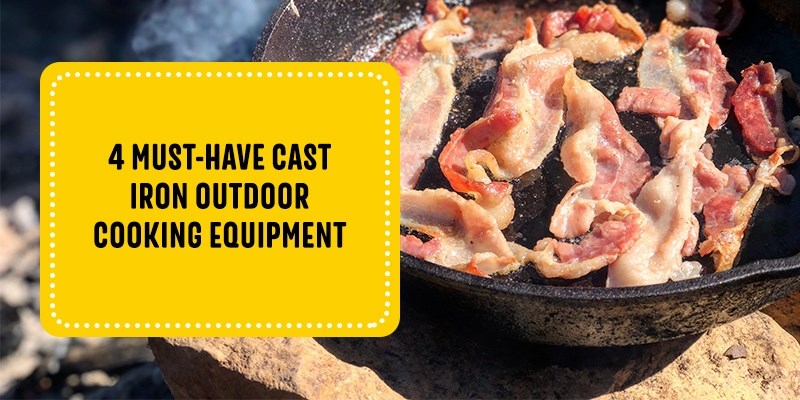 Not sure where to start on your cast iron outdoor cooking equipment shopping spree? Learn the top four pieces of cast iron cookware to bring on your next camping trip.
1. Cast Iron Skillet
When it comes to multi-purpose campfire cooking equipment, you cannot beat the cast iron skillet. In fact, a campfire cast iron skillet should be one of the first items in your outdoor culinary arsenal. From scrambled eggs and bacon to pork chops and stir fry, you can make every meal of the day in a cast iron skillet.
Specifically, you can use your cast iron skillet to make magnificently marinated chicken and combine it with ingredients like fusili and tomatoes to create a flavor-packed pasta salad. You can also make an easy skillet dinner by combining hamburger meat, onions, beans and chili powder and letting it heat over the fire until everything is cooked through. For an extra treat, you can add diced potatoes to the skillet.
And don't forget about dessert — close out your night by making peanut butter s'more quesadillas in your cast iron skillet. This sweet treat alone is reason enough to get a cast iron skillet for your next camping trip. By putting a refreshing, peanut-buttery spin on the classic s'mores recipe, these s'more quesadillas provide a delicious explosion of flavors.
If you plan on cooking for hungry crowds of campers, you will want a fairly large cast iron skillet. A 12-inch cast iron skillet is usually the perfect size for feeding everyone around the campfire. Given the variety of meals and snacks you can whip up in a cast iron skillet, you may want to get a set of varying skillet sizes so that there is always a clean one available in the right size for your recipe.
2. Cast Iron Dutch Oven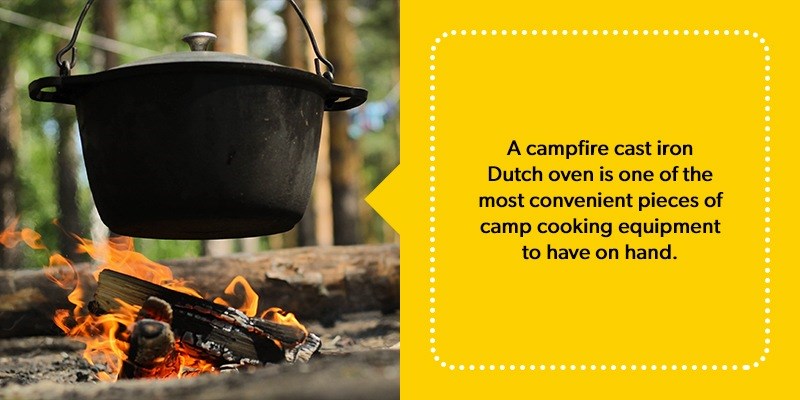 A campfire cast iron Dutch oven is one of the most convenient pieces of camp cooking equipment to have on hand. Along with a cast iron skillet, a cast iron Dutch oven should be at the top of your camping supplies list. A cast iron Dutch oven can act as an oven, slow cooker and skillet all in one, making it equally as, if not more, versatile as a cast iron skillet.
Waking up to an oven-baked breakfast casserole with layers of egg, cheese, bacon and hashbrowns is a wonderful way to start your day. You can mix up your morning meals by making a mountain man breakfast in your cast iron Dutch oven some days. This recipe features tasty ingredients such as whole hog sausage and diced bell peppers.
At the end of a long day camping, you can count on your cast iron Dutch oven to provide a delectable dessert. For example, this apple-chocolate snack cake is the perfect cast iron Dutch oven dessert recipe. All you have to do is mix the ingredients into a batter, pour it into the cast iron Dutch oven and let it cook over the open flame for about half an hour.
Make your life easier — and safer — by purchasing a cast iron Dutch oven that comes with a lid lifter. Because cast iron Dutch ovens get extremely hot, having a tool that lifts the lid so you do not have to touch it yourself is a necessity. Along with a lid lifter, you might want to get other cast iron Dutch oven accessories like disposable liners, a lid stand or a Dutch oven tote bag.
3. Cast Iron Griddle
Along with your deeper cast iron cooking pieces, you will need a flat cast iron griddle to complete your outdoor cookware collection. A campfire cast iron griddle is always a good cooking gadget to have around because it gives you more surface area for cooking breakfast staples like fluffy pancakes and sizzling bacon.
Alongside the morning classics like eggs, bacon, sausage, pancakes and French toast, a cast iron griddle provides you with the perfect surface for cooking delightful dinner dishes. For instance, this camp-out chicken recipe was made for the cast iron griddle. All you have to do is season your chicken breasts, then let them cook on the cast iron griddle until no longer pink on the inside.
Chicken is not the only meat that is perfect for cooking on a cast iron griddle. Other cuts like pork chops, steak and slices of ham are also well-suited for the cast iron griddle. To ensure your cast iron griddle can accommodate all your cooking needs, purchase a sizable cast iron griddle that is big enough to cook enough for a crowd.
4. Cast Iron Pot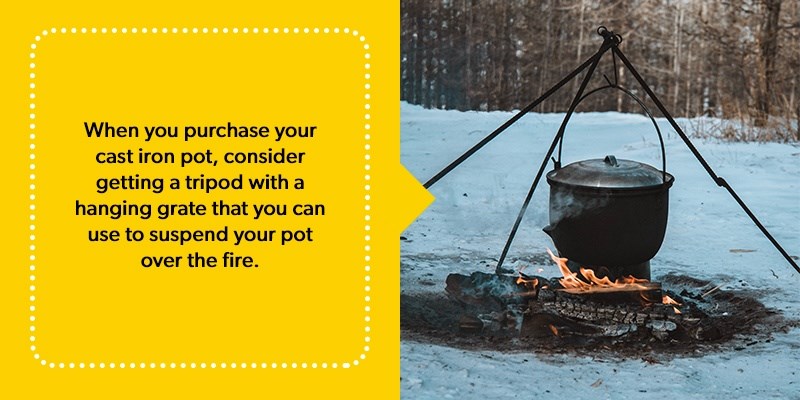 If the thought of a steaming bowl of soup after a long day hiking through the woods warms your soul, you need a cast iron pot. A campfire cast iron pot is the perfect outdoor cooking item for preparing all sorts of soups, chowders, casseroles and side dishes. When you purchase your cast iron pot, consider getting a tripod with a hanging grate that you can use to suspend your pot over the fire, too.
One of the best recipes to make in a cast iron pot is yummy beans. This recipe takes baked beans to a whole new level by adding sliced bacon, sausage and other mouthwatering ingredients to give the traditional campfire dish more flavor. And with a cast iron pot, you have all the outdoor cooking equipment you need to whip up a batch of yummy beans.
A cast iron pot is also perfect for melting ingredients like chocolate or cheese. If you are more into glamping than camping, consider using a cast iron pot to host an outdoor fondue night. You will love dipping pieces of bread and veggies into ooey-gooey cheese or fruit and graham crackers into rich chocolate.
Use Your Cast Iron Campfire Cooking Equipment at Kampgrounds of America
Now that you are ready to cook gourmet meals over the campfire, all you need to do is plan a camping trip. Book your next camping trip at a Kampgrounds of America location. KOA campgrounds offer multiple ways to stay, including Camping Cabins, Tent Sites, RV Sites and more lodging options. Wherever you choose to stay, you will love getting the chance to use your new cast iron cooking equipment around the campfire each night.
Check out the wide variety of KOA locations and book your camping trip today!
---
About the Author: Kampgrounds of America
Kampgrounds of America is the largest system of open-to-the-public campgrounds in the world, with over 500 locations across the United States and Canada. Founded in Billings, MT in 1962, KOA's family of campground brands – KOA Journey, KOA Holiday and KOA Resort – today serve more than a million camping families each year. KOA is dedicated to "connecting people to the outdoors and each other" by providing people with a variety of camping experiences and the information they need to make the most of their camping trip. Read more of their camping and travel resources by visiting KOA.com/blog.
---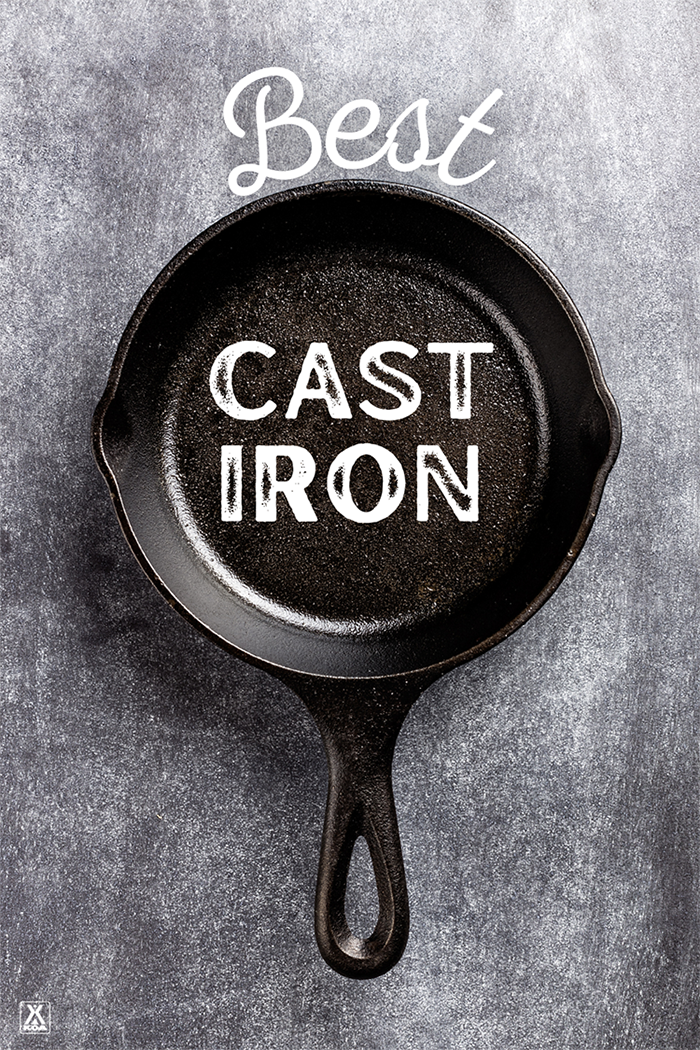 Kampgrounds of America, Inc is a participant in the Amazon Services LLC Associates Program, and affiliate advertising program. Some links may be affiliate links and Kampgrounds of America, Inc may get paid if you buy something or take an action after clicking one of these links.
Prices are accurate at time of publishing. Note that they are subject to change at the discretion of Amazon or their marketplace sellers.