With 46 million Americans preparing to hit the road in their RV by 2021, it is more important than ever to know where to find quality tires that will not break the bank. Learn more about the benefits of investing in good tires and how Kampgrounds of America can help you save.
Benefits of Good RV Tires
The best RV tires offer several benefits, including:
They are safer: Each part of your RV's tires work together to keep you safe. The tire tread and grip help you brake when you need to, while adequate inflation helps you avoid a blowout. Keep your tires serviced regularly for optimal safety while driving.
They are more fuel-efficient: Damaged, inefficient or underinflated tires reduce your RV's fuel economy, while healthy, properly inflated tires can save up to 3% more fuel.
Your ride will be smoother: Quality tires provide a smoother ride because they can hold the correct air pressure. They also have good traction and even tread. In an RV, road stability is crucial, as it keeps your belongings safe and creates a more enjoyable road experience for all onboard — including sleeping toddlers or anxious pets.
They last longer: The better your RV tires are, the more time it takes before they start to wear out. Resist the urge to buy the most affordable tires available unless they are from a reputable brand with positive reviews from other RVers. Otherwise, you risk investing in a set made with low-quality material that can not sustain the wear and tear of the road or the weight of your rig.
5 Tips for Extending the Life of Your RV Tires
After you take advantage of local RV tire deals or discounts, it is important to take care of your investment, so they last as long as possible. Here are five tips for extending the life of your new tires.
1. Choose the Right Tires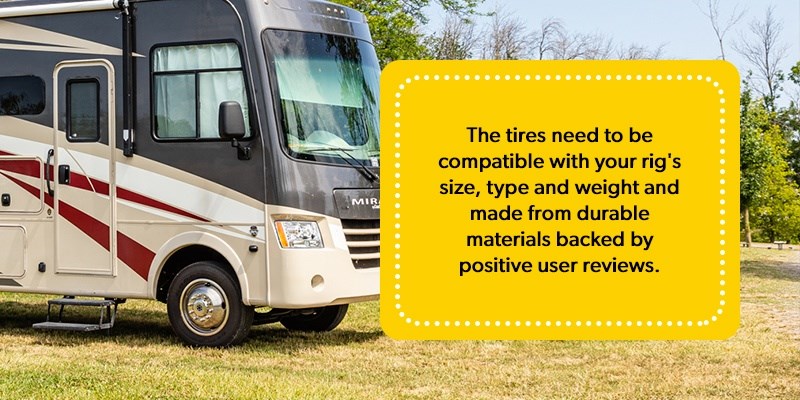 While the price is always a critical factor to consider when outfitting your RV, you should first ensure they are the correct tires. The tires need to be compatible with your rig's size, type and weight and made from durable materials backed by positive user reviews.
Consider the following:
RV class: RV class matters when selecting tires. Class A motorhomes, which are typically larger than others, need larger tires than something like a Class B tire, which are often smaller. Know your RV and bring the information you need to select the right tires with you when shopping.
New vs. used: You may think that new is better than used when it comes to tires, but this is not always the case. While new tires generally have more miles left on them, it all depends on the tire's quality. A used, quality tire from a manufacturer with a reputation for durability is a better investment than brand new tires made from thin, low-quality materials that are not suitable for frequent RV use.
Wear and tear: Always consider tire condition when shopping for new or used tires. Uneven wearing and worn tread are bad for your RV and your wallet. If you are shopping used, carefully inspect tread depth, pressure and external wear — like scuffs, scratches or gashes — and compare it to manufacturer recommendations for your rig.
Weight rating: Unlike standard vehicle tires, RV tires are designed with the weight of your RV — and all of its contents — in mind. Different tires are rated for specific load capacities. As an RV owner, it is always important to know your rig's dimensions before traveling, and the same is true when shopping for tires and other equipment. The RV tire will have several assigned weight ratings — make sure it is robust enough to handle your rig. Terminology you may encounter includes "GCWR," or "Gross Vehicle Weight," which refers to the weight of the RV when fully loaded, and "UVW," or "Unloaded Vehicle Weight," which refers to the weight of the RV when manufactured. The "CCC" — "Cargo Carrying Capacity" — is the gross vehicle weight minus the unloaded vehicle weight. You may also hear "TW" — "Tongue Weight" — the weight of the vertical load attached to your trailer hitch. If you are not sure, ask a sales representative at your local tire shop or consult your RV manual for recommendations.
One of the best things you can do before you begin shopping is to research different RV tire brands and read reviews from fellow travelers. They will have great insight into which ones are the right investment for your specific model.
2. Have Your Tires Inspected and Serviced Often
Visually inspect your RV tires before and after each trip. Pay especially close attention if your RV has sat in storage for the season, as tires may change as they sit in fluctuating temperatures. Assess any damage and check the tread and pressure. Get them rotated every 5,000 miles.
How often you should replace your tires depends on how often you travel on them and their general condition at the time of purchase.
3. Address Concerns Immediately
Low air pressure, worn tread, visible blistering, gashes — never ignore seemingly minor tire concerns. They can turn into more significant, costly damage quicker than you might expect. Note any changes in performance or road movement, including excessive vibrations and abnormal thumping sounds when in motion. If you experience any of these, schedule an appointment with a professional and replace damaged tires as needed before journeying.
4. Keep All Tires Clean and Filled
Inflate each tire equally for good weight distribution, which gives a smoother ride and prevents a tire blowout on the road. You should also keep your tires clear of dirt and debris — just be careful not to overwash, as it could wear your tires down faster. Use a tire-safe cleaning agent and avoid alcohol or petroleum-based cleaners.
5. Store Your RV When Not in Use
Sometimes, RV storage is just as challenging on your tires as frequent use, thanks to temperature changes, weather conditions and the weight of being parked.
Some good storage practices to keep in mind include:
Park in a covered area, preferably indoors, whenever possible.
Station your tires on wood, concrete or gravel and avoid parking on dirt, which holds moisture and insects.
Invest in tire covers and apply them before extended RV storage.
Try not to keep your RV parked in storage for too long — only a few months at a time — to keep tires and other equipment working well.
How to Get Good Deals on RV Tires
Save more money for your next camping adventure by shopping during sales and joining camping rewards programs that offer perks, like the KOA Rewards Goodyear tire discount.

Shop During Sales and Promotional Events
If you have found a tire manufacturer or supplier that you like and have success with, follow them on social media, sign up for newsletters or keep an eye on their advertising channels to stay in the loop about upcoming RV tire deals and sale events. Buying your RV tires when they go on sale — even if you do not need a new set of tires right now — is a great way to save a little on the expense. Just keep in mind that even stored tires have a shelf life. Avoid excessive bulk buying and stick to pre-purchasing only enough tires to replace those that are nearing the end of their lifespan.
Join KOA Rewards
When you enroll in KOA's loyalty program, KOA Rewards, you get access to Goodyear tire deals for your RV, including 15% off tires throughout the year.
You will also love additional RV-friendly benefits, such as:
10% off the daily camping registration rate at KOA Campgrounds.
Accumulating reward points that you can redeem for discounted future stays.
A free night of camping during KOA Rewards appreciation weekends at participating campgrounds.
Additional exclusive offers, deals and discounts from KOA partners
Motor Coach Association membership and more.
Get Discounts and Deals With KOA Rewards
Save on Goodyear RV tires and gain access to exclusive camping discounts and events when you join KOA Rewards. Learn more about the program and start planning your next getaway today!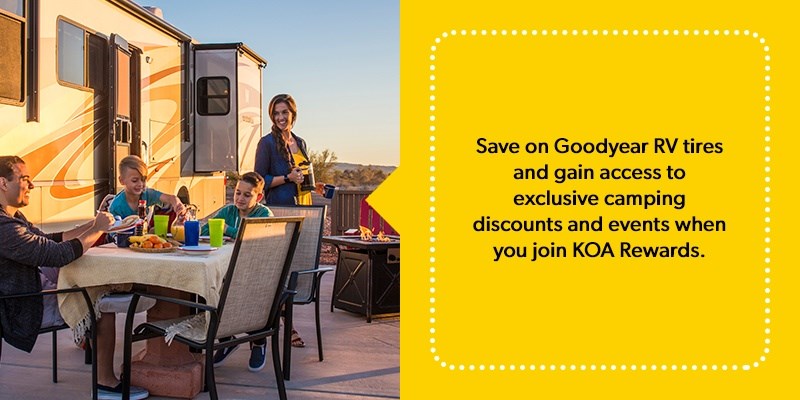 ---