Are you getting ready to take your first backpacking trip? You're in good company. In the U.S. alone, more than 51 million people go hiking each year, and worldwide, people make over 45 million backpacking trips annually.
If you're looking to make those numbers even higher, we are here to help you do that. But first, it's important to know that the key to a successful backpacking trip is going into it with some knowledge and information. This is not the type of trip you decide to go on last minute with no prep.
We've gathered some helpful tips to help you have the best possible beginning to your backpacking adventure. When you plan and prep properly, backpacking can be one of the most incredible experiences of your life. The first experience is similar to the first impression of someone – you want it to be good so that you'll come back for more. Here's how to do just that.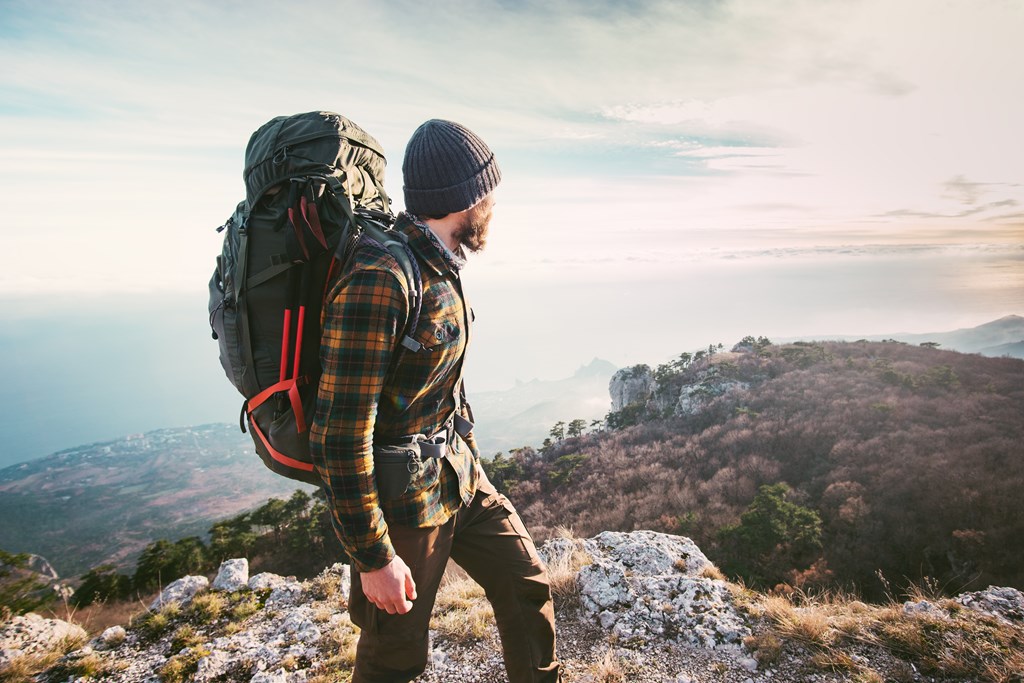 Thinking About Beginning as a Backpacker? Here are 20 Tips for Every Beginner Backpacker
1.  Buy the Highest-Quality Gear You Can Afford
Your gear can make all the difference between a backpacking trip that's fun, comfortable, and safe and one that's miserable and even disastrous. Buy the highest-quality, lightest-weight gear you can afford. You won't be sorry.
Note that we didn't say the most expensive gear. Expensive doesn't necessarily equate to quality; in any event, you don't want to spend more than you can comfortably afford, especially since you're just beginning. After all, your needs and tastes may change significantly as you go along.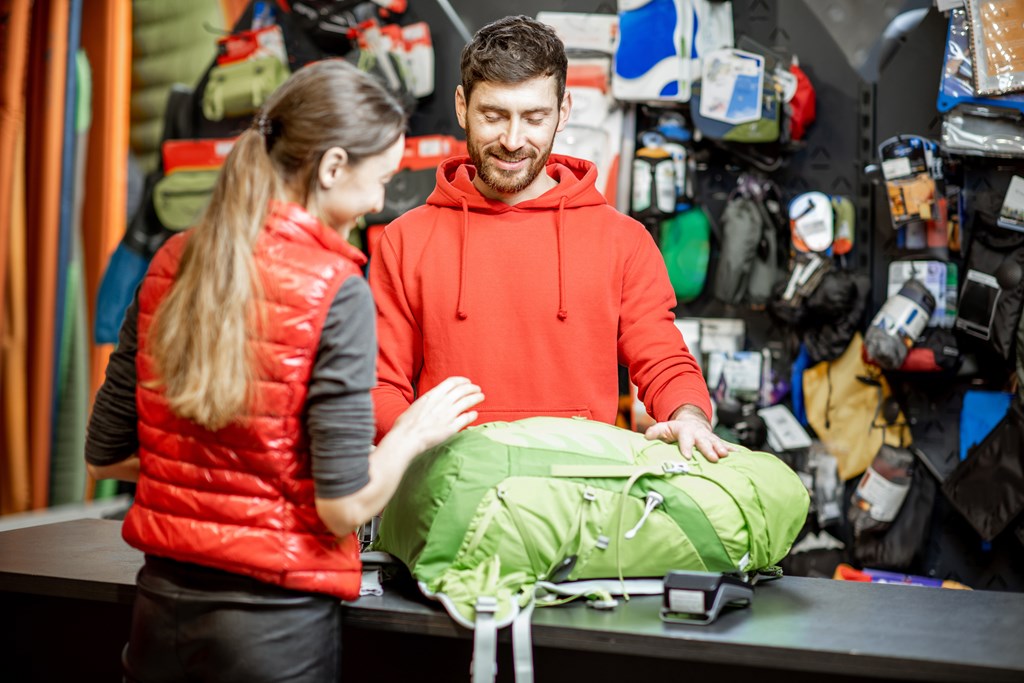 2.  Choose the Right Backpack
Contrary to popular belief among backpacking novices, not all backpacks are created equal. Although some features apply regardless of the trip you are taking, the size and capacity of your pack should vary.
Backpack Size
The size of the backpack you should be using is dependent on the length of your back as measured from your C7 vertebrae (basically level with the lowest end of the upper edge of your shoulder) and the top of your hip bones:
Back Length*             Backpack Size*
Up to 15"                     Extra-Small
16-17"                          Small
18-19"                          Medium
20"+                             Large
*These are standard measurements recommended by Recreational Equipment, Inc. (REI). They may vary slightly based on the brand of backpack you have.
Backpack Volume
The volume your backpack will hold should vary based on the length of your trip:
Trip Length                              Backpack Volume
Weekend (1-3 nights)             30-50 liters
Multi-Day (3-5 nights)           50-80 liters
Extended (5+ nights)              70+ liters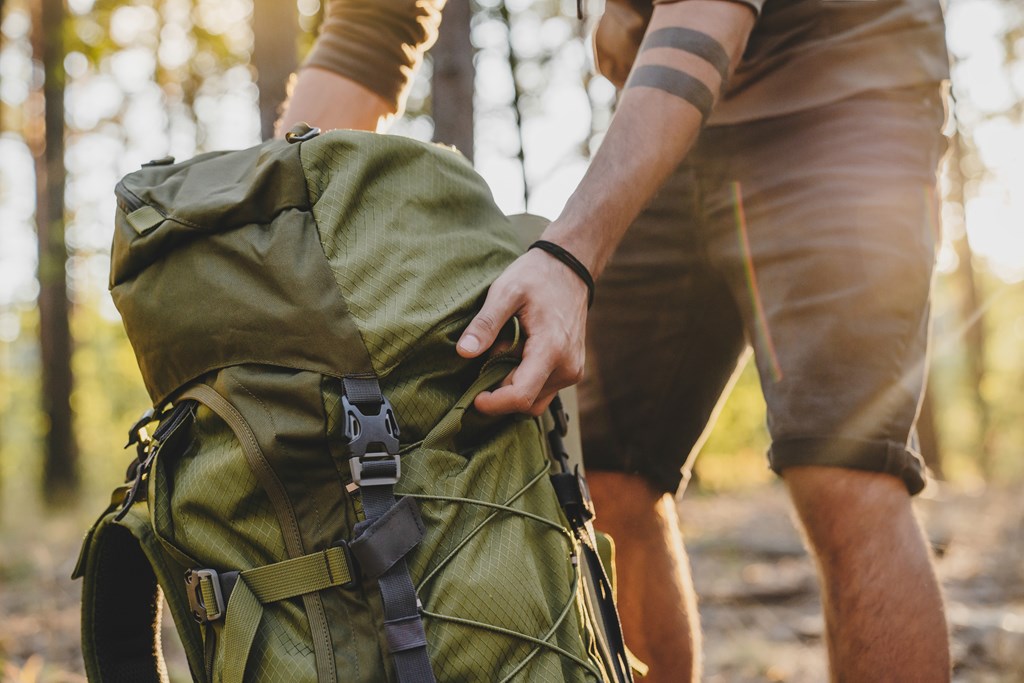 3.  Pack as Light as Possible
Overpacking is the most common mistake that beginning backpackers make. Resist the temptation to bring half of your belongings. You need a limited amount of essential gear.
Ideally, your pack should weigh between 20-35 pounds for an overnight trip, including your water (which weighs over 2 pounds per liter by itself). A lighter pack lets you move faster and more comfortably. Your backpack is there to help you, not to weigh you down.
Here are the bare essentials to carry along for an overnight backpacking trip in moderate weather:
Hydration system/reservoir
Towel and washcloth (1 of each, microfiber)
Pair of socks
Pair of underwear
Headlamp (battery-powered, fully charged)
Trashbags (small, biodegradable)
Prescription medicines
First-aid kit
Sunscreen and bug spray
Toiletries (toothpaste, toothbrush)
Compact backpacking cooking set and camping stove
Lighter
Water filtration kit
Odor-proof storage bags
Food
If you will be out for longer than overnight or will be hiking in colder weather, expand your pack contents accordingly. But consider carefully everything you decide to take along.
Backpacking is generally known as a smelly activity. You need extra underwear and socks, and that's about it unless you plan to be out for more than a few days. Learn to live multiple days in the same shirt and pair of pants.
Skip anything bulky, heavy, and unnecessary, like binoculars or a big camera. Don't bring canned food, glass jars, or high-moisture food that weighs a lot. Learn to love granola, dried fruit, instant noodles, and oatmeal. Your back and feet will thank you for it!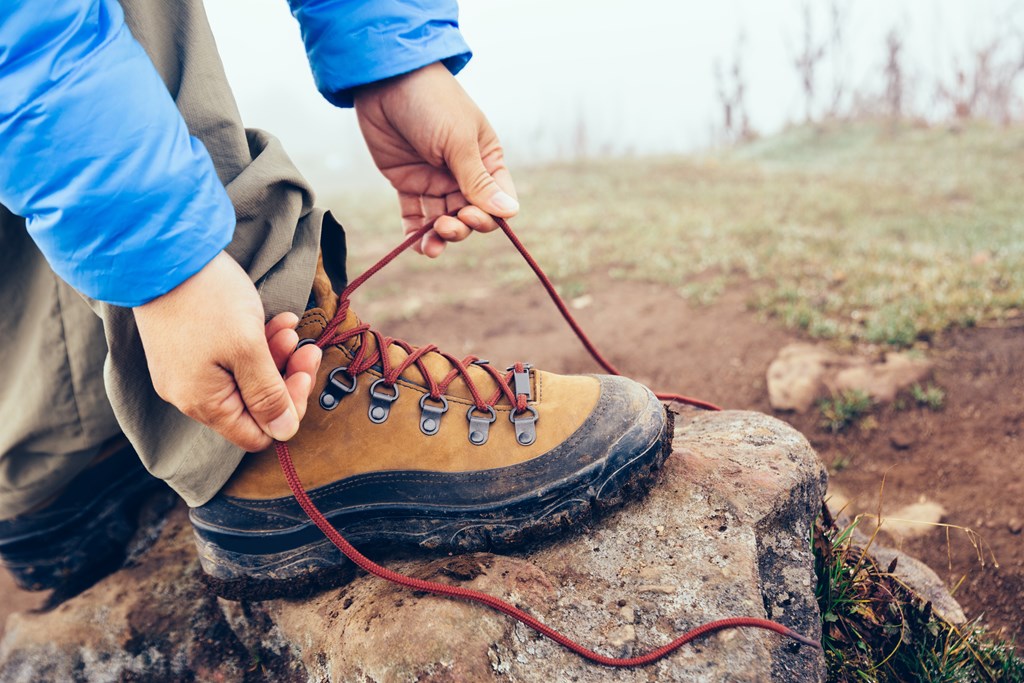 4.  Wear Well-Fitted, Suitable Footwear
Probably the single most essential clothing item for a comfortable backpacking trip is a good pair of hiking shoes suited to the terrain you will be traveling in. Get properly fitted and wear a quality pair of hiking socks.
Above all, break in your boots by walking around in them for at least a day or two before taking them on any length of real hike. Otherwise, you are asking for pain. Your backpacking excursion is the worst possible time to break in new boots. If your boots end up being less comfortable than expected, you have to deal with blisters and sore feet for the entire duration of your trip. That's a quick way to make your first backpacking experience your last. Save yourself the stress and troubles, and break your boots in ahead of time. You'll thank us for this.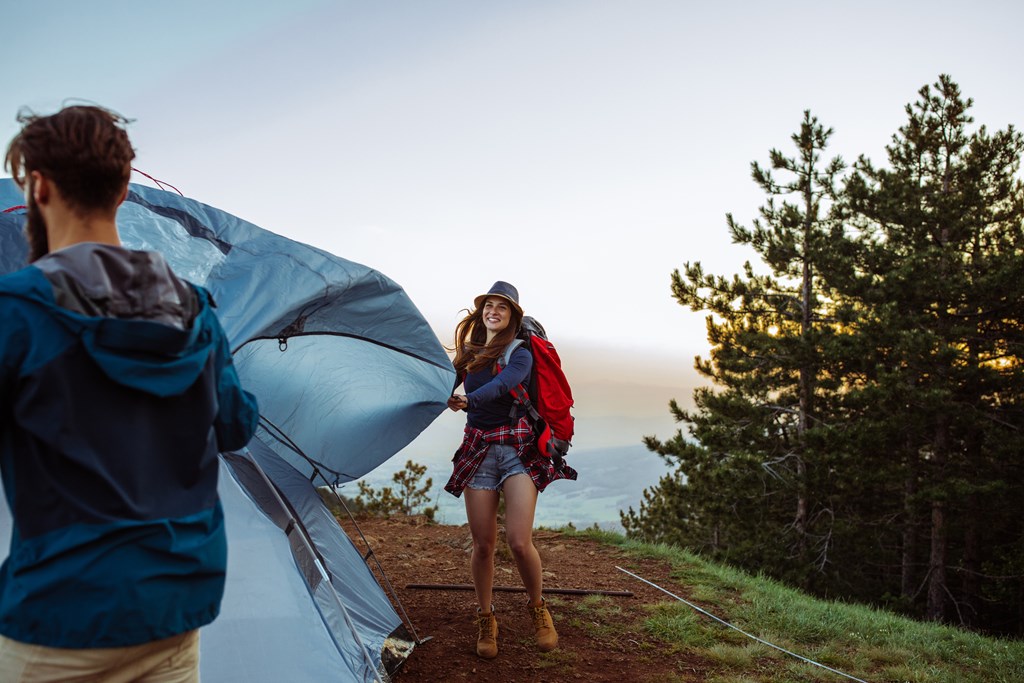 5.  Pack a Reliable Tent
It's pretty much the ultimate to be able to sleep outdoors in the fresh air. Choose a tent that fits your frame comfortably and can be put up in near-darkness. Ideally, it should come with a zippered door, windows, and rain cover and be made of durable nylon or similar material.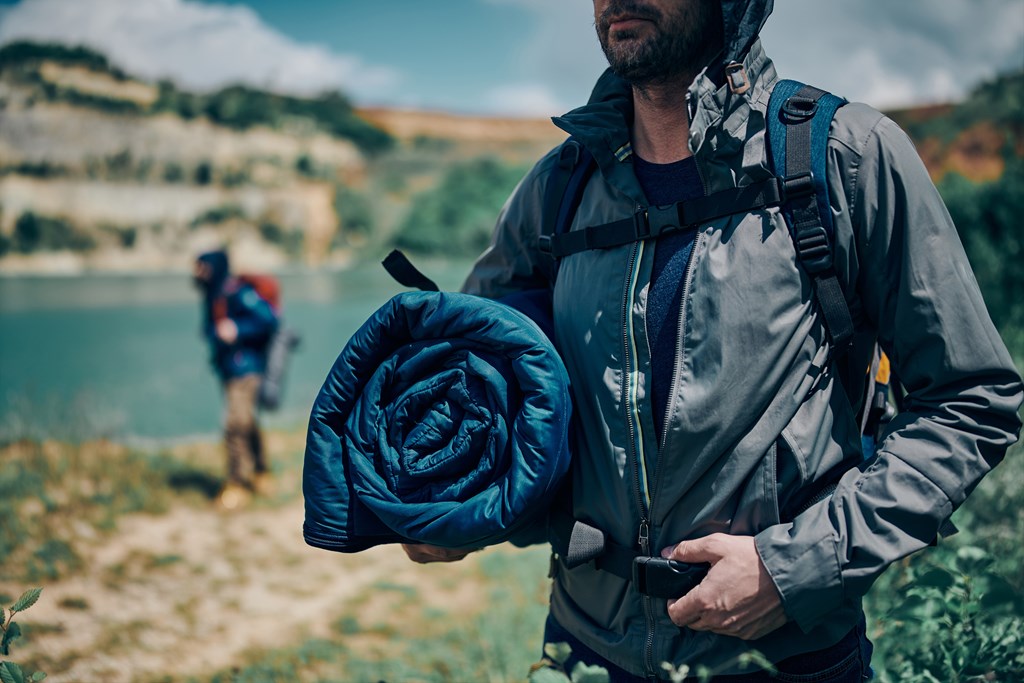 6.  Choose a Lightweight Sleeping Bag and Pad
After a full day of hiking, you need to sleep well to gain strength for the next day's hike. An extra sleeping pad is advisable, especially if hiking into undeveloped areas that may not offer smooth surfaces. Choose a sleeping bag rated for the temperatures you'll be hiking in and roomy enough to accommodate your height and width when zippered shut.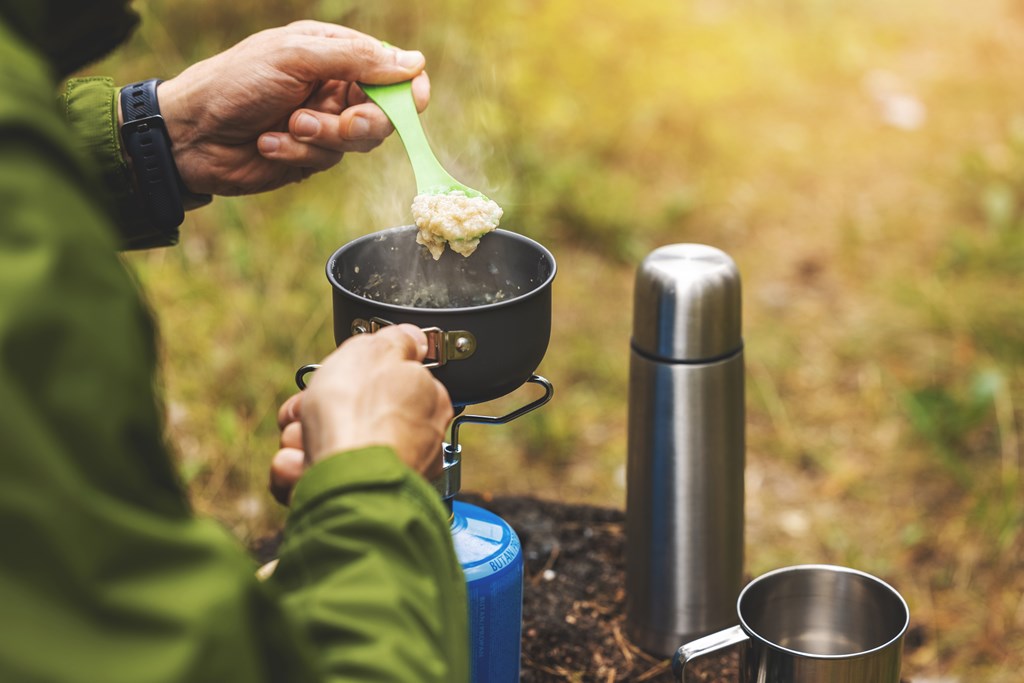 7.  Pack Basic Kitchen Supplies
In addition to a good night's sleep, you need to consume enough calories to generate the energy you'll require for hiking, particularly when hiking in rough terrain.
Cooking gear is essential, but get a lightweight set designed for camping. These usually have a small pot that doubles for boiling water and cooking, a lid that doubles as a plate, cups and flatware that fit inside the pot, etc.
If your budget permits, titanium sets are terrific. They are the lightest weight available and do not rust.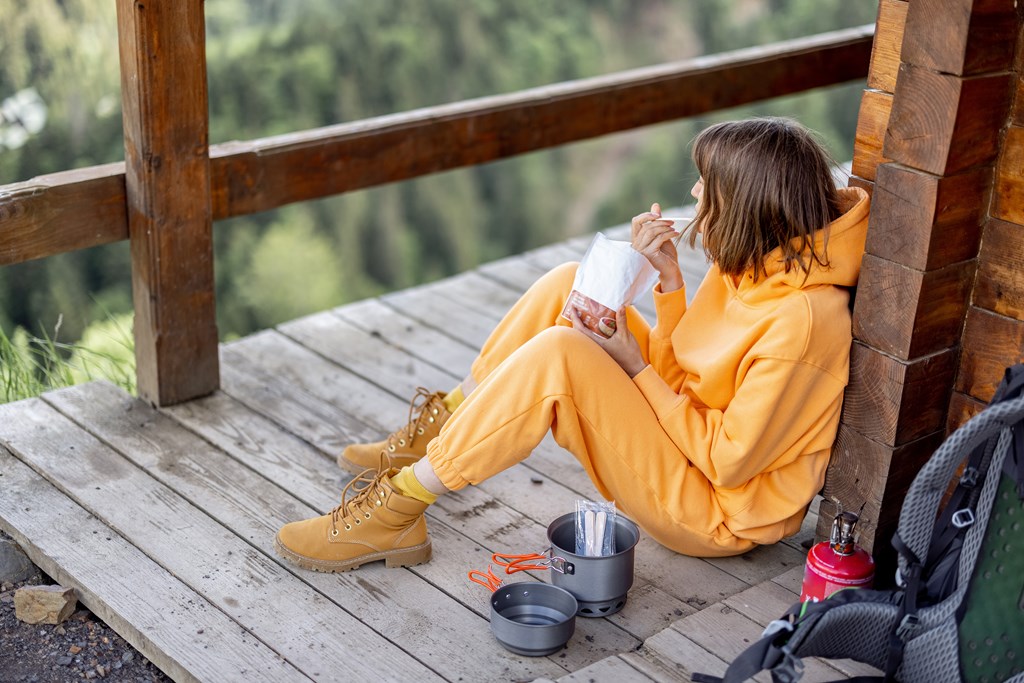 8.  Bring "Backpacking Foods"
For an overnight trip, plan four meals – dinner, breakfast, and two lunches. For longer trips, plan on three meals and generous snacks each day. You may want to bring more food than you think you'll need.
It is estimated that a 160-pound person burns 511 calories per hour backpacking. When you're hiking for hours on end, that adds up to a whole lot of calorie burning that you'll need to recover and refuel from with food.
However, you have to be careful about what foods you choose to bring, as you don't want ones that will weigh your pack down.
For dinners, bring all-in-one meals (MREs) such as packaged rice or noodle entrees. If they come in a box, remove the boxes and take only the inner bags.
Good breakfast foods include breakfast bars, hot oatmeal, and instant coffee or tea. Bring high-calorie, high-protein foods like energy bars and trail mix for lunches and snacks. Bagels, jerky, dried fruit, and nuts are also good.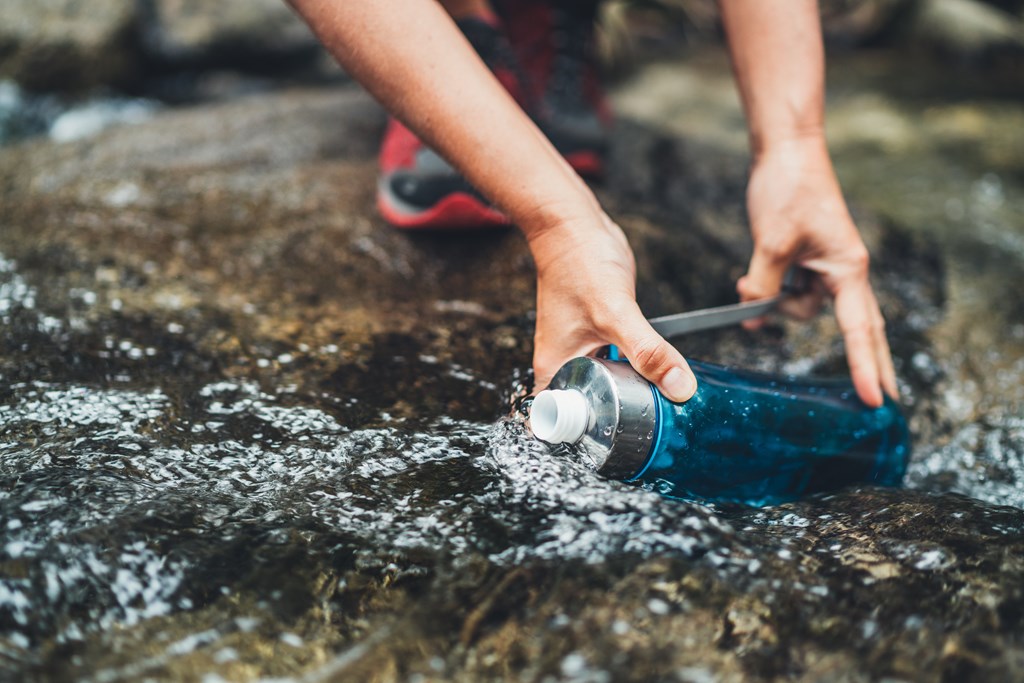 9.  Do Not Forget Water Filtration
If necessary, you can go without food much longer than you can go without water. In addition to carrying the largest hydration reservoir in your backpack, bring along a water filtration system. This can be as simple as a filtered straw that you can suck in creek water. There are several kinds. Choose the one that fits your style the best.
The important thing is that you have something you can use to lessen the chance of picking up an intestinal illness if faced with drinking straight from an outdoor water source.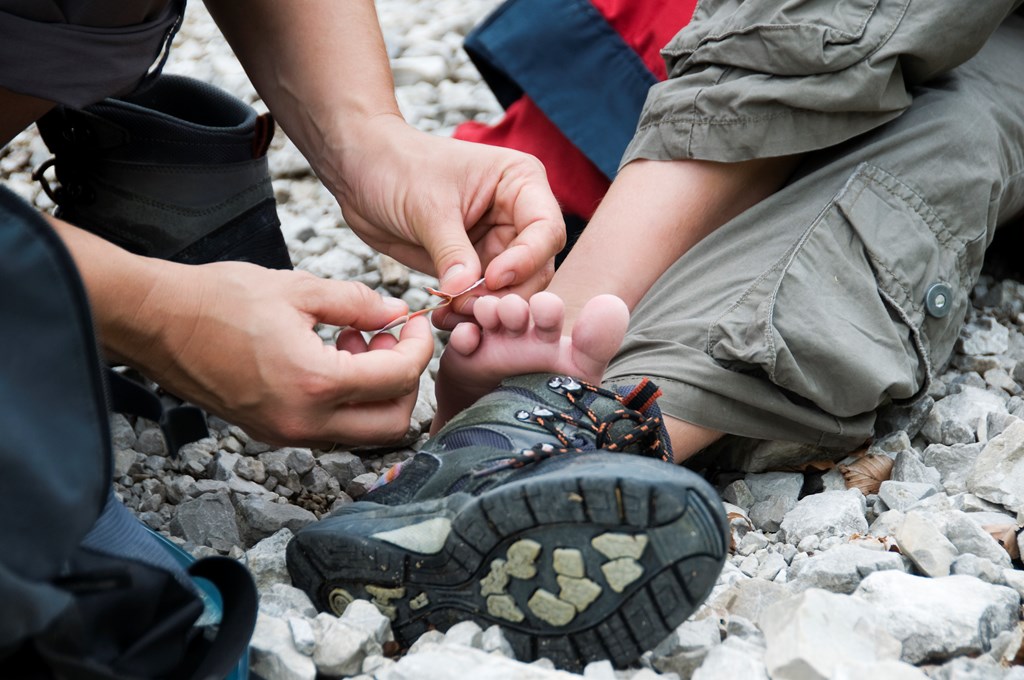 10. Take Care of Your Feet
The first rule of caring for your feet is to learn how to prevent blisters. Change socks frequently, at least once a day, and dry them out between wearings (you can hang them off your backpack as you hike).
You also want to keep your feet as clean as possible. Use a little water to wash off dirt and debris before bed and make sure they have a chance to dry out at night when not hiking.
Read up on how to treat blisters if you happen to get one – and you will, at some point. You may get lucky and not experience blisters on your first backpacking trip (though that is rare), but they will make their way to your feet at you some pint in your backpacking "career," so you always want to be prepared.
Beyond the pain of an untreated blister, open wounds that aren't cared for can develop a severe infection.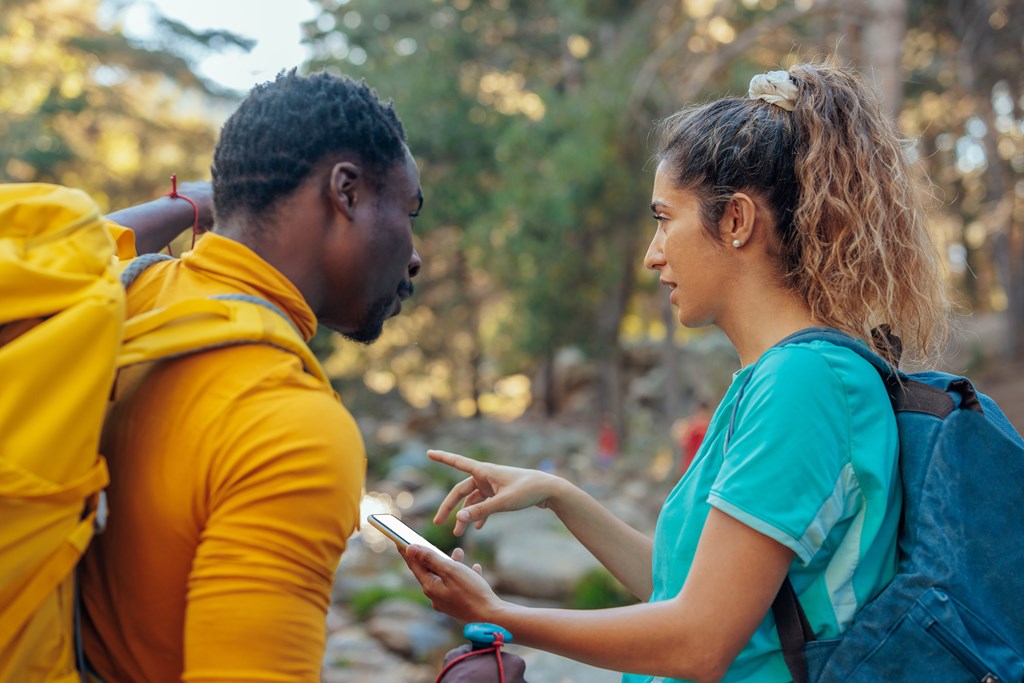 11. Test Your Gear Before You Go
Don't hit the trail before you've tested out any gear that you haven't used before. Here are a few examples:
Can you set up your tent without difficulty? What about in near-dark conditions?
Do you know the proper height for your hiking poles, if using those?
Can you operate your water filtration device or kit?
Have you worn your hiking boots for at least a few days to break them in?
Have you practiced with your new camping stove?
If wearing a GPS watch or using a GPS phone app, do you know how to use it to calculate where you are, distances, and where you're going?
Get to know your gear before you have to depend on it. Gear that you really aren't sure how to use may wind up as little more than dead weight.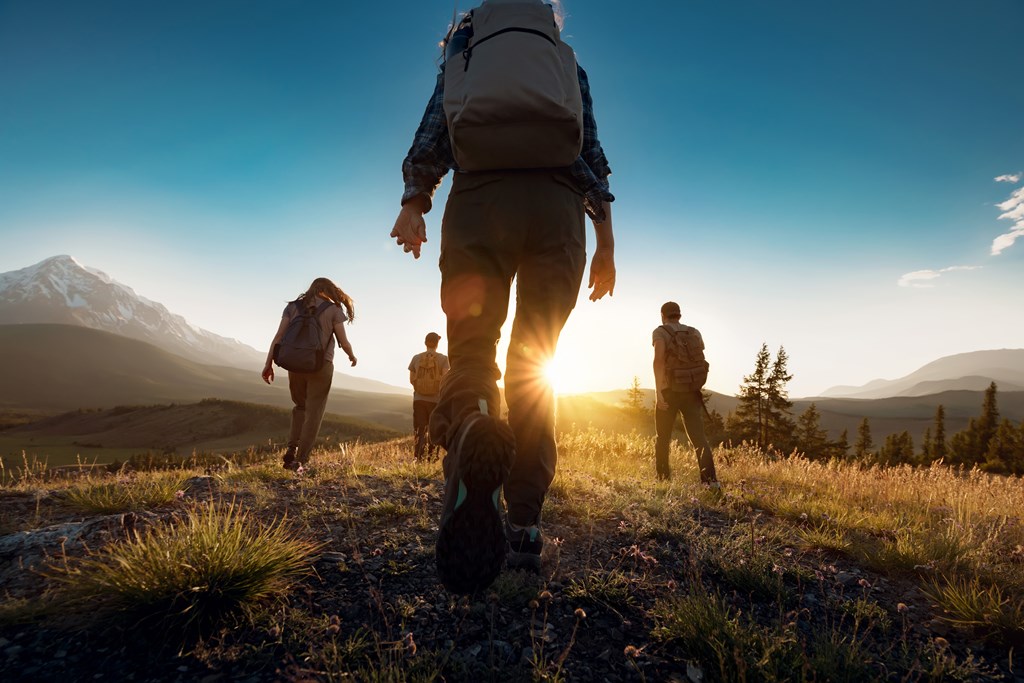 12. Don't Try to Go Too Far To Start
The further you go, the more you have to take with you. To begin with, don't try to go too far. You'll be moving slower and taking more breaks until you get used to things, and your stamina may be less than you expect.
New backpackers should plan on a maximum of 7-10 miles daily. If new to hiking and backpacking, cut that by at least a third, if not in half.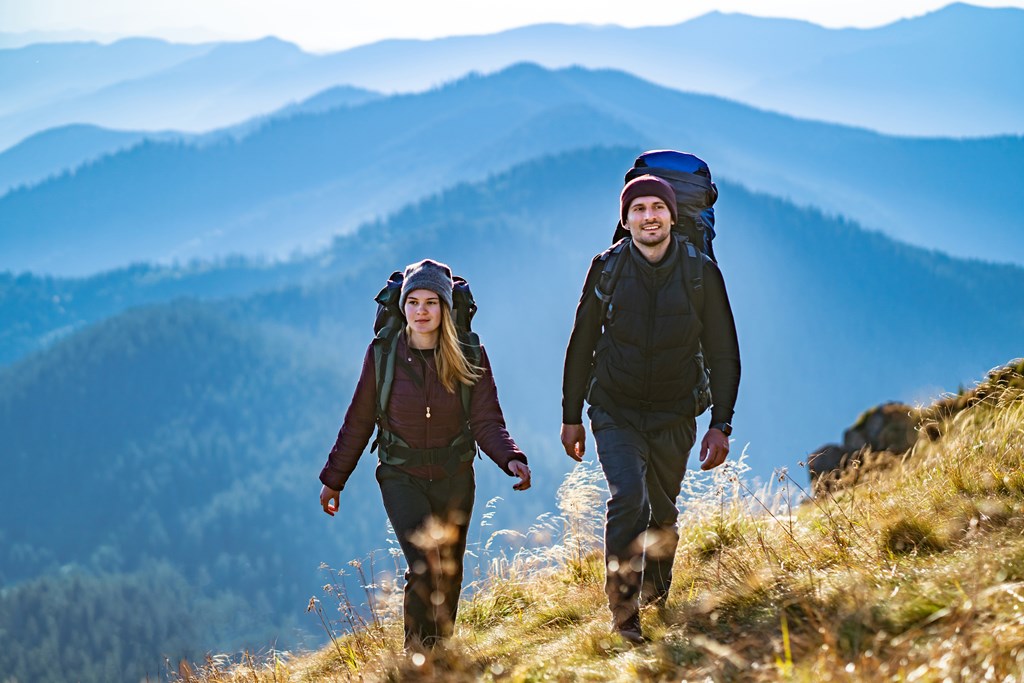 13. Take Elevation Into Account
When planning your daily mileage, take elevation gain into account. Don't choose a route with lots of elevation for your first trip. Instead, try something relatively flat to begin with and gradually add length and elevation as you gain experience.
The average backpacking speed clocks in at about 2-3 miles per hour. Your metrics may be different, but these are a good rule of thumb to use in planning your initial daily mileage.
The things that may change your speed include:
Bag weight
Your weight
Elevation
Weather
And more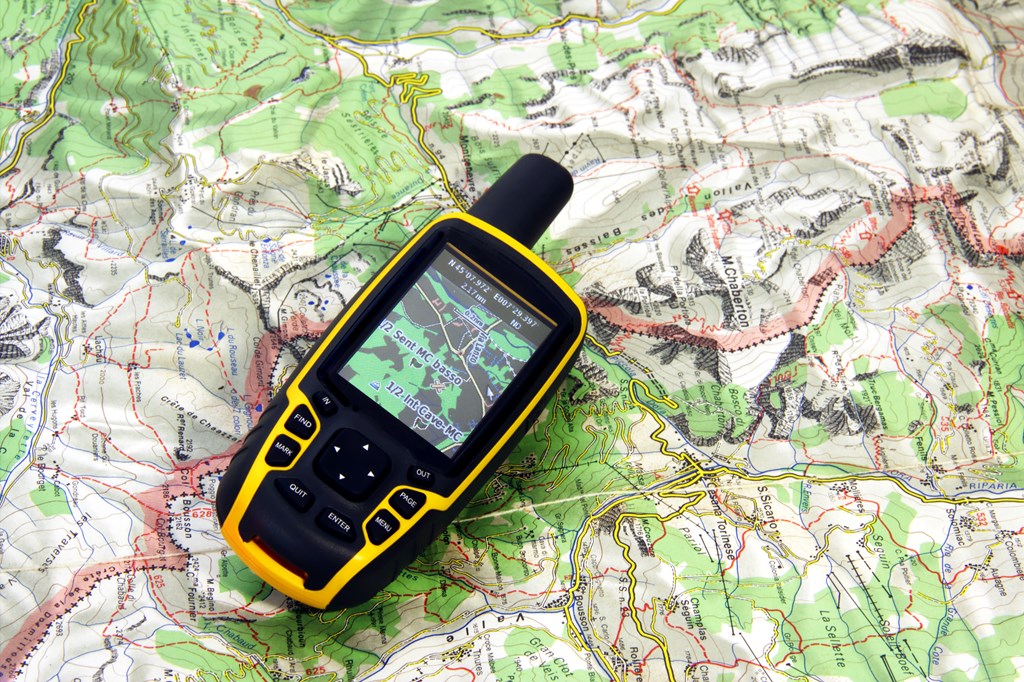 14. Basic Navigation Skills are Essential
Before you go out for the first time, you must learn basic outdoor navigation skills. You need to be able to read a topographical (TOPO) map and calculate GPS coordinates. For example, once you've decided how many miles you want to camp on a given day, you need to be able to use the map or GPS to determine the best place to camp. This also lets you tell others where you are, if needed.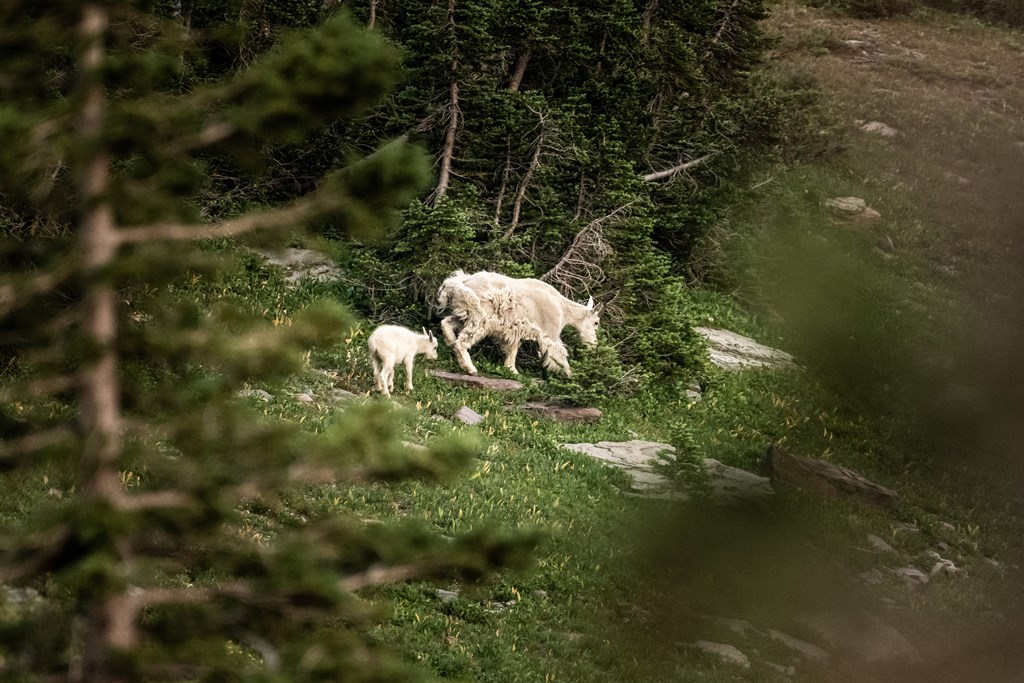 15. Avoid Attracting Wildlife
Wildlife is attracted by anything that smells different, especially if it smells like food, body odors, or perfumes. Get into the habit of storing smelly things in odor-proof bags when away from your camp and at night before you go to sleep.
That includes clothing you've worn, food and discarded wrappers, sunscreen, lip balm, scented wipes, and basically anything with an odor.
Once packed, leave the filled bags at least 200 feet from your tent, hanging from a tree. Don't leave them in or near your tent. If you do, you may wake up with a lot of your gear missing – or a wild animal in the tent with you.
16. Remember to Leave No Trace
If you were a Boy or Girl Scout, you know the Leave No Trace drill!
Protecting the outdoors and showing respect for our fragile planet is essential. Don't forget the Leave No Trace Principles. Pack out any discarded materials or waste, including biodegradable items, and leave every place you've been as good or better than you found it.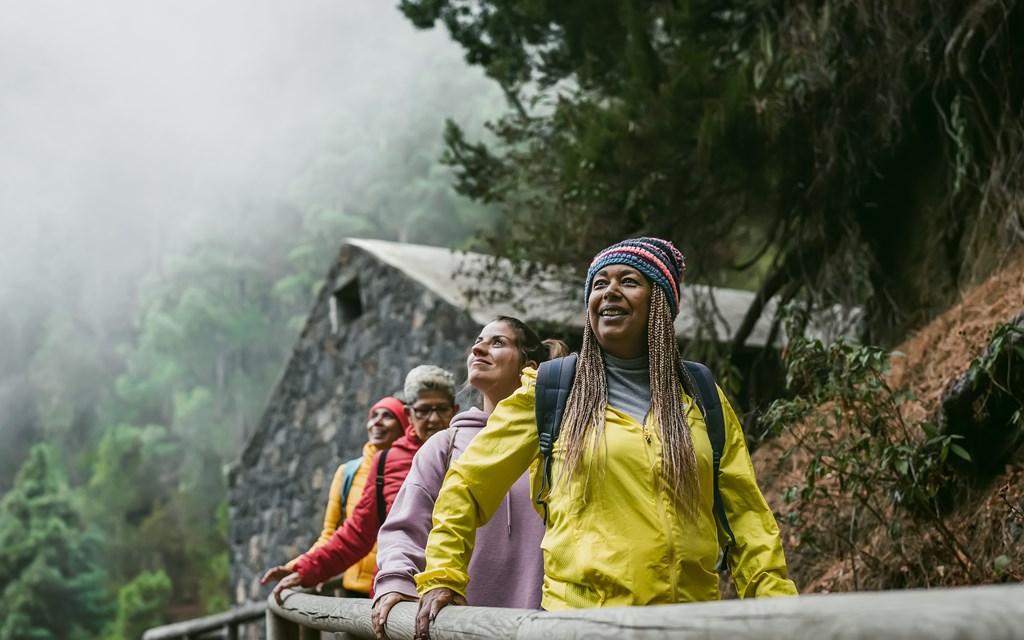 17. Bring A Friend
Any activity is more fun if you have someone to share it with. Backpacking is no exception. Bring a friend or two along.
Another plus is that you can share the burden of carrying heavier, bulkier items such as cooking gear or a shared tent with others in the group.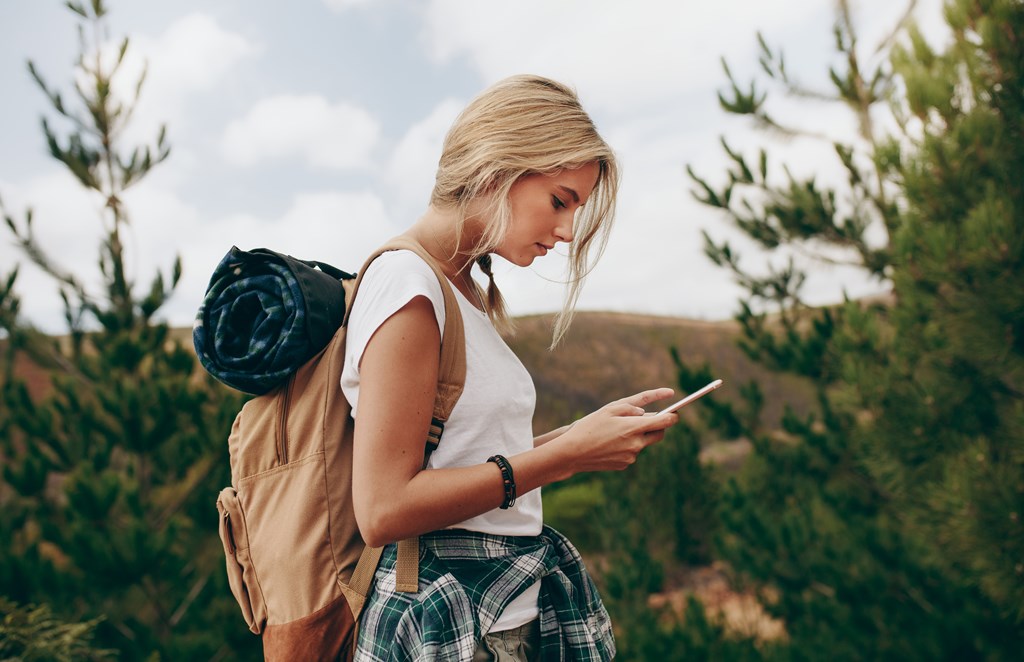 18. Don't Forget To Screenshot Your Maps
Look up the area you'll be backpacking through on Google Maps and save close-up screenshots of every part. These can be a lifesaver if you get lost somewhere that doesn't have cell service.
Many backpacking areas have little to no cell service so it's better to assume that you won't have service and plan accordingly than to plan that you will and get lost.
You should also carry map printouts of at least the larger area as a stopgap to use in case your phone is damaged or the battery dies.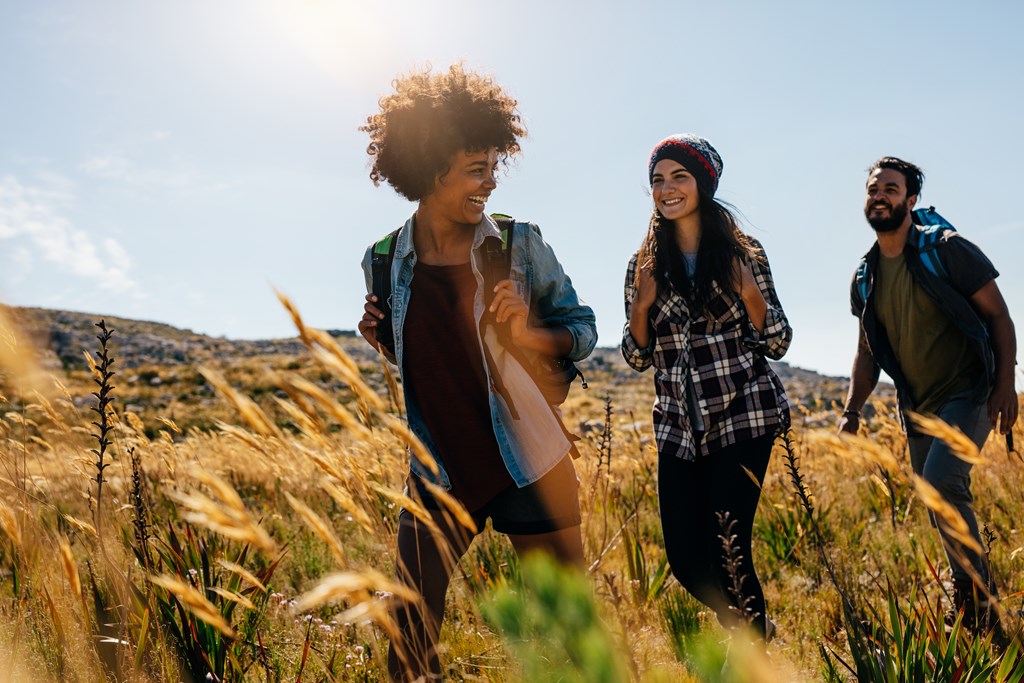 19. Let Others Know Where You're Going to Be
No one has ever been sorry that they took the time to create a safety plan. Don't think you'll be the first.
Let someone who is responsible know that you're taking a backpacking trip. Give them your intended routes and how long you expect to be gone. It's always better to be safe than sorry.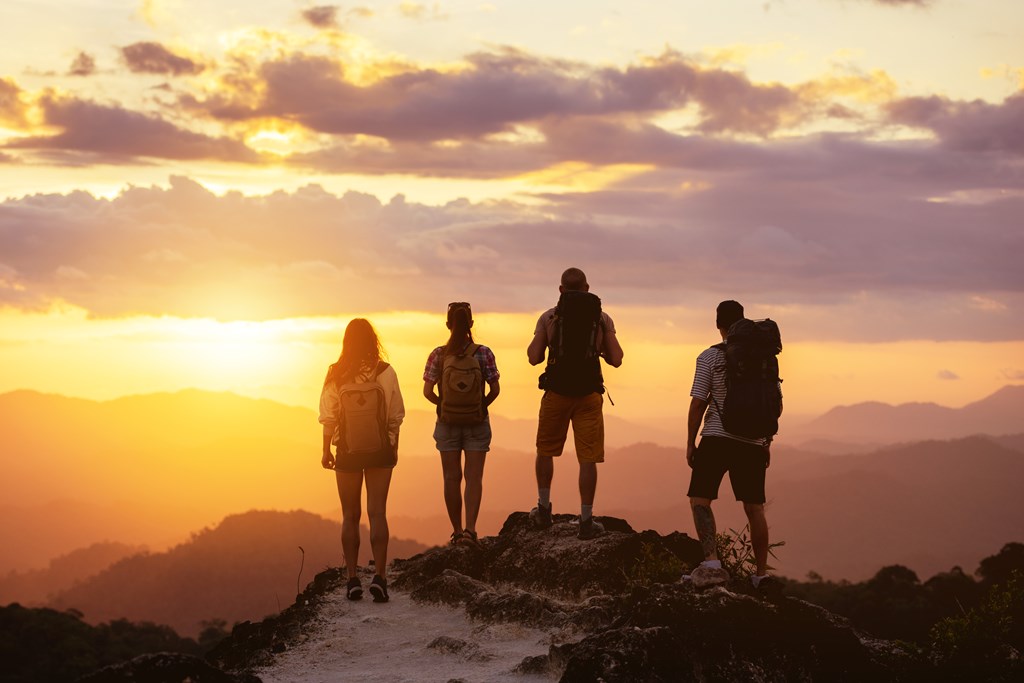 20.  Don't Overthink or Overplan
You've probably read articles about horrible backpacking experiences and listened to friends talk about hiking trips gone awry. As a result, you may be overthinking and overplanning, trying hard to ensure that you do everything perfectly.
Guess what? No backpacking trip is perfect. It won't necessarily be bad, but no amount of planning can overcome every possible variation that you're likely to encounter in the Great Outdoors. That's part of the reason we go out in nature, right? To enjoy things that are out of the ordinary and have experiences that help us expand and grow. Some surprises are fun, for that matter, and nearly all give you a good story to tell. Plan smartly, prepare well, and, most importantly, have a great time!
---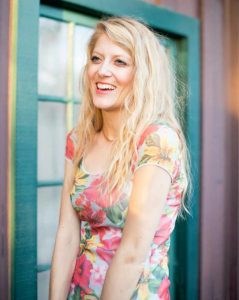 Leslie is a freelance travel and health/wellness writer who gets butterflies from telling stories and sharing information with readers across the globe. Her voice comes from a place filled with passion and dreams.
With over 10 years of experience in crafting words and years of embarking on travels that have taken this Montana girl to some incredible places, Leslie loves the adventures of both body and mind her writing takes her on.
To see what Leslie's up to in the writing and design world, visit her website here.