The Ultimate Guide to Picking the Right Hiking Shoes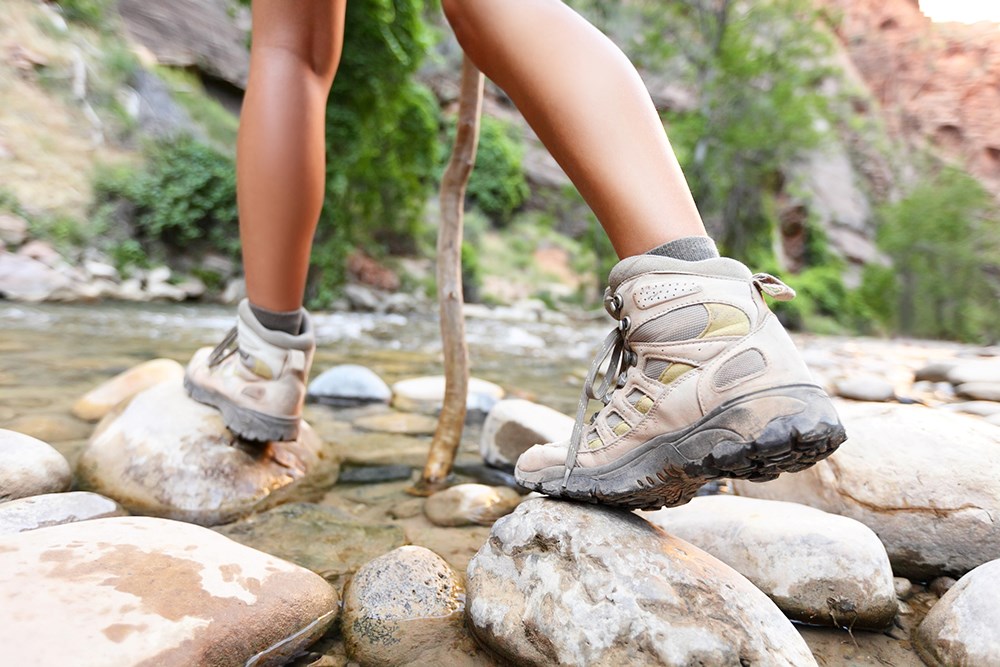 If you could count up how many miles you've covered hiking, we are guessing it's more than your average person. Outdoor enthusiasts such as yourself log a lot of miles out on trails all across the country.
And as an avid hiker, you know that it's not just about the destination, but also the journey. Sometimes the process of getting to the top of the mountain or the end of the trail is more fun than the actual completion of the hike.
However, you also know that to make the journey an enjoyable one, you need the right footwear.
It seems as if everyone has a story about the time that they hiked in the wrong shoes and barely lived to tell the tale. If you don't, then consider yourself lucky.
To ensure your footwear-gone-awry experience doesn't happen again, we've put together this guide on how to pick the best hiking shoes.
Read on for all the tips and tricks you need to let your feet enjoy your outdoor adventures, too.
Types of Hiking Footwear
When it comes to footwear for hiking, you have two main options: boots and shoes. Which one you pick depends on a few different factors, which we will cover below.
Hiking Boots
Here are a few different reasons why hiking boots may be the right shoe for you.
Best for new hikers.
If you are new to hiking, boots are probably your best option.
Why?
Because they have thicker soles that provide you with a bigger, more stable base to work from. Hiking is more exhausting than it looks, and after a while, even the most seasoned hikers can start to get tired and their steps become less and less stable.
That's why, especially if you are a newbie hiker, you're going to want the stability of a boot to help keep your feet as secure as possible with each step.
Best for rough terrain.
The shoes you want for hiking depend on the terrain that you're going to be walking on. If that terrain is rougher and has lots of rocks, then boots are probably the way to go.
Boots were build to endure rocks and to give your feet an added layer of protection between them and the harsh ground.
Best for cold and wet conditions.
Your hiking footwear also is dependent upon the weather conditions in which you will be doing your hiking.
If you're hiking in the winter months, you'll likely appreciate having the extra warmth that a pair of heavy boots brings.
Also, if you're hiking where it may be wet, a waterproof hiking boot should be able to protect your feet from getting too wet.
Best for those carrying heavy packs.
Are you going on a hike with just your water bottle? Or are you hiking with a pack full of gear?
If the latter is true, then hiking shoes may not be enough to support you in carrying that extra weight. Boots are better for providing you with that added stability you need when hiking with a big pack.
Best for those who have joint issues.
If you are someone who suffers from joint issues, then you need a bit of extra strength and stability to help you on your hike. A hiking boot will help you with this. As mentioned above, boots have a bigger sole and thus provide more stability to help you in areas where your body may be struggling.
Best for slow hikes.
Are you looking to go on a slow-paced hike? Then hiking boots are what you want.
They are heavier than hiking shoes and thus take longer to walk in. So, if you're after a nice hike at a slow pace, then grab yourself some great boots.
Best for gripping surfaces.
Hiking boots are lauded for their ability to grip onto different surfaces and give you a steady hold.
However, the same is true for hiking shoes as well.
If compared to each other, boots would probably win when it comes to gripping ability, but that depends on the specific boot you're looking at as well. Hiking shoes also do a great job of providing you with traction that will help you stay upright on your trek.
Best for longevity.
Because hiking boots are built to be more stable than shoes, they tend to last longer.
That means you won't have to replace them as often, as long as you keep your boots in fairly good shape.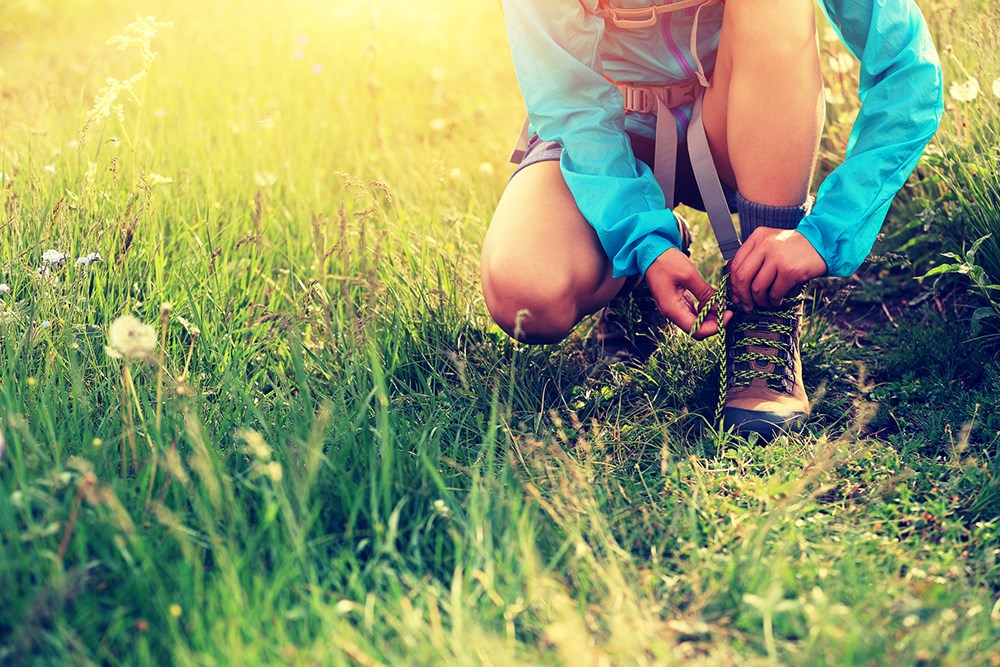 Hiking Shoes
Hiking boots have a lot of things that make them a great pick for your hiking footwear, but there are some instances in which hiking shoes are actually a better fit (pun intended).
Best for sweaty feet.
Some of us were just born more sweaty than others. It's not a life choice, but something that you have to make decisions around. If you are one of those people, then you may want to look at getting yourself some hiking shoes as opposed to boots.
Shoes are known for their breathability and they don't have the added weight (heat) that boots do, so tend to keep your feet freer of sweat.
Best for breaking in.
As much as you may love the idea of hiking boots, if you are purchasing them right before heading out on a trip and don't have time to break them in, then you may seriously regret that purchase.
Hiking shoes are much easier to break in and require little to no time to do so. Boots, on the other hand, require a few wears around town before determining whether your feet can handle them out on the trails.
Best for fast-paced hikes.
If speed hiking is the name of your game, then you probably don't want boots slowing you down.
For fast hikers, shoes are the ideal footwear as they are lightweight and can go for miles.
Best for versatility.
Hiking shoes are a much more versatile shoe than the boot. They can be worn for exercising on and off the trails, and also may be your favorite shoes to wear when running errands.
Boots, on the other hand, don't translate to many other uses aside from hiking.
Best for warm weather.
On a hot summer day, putting on a pair of heavy hiking boots may be the last thing you want to do. If that's the case, then grab some hiking shoes instead.
These are great for when the temperatures turn up and you want to keep your heat levels to a minimum.
Best if you're on a budget.
A good pair of hiking shoes will have a price tag that starts at around $100, while a good pair of hiking boots will start at around $200. The cost difference is justified – boots require more material and are built to be more sturdy and strong than hiking shoes.
If you are on a budget and think you can get what you need out of hiking shoes, they may be the best option.
One thing to consider in the cost category, however, is how much you hike. If you are an avid hiker adventuring on trails every weekend, then you may end up burning through pairs of hiking shoes fairly quickly. It may be more worth it in the long run for you to invest in a pair of hiking boots if this is the case.
Otherwise, hiking shoes are the best pick if you're on a budget.
Why you should Consider Both Hiking Boots and Hiking Shoes
If you feel that some of the situations where hiking boots work better sound like you, but you also find that some of the scenarios in which hiking shoes work best sound like you too, then you may want to consider getting a pair of each.
You can have boots for when the conditions call for it, and shoes for the other times.
There are many great options in both categories that may leave you feeling like the best choice is to get one of each.
To help you in deciding what hiking footwear to get, we've highlighted some of our favorite hiking boots and hiking shoes below.
KOA's Picks for Hiking Boots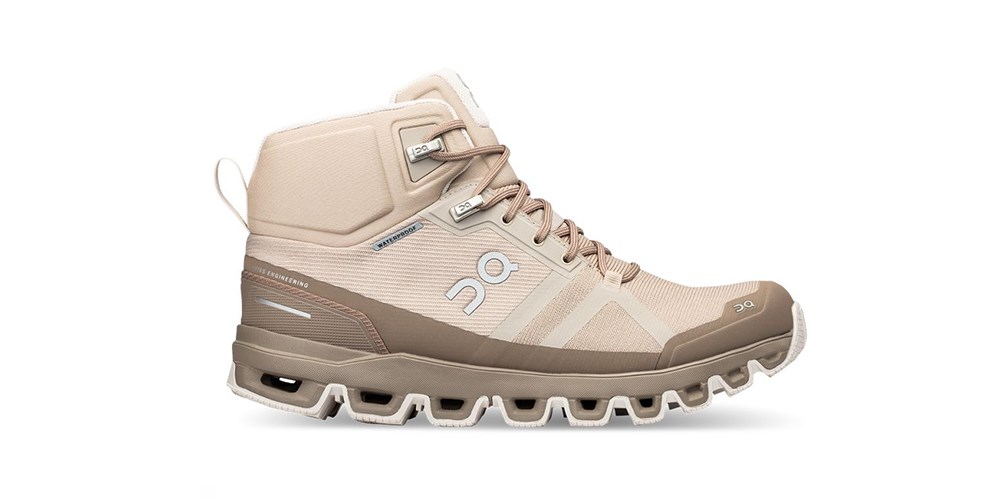 On is known for its high-quality running shoes. In fact, this brand of shoes is considered one of the best running shoe brands in the industry.
Thus, it should come as no surprise that their hiking boots are stellar, too. The Cloudrock Waterproof boot is a KOA favorite for a few different reasons, but one of the major ones is that they are waterproof. If you've ever hiked in wet conditions, you know that few things feel worse than trekking along in soggy boots.
The membrane on these On boots is wind and waterproof and features mesh that helps with breathability and also stability. You may experience the boots getting a bit colder when they get wet, but your feet should remain dry, which is a huge bonus.
The best part about these boots, however, is their level of comfort. It blows many other boots of out the water, and you can expect your feet to stay happy for all-day use. Another thing we love about them is how lightweight they are. Most hiking boots are quite bulky and heavy, but On has managed to create hiking boots that offer support without being heavy. In fact, this boot is up to 35% lighter than other hiking boots.
And despite their light weight, the Cloudrock Waterproof boots are incredibly durable as well and have a solid grip on them that will help you navigate a variety of terrain.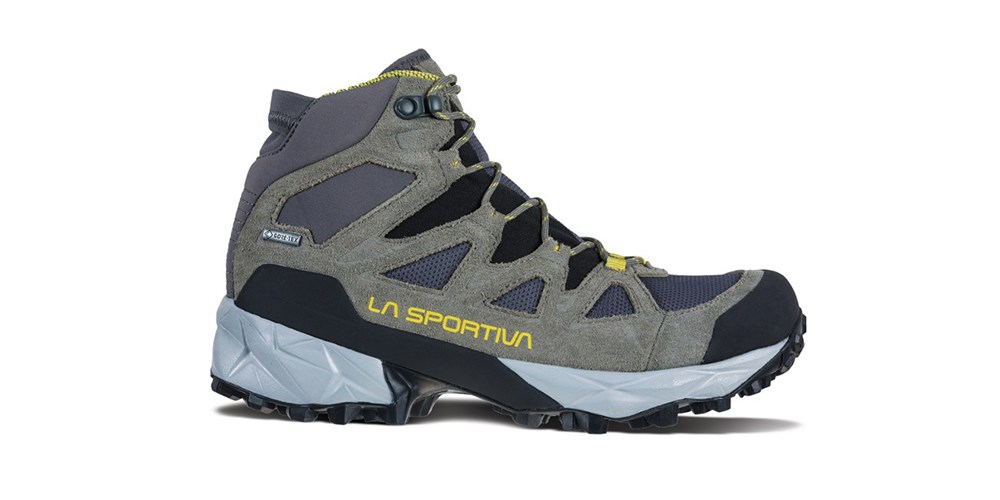 Though this shoe is a boot, it takes its inspiration from trail running shoes. It is meant for those who are seeking fast-paced adventures but still need the stability that boots provide. Many people say that this boot feels more like a sneaker than a boot.
The waterproof feature is huge, as it will keep your feet dry while also offering you breathability.
This boot works well on a variety of terrains and can even get you through spots with slippery rocks, as the grip on it is quite strong. And the durability is another thing to note. It seems that after much wear and tear, these boots still hold strong.
Their comfort level is high as well and features an EVA midsole that provides shock absorption to keep your feet feeling good even when going through less-than-ideal terrain.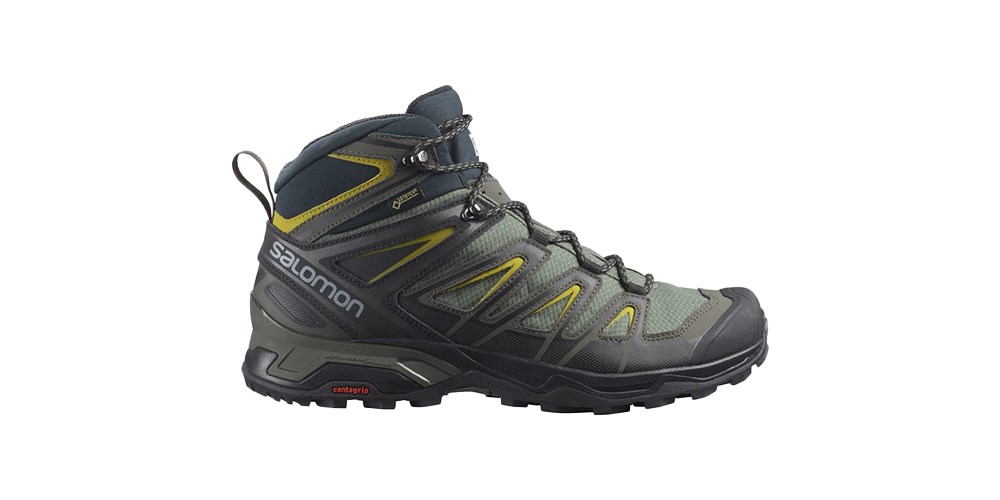 Salomon is a known and trusted brand in hiking boots that has been creating hikers' favorite footwear for decades.
And these X Ultra 3 Mid Gore-Tex boots are a consistent best seller. In fact, you may be hard-pressed to find your size in these boots. So if you see them, you probably want to order them immediately.
One of the loved features of this boot is its light weight. They are on the light end of hiking boots, which gives them a more athletic feel and not the feeling that you're lugging a pair of heavy boots on your feet.
When it comes to traction, these boots have some of the best. The treads on the Ultra 3 Mid Gore-Tex boots have been proven to handle all sorts of terrain ranging from snow to rockslides to mud and beyond. Though you will likely see some wear in the traction over time, you can get a lot of miles out of these boots.
KOA's Picks for Hiking Shoes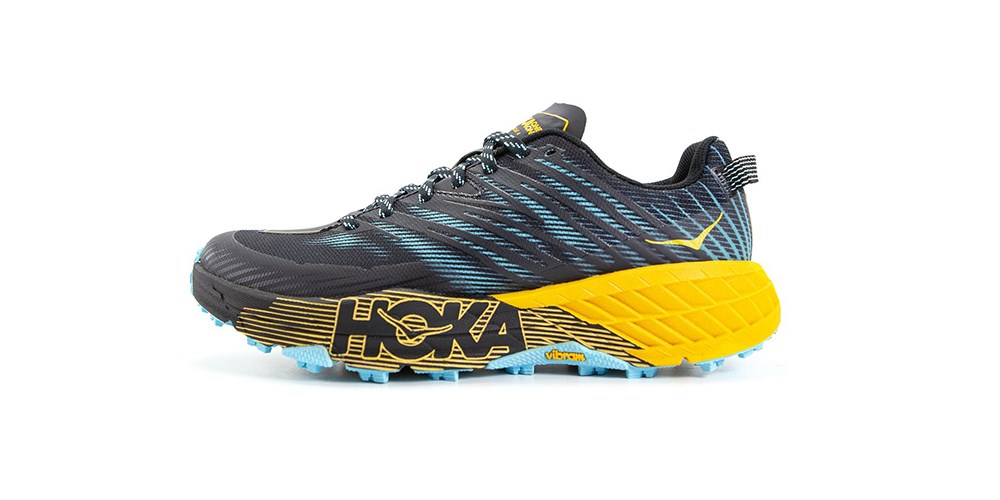 Named after HOKA Athlete Karl "Speedgoat" Meltzer, these shoes have won all kinds of awards for their ability to provide hikers with a lightweight option to get out on the trails.
These shoes feature excellent breathability, which is key on those long hikes or those hikes in hot weather. They also manage to provide you with excellent support, thanks to the 3D printed overlays and the Vibram Megagrip rubber outsole that helps you stay safe in wet conditions. The 5" lugs on these shoes are also a major source of comfort and stability and are in true HOKA style.
The treads on the Speedgoat 4s will have you feeling like you can hike through any terrain, just be careful when heading into muddy situations. However, when it comes to rocks and wet surfaces, these shoes will have your back.
We also love that these shoes have a thinner tongue so that your foot has more room to be comfortable in while you're adventuring around.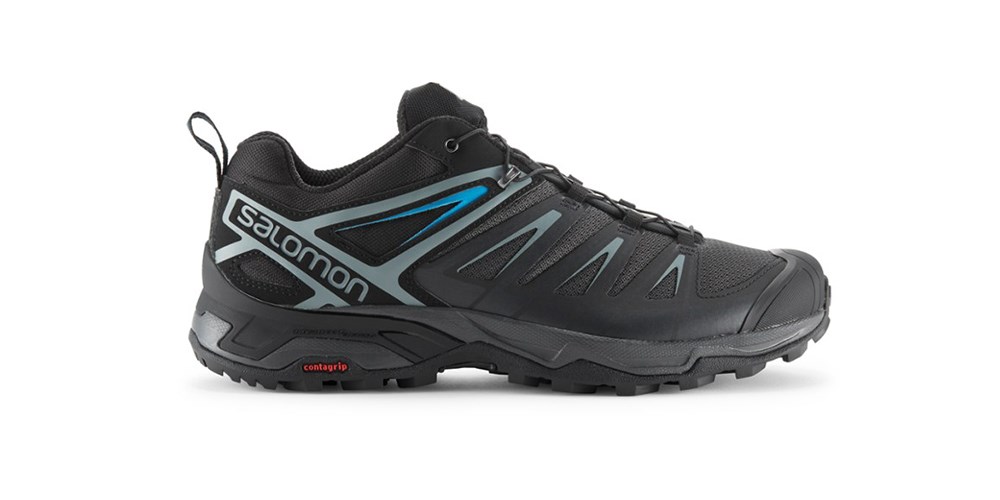 If you're looking for something that combines the stability of a hiking boot with the comfort and flexibility of a shoe, then this is it.
This is the shoe version of our favorite Solomon hiking boot above, and you won't be disappointed with it.
The lacing system of this shoe is one that either you will love or hate. It makes it easy to put them on without having to hassle with tying knots or dealing with adjustments. However, some people prefer a lacing system that is more classic. This really boils down to a personal preference.
This shoe's lugs are strong enough that they allow you to get a solid grip on rocky terrain and wet conditions, but won't weigh you down on long hikes.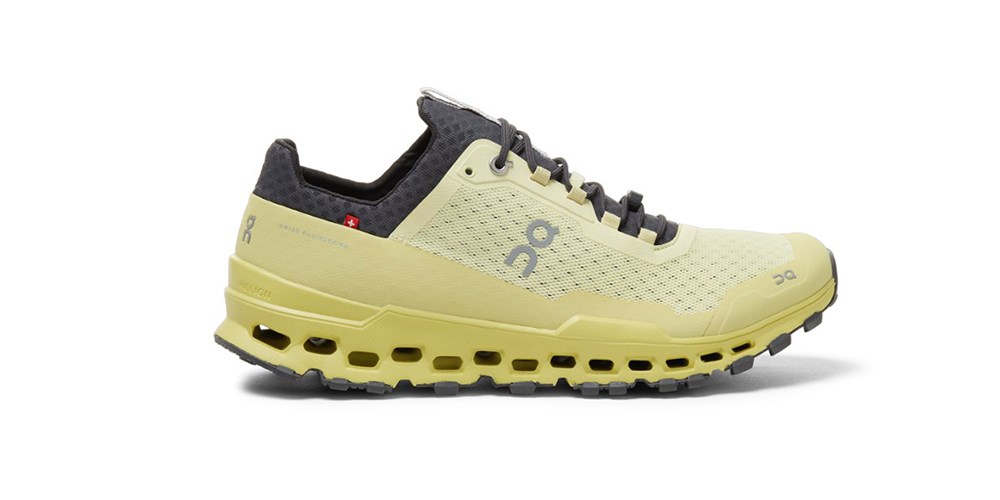 Want to feel like you're walking on clouds when hiking? We thought so. Then you want to get these trail shoes from On. They will change the way you feel about your feet while hiking, and they'll do so with the light weight of a shoe versus a boot.
The Missiongrip on these allows you to traverse mixed terrain with no concern, and with all the comfort you want. These shoes feature two layers of Helion superfoam and two layers of CloudTec which translates to the ultimate cushion and comfort for your feet while going on long hikes.
We also love these shoes for their breathability and durability – the Cloudultras are built to last you through many adventures on the trails as well as around town. You may find yourself loving these shoes for more than just your go-to pair while hiking.
As you can see, there is no right or wrong answer as to whether you should get hiking boots or hiking shoes – it comes down to specific preferences and uses. So, decide what your preferences are, how you'll be hiking, what your non-negotiables are, and you'll find the perfect hiking footwear.
---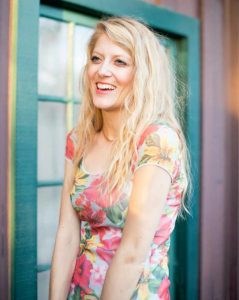 Leslie is a travel writer, copywriter, and web designer who gets butterflies from telling stories through words and visuals.
Her voice comes from a place filled with passion, dreams, and lots of sugar. "Cake over steak" is her go-to motto.
With over 10 years of experience in crafting words, and years of embarking on travels that have taken this Montana girl to some incredible places, Leslie loves the adventures of both body and mind her writing takes her on.
To see what Leslie's up to in the writing and design world, visit her website here.
---
Kampgrounds of America, Inc is a participant in the Amazon Services LLC Associates Program, and affiliate advertising program. Some links may be affiliate links and Kampgrounds of America, Inc may get paid if you buy something or take an action after clicking one of these links.
Prices are accurate at time of publishing. Note that they are subject to change at the discretion of Amazon or their marketplace sellers.