Add these KOAs around Lake Ontario to Your Great Lake Road Trip | Featured Region
Situated between Lake Erie and the St. Lawrence River, Lake Ontario is the easternmost of the five Great Lakes of North America. This means that all of the water that flows through the Great Lakes basin travels through Lake Ontario. Not only does this make the lake an important corridor for transport, but also creates diverse habitats. Home of more than 100 beaches, impressive freshwater dunes, varied wildlife and ample room for watersports, Lake Ontario is a popular tourist destination for both American and Canadian travelers looking to reconnect with nature.
6 Interesting Facts About Lake Ontario
Lake Ontario is the smallest of the Great Lakes by surface area although its volume exceeds that of Lake Erie
By surface area, Lake Ontario is the 14th largest lake in world
The maximum depth of Lake Ontario is 802 ft; the lake's average dept is 283 ft
Lake Ontario is the only Great Lake that doesn't border Michigan
Lake Ontario's indigenous names are Niigani-gichigami and Oniatarí:io
25% of Canada's population lives within the Lake Ontario watershed
Things to See and Do Around Lake Ontario
While it would be hard to run out of things to see and do around and on Lake Ontario, here are a few of our favorites.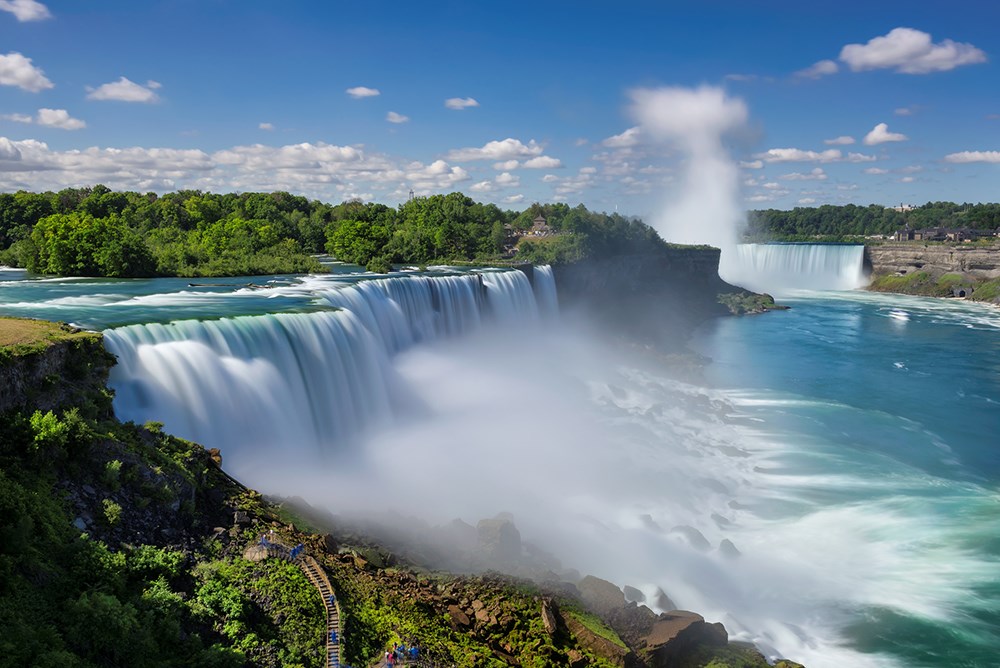 1. Niagara Falls
One of North America's most dramatic sites, Niagara Falls lies on the boarder of Ontario and New York and is made up of three individual falls: Horseshoe Falls (also known as the Canadian Falls), the American Falls, and the smaller Bridal Veil Falls. The largest of the three, Horseshoe Falls, is the most popular and well-known. You'll find the best vantage point at Queen Victoria Park on the Canadian side where you can also embark on a cruise about the Maid of the Mist for an up-close experience.
On the U.S. side, Prospect Point or Rainbow Bridge offer stunning views of American Falls. Here you can also cross to Goat Island for another vantage point. A can't miss on Goat Island is taking the elevator to the foot of the falls to experience Cave of the Winds. This self-guided attraction at Niagara Falls State Park allows sightseers to walk right up to the base of Bridal Veil Falls, behind a curtain of falling water.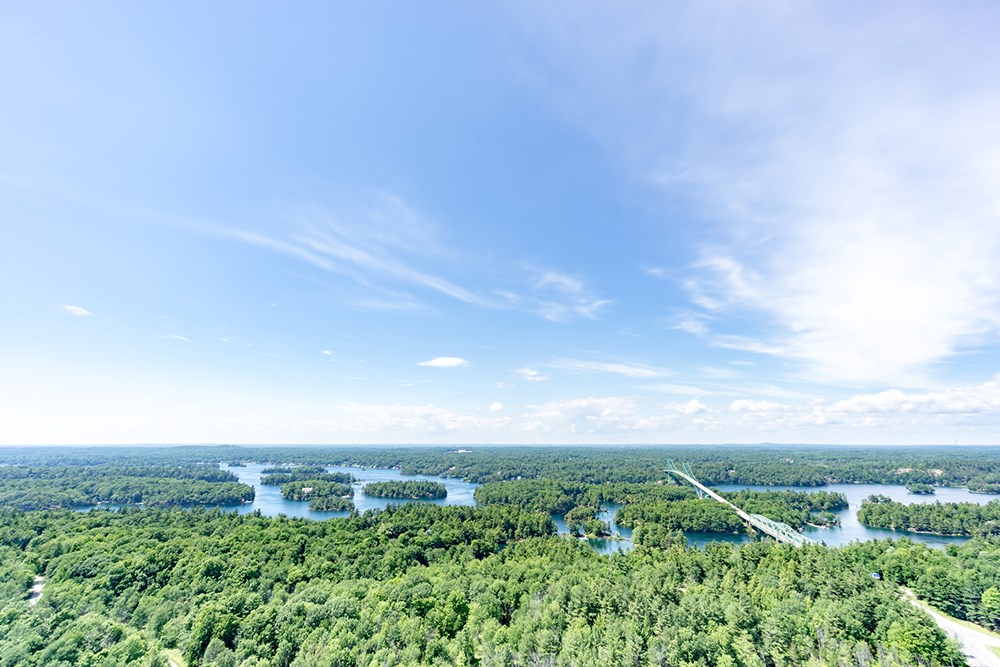 2. 1000 Islands
In the northeast corner of Lake Ontario you'll find the Thousand Islands. An archipelago of over 1,850 islands offers countless opportunities for recreation among it's woodlands, islands and water. There's so much to do here, we can't even begin to cover it all! Thousand Islands is also home to elaborate island mansions such as the German-style Boldt Castle on Heart Island and Singer Castle on Dark Island. Fun fact, to be considered an island, land must stay above water 365 days a year and have the ability to support a living tree.
And yes, the dressing does have its origins here though there are several stories of who made it first.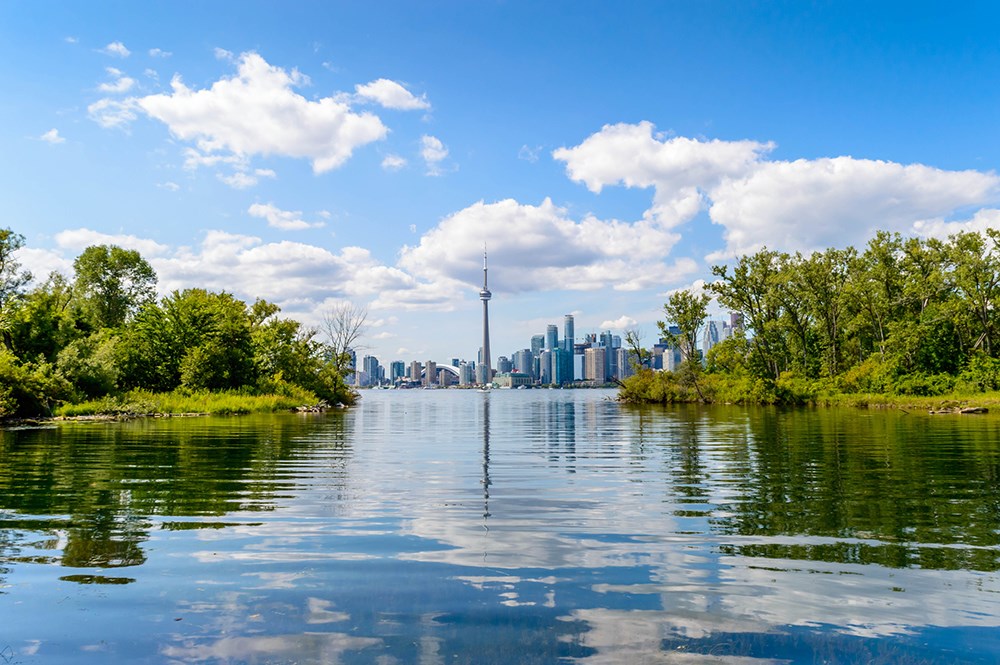 3. Toronto Waterfront
Canada's largest city, Toronto boasts one of the world's longest urban waterfronts. Here you'll find nearly 30 miles of beaches, marinas and green spaces along Lake Ontario just waiting to be explored. Combine this shoreline with the bustling urban center of Toronto and you've got the makings of a unique destination that suits both city- and nature-oriented travelers. For a unique view of the skyline, check out Toronto's Outer Harbour and it's many recreation water clubs – this is the destination for watersport lovers.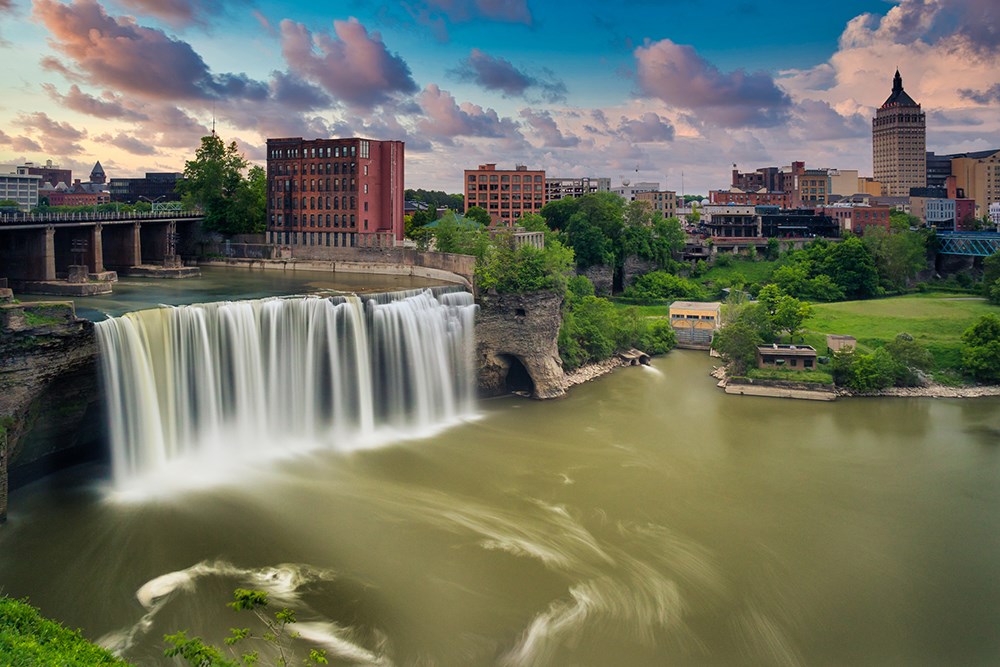 4. Rochester, New York
Located where the Genesee River tumbles over a series of spectacular waterfalls before emptying into Lake Ontario, Rochester is New York's third-largest city. In addition to a hopping arts and entertainment scene, the city also offers a charming lakefront. Locals and tourists alike flock to Rochester's Ontario Beach Park every summer to swim in the lake, fish from the Charlotte Pier and visit the 1905 Dentzel Menagerie Carousel. While you're in Rochester, be sure to stroll along the banks of the Erie Canal, browse for local goods and produce at the Rochester Public Market, and watch the Genesee River roar through the Lower Gorge.
Where to Stay Around Lake Ontario
No matter what kind of adventure you're looking for, Kampgrounds of America has plenty of nearby Lake Ontario campgrounds with something for everyone. No matter what kind of camper you are, here are some KOA campgrounds on both sides of the border that will make your visit to Lake Ontario that much more enjoyable:
---
About the Author: Kampgrounds of America
Kampgrounds of America is the largest system of open-to-the-public campgrounds in the world, with over 500 locations across the United States and Canada. Founded in Billings, MT in 1962, KOA's family of campground brands – KOA Journey, KOA Holiday and KOA Resort – today serve more than a million camping families each year. KOA is dedicated to "connecting people to the outdoors and each other" by providing people with a variety of camping experiences and the information they need to make the most of their camping trip. Read more of their camping and travel resources by visiting KOA.com/blog.
---