With motorcycle ownership on the rise and camping trips growing more popular each year, it was only a matter of time before travelers found a way to combine them. Motorcycle camping enthusiasts have joined their love for the outdoors with the adventure of the open road for truly one-of-a-kind camping experiences.
Motorcycle camping takes different forms — some prefer to ride from state-to-state seeking new places to camp each night, while others bunk down at a single location and explore the area to its fullest. While you can always ride your motorcycle to a campground and seek lodging in a cabin, you might find that some of the best experiences may come from hauling your tent or small travel trailer behind your bike and making camp wherever you go.
Learn more about this unique camping trend, including the differences between types of campers and pull-behind motorcycle trailers and tips for journeying safely.
What Is a Motorcycle Camper?
A motorcycle camping trailer is a small rig you haul behind your motorcycle — sometimes also called a pull-behind trailer — that either carries your tent and supplies or acts as its own shelter when parked. Motorcycle camper trailers are lightweight and compact enough for safe travels, though weight and size vary between models and cargo.
Motorcycle camping is the ideal getaway for solo riders or group travelers. If you are traveling with friends and family, each member of the group will need to tow their own shelter, as motorcycles can typically only haul one trailer or pop-up at a time.

Advantages of Motorcycle Camping
In addition to the more general benefits of camping and spending time outdoors, motorcycle camping offers some unique advantages, including:
You get the freedom of the road: Ask any rider why they bought their bike, and chances are, most of them will reference the overwhelming joy that comes from the open road. Motorcycle camping lets you enjoy travel on your own terms, at your own pace. Feel like pulling over for the night? Prefer the scenic route? Motorcycles make it easy. Because bikes are more compact than vehicles, you can sometimes access certain areas that others cannot.
There is less to transport: All forms of camping are fun, but motorcycle camping involves far less luggage, equipment and packing. Because you have less room, there is simply less to take — saving you time and energy that you can refocus on the journey ahead.
It is cost-efficient: Speaking of fewer things to haul — motorcycle camping can be pretty cost-efficient, too. You do not have to worry about buying, transporting or maintaining a large RV, and fuel is typically more affordable because you need less of it than you would with full-size vehicles.
The view is great: One of the best parts of riding a motorcycle is the view along the way. If you are traveling scenic backroads or embarking on a leaf-peeping excursion, your bike offers the best seat on the road.
It lets you get back to basics: Motorcycle camping forces you to pack mindfully and camp simply. You can get back to basics by bringing only what you need to get by — an experience that can bring families together and help you disconnect from the real world for a while. Of course, that does not mean motorcycle camping trips cannot be luxurious. Plenty of camping destinations, like KOA Campgrounds, offer relaxing stays with comfortable amenities to help you balance simplicity with relaxation.
Though these advantages are significant, there are a few things to consider before heading out for your first bike trip. Unlike traditional travelers, motorcyclists must always consider the weather — even if it is just a rain shower. Road conditions can get dangerous quickly. Always practice caution.
You will also have far less room in your luggage for some larger camping supplies, like chairs or recreational gear. While most campgrounds have some things available for rent, consider your must-haves before planning your trip.
Finally, motorcycle camping requires experience and patience while navigating. Pull-behind trailers add more weight and length, which may prevent you from using some roads while traveling to the campsite.
Different Types of Motorcycle Campers
If motorcycle camping sounds like the perfect fit for you, the next step is to choose the right camper or trailer for shelter. Your options include open trailers, cargo trailers, pop-up campers and clamshell camper trailers.
1. Open Trailers
Open trailers do not typically have a roof or any type of enclosure beyond four small walls to keep contents onboard. Instead of sleeping in or on the trailer, you use it to haul gear, luggage or even your bike itself if you prefer to drive a vehicle to your campsite and spare your motorcycle the mileage and wear. With an open trailer, you can usually fit several pieces of luggage, camping supplies or a full-size tent — perfect if you like to have more options around your campsite.
Always check the weather before hauling goods in your open trailer, and never forget to secure contents with cords or rope. You can also tie a tarp over your items to keep them drier and more secure.
2. Cargo Trailers
Cargo trailers have hard, protective shells that encase cargo. They offer more space than your saddlebags alone and keep everything safe from the elements and excess movement. They attach to your motorcycle hitch for low-profile, pull-along hauling. Unlike pop-up or clamshell campers, cargo trailers are not large enough to act as shelters once parked. Instead, use them to pack a tent, tarps, cooking supplies, a hammock or other equipment to set up camp once you arrive.
Cargo trailers are ideal for tent campers who want to combine traditional tent camping with the extra fun and freedom of bringing along your motorcycle.
3. Pop-Up Campers
Instead of hauling a tent, pop-up campers are a portable shelter you assemble when you park at the campsite. These solid platforms are compact and attach to the back of your bike for easy hauling. Once you arrive, simply turn the attached hand crank to "pop" the tent walls and ceiling up for instant shelter.
Some pop-up camper variations include the option to assemble larger tents on top of the platform for more space. Some are more extravagant than others, with room for multiple people and storage.
4. Clamshell Camper Trailers
Clamshell camper trailers are similar to pop-up campers, except there is no crank, and the unit is more self-contained. Once you are ready to set up camp, the bottom and top halves of the hard encasement open like a clam, creating a living space in between. The wedge-like space is protected by tent fabric that attaches to each section to create walls.
Due to the space restrictions that come with the clamshell design, these setups are perfect for solo campers who prefer not to haul and assemble an entire tent.
How to Choose the Best Motorcycle Camper
Before investing in a new or used motorcycle camping trailer for your bike, consider its size, weight, price, features and condition.
Size
Size refers to the width and length of your trailer or pull-behind camper, both when it is compact and full-size. When selecting the right size, consider the following:
How many people and pets will be sleeping inside.
How much gear and equipment you typically bring camping.
Which amenities and supplies you can get at the campground to save space.
The type and size of motorcycle you own.
Your experience hauling large items behind your bike.
How much space and legroom you personally require when sleeping.
Weight
The unit weight is one of the most critical factors to consider when shopping for a motorcycle camper or trailer. If it is too heavy for your bike, you will be unable to pull it safely or successfully. Check your motorcycle owner's manual to learn more about your bike's curb weight and towing capacity. When accounting for weight, remember to include total rider weight and the approximate weight of the items you will be hauling inside the trailer.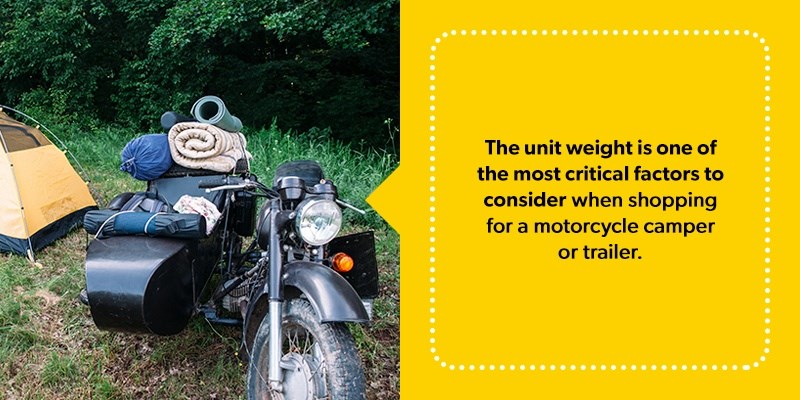 The more weight you tow — and the wider your camper or trailer — the more carefully you must drive:
As your bike weighs down, you will need to take turns differently — sometimes wider, sometimes narrower, depending on the road.
Increase stopping distances when approaching red lights, stop signs and turns.
Longer acceleration times, especially when moving uphill.
Keep your bike as straight as you can while stopping and accelerating to minimize side movement.
Price
Price is always important to consider when making an investment. Initial cost depends on several factors, such as:
Length
Width
Weight
Manufacturer
Model
Features
Color
Condition
Remember, the cost of your trailer goes beyond the initial purchase price — you must also account for ongoing maintenance and fuel to haul it.
Features
Trailers and campers may come equipped with different features, depending on which kind you purchase. Possible upgrades include: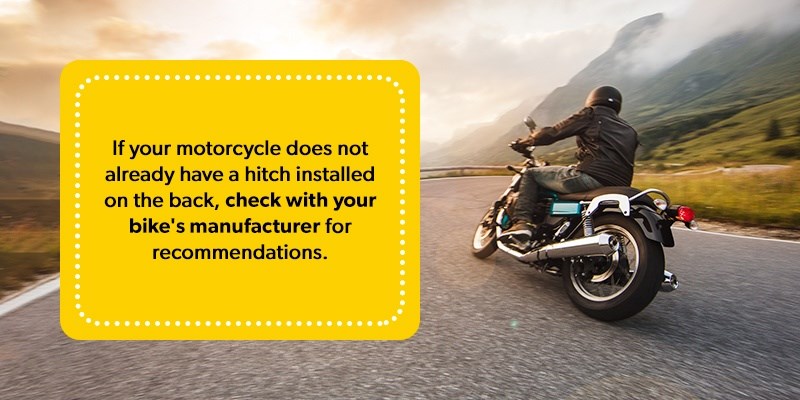 Built-in storage: Built-in storage or extra space gives you more room to move in pop-up and clamshell campers, as well as a dry place to keep clothes and other luggage.
Heating and cooling: In some regions, heating and cooling are a must-have for summer or winter camping. Though it is not common in pull-behind campers, a few models may have integrated features like windows or dual-layers to keep you more comfortable.
Bed space: Bed space refers to the size of mattress you can fit in a pop-up camper. While some only house singles, others may accommodate full and double-size beds for couples, small families or those traveling with a pet who likes to share the bed.
Gear storage: Some campers with hardtops are equipped with racks or space to help you haul extra gear, like bicycles, sleeping bags or fishing equipment.
If your motorcycle does not already have a hitch installed on the back, check with your bike's manufacturer for recommendations that will suit your specific model. Make sure the hitch is secure, and haul a test load before you leave on your trip.
Condition
Like most bike accessories and equipment, you can buy campers and trailers either used or brand new. While both have their advantages, it comes down to how much money you have to spend on your initial investment, the unit's condition and your relationship with the seller. Never buy a used trailer from an unknown private seller without bringing along an expert to help you inspect for hidden damages.
When visually inspecting a used trailer or motorcycle camper, check for:
Scratches, dents, rust, corrosion or chipped paint on the exterior.
Holes or worn spots in the pop-up walls and ceiling.
Condition, fill level and wear and tear of each tire.
Rust or warping where the hitch connects.
Motorcycle Camper Ideas and Tips for Easy Travel
Now that you know how to pick the right motorcycle camper, here are some tips to help you have a successful camping trip:
Pack mindfully: With limited space and hauling capacity, be sure to pack mindfully. Make a list of necessities and pack them first, starting with the heaviest items on the bottom. If you are using an open-air trailer or carrying items in your saddlebags, use dry bags.
Stop often: Stop often to rest, refuel and stretch your legs along the journey. While stopped, inspect your trailer or camper and hitch to make sure everything is still secure, including tarps and tie-downs.
Slow down: Driving slowly is essential when hauling something behind your bike, but not just for safety — it is also the best way to truly enjoy the sights around you while journeying through forests, cities and countryside.
Plan ahead: Reserve a campsite early if you plan to stay in a popular tourist area or during peak season. Create a travel route to and from your destination and monitor the status of road closures and weather. Good motorcycle preparation also includes getting your bike serviced just before your trip, including a tire check.
Be safe: Safety should always be your main concern on the road. Pull over any time the weather gets unsafe, you feel too tired to continue or if you are ill. Do not attempt to haul a camper or trailer in severe weather or over roads with standing water. Always wear the appropriate safety and protective gear, including a jacket, helmet and eye protection. Bring along a paper map, first aid kit and numbers for repair shops. If you have never hauled something with your bike, or this is your first time taking a long journey, consider a few practice runs close to home first.
Best Motorcycle Camper Destinations
Some campers seek the thrill of outdoor adventure. Others long for an exciting, urban-fueled getaway with shopping and dining opportunities galore.
Whichever way you choose to travel, some of the best places to visit with your ride are:
State and national parks: National parks and state parks offer some of the most unique experiences and breathtaking views in the country. Each state houses a variety of each, all special in their own right. Some parks feature sweeping mountain ranges and coastal waves, while others take you on desert treks or along winding roads through deep forests. Check with each park before bringing your bike — some may only allow foot traffic.
Near popular attractions: Popular attractions — like tourist towns, music festivals, state fairs and conventions — are fun to visit, but many lodging facilities fill up fast. Get around the crowds by hitching your camper to your bike and reserving a stay at a nearby campground. Plus, campgrounds like KOA offer plenty of entertaining on-site activities, so the fun does not have to stop when the event is over.
During motorcycle events: If you are attending a motorcycle rally or event, nearby campgrounds are a great way to experience the area and keep lodging costs low. They are also one of the few places where you can sleep near your ride, knowing it is safe and sound through the night.
With more than 500 North American locations, KOA is never too far from your desired destination.

KOA Makes Motorcycle Camping Easy
KOA has everything you need for a memorable motorcycle vacation, including:
Clean restrooms with hot water to shower and unwind after a long day on the road.
Laundry facilities, so you do not have to waste valuable luggage space with multiple outfits.
Spacious, level sites, so you can park your bike safely and have plenty of room to spread out.
Private fire feature, so you can cook meals right from your campsite.
A KOA Store with necessity items available.
The chance to meet fellow travelers like you at events or public gathering spaces, depending on the location.
Reserve your stay at a KOA Campground today, with Tent Sites, RV Sites, cabins and more to fit any traveler's needs. Find a KOA near you to get started.
---