Few things feel more fun and relaxing than unplugging from your life and heading into the great outdoors for a camping trip.
Leaving your phone, your computer, and your responsibilities behind, you are free to roam in the wild and lose touch with reality.
While doing this with your partner or your family sounds like fun, you may find that there is really nothing more restorative for your mind, body, and soul than taking that camping trip on your own.
Yes, we are talking about camping solo.
Though it sounds intimidating, let us make our case before you jump to conclusions.
By the end of this, we bet you'll be prepping and packing your bags for your first solo camping trip.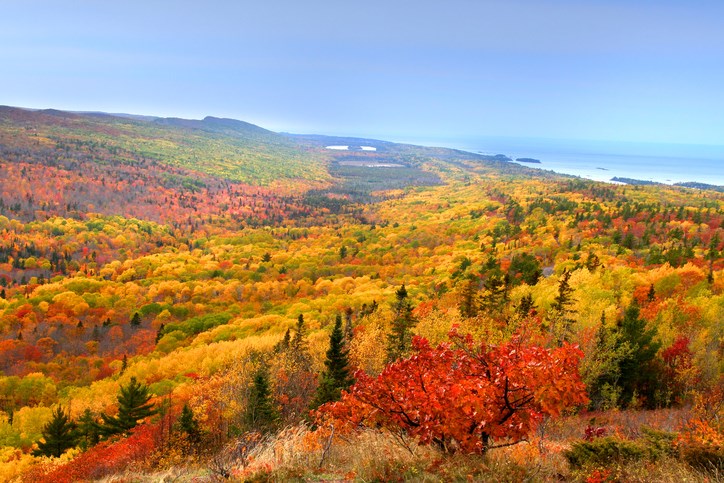 Why You'll Love Solo Camping This Fall
First of all, we are not here to take away from the experience of camping with others.
That is something that is an incredible adventure for its own reasons. You feel a deeper to connection to people when you're away from phone screens, computer screens, and television screens, and are out in nature sharing stories, s'mores and sleeping bags.
However, we also love the idea of getting more connected to yourself, and solo camping is a great way to do that.
Here are some of the reasons we love camping alone, and think are reasons why you'll love it too.
1. Freedom
If you've ever been camping with others, or traveled anywhere with someone, you know that, while it's great having a partner in crime, you also end up making some sacrifices.
Say, for example, you found a trail you really want to hike. Like it's supposed to have the most incredible views and be a great workout. However, whoever you're camping with is feeling tired and doesn't really want to hike.
Do you go off on your own and leave your camping pal to sit on their own? Or do you sacrifice your desire to go hiking, and stay with them at camp?
That's a tough decision. And it's also a decision you won't have to make when you're camping alone this fall.
Solo camping means freedom to do whatever you want, whenever you want (within the boundaries of the law).
That feeling of freedom is hard to beat.
2. Introspection
We are going to be honest — things can get deep when you're camping alone.
You have no one to distract you, and you're left alone with your own thoughts.
This is even more true in the fall than any other time of the year. Campgrounds tend to thin out when the weather turns a bit colder, so you'll find even more time and space to get especially deep.
However, rather than look at this as a bad thing, see it as an incredible way to do some soul searching.
This is a great opportunity for you to learn a lot about yourself, and to learn the art of talking to yourself. And, thanks to the fewer crowds in the fall, you won't feel embarrassed about this.
3. Confidence Boosting
There is something about being able to survive and thrive in the wilderness that boosts your confidence unlike anything else.
No one else to set up your tent, no one else to cook your dinner, no one else to make you Cowboy coffee.
If you can make it alone in the great outdoors, what can't you do?
4. Skill Building
Though there's no doubt you have some skills up your sleeve if you're heading out camping on your own, this is a great time to further build the ones you already have, and possibly gain some new ones along the way.
KOA does take a great deal of stress out of your camping experience. You know you'll have a safe campsite, clean facilities, easy reservations, and more. However, we don't do it all for you.
So, that's where your skill-building comes in. You're left to set up your camp, take it down, and take care of yourself while you're adventuring.
And that, my friends, is a bit harder than it sounds.
So give yourself some credit (and a break) while you build those solo camping skills.
5. Perfect Sightseeing
In line with having freedom when you're camping alone that you otherwise wouldn't have, fall camping by yourself makes for the dreamiest sightseeing.
Imagine walking through the stunning forest, at your own pace, on your own schedule, as you take in all the stunning colors of leaves and trees around you.
Sounds heavenly, right? This is what solo camping in the fall feels like — extra time to enjoy all that nature has to offer.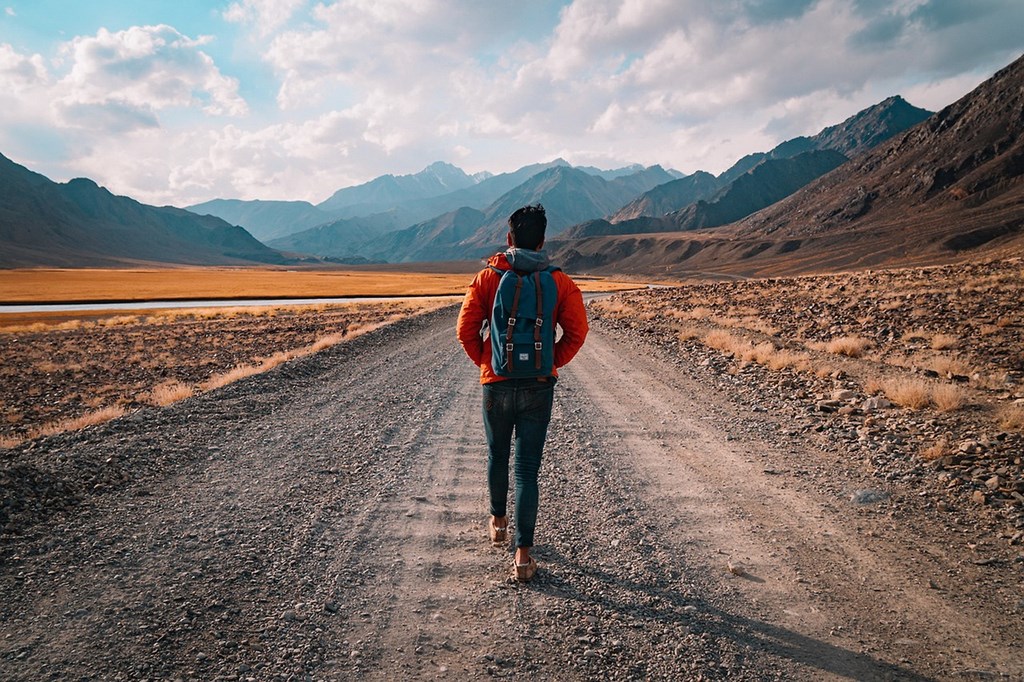 Solo Camping Tips
As much as we'd like to say that camping solo is all fun and games (and, for the most part it is), there are some tips and things you should be mindful of while out on your own.
1. Pick somewhere familiar.
For your first solo excursion, it's a good idea to pick a campground that you know. Wandering off too far into the great unknown when you're alone is just too big of a risk that is not worth taking. If something goes wrong while you're camping, you want to be in a familiar place where you know how and where to get help.
2. Let friends and family know.
Don't just pack your bags and disappear for the weekend. Tell your friends and family where you are going, and that you'll be going alone. That way, if they don't hear from you when they're expecting to, they can know that something is amiss and send for help.
3. Get out of your own head.
One of the biggest struggles for solo campers is not having anyone to talk you out of your fear-driven thoughts. You hear a sound at night and think the worst, and there's no one there to tell you it's nothing. As long as you stay smart and aware, the chances of anything bad happening to you are so incredibly slim, it's almost laughable.
4. Don't overpack . . .
Since it's just you, don't bring more than you can carry. Keep your bag weight to a minimum to ensure you can handle what you have.
Modify our complete camping checklist to know that you've got all you need, but nothing more.
The key word here is "modify" — what you bring with you for a family camping trip is far more than what you bring for a solo camping trip, so adjust accordingly.
5. . . . But be sure to pack the right gear for fall.
The gear you'll bring for fall camping is much different than summer. Temperatures can still get high, but will drop low at night time, and you want to be prepared. Especially since you won't have anyone to snuggle up to when things get cold.
Here are a few things you'll want to be sure you have with you for your fall solo camping:
Cold-weather sleeping bag
Sleeping pad
Mittens
Firewood
Lots of layers of clothing — you want to be able to peel and add on
Winter hat
Down booties for nighttime
Hot water bottle
Headlamp
Hot drinks (we are all about the hot cocoa with extra marshmallows)
Wool socks
Long underwear
This list is not all-inclusive, of course, but gives the absolute necessities for colder weather camping.
6. Learn your gear before you go.
Camping alone is not the best time to try out pitching your tent for the first time. It could be an impossible task to achieve on your own, and it's much better you find that out when you're in your living room than when you're in a race against the setting sun while camping.
This will also give you a chance to make sure all the batteries in your headlamps and other light sources are working, so you are not left alone in the dark.
Oh and testing out your sleeping bag is a good idea too — you're going to want to be as comfortable as possible. (This is true for all camping trips, but especially for solo camping trips.)
7. Bring an emergency device.
Whether you've got a satellite phone or a locator beacon, you will want some sort of emergency device on you at all times while camping alone.
A satellite phone will allow you to check in with your friends and family back home to let them know you're okay. And, it will come in handy if you find yourself in a pickle.
Is your stoke for solo camping as real as ours?
Hop on over to our handy Find a KOA page to locate a campground near you where you can experience what's sure to be the first of many solo camping adventures.
---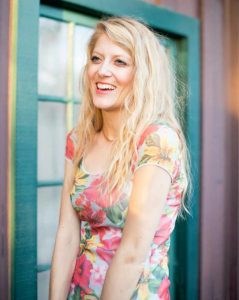 Leslie, a.k.a. Copy Girl, is a copywriter who gets butterflies from telling stories through words.
Her voice comes from a place filled with passion, dreams, and lots of sugar. "Cake over steak" is her go-to motto.
With over 10 years of experience in crafting words, and years of embarking on travels that have taken this Montana girl to some incredible places, Leslie love the adventures of both body and mind her writing takes her on.
Everywhere she goes, she takes this advice with her:
"Hold on to your divine blush, your innate rosy magic, or end up brown." – Tom Robbins, Jitterbug Perfume
To see what Leslie's up to in the writing world, visit her website here.
---