Tiki bars, originally a mid-century sensation before fading into boozy memory, have been experiencing a serious renaissance in recent years across the U.S., with exciting and stylized new iterations emerging in cities large and small. From clandestine alleyway haunts to kitschy icons, tiki bars nowadays come in all shapes, sizes and themes. The common ground? A penchant for rum served in transportive, tropical digs.
Here are 9 tiki bars worth traveling for.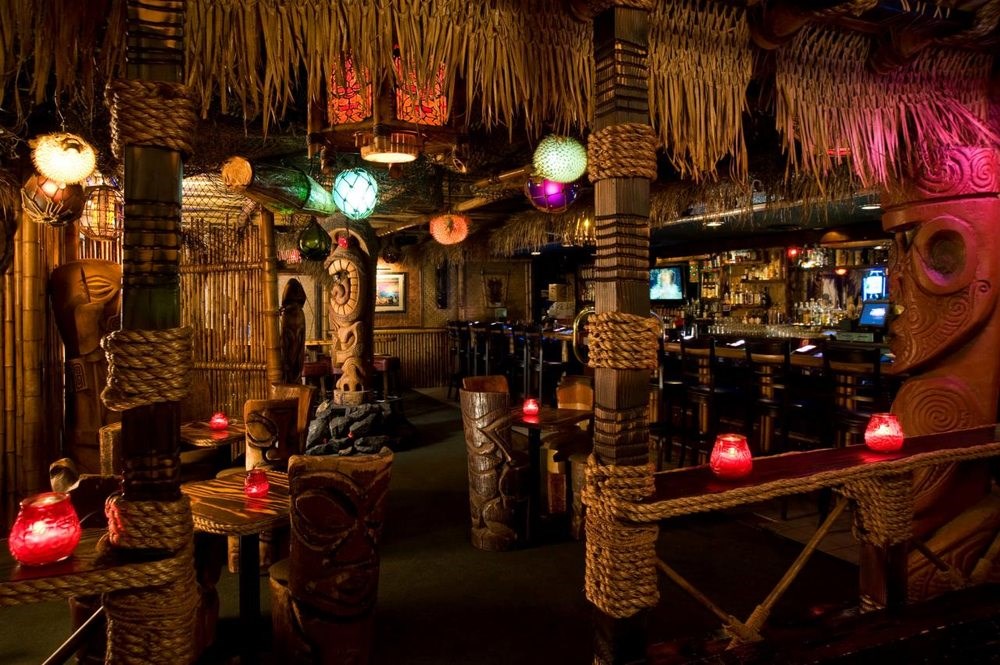 1. Frankie's Tiki Room, Las Vegas
It doesn't get more iconic than this 24-hour Las Vegas tiki bar. Located in the Arts District, tucked away from the hustle and bustle of the Strip, Frankie's has the feel of a well-worn tiki legend. The windowless bar is the real deal—designed by "Bamboo Ben," a man so renowned for designing tiki bars that he earned a nickname specifically for it, and his grandson Eli Hedley, the space features huge carved columns, bamboo aplenty and beachy artwork. The menu is huge, and quite affordable by Las Vegas standards, featuring a lengthy lineup of tiki classics and Frankie's originals. For the latter, try the Frankiestein, a zingy blend of gold rum, ginger liqueur, lemon, papaya and fresh raspberries.
Nearby KOAs
Las Vegas KOA Journey at Sam's Town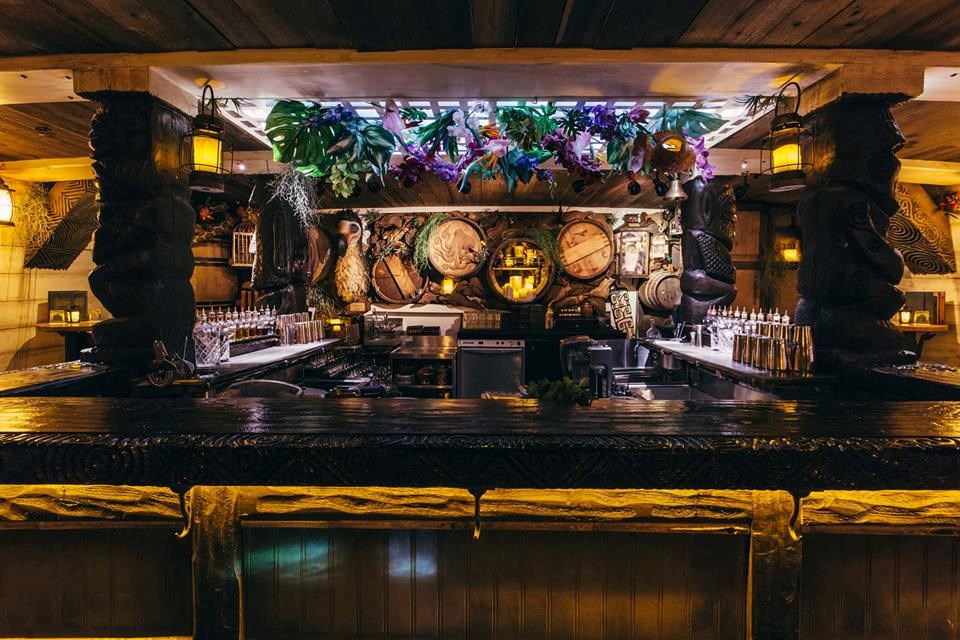 2. UnderTow, Phoenix
In the middle of Sip Coffee and Beer Garage, you'll find a doorway seemingly leading down to a basement. But instead of storage, the stairs lead to a subterranean tiki bar called UnderTow. The pint-sized space provides the sensation of being in the hull of a pirate ship, complete with little portholes that seemingly gaze out into a makeshift sea. Adding to the ambience, the bar periodically puts on little pirate ship battle shows through said portholes, lending a bit of entertainment as you sip your way through UnderTow's mammoth menu. It's really more of a book, as the menu provides in-depth stories of pirate and tiki lore, preceding a roster of elaborate cocktails. The Smoking Cannon echoes the bar's knack for theatrics, with a puff of cinnamon smoke placed atop bourbon, Barbadian rum, sherry, pineapple and bitters. Ditto the Return to the Albatross, a potent medley of Navy Strength gin, Yellow Chartreuse, aged Guyana rum, white grapefruit, maple, lemon and pimento.
Nearby KOAs
Mesa / Apache Junction KOA Journey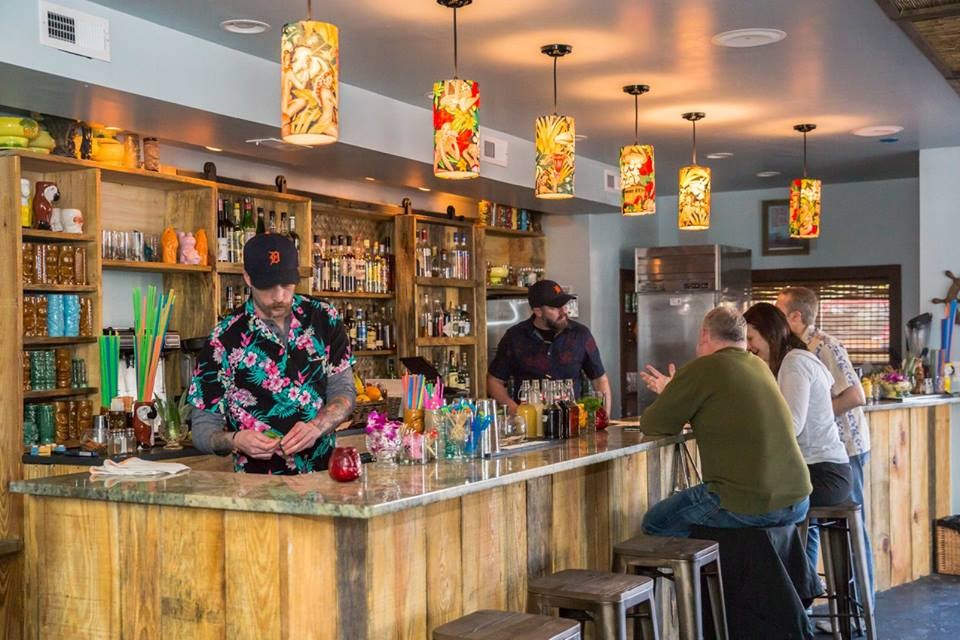 3. Archipelago, Washington, D.C.
D.C.'s first full-fledged tiki bar brings beachy vibes to U Street. The bi-level oasis serves up relaxing vacation vibes with Hawaiian music, lush plants, flamingo figurines and tropical films projected onto a large wall. Then of course there are the drinks, among the most innovative and offbeat tiki tipples in the nation. The Misunderstood Vitamin Swizzle, for instance, accents Trinidadian rum, pandan and lime with Malort, that notoriously bitter spirit from Chicago. And the Socks, Sandals and a Fannypack combines tequila, rhum agricole, pear cordial and, fascinatingly, Jagermeister, in a cute shark mug. The Asian-leaving food menu specializes in rejiggered comfort foods, like smoked beef and broccoli, hot chicken steam buns, kung pao wings and crab rangoon dip.
Nearby KOAs
Washington DC / Capitol KOA Holiday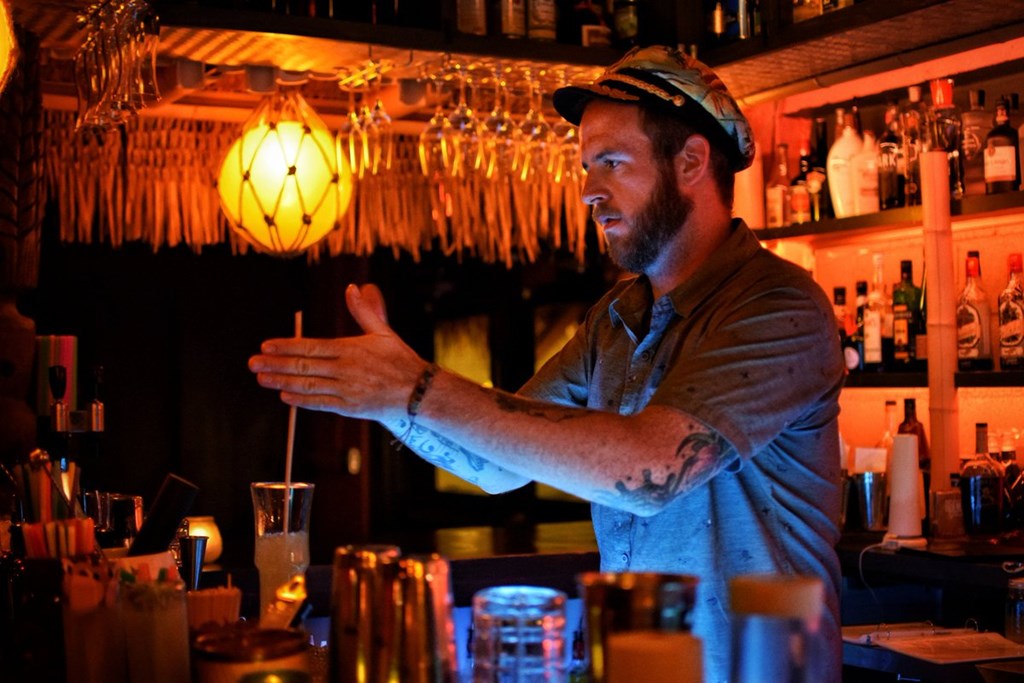 4. Saturn Room, Tulsa
Seeing as Oklahoma is right in the middle of the country, pretty much as far as you can get from any ocean, it's probably the last place you'd expect to find a lush, rum-filled tiki bar. But Tulsa is home to one of the most pleasant (and potent) surprises, called the Saturn Room. Housed in the charming Brady Arts District, the spacious bar boasts a huge patio and a stunning thatched bamboo wall wrapped around the outside. Inside, adept bartenders whip up crafty signatures like Missionaries Downfall with Puerto Rican rum, peach brandy, pineapple, lime and honey; and the Macadamia Nut Chi Chi with vodka, pineapple, macadamia nut liqueur and coconut cream. Of course, don't miss the namesake Saturn cocktail, an out-of-this-world blend of gin, Falernum, passion fruit, orgeat and lemon.
Nearby KOAs
Tulsa NE / Will Rogers Downs KOA Journey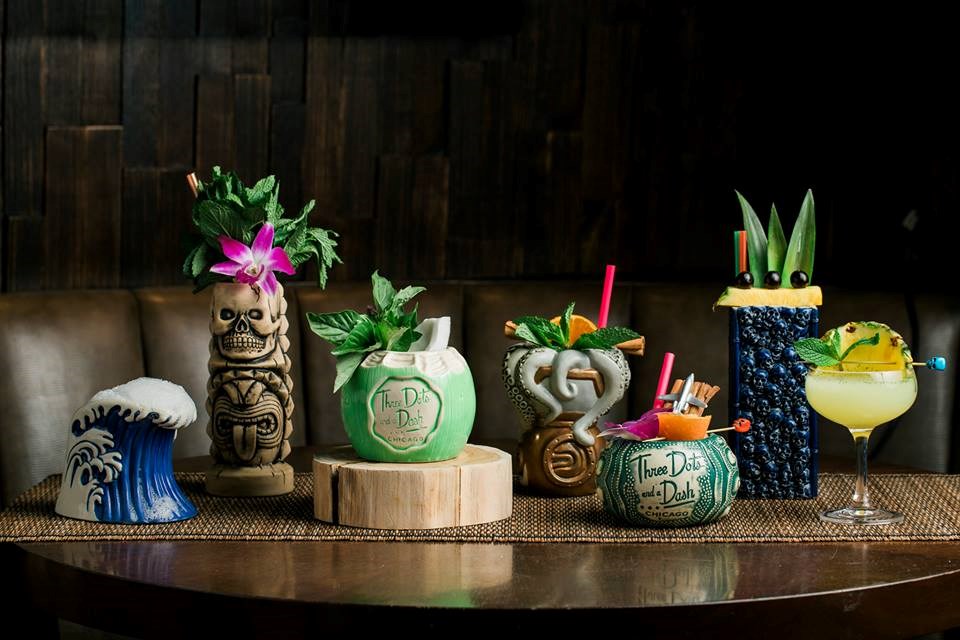 5. Three Dots and a Dash, Chicago
Follow the flickering torches down a River North alleyway in Chicago to find one of the nation's foremost tiki dens. Three Dots and a Dash is a clandestine sensation, located underneath Bub City via a long hallway illuminated by glowing skulls. The whole experience is very immersive and thematic, without feeling too Disney. Once you snag a coveted seat inside this perpetual hot spot, prepare to take your taste buds on a nautical getaway. From behind the glowing shrine of a bar, Kevin Beary shakes up classic tiki drinks and exciting originals, all served up in whimsical glassware ranging from skulls and barrels to sea urchins and coconuts. The modern cocktails are particularly interesting, such as the Camp Anawanna, which has overproof Jamaican rum, lime, pineapple, toasted marshmallow, maple and cinnamon. Or the humbly named Bourbon Cocktail, with bonded bourbon, Jamaican pot still rum, rolled oat orgeat, Madeira, lemon, cinnamon and allspice. Food-wise, this place is a snacker's dream with everything from coconut shrimp and yuca frites to Thai fried chicken and spring rolls.
Bonus: Three Dots recently opened a boutique rum bar alongside the entryway called The Bamboo Room. Considering the limited space, the alcove provides Beary more opportunity to flex his creative muscles and work on more time-consuming, elaborate drinks. Classic creations are well represented here, along with some Beary originals, like Chancer in the Aloha Spirit, a heady blend of coconut-washed blended malt Scotch whisky, lime, pineapple, Green Chartreuse, cocoa nib and Thai bail. And the Tall Drink in a Short Glass, with Jamaican rum, mezcal, housemade Ting (a grapefruit soda popular in the Caribbean) and Jamaican jerk spice.
Nearby KOAs

6. Psycho Suzi's Motor Lounge, Minneapolis
When it comes to tiki bars, the more eccentric the better. And this waterfront bar in Minneapolis hits a home run with its deliciously over-the-top decor. The vast indoor-outdoor bar captures the ambience of old-school Polynesian restaurants of yore, decked out with thatched bamboo umbrellas, carved columns, waterfalls and voodoo-inspired artwork. A calling card is the enormous patio that fronts the Mississippi River, equipped with its own bar. To drink, Psycho Suzi's draws inspiration from tiki traditions for drinks like the Paralyzed Polynesian, with four different kinds of rum (hence the paralysis), hibiscus and citrus; and the Native's Curse, with West Indies rum, passion fruit, coconut and citrus. Thankfully, there's plenty of food—like pizza, burgers and pu-pu platters—to round out your experience and balance out the rum.
Nearby KOAs
Minneapolis Northwest KOA Journey
Minneapolis Southwest KOA Holiday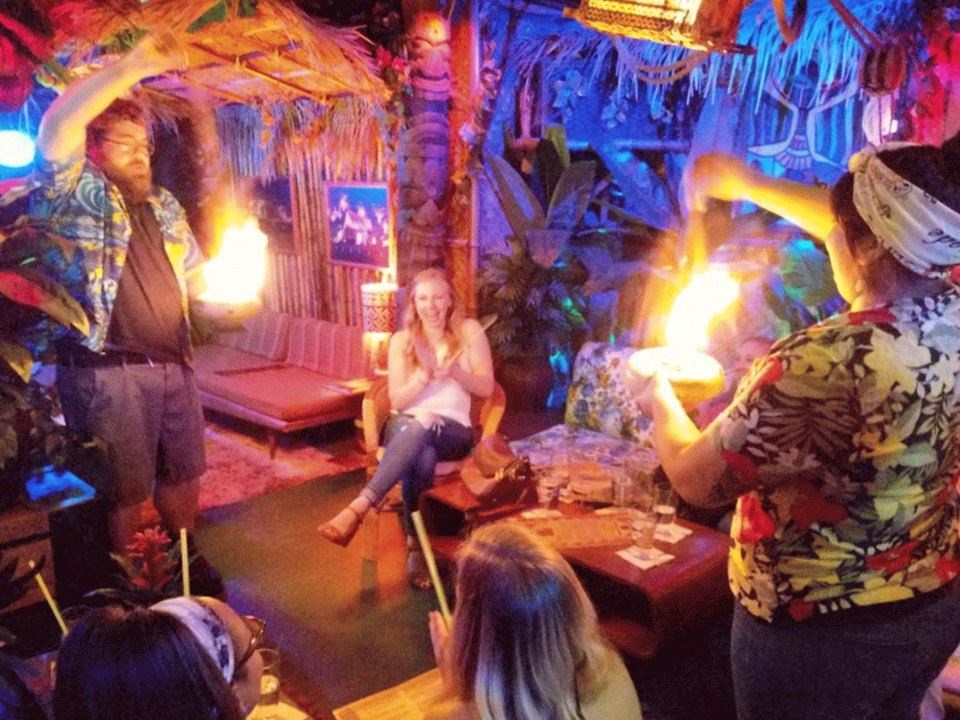 7. TikiCat, Kansas City
Further proof that the Midwest is indeed a most unexpected tiki mecca, TikiCat is another tropical surprise hidden underneath Hopcat in Kansas City's Old Westport neighborhood. To find the bar, just go downstairs like you're heading to the bathroom, then press the doorbell on the wall to access a hidden door. Inside, the vibe is worlds apart from the restaurant upstairs, bursting with bright colors, bamboo, nautical artwork and funky lamps. The vast space looks like it's underwater, thanks to the deep green and blue hues—that, and the fact that the Creature From the Black Lagoon is emblazoned on the wall by the bar. In spite of the spectacular environs, the drinks are really the stars of the show here, exemplified by house specialties like the Cat Bird Seat, a medley of three rums, blackberry brandy, orange Curacao, demerara syrup, fresh lemon and lime juice; and the dessert-y Grog Right Meow, with coffee reduction, dark and overproof rums, coffee grog batter, heavy whipping cream, demerara and vanilla syrup.
Nearby KOAs
Kansas City East / Oak Grove KOA Holiday
Kansas City West / Lawrence KOA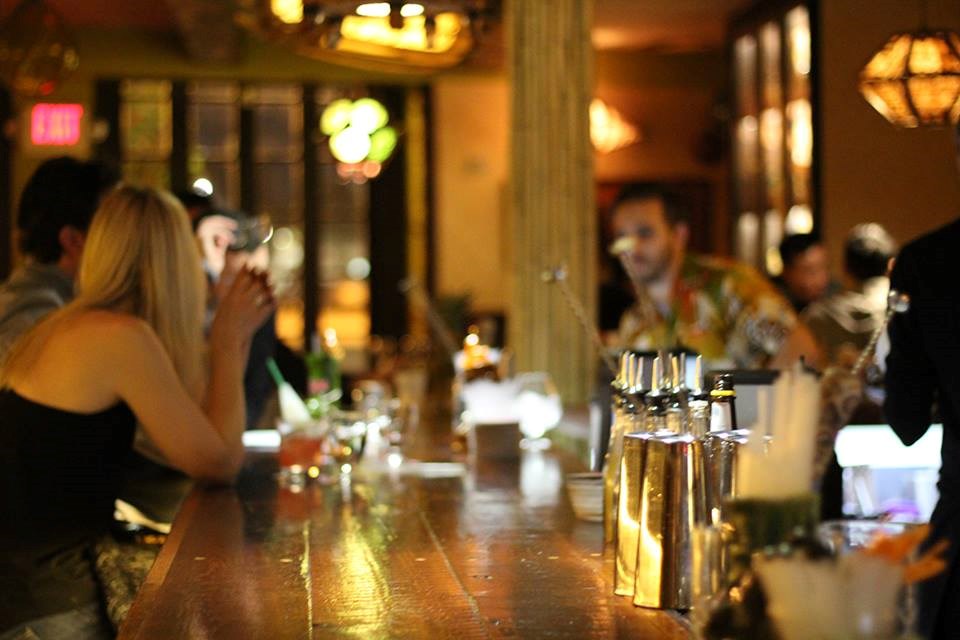 8. Latitude 29, New Orleans
For the tiki renaissance washing across the country, cocktail-lovers can thank pioneers like Jeff "Beachbum" Berry. The owner of New Orleans' Latitude 29 spent years studying tiki pastimes and classic recipes in order to open his lustrous bar, which pays homage to the past with vintage knickknacks, mugs and drinks. For example, Mai Tais, Suffering Bastards and Zombies are not only well represented here, but perfected, alongside innovations like Mississippi Mermaid (vodka, tamarind, allspice, lemon, banana) and Aquadesiac (Gold Barbados rum, blue Curacao, lemon, almond, caraway and Benedictine). The food menu has really evolved since Latitude 29 first opened, thanks to chef Marcel Hayes and his work with scallop rillettes, pork ribs, rumaki, lumpia and sambal shrimp & grits.
Nearby KOAs
9. High Roller Tiki Lounge, Solvang
From alleyways to basement bars, tiki bars have a tendency to emerge in unexpected places. Another prime example is High Roller Tiki Lounge, nestled in the back of a wine shop in picturesque Solvang, California. The cozy little bar is probably the last thing anyone would expect to find inside Sort This Out Cellars, in a quaint town known more for wine country than mai tais. Not only is the notion unexpected, but another interesting aspect is that High Roller is a tiki bar that doesn't even use rum. Or any spirit. In fact, all cocktails are wine-based, which is all the more impressive considering how rum-like many of them taste. Like the Pirate's Plank, with white wine, raspberry, bitters, lime juice and ginger beer; and the Kiwi Wahine, with white wine, kiwi, basil syrup, lime juice and sparkling water. The Solvang Siren is a popular signature, consisting of white wine, lychee syrup, pasilla pepper, lemon juice and blood orange bitters.
Nearby KOAs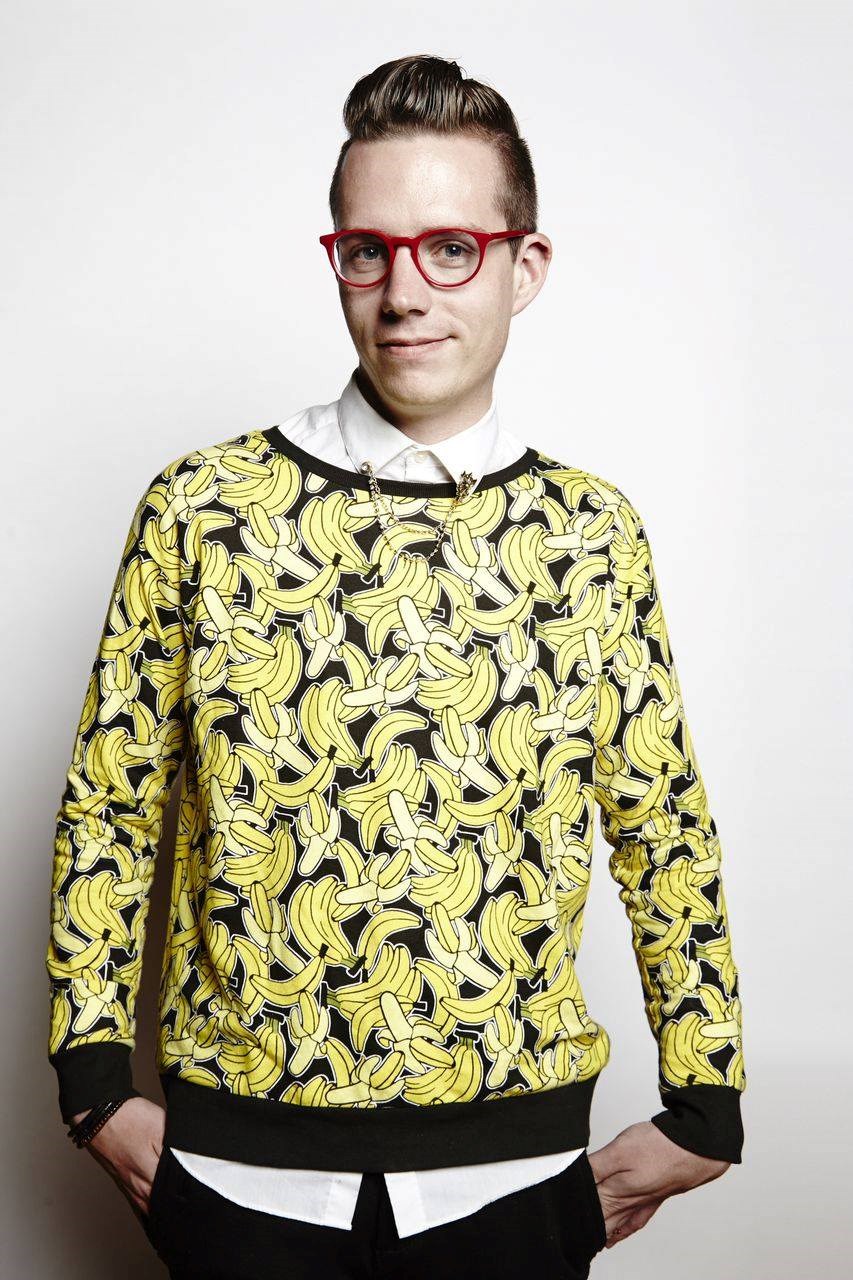 Born and raised in New Hampshire, Matt Kirouac grew up with a love for camping and the outdoors. Though he's lived in Chicago since 2006, he's always on the lookout for new adventures. He writes about travel and food for outlets like TripExpert, Money Inc, Upventur, DiningOut, Food Fanatics magazine, Plate Magazine and Zagat, and he currently serves as Chicago editor for What Should We Do?! He's the author of The Hunt Guides: Chicago (2016) and Unique Eats & Eateries of Chicago (2017).
---