Designing your RV may not be at the forefront of your mind but if you're spending as much time traveling in at as we hope you are, then you'll want to consider glamming it up a bit.
Say goodbye to the standard wood paneling and cheap-looking cabinetry, and say hello to some inspiration that will really make you rethink your own RV interior.
In case you missed it, there is a huge niche in RV remodeling and renovating and we think it's about time you turn to Instagram to get your creative juices flowing.
Think boho chic, beachy vibes, modern luxury — any style that you want to bring into your RV you can.
Take a look at these RV designers on Instagram that you're going to want to click the "follow" button for ASAP and start Pinteresting your heart out.
RV Designers With Mega Inspo
View this post on Instagram
1. @ashley.joyfullygrowing
As a full-time RV family, Ashley and her husband Mike, along with their new daughter Avery needed to create a space that was not only functional as a home, but also fashionable.
To put it lightly, they've succeeded in both.
Take a look for yourself at the before and after of this family's RV kitchen.
And that's only one room of the RV. Ashley and Mike have managed to turn their 400 square-foot RV into a peaceful and comfortable haven for them and their new baby.
View this post on Instagram
2. @thervpts
Courtney and her fiance Drew decided to take their job as physical therapists on the road, and knew they wouldn't be happy doing so without a place to call home.
Enter: the RV life. The two renovated the interior of an RV they purchased to reflect their own styles and what they would want in a stationary home.
The result will more than "wow" you.
Here are some shots of their home on wheels.
The rustic vibe here is strong, and is exactly what the two set out to create. With just 250 square-feet to work with, they sure made some magic here.
View this post on Instagram
3. @ems_traveldiary
Travel nursing was something Emily was not ready to give up, so she turned to the RV life in order to continue following her passion all around the world.
Emily turned to all sorts of DIY resources such as Pinterest and YouTube to complete the transformation of her RV, and take a look for yourself at how well it all turned out.
Here is what things looked like before.
And here's some of the incredible work she did to create her home away from home.
We love the boho chic theme Emily has going on here and wouldn't mind at all calling this our home!
View this post on Instagram
4. @leeannieblivin
What do you think you could do with 188 square feet of RV? The options seem endless but the reality of making it happen are just a bit more difficult.
However, LeAnn and her boyfriend Jordan took this task upon themselves and over a three-month period, when not working the two were spending all their time renovating this little fifth wheel.
Now it's become their dream home that they share with not one, not two, but three dogs.
The attention to detail that LeAnn and Jordan put into this place is evident in the little hand-picked pieces that are all over the RV. From plants that perfectly fit in, to little vases that are just the right amount of extra touch, there was definitely some serious love put into this place.
View this post on Instagram
5. @pleadingthefifth_wheel
Beyond the punny name that got us right off the bat, there is a great deal to enjoy about Dylan and Renee's fifth wheel transformation.
They share this space with their son, Griffin and there's only 350 feet of it to go around. With three people in such a tiny space, they got very creative with how to maximize each and every nook and cranny of their RV.
Here's some visual evidence of their amazing work.
In addition to this RV, the couple has also worked on renovating an R-Pod. Seems they've really found what they're good at!
View this post on Instagram
6. @wilsongrandadventures
Think you need a big house for a family of four?
The Wilson family challenges you to think again because they certainly don't need it to live a happy life.
They pack their family of four into their RV and have an absolute blast traveling around to see the country.
And the rig they're traveling in is quite stylish. Boasting mostly white spaces that really brighten things up, the Wilsons manage to keep things quite clean while on the road, with 2 kids in tow. They swear by what they call "drop zones" to try and keep all the clutter in one place, rather than spread across the whole place
Here's a peek at what they've done with their RV.
Clearly they've done a great job of making this RV into a great home for them and their children.
View this post on Instagram
7. @twinning_in_our_5thwheel
April was inspired by other people living the van and RV life to quit paying high rent and make a home on wheels.
Today, she, her husband, and their twin girls live on the road in their beautifully-renovated RV happily, and without paying through the nose for rent.
It took a lot of work to get the RV to where it is today, but see for yourself how worth it the hard work was.
April did as we all would do in this situation: "I channeled my inner Chip Gaines, started tearing cabinets down and got super super excited! The rest is history, best decision we have ever made."
Well, it that doesn't sell you, we aren't sure what will.
View this post on Instagram
8. @simplecatlady
Bethany took the idea of simple living and ran with it to create a wonderful home for her and her husband. Oh yeah, and for her two cats too (note her Instagram handle).
The black and white theme with pops of color is something we absolutely love. We are especially in love with the fact that Bethany took the bold move and painted the door of her RV. It really makes it feel like a home with the bright welcoming door.
However, Bethany's favorite spot is the living room. Take a look at it — we would love it if our living room looked like this too!
Bethany, along with her husband and their cats couldn't possibly love the RV life more, and it is evident in the masterpiece they've crafted.
Talk about motivation! We hope that an introduction to these RV designers will give you the inspiration you need to make the move on turning your outdated and bland RV into your camping heaven.
Whether you're a full-time RVer, or someone who hits the road less often, you will love traveling even more when you've got an RV that fits your needs and your style.
So add these folks on Instagram and start planning your very own RV renovation.
---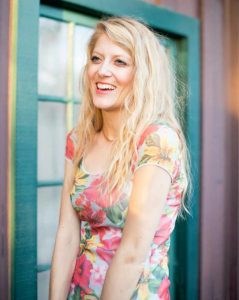 Leslie, a.k.a. Copy Girl, is a copywriter who gets butterflies from telling stories through words.
Her voice comes from a place filled with passion, dreams, and lots of sugar. "Cake over steak" is her go-to motto.
With over 10 years of experience in crafting words, and years of embarking on travels that have taken this Montana girl to some incredible places, Leslie love the adventures of both body and mind her writing takes her on.
Everywhere she goes, she takes this advice with her:
"Hold on to your divine blush, your innate rosy magic, or end up brown." – Tom Robbins, Jitterbug Perfume
To see what Leslie's up to in the writing world, visit her website here.
---