After a long and challenging winter, we have (almost) made it! Spring is on the horizon and we don't know about you, but we could not be more excited.
With the cold behind us and sunshine right around the corner, things are looking up. And they are looking up even more when it comes to camping. Many people take the winter off from camping, and we don't blame them. Winter camping can present some challenges that not everyone is up for, and there is no shame in that. (That isn't to say you shouldn't try it at least once in your life. And when you do decide to give cold-weather camping a try, be sure to check out our guide on how to camp in the winter.)
So, by the time spring rolls around you are likely rearing and ready to get out in Mother Nature and enjoy some time outdoors.
Camping when the weather isn't so harsh can make things more simple, but that's not the only reason we think that spring camping is the best. This perfect season nestled in between the cold of the winter and the heat of the summer sets the stage for the ideal camping trip.
And here's why.
Reasons to Camp in the Spring
1. Smaller crowds
Camping has exploded in the last couple of years. According to KOA's North American Camping Report, in 2020 there were more than 94.5 million camper households in the United States and Canada. And in the U.S., 10.1 million households camped for the first time. We are thrilled to see the numbers of how many new people have taken up this incredible hobby, as we want as many people to enjoy the beauty and healing of nature as possible.
However, the huge increase in the number of campers means more crowds. And those crowds will likely flock to the campgrounds in the summer because that is the official camping season. The weather is more predictable in the summer and it is the time when kids are out of school. Thus, it's the high season for camping.
That's why we suggest you go camping in the spring instead. One of the reasons to go camping is to enjoy the peace of nature, which can be a challenge when you can't find peace amongst the crowds. Lessen your chances of crowds by going in the spring and enjoying that serenity you're looking for.
By camping in the spring you also won't have to put up as much of a fight to get the campsite that you want – there is less competition then.
2. More mild weather
As mentioned above, the weather in the summer is more predictable, but it is more predictably hot. And in some parts of the country, it can get way too hot in the summer to be able to enjoy your camping experience. You may also find yourself fighting the battle of humidity in the summer too, which is not a fun experience if you're tent camping and wake up sticky every 10 minutes.
Though you may get caught in some rain while camping in the spring, you can prepare for that with the right gear. Grab an extra coat, your waterproof boots, a solid tent fly or tarp, and you should be ready to rock and roll even when the storm comes.
Unfortunately, you can't really prepare for summer weather except to minimize the amount of clothing you wear and stay in the shade. It's just not possible to make the summer weather any cooler. However, you can make spring weather warmer by layering up, or dryer by wearing the right gear.
So, in short, another reason we love camping in the spring is because the weather is more moderate and easier to deal with.
3. Fewer bugs
As much as we love summer, there is one thing that makes it a tough season (aside from the heat and humidity) and that is the bugs. In the summer it can feel as if you can't go anywhere without a mosquito, bee, or something else buzzing in your ear. And that can get quite irritating. Avoid this by going in the spring when bugs just won't bug you as much. You won't be completely free of them, but if you forget your bug spray at home you'll probably be fine (which certainly isn't the case for the summer).
4. Blooming flowers
The sight of seeing nature come alive again after winter is one of the most incredible things to experience. Spring is the season of rebirth – when nature sheds her winter skin and blossoms into all the beautiful colors.
So, enjoy this beauty by camping in the spring and taking in all the sights of all the beautiful wildflowers. Just remember, don't take any of them with you. As tempting as it may be, you always want to "leave only footprints, take only pictures." It may seem harmless to just take one flower but if every camper did this, then nature would really suffer.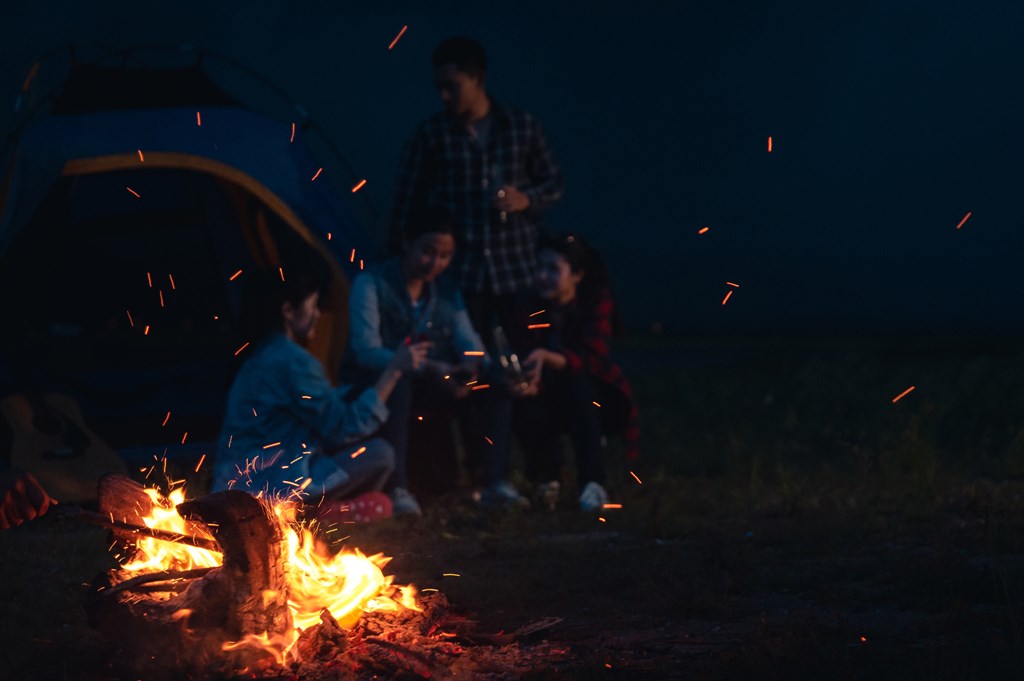 5. Campfires
In the summer, it is often too hot and sticky to enjoy a campfire. In addition to that, summer is fire season for many areas in North America and you will likely find that summer campfires in a lot of places are illegal.
The weather in spring is still cool enough at night that you can enjoy a campfire, and that is one of our favorite things about camping. Nothing beats sitting around a fire at night, roasting marshmallows and having great conversation with your fellow campers. I often find that this is my favorite part of a camping trip.
In addition to that, campfires in the summer are much safer and don't come with the same potential fire hazard.
6. Flourishing wildlife
Just like the flowers awaking from their winter slumber, the animals in the spring also come alive from their hibernation. Though not all animals technically hibernate, they do tend to lay lower in the winter and hide more than usual.
When the temperatures warm up in the spring, your chances of seeing wildlife while out camping are much greater. In addition to that, spring is the time of year that many new animals are born, so you may have the chance to see and capture in photos some cute young wildlife.
As much as you may be excited about the wildlife, always be sure to enjoy them from afar. Getting too close to animals is actually a federal offense, so in order to keep yourself from getting in trouble with the law (and also to keep yourself free from danger), steer clear.
The National Park Service requires that you stay at least 100 feet away from bears, wolves, and other predators, and at least 25 feet away from bison, elk and other wildlife.
7. It's safer
Camping in the winter is not for the faint of heart. It requires more gear and a lot more attention to safety. In fact, it can be quite dangerous to camp in the winter if you aren't prepared for potential situations and if you don't have the right clothing to stay warm.
Conversely, camping in the summer can also pose some potential dangers. The weather can get quite hot, which can be dangerous if you don't have proper ways to cool down and if you don't have enough water to stay hydrated.
That's why we love camping in the spring. You don't have the extremes of hot or cold, but rather somewhere in the middle that presents a much safer camping experience. Spring is a good time of year for first-time campers to enjoy the experience without the extremes of the other seasons.
8. Less expensive
Because summer is the most popular time of the year to camp, you may find that prices for all sorts of things are higher. Gas prices tend to be higher in the summer, campground reservations are often higher, and food may be more expensive too.
By going camping in the spring, you take advantage of lower prices of all the above which allows you to enjoy more camping experiences. Rather than one big summer camping trip, you may get to enjoy a few spring camping trips.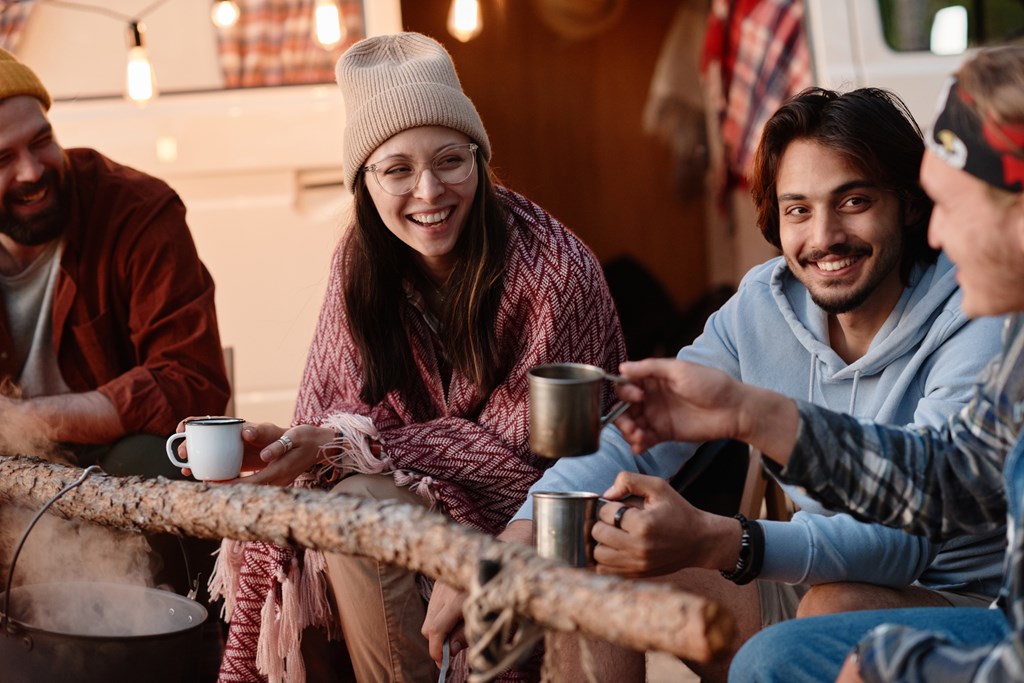 Tips for Spring Camping
Have we convinced you yet that spring is the best time of the year to go camping? We hope so!
Now that you're ready to bring more spring camping into your life, let's get into some quick tips to help ensure that your spring camping experience is a great one that keeps you coming back for more.
Go for a practice run. Lots of people come into spring camping with new gear, so before you head out into the wild with your new gear, try it out at home. Or head somewhere close by for just one night to see how it goes. It's better for you to catch any potential problems with a test run than when you're out camping for real.
Think ahead. Stay on top of the weather as the departure date gets closer for your trip. Since the weather in spring can be unpredictable, keep checking online to get more updated information.
Dress for unpredictable weather. You may come across some questionable weather when camping in the spring, so be sure to pack clothing to account for that. That means lots of layers and, as mentioned above, also checking the weather to see what's in the forecast.
Stay dry. Hypothermia is something people only think about in the winter, but it can happen in the spring, too. Thus, it's important that you bring enough clothes to always have a dry pair on hand at the end of the day. You also want to get as much waterproof gear as possible to protect you from the wet while you're out and about.
Bring bug spray.  Though the bugs aren't in quite as full of force as they are in the summer, that doesn't mean bugs aren't around in the spring. So be sure to bring bug spray and Citronella so that you can stay comfortable.
Prepare for mud. With the melting snow and the rain, you've got the perfect recipe for mud. Thus, you want to bring boots and shoes that are made for the mud and won't have you slipping and sliding everywhere. Mud also means that you want to pack towels for cleaning the mud off of your shoes and clothes so you can keep the inside of your tent clean and as dry as possible.
Bring the right equipment. Your tent is something to pay particular attention to when camping in the spring. You want one that will keep you warm and preferably one that is intended more for winter camping than for summer camping. Also, be sure to bring a tarp to protect the top of your tent in the case of any downpours.
Keep gadgets dry. We rely so much on electronics today for our everyday life and for camping, too. That's why it's important to keep all your gadgets dry while camping in the spring in the case you come across rain. Keep them safely stowed away in a dry place when not in use, and when you're out hiking, keep things like your phone in a base-layer pocket.
Indulge. This is your permission to eat more when you go camping in the spring and enjoy that food you usually say "no"to. Because the weather isn't as warm as during the summer, your body needs more calories, carbs, and fat to keep you warm and to keep your energy levels high, and food is the best way to do that. This doesn't mean you should jump off the deep end and eat a bunch of junk food – you want to aim for food that has a lot of nutritional value, but that tastes good, too.
For more in-depth information on tips for spring camping, check out our full article.
Are you ready to get some spring camping trips on the books? Find a KOA campground near you to get the adventure started and begin planning some of the best camping trips of the year.
---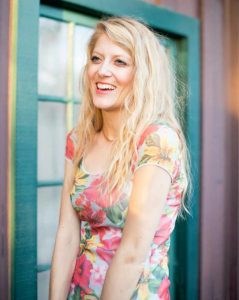 Leslie is a travel writer, copywriter, and web designer who gets butterflies from telling stories through words and visuals.
Her voice comes from a place filled with passion, dreams, and lots of sugar. "Cake over steak" is her go-to motto.
With over 10 years of experience in crafting words, and years of embarking on travels that have taken this Montana girl to some incredible places, Leslie loves the adventures of both body and mind her writing takes her on.
To see what Leslie's up to in the writing and design world, visit her website here.
---