Whether you call it fall or autumn, there's no denying that the months between the dog days of summer and the dead of winter are pretty spectacular. In fact, Mother Nature puts on perhaps her most dramatic display of the year during this season that's come to be synonymous with all things pumpkin spice. For those who don't participate in winter camping, fall is one last hurrah before hibernating for a few months. Fortunately, there's really no bad place to camp during the fall (except for maybe Florida where it's hurricane season). That said, some destinations really outdo themselves in autumn. From a Blue Ridge Mountain base camp where you can see more than 100 deciduous trees to a tony mountain town where fall marks the start of ski season and a gorgeous gorge in the Pacific Northwest, here are five destinations that belong on every fall camping bucket list.  

1. Aspen, Colorado 
Most people only associate Aspen with winter, and rightfully so as it does get some great snow. But this high altitude (elevation 8,000 feet) high class resort town is just as beautiful during the fall months. Every autumn, the leaves on Aspen's namesake trees change from green to a sea of citrus colors that make the mountains look afire. It's a great time of year for hiking Colorado's iconic Maroon Bells and attending local events like the annual John Denver Celebration. (This year marks the 25th anniversary of the death of the beloved musician who called Aspen home.) If your fall camping plans involve a powder day or two, just keep in mind that Aspen Snowmass usually opens around the third week in November.
Nearest KOA: Carbondale / Crystal River KOA Holiday is located just 35 miles from Aspen and is open until November 1.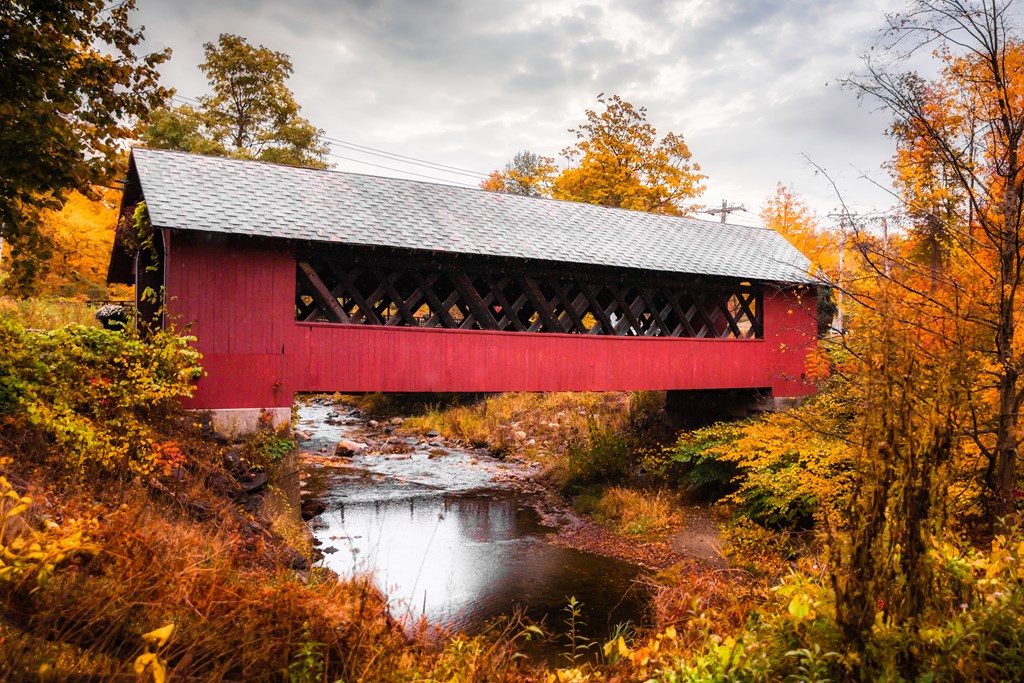 2. Brattleboro, Vermont
The Green Mountain State isn't so green come autumn when its trees are awash in bright reds, yellows and oranges that attract more than one million visitors annually. One of the best places to see Vermont's world-famous fall foliage is in the always fun (it's home to the New England Center for Circus Arts) community of Brattleboro. The scenic 100-mile Mount Snow loop is a favorite among leaf peepers, many of whom drive it every year. It begins in Brattleboro before continuing on to Whitingham. Along the way, stop at Mount Snow resort and ski area where you can take a ride on the Bluebird Express chairlift to see the fall colors from above or attend the annual Oktoberfest celebration if the dates align.
Nearest KOA: Brattleboro North KOA Journey is just six miles from downtown Brattleboro and is open through October 31.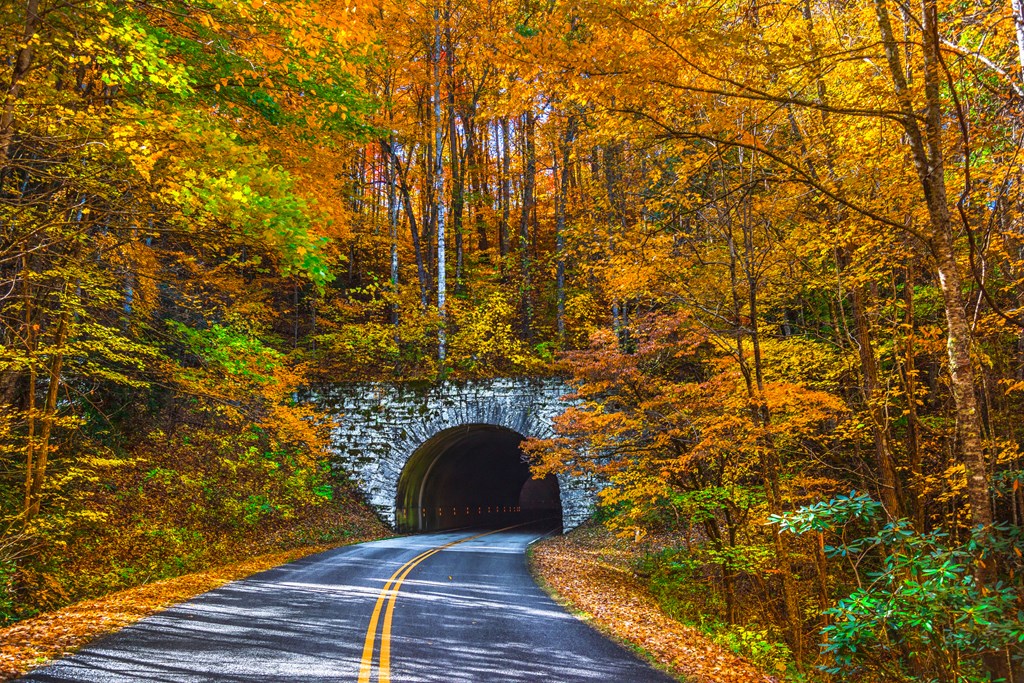 3. Asheville, North Carolina
Boasting more than 100 species of deciduous trees, the Blue Ridge Mountains belong on any serious leaf peeper's bucket list. Asheville, which is situated in the southern part of the North Carolina range, is a great home base. Thanks to its elevation (2,200 feet), it enjoys an unusually long fall foliage season (about six weeks) with the first week in November usually bringing out peak colors. Enjoy the colorful canopy on one of the area's many zipline tours or hike below it while waterfall hopping. And if you really want to see the opposite of RV living, visit the landmark Biltmore Estate, the largest residence in the United States. It has 250 rooms in more than 175,000 square feet of living space! 
Nearest KOA: Asheville is home to two KOAs, Asheville East KOA Holiday and Asheville West KOA Holiday, both open year round.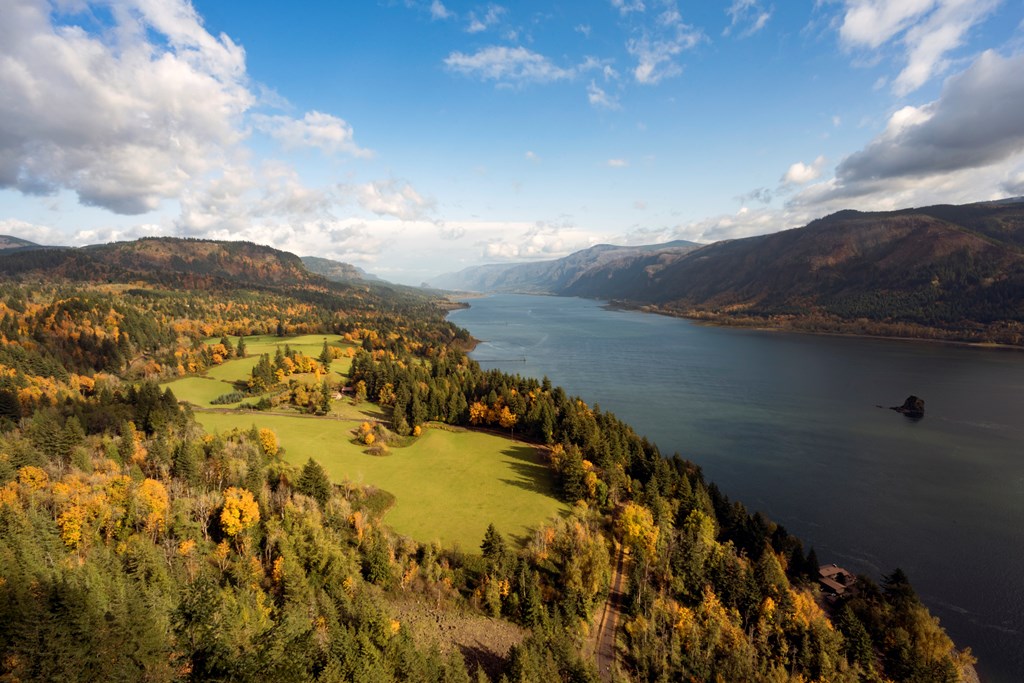 4. Columbia River Gorge, Oregon
Columbia River Gorge National Scenic Area is home to the Pacific Northwest's most visited natural recreation site, Multnomah Falls. Every autumn, these 620-feet-tall falls are flanked by endless tidal waves of gold. The leaves typically start changing color in late September and reach their peak by mid-October. Of course, there are many other worthwhile trails to explore in this scenic area (it's the largest national scenic area in the country) that stretches for 80 miles along a deep river canyon. The backdrop of the Cascade Mountains is a bonus, and since the gorge is so fertile, there are plenty of farm stands and apple orchards like Hood River U-Pick Organic where you can stock up on supplies.
Nearest KOA: Cascade Locks / Portland East KOA Holiday is open through October 31 and is just 30 miles west of the Columbia River Gorge National Scenic Area.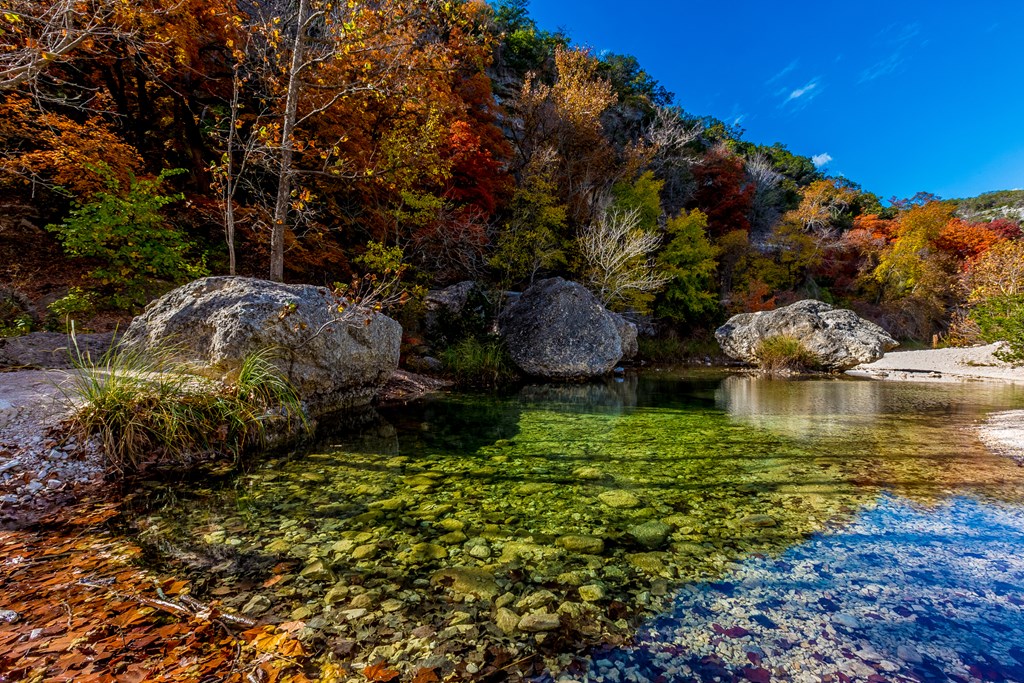 5. Lost Maples State Natural Area, Texas 
Texas may not be the first state that comes to mind when you think of anything autumn-related. But every year the Lone Star State delivers some pretty impressive fall colors at its little Lost Maples State Natural Area located just 90 miles northwest of San Antonio. This underrated protected landscape on Texas' Edwards Plateau is home to a stand of unique Uvalde bigtooth maples whose leaves range from canary yellow to crimson red come mid-October. While Lost Maples is remote, and the terrain is a bit rugged, there are miles of trails to hike and lots of waterways to fish. Plus, the fact the area has no cell phone reception makes it the perfect place to take a digital detox right before the holidays. 
Nearest KOA: Kerrville KOA Journey, open all year, is just 45 miles northeast of Lost Maples State Natural Area. 
---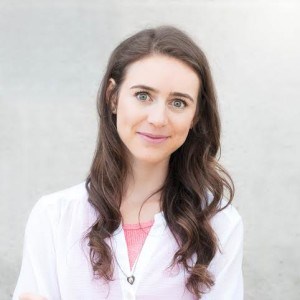 Katie Jackson is a writer and media specialist based in Montana's Big Sky Country. Living and working everywhere from New York to Nicaragua, Katie is no stranger to adventure. When she's not traveling the world (or writing about it!) she's busy chasing after a Leonberger named Zeus. Follow Katie's travels on Instagram @katietalkstravel.

---