Home to temperate rainforests, mighty mountains, and surprisingly Mediterranean climates, the Pacific Northwest is a mecca for hikers any time of year. With such stunning diversity, and an endless array of options for trail length and difficulty level, this is a region of the U.S. (and Canada) that truly offers something for everyone, whether you're eager to spot wildlife, foliage, wildflowers, or glaciers — or you just want to have a misty beach or a snowy ridge all to yourself. Here are 11 of the best hikes to check out in the Pacific Northwest.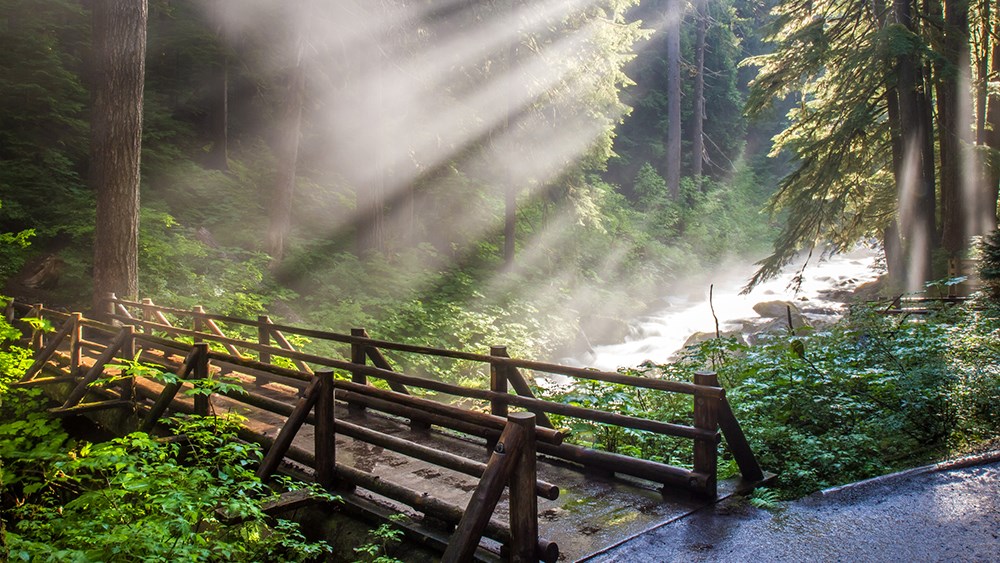 1. Boulder Creek Trail, Olympic National Park
From the fertile green valleys and misty rainforests to foggy beaches and snow-capped mountains, Olympic National Park is one of the most diverse parks in the U.S. for hiking, and each season brings new opportunities and locales for adventuring on foot. One of the most accessible — and instantly captivating — trails, especially for Olympic newbies, runs along Boulder Creek near Lake Sutherland. A good option any time of year, this gorgeous and green forest trek is an easy jaunt that's mostly flat and only 2.5 miles out to tranquil hot springs, which are great for a soak. Along the way, you'll criss-cross a few small brooks as you pass beneath soaring trees and mossy terrain, drinking in some of the most iconic sights of this magnificent northwestern park.
Nearby KOAs:
Olympic Peninsula / Port Angeles KOA Journey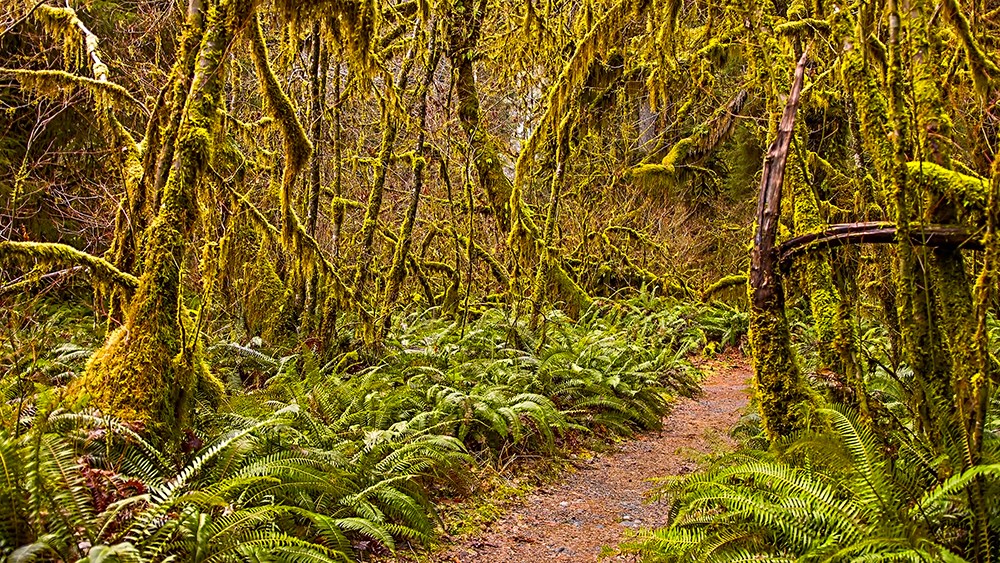 2. Hall of Mosses, Olympic National Park
Exploring the Hoh Rainforest portion of Olympic National Park feels like navigating a surreal escape into a fictional wonderland of roving elk, gentle raindrops, and redwood-sized trees draped in greenery so bright they appears to glow in the sunlight trickling through the canopy. This is some of the only remaining temperate rainforest in North America, enlivened by the omnipresent snowmelt and glacial runoff from the nearby mountains. Thanks to the forest's staggering 140 inches of annual precipitation, trails like the Hall of Mosses are teeming with vegetation and floral vitality. This trail is an apt entry point to one of Olympic's most popular sections. Clocking it at under a mile, this easy loop trail meanders through old-growth forest covered in fluffy, soft moss.
Nearby KOAs:
Olympic Peninsula / Port Angeles KOA Journey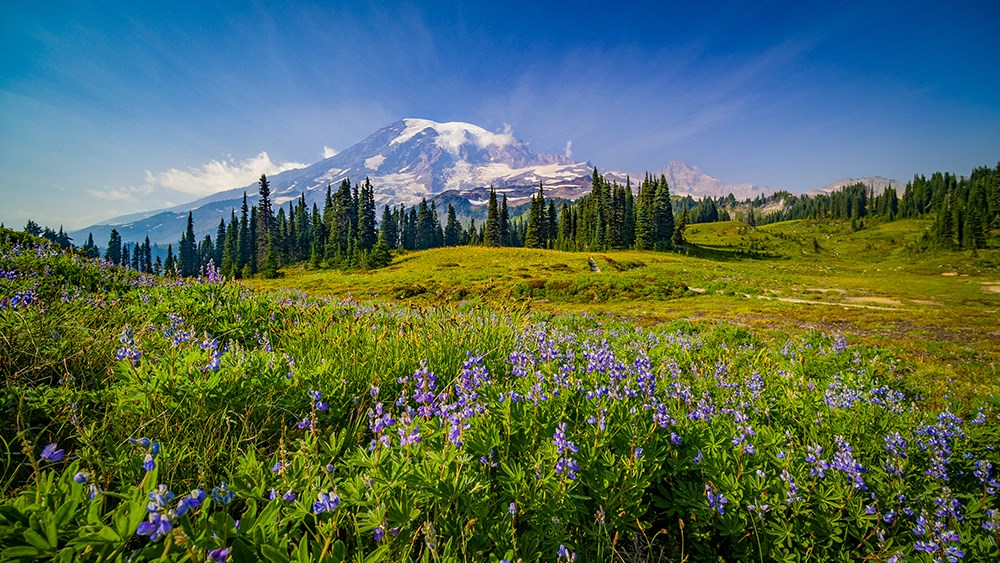 3. Rampart Ridge Trail, Mount Rainier National Park
As one of the most iconic peaks in the U.S., Mount Rainier and its namesake national park are naturally a hiker's paradise. But for those who aren't hardcore backpackers attempting to summit the 14,411-foot behemoth, the park has plenty of other options, including ample day hikes befitting a family outing. Rampart Ridge, in the Longmire section of the park, should scratch that mountainous itch nicely with its 4.5-mile loop and steep ascent through dense woodland slopes to Rampart Ridge. The trail winds along the top of the ridge, with stunning vistas all around, before connecting with the Wonderland Trail and looping back to the trailhead. Along the way, you'll get expansive glimpses of Mount Rainier and its surrounding valleys.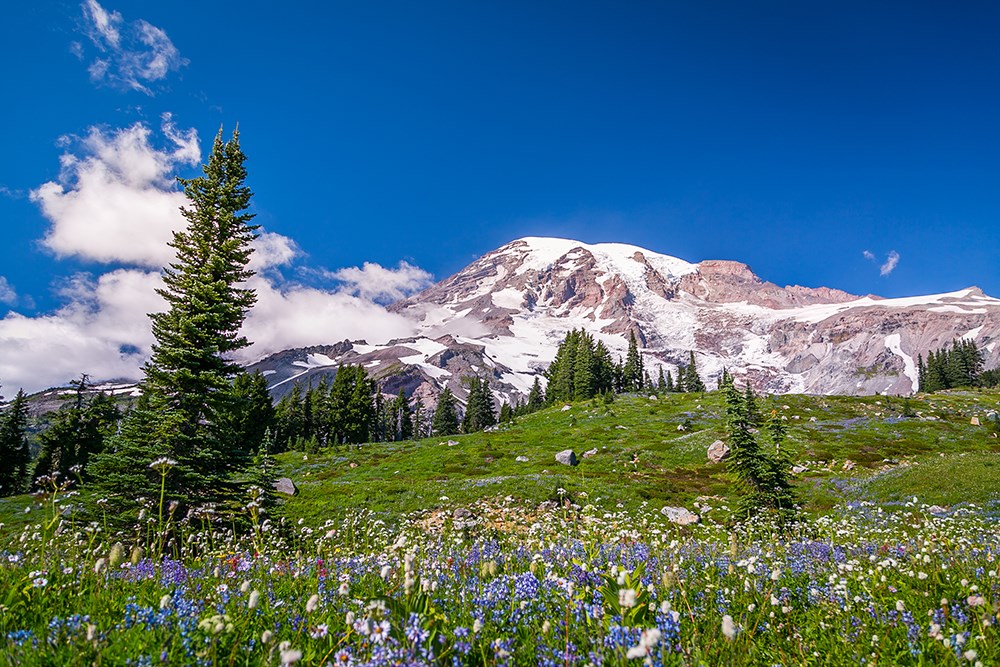 4. Glacier Basin Trail, Mount Rainier National Park
For something a bit hardier, the Glacier Basin Trail in the Sunrise section of the park should do the trick. Come summer, the 7-mile trail is peak season for wild flowers, as the hiking route traverses through kaleidoscopic fields of blooming flowers. The trail, which once served as a mining road along the White River, affords prime opportunities for spotting mountain goats on nearby hills, and for witnessing Emmons Glacier, the largest glacier in the lower 48 states.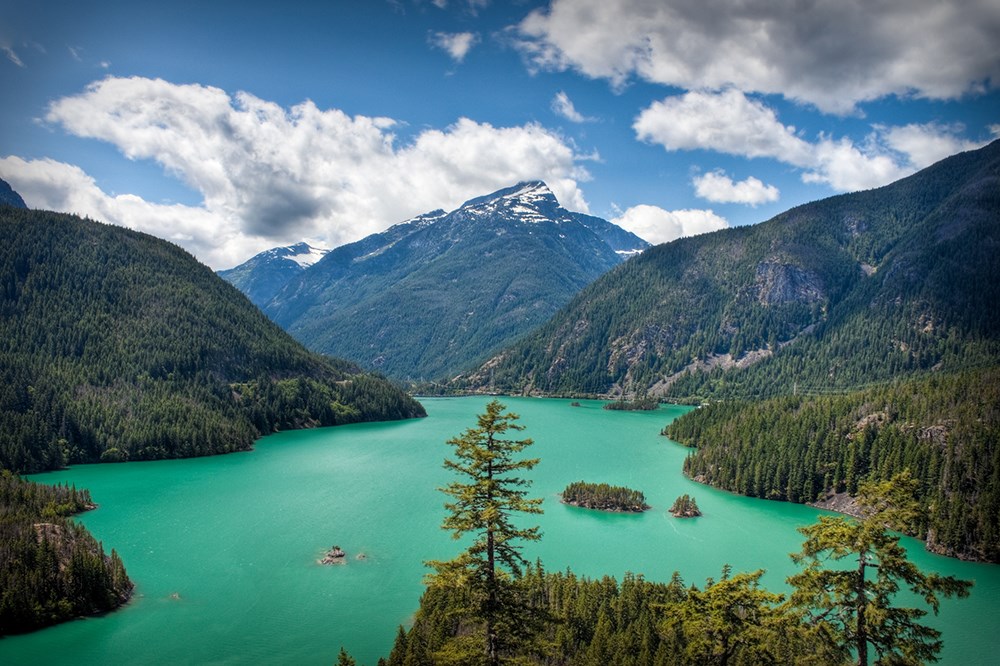 5. Thunder Knob Trail, North Cascades National Park
Despite its proximity to Seattle and Tacoma, North Cascades National Park is easily the most underrated (and least visited) of Washington's national parks. Which will serve you well if you're looking for peaceful mountain panoramas all to yourself. One popular starting point is the Thunder Knob Trail, a moderate 3.6-mile round trip hike capped off by sweeping views of turquoise-colored Diablo Lake and the craggy mountains soaring all around it. Embark from Colonial Creek Campground, and enjoy the relaxing stroll through mossy forests filled with red cedars, Douglas firs, and Western hemlocks. Pets are allowed on leashes, and it's a suitable trail for children, especially thanks to benches conveniently positioned by the optimal Diablo Lake overlook.
Nearby KOAs:
Concrete / Grandy Creek KOA Holiday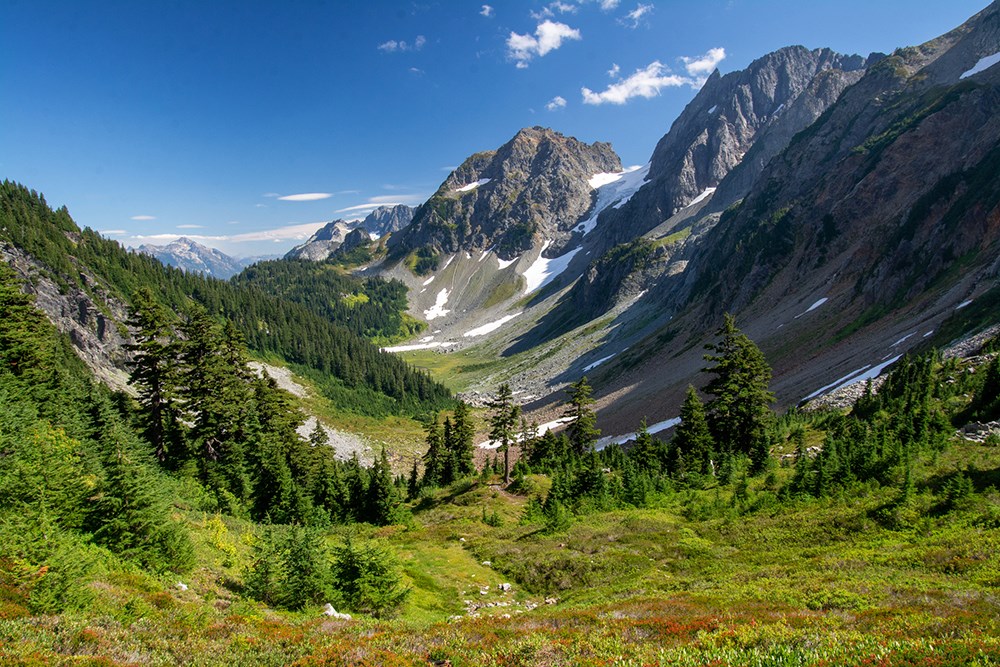 6. Easy Pass Trail, North Cascades National Park
Between the glacial peaks, wildlife sightings, and sprawling meadows, Easy Pass is one of the quintessentials trails in North Cascades, offering a something-for-everyone vibe along its 7-mile roundtrip duration. In spite of its name, Easy Pass is quite steep and potentially strenuous on its ascent up to the pass, but after a few miles beyond Granite Creek, the unimpeded mountain views are well worth the hustle. From here, the landscape looks more like the Alps than Washington, with jagged peaks like Mount Logan and Mount Fisher surrounding the basin. Through early summer, meadows along the trail erupt with colorful wildflowers, while autumn hikes bring forth golden foliage.
Nearby KOAs:
Concrete / Grandy Creek KOA Holiday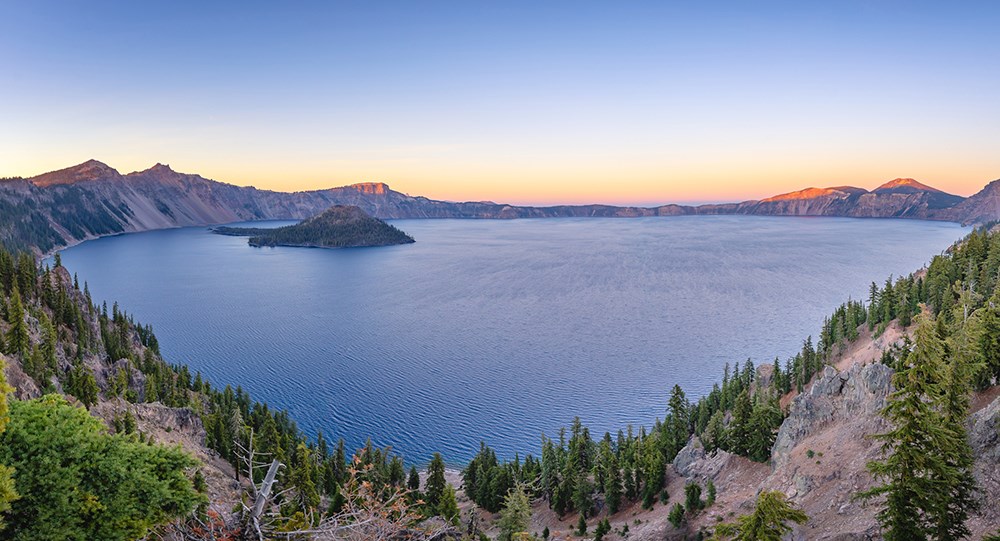 7. Cleetwood Cove Trail, Crater Lake National Park
If you're looking to get up close and personal with the deepest (and arguably bluest) lake in the U.S., Cleetwood Cove is your only option. In order to access the crystal shores of this extraordinary caldera, this is the only designated access point for hikers, typically accessible between mid-June and late-October. The trailhead is located on East Rim Drive, just under five miles from North Junction, and it's a steep descent (and inevitable ascent on the way back) in order to get to the lake. Benches located along the way provide welcome solace, as does a refreshing dip in the lake once you reach the end, as swimming and wading are allowed.
Nearby KOAs:
Lemolo Lake / Crater Lake North KOA Holiday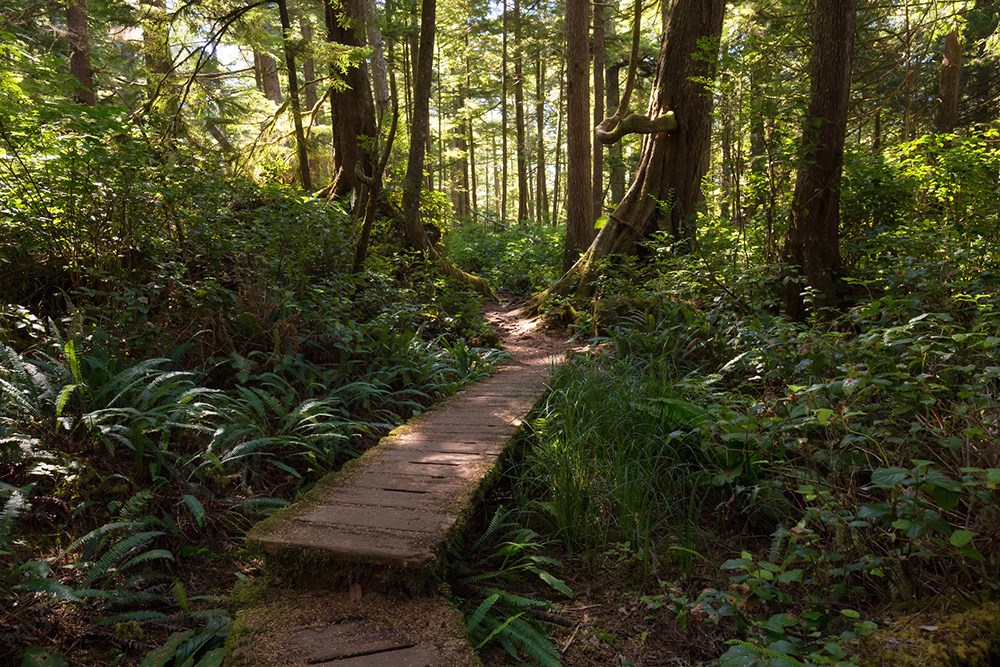 8. Nuu-chah-nulth Trail, Pacific Rim National Park Reserve
Extending northwest of Washington, Pacific Rim National Park Reserve has even more of that Olympic-level beauty in British Columbia, with even less of the crowds. Here, you'll marvel at Pacific Coast mountains, gnarly coastline, surf-worthy ocean waves, and temperate rainforests bursting with subtle life. Among the star attractions is the Nu—chah-nulth Trail in the park's Long Beach Unit. So named for the Nuu-chah-nulth tribes who used this route to traverse between Florence Beach and Long Beach, the trail nowadays is a place of solitude and serenity, aside from the explosive crashing of the waves along the shore. En route, you'll traverse several wooden boardwalks through dense forest and wetlands, before culminating at the sandy beach, typically billowing with ominous mist and the thunderous roar of the Pacific Ocean.
Nearby KOAs:
Lynden / Bellingham KOA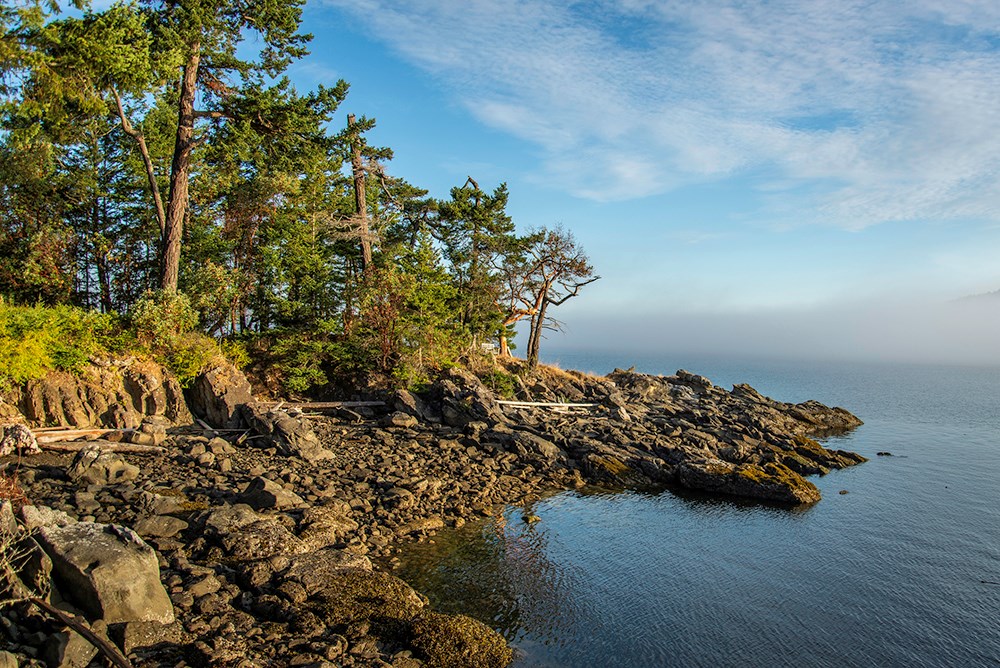 9. Winter Cove, Gulf Islands National Park Reserve
Characterized by its dry, sunny summers and wet, mild winters, the Gulf Islands in British Columbia are the only place in Canada with a Mediterranean climate. Interspersed with red cedars, coastal Douglas firs, and bigleaf maples commonly seen throughout the Pacific Northwest, this is a unique landscape that needs to be seen — and hiked — to be believed. Most of the island trails skew easy and short, but they pack a wallop of "wow" in mere minutes. Try the Winter Cove trail on Saturna Island, a simple loop trail that weaves through wetland, meadows, salt marsh, and upland within a relative short span of time. It's all capped off with breathtaking panoramas of the Straight of Georgia, the body of water that gives the park the look and feel of the Mediterranean Sea.
Nearby KOAs:
Lynden / Bellingham KOA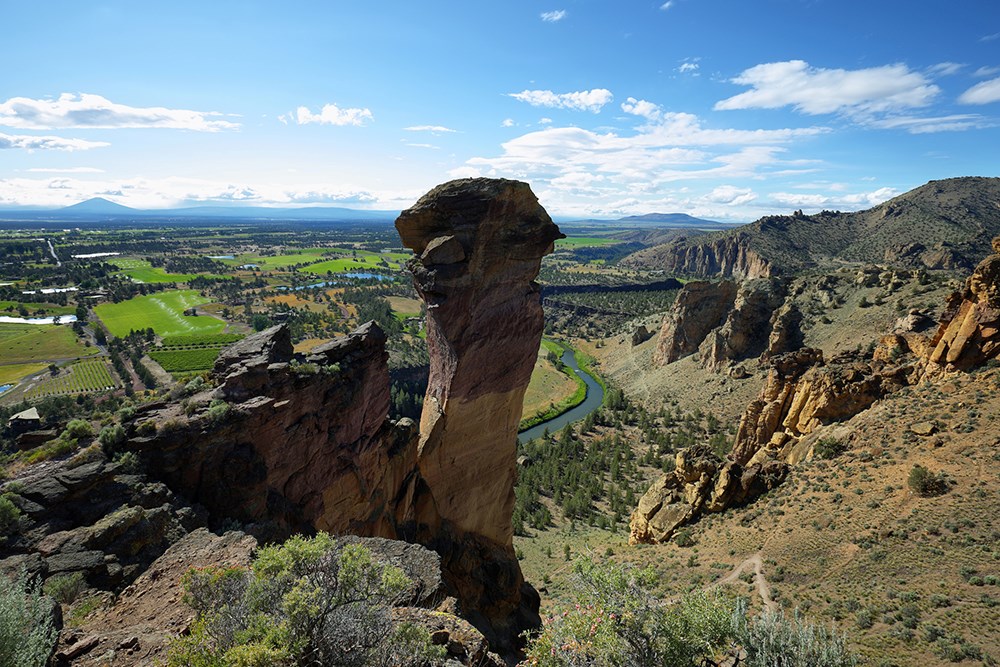 10. Misery Ridge Trail, Bend, OR
Don't be dissuaded by its intimidating name; Misery Ridge is a hilly hike worth seeking out near Bend, Oregon. It's a relatively brief loop (clocking in at under four miles), anchored by a series of steep switchbacks that afford some of the best views of the Cascade Mountains. The Crooked River zigzags along the base of the ridge, best seen from the summit, along with the sweeping expanse of high desert, and the potential to see eagles and otters. As the trail descends along the backside of the ridge, it links up with the River Trail, passing natural features like Monkey Face, a gigantic rocky pinnacle that's become popular for climbers.
Nearby KOAs:
Redmond / Central Oregon KOA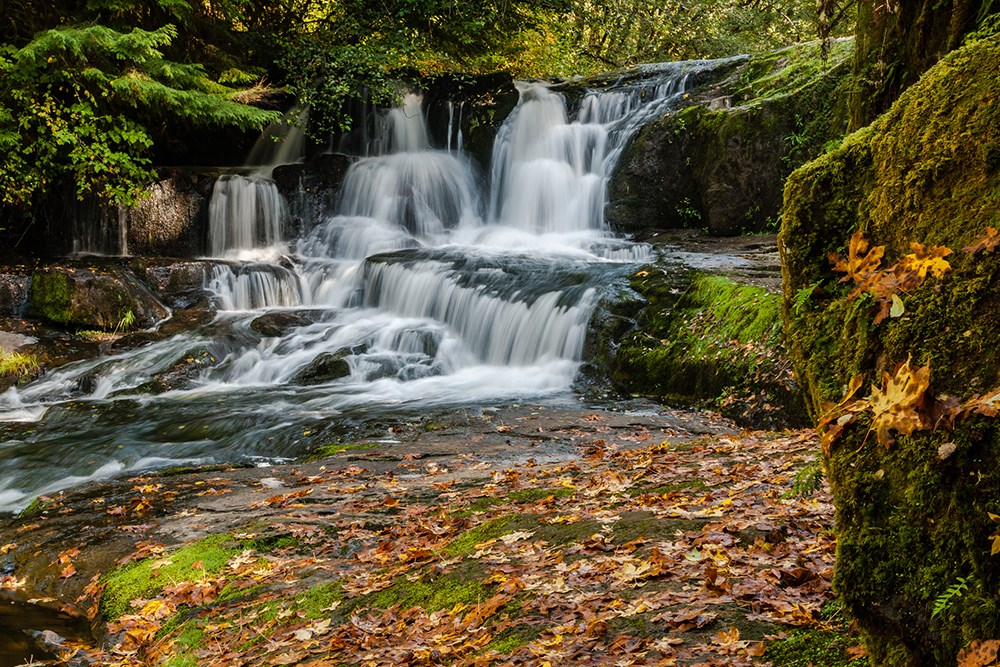 11. Alsea Falls, Eugene, OR
If it's waterfalls you're chasing, look no further than this tranquil trip. Located near the hiker's heaven that is Eugene, Oregon, renowned for its variety of foothills and forests, the Alsea Falls area offers multiple trail options and lengths, with several waterfalls to gawk at with each route. The recreation area is nestled in the coast range by the south fork of its namesake Alsea River, and of all the waterfalls out here, Alsea Falls is beloved as a misty mainstay — and the fact that it provides a refreshing watering hole for summertime swimming. Pack a picnic and make an afternoon of it, as tables are located in the day-use parking area.
Nearby KOAs:
Albany / Corvallis KOA Journey
---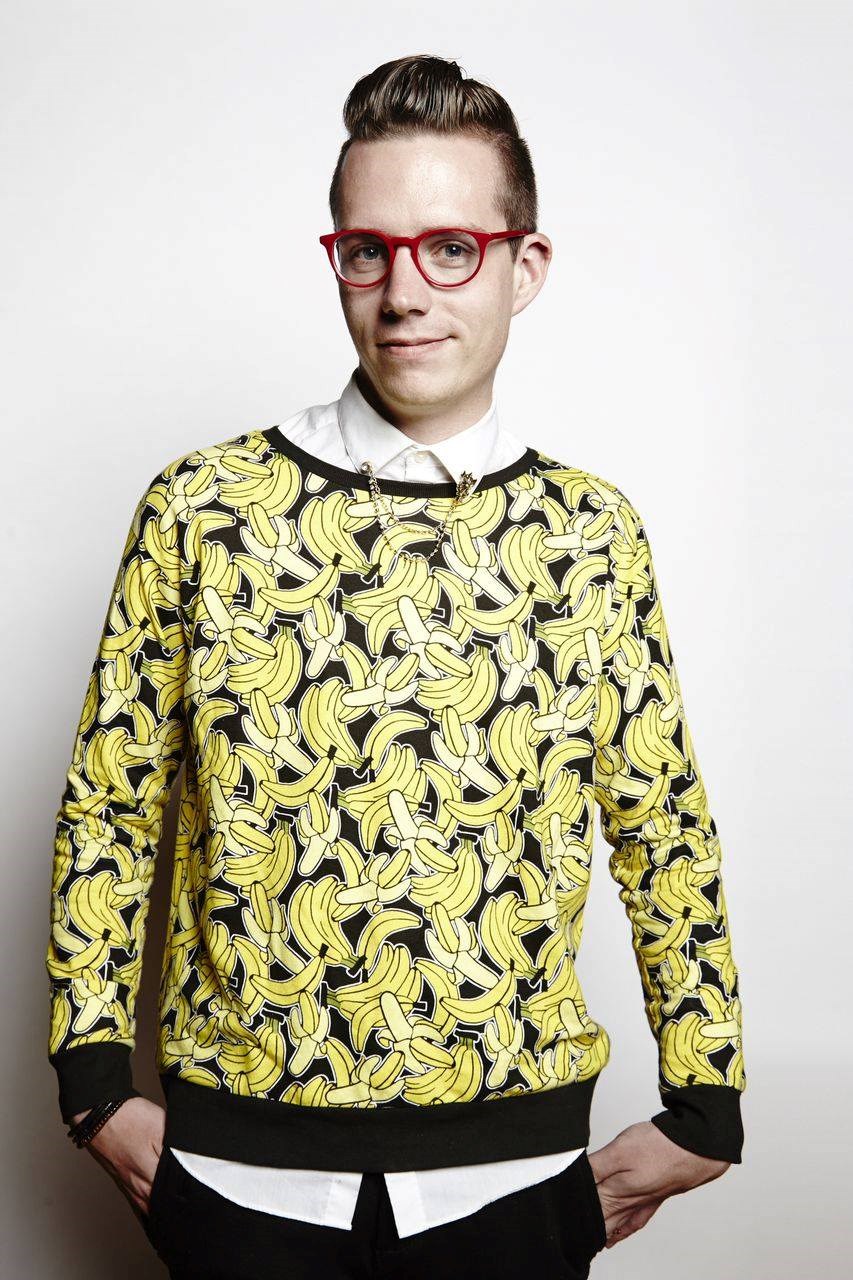 Born and raised in New Hampshire, Matt Kirouac grew up with a love for camping and the outdoors. Though he's lived in Chicago since 2006, he's always on the lookout for new adventures. He writes about travel and food for outlets like TripExpert, Money Inc, Upventur, DiningOut, Food Fanatics magazine, Plate Magazine and Zagat, and he currently serves as Chicago editor for What Should We Do?! He's the author of The Hunt Guides: Chicago (2016) and Unique Eats & Eateries of Chicago (2017).
---