When it comes to National Parks and National Monuments, everyone knows about the biggies. Famed destinations like the Statue of Liberty and the Grand Canyon hold an almost mythical lore of iconography in the realm of Americana travel, but across the country, lesser-known parks and monuments hold stunningly unique characteristics all their own. From a towering butte in Wyoming to a brick-clad fort in the middle of the sea, these are 10 unique National Parks and National Monuments to add to your travel itinerary.
Unique National Parks and Monuments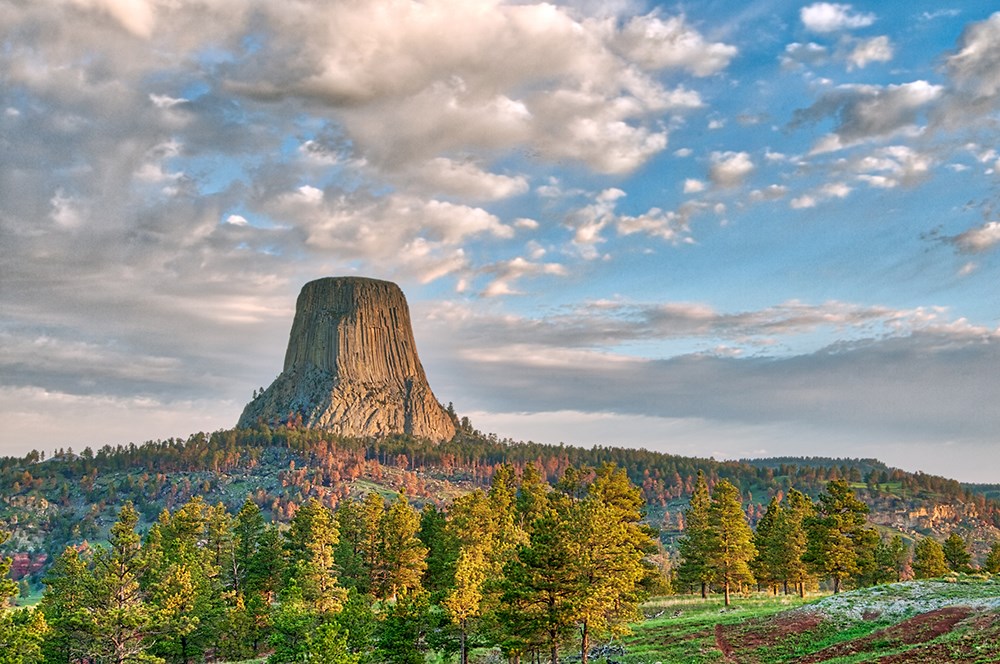 1. Devils Tower National Monument, Wyoming
Few states hold such formative lore for the National Park Service as Wyoming. Not only is it home to Yellowstone National Park, the first National Park in the world, but the state lays claim to the country's first National Monument as well, and it's one that makes its presence known from miles away. On the eastern side of the state, Devils Tower National Monument looms large, jutting up from the horizon like a stone skyscraper. The "tower" is actually a massive butte that rises to a staggering 1,267 feet, awing travelers with its sheer size. Designated by President Theodore Roosevelt in 1906, Devils Tower needs to be seen to be believed, and it's best seen along easy hiking trails that weave by the Belle Fourche River, and around the monument itself, through tranquil green forests.
Nearby KOAs:
Devils Tower / Black Hills KOA Journey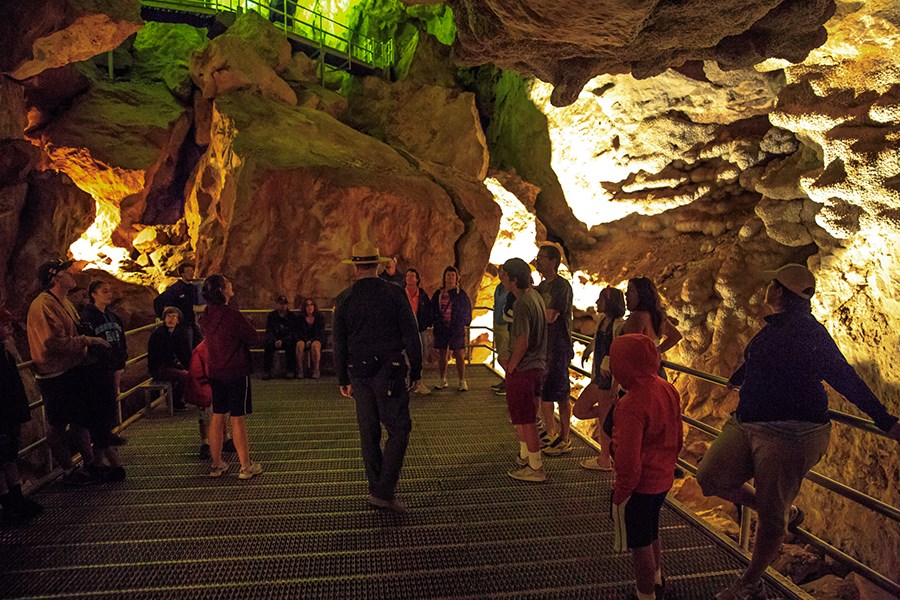 2. Jewel Cave National Monument, South Dakota
The National Park Service is home to several cave-centric parks, including famous ones like Carlsbad Caverns and Mammoth Cave, but there are plenty of less visited subterranean parks worth seeking out as well. Chief among them is Jewel Cave National Monument, a veritable wonderland of underground exploration beneath South Dakota's Black Hills. For a park as underrated as this one, it might surprise you to learn that Jewel Cave, which gets its twinkling name from its abundant calcite crystals, is the third longest cave in the world. With more than 200 miles of mapped passageways, it's a behemoth of labyrinthine nooks and crannies, though only a small portion of them are accessible via guided tours. The old-timey lantern tour is a cool way to experience what the cave was like for its first visitors, while the wild cave tour offers a more intense and hands-on experience for those without claustrophobia. There are also a few serene surface trails, which showcase the splendor of the Black Hills and its wildlife.
Nearby KOAs:
Custer / Mount Rushmore / Black Hills KOA Holiday
Mount Rushmore KOA Resort at Palmer Gulch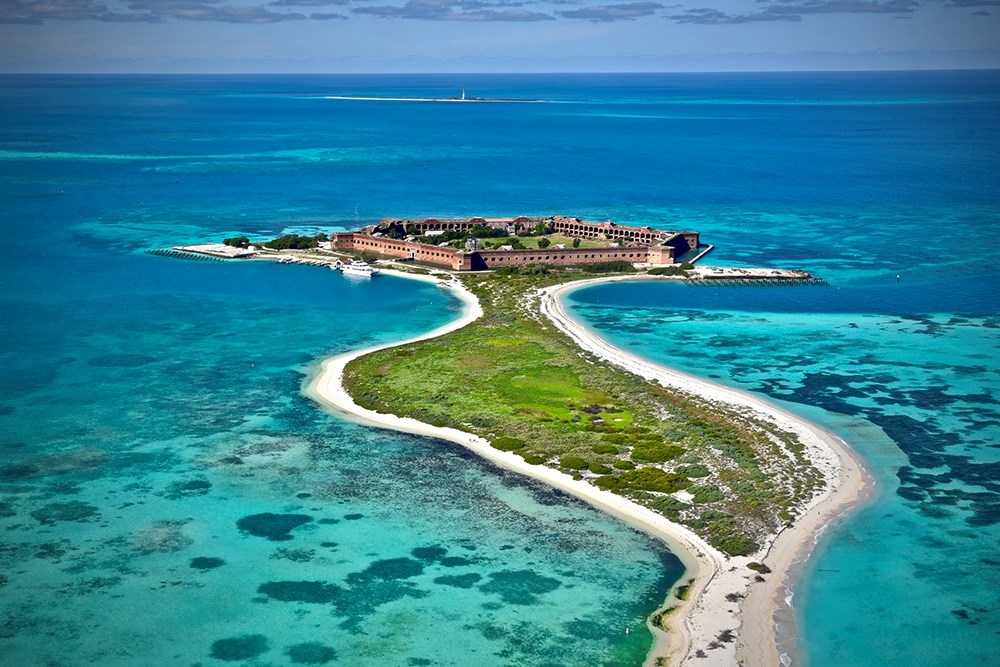 3. Dry Tortugas National Park, Florida
Located roughly 70 miles west of Key West, so far from land that it feels like you're in the middle of the vast ocean, it doesn't get much more unique than Dry Tortugas National Park. This is an aquatic park that's 99% water, comprised of several small keys that tell the story of marine wildlife, shipwrecks, naval history, and maritime defense. Accessed primarily via a high-speed ferry from Key West, this faraway park is well worth the extra planning (and extra cost), for a once-in-a-lifetime setting that's rich with exploration and education. The main attraction is Garden Key, where the ferry docks at Fort Jefferson, an enormous brick fortress built in the 1800s to protect the Southern coast of the United States after the War of 1812. Over the years, it temporarily served as a prison, before becoming a bird reserve, a National Monument, and eventually a National Park. Today, it's a haven for snorkelers, beach-goers, bird-watchers, and anyone interested in some of the most unique U.S. naval history anywhere.
Nearby KOAs:
Sugarloaf Key / Key West KOA Holiday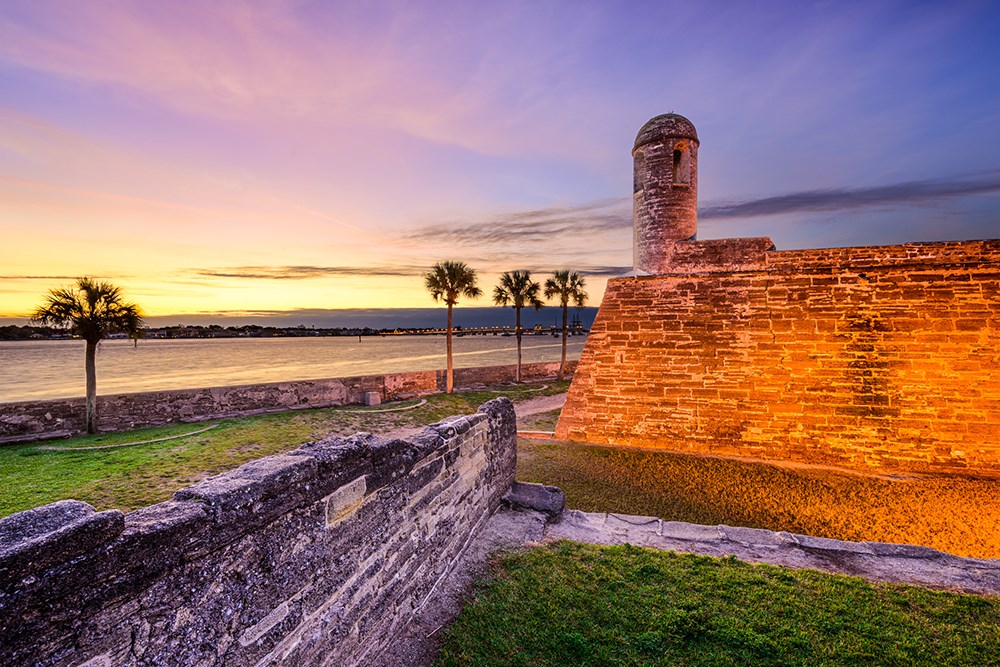 4. Castillo de San Marcos National Monument, Florida
Fort Jefferson is certainly not the only unique fort to add to your bucket list. Another exemplary destination, located on the opposite end of Florida from Dry Tortugas, is the castle-sized Castillo de San Marcos. Constructed in 1672 under Spanish rule, it's the largest and oldest masonry fort in America. In the ensuing centuries, the mighty fort has undergone some major changes, including being renamed to Fort St. Mark while under British jurisdiction, before going being ceded back to Spain. It wasn't until 1821 that the U.S. took over, using it mainly as an army base. It was named a National Monument in 1924, and the fort has sat quiet and empty since 1933, ripe for historic exploration and an eye-opening tour through hundreds of years worth of history.
Nearby KOAs:
St. Augustine Beach KOA Holiday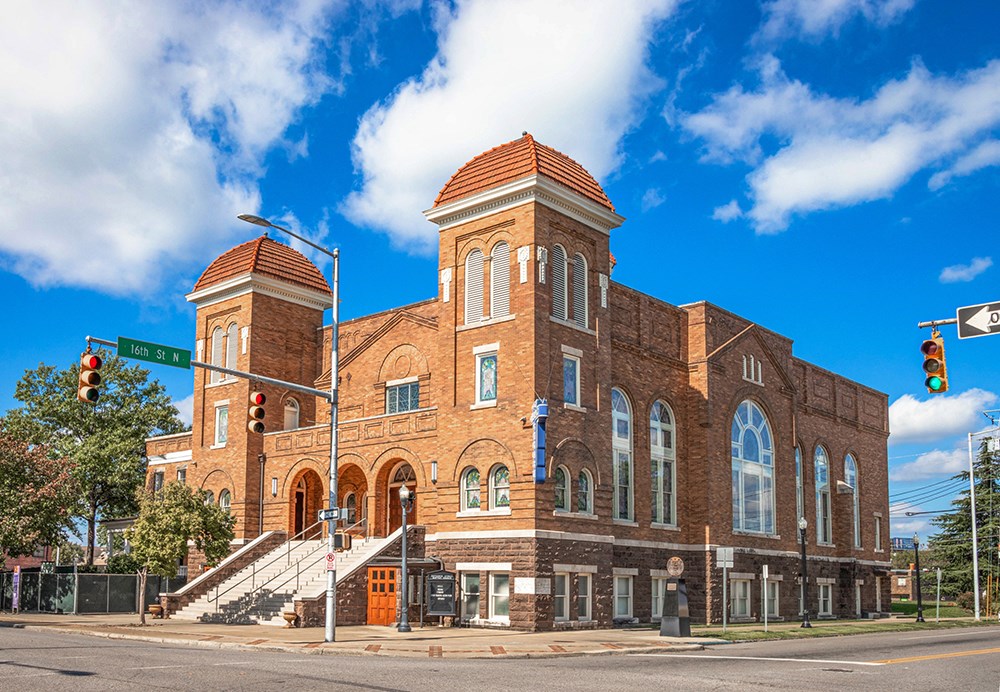 5. Birmingham Civil Rights National Monument, Alabama
In 2017, a portion of the Birmingham Civil Rights District was re-designated as Birmingham Civil Rights National Monument in Birmingham, Alabama. Here, in the heart of Alabama's most populated city, America tells the important story of the Civil Rights legacy, through various sections and structures like the immersive Birmingham Civil Rights Institute, the A.G. Gaston Motel, and Kelly Ingram Park, a small green space filled with statues and monuments that highlight tragic events and pivotal figures in the city's fight for Civil Rights.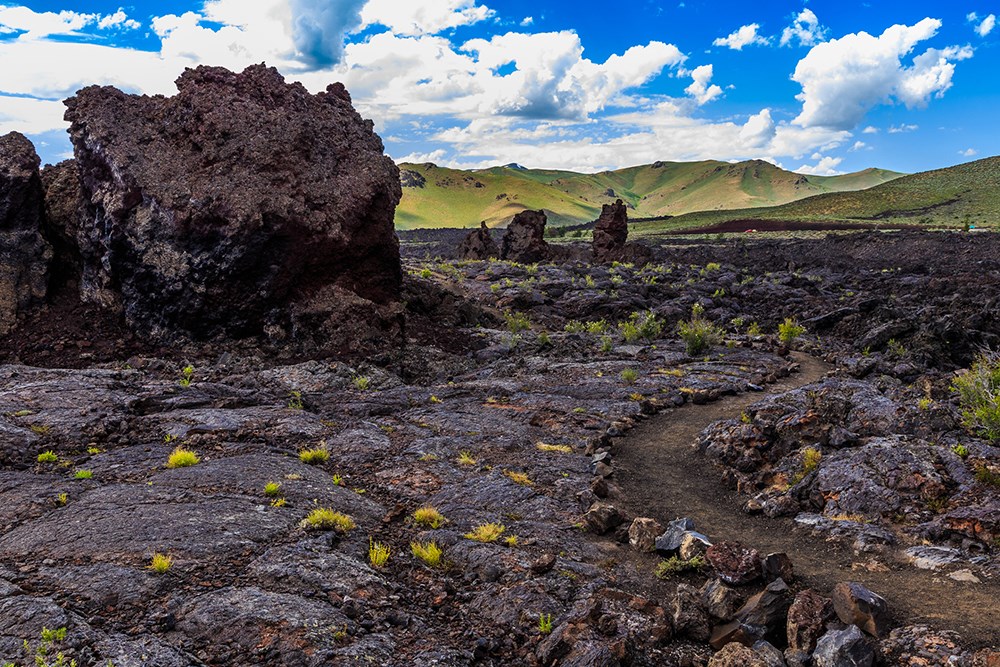 6. Craters of the Moon National Monument, Idaho
Craters of the Moon National Monument is one park that more than lives up to its out-of-this-world name. Located in Idaho's beautiful Snake River plain, the monument preserves an expansive landscape of striking volcanic terrain, lava fields, and flood basalt, which altogether looks like a mashup of Hawaii Volcanoes and the moon. In addition to the visually stunning terrain, the park's location atop the Great Rift of Idaho means Craters of the Moon contains some of the world's most visible rift cracks, including the deepest one on Earth, which clocks in at around 800 feet. When you're done marveling at the surface of the Earth, explore the caves here, which provides another unique vantage point in which to explore the park's volcanic history.
Nearby KOAs:
Craters of the Moon / Arco KOA Journey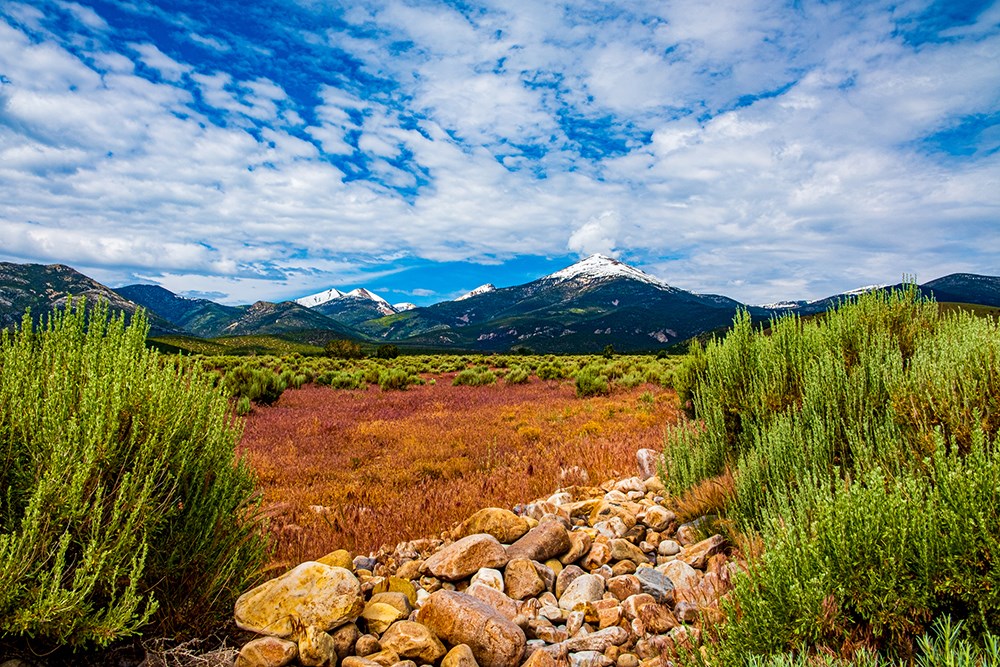 7. Great Basin National Park, Nevada
If you thought Dry Tortugas was remote, just wait until you arrive at Great Basin National Park, one of the least visited — and most far-flung — National Parks on dry land. For starters, the park is located along U.S. Route 50, a stretch of highway so barren that it earned the nickname as "The Loneliest Road in America." The park is also next to Baker, a sleepy town with a population you can count on two hands. In spite of its utter remoteness, Great Basin is a worthwhile park to drive to, not only for the fact that you'll likely have epic hiking trails all to yourself, but for the incredible diversity of terrain and experiences to discover. These include staggering mountain hikes (including Wheeler Peak, the second highest mountain in Nevada), subterranean treks through Lehman Caves, and perhaps coolest of all, the opportunity to see gnarly bristlecone pines, the oldest trees on the planet.
Nearby KOAs:
Ely KOA Journey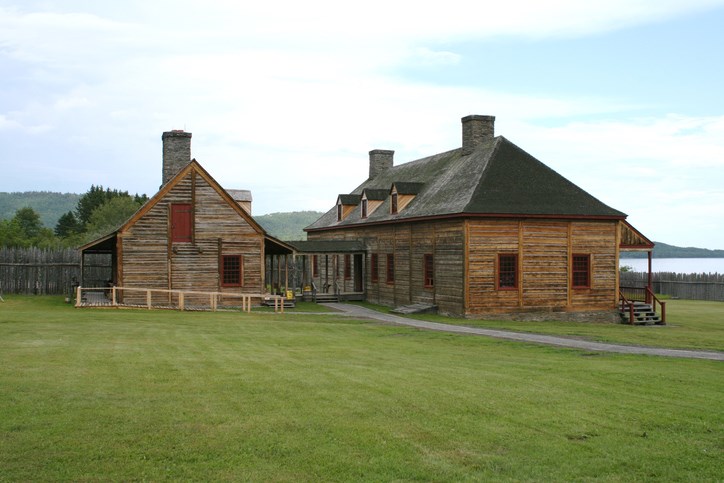 8. Grand Portage National Monument, Minnesota
Perched at the far northeastern tip of Minnesota, many miles from the hustle and bustle of modern day civilization, Grand Portage National Monument feels like a time warp to another century — to an era of frigid fur trading. Due to its prime location along Lake Superior and the Pigeon River, this was a popular trade route for French-Canadians in the area, and it earns its name from the 8-mile trail that winds along the waterway. Nowadays, while fur trading has dwindled, visitors can hike through tranquil forests and along sheer rock cliffs, which provide sweeping vistas of the beautiful Grand Portage Bay. When you've got your nature fix, the Heritage Center is filled with educational and enlightening exhibits, materials, and films that cast a brighter light on the region's vital history.
Nearby KOAs:
Thunder Bay KOA Holiday
9. Pullman National Monument, Illinois
One of the few National Park Service sites in Illinois, the recently designated Pullman National Monument tells an important story of Black labor history on the south side of Chicago. The park gets its name from George Pullman, a railroad car manufacturer who played a prominent role in shaping the Pullman district, the first fully planned industrial community in the U.S. Today, the Pullman neighborhood is an impressive feat of intricate architecture and meticulous planning, as seen at park sites like the ornate Pullman factory, the A. Philip Randolph Pullman Porter Museum, and the Hotel Florence. As all of these elements came together, the community once held the title as the largest employer of Black Americans in the country, and it was also the site of the first labor agreement between a Black union and a company. Simply wandering around the neighborhood nowadays is eye-opening enough, but Pullman National Monument also includes the Historic Pullman Foundation visitor center, limited tours at the Pullman Factory Complex, and seasonal tours at the A. Philip Randolph Pullman Porter Museum.
Nearby KOAs:
Chicago / Northwest KOA Holiday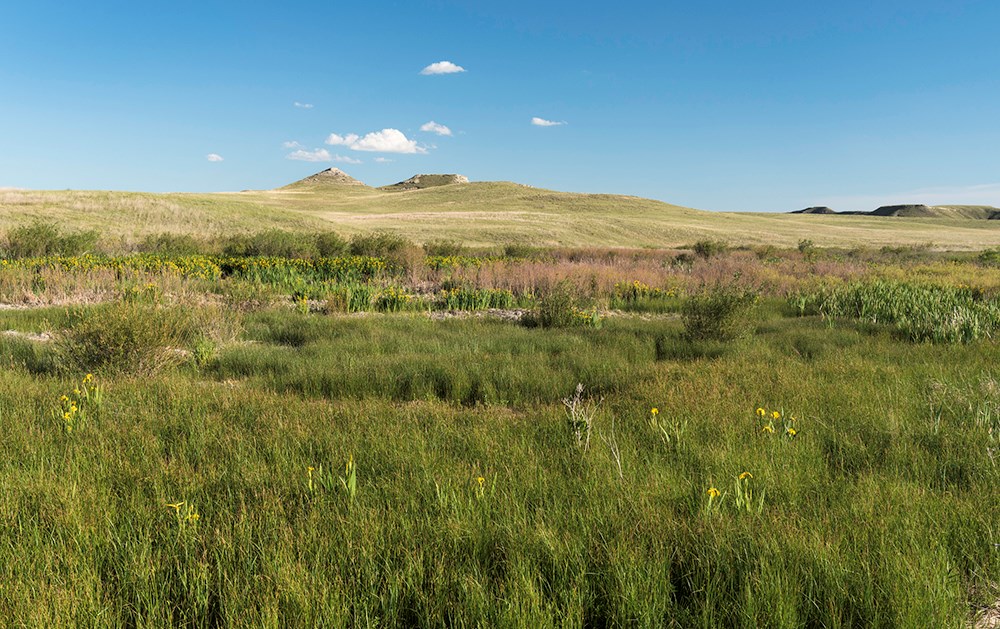 10. Agate Fossil Beds National Monument, Nebraska
When most people think of Nebraska, they think of cornfields as far as the eye can see. Dinosaur fossils? Not so much. Which is what makes Agate Fossil Beds National Monument, in the grassy western plains of Nebraska, such an epic surprise. Here lies some of the mightiest and most prominent examples of Miocene fossils on the continent. The visitor center depicts images, films, and information about larger-than-life animals that once called this landscape home, including the antelope-like Stenomylus and rhino-sized Menoceras. Two peaceful hiking trails weave through the golden prairie along the Niobrara River valley, with handy signage along the way pointing out more wildlife that once roamed here.
Nearby KOAs:
Hot Springs / Black Hills KOA Holiday
---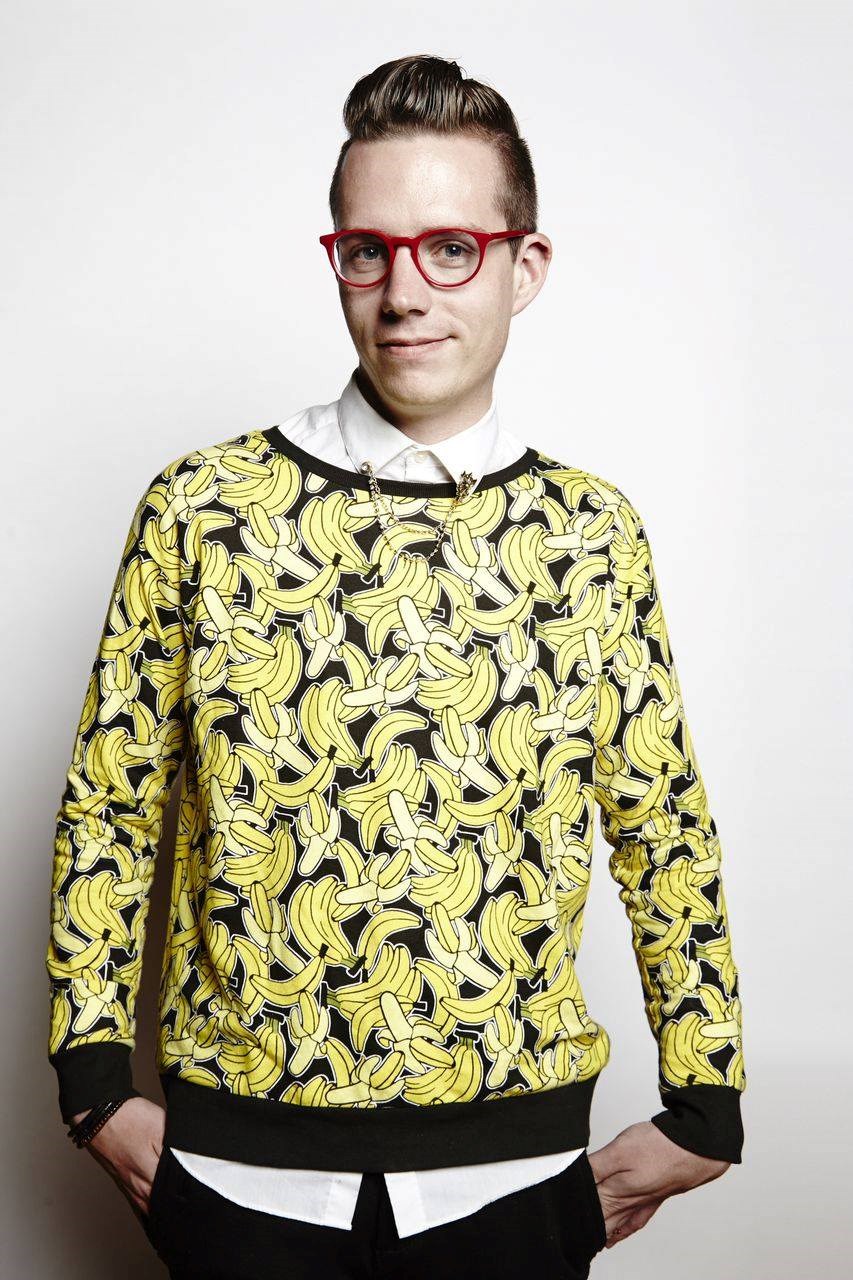 Born and raised in New Hampshire, Matt Kirouac grew up with a love for camping and the outdoors. Though he's lived in Chicago since 2006, he's always on the lookout for new adventures. He writes about travel and food for outlets like TripExpert, Money Inc, Upventur, DiningOut, Food Fanatics magazine, Plate Magazine and Zagat, and he currently serves as Chicago editor for What Should We Do?! He's the author of The Hunt Guides: Chicago (2016) and Unique Eats & Eateries of Chicago (2017).
---