Summer can sometimes be too hot and winter can sometimes be too cold. You may feel like Goldilocks trying to find the right time of year to get some solid hiking in, and we are here with good news: that time is fall.
The weather isn't too hot or too cold; it is just right. And the stunning scenery with the fall foilage is something you can only catch once a year. Not to mention the fact that with the temps dropping a bit, you'll find fewer people on the trail so your chances of having some extra space are high.
All these things make up the recipe for a perfect hike, and now you just need to know where to go.
We've rounded up the top 10 hikes to explore this fall to get in some great adventure and that much-needed time in nature.
Best Fall Hikes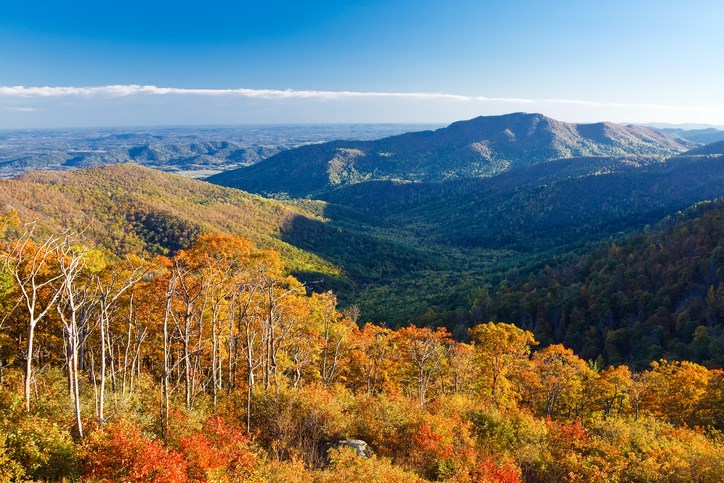 Old Rag Mountain | Shenandoah National Park
Shenandoah National Park is known as one of the top places to visit in the fall thanks to its incredible showcase of fall foliage. There is nowhere in the park that won't completely wow you with its beauty.
However, our personal favorite trail is Old Rag Mountain. And we certainly aren't alone. This hike is the most popular in the whole park. However, it is also one of the most dangerous hikes in Shenandoah. Measuring in at 9 miles long with some serious elevation change and the challenge of a difficult rock scramble, there are certainly opportunities for things to go wrong on this hike.
Thus, we recommend that you fully prepare for this hike in order to enjoy it to its fullest — because it is truly stunning. Bring plenty of water and also give yourself a window of approximately 8 hours to finish it. You may not need that much time, but allow it just in case. Also, be sure that you are physically fit enough to do a hike with a scramble such as this one. You do not want to find yourself in a pinch on this hike.
KOAs nearby:
Harrisonburg / Shenandoah Valley KOA Holiday
Charlottesville KOA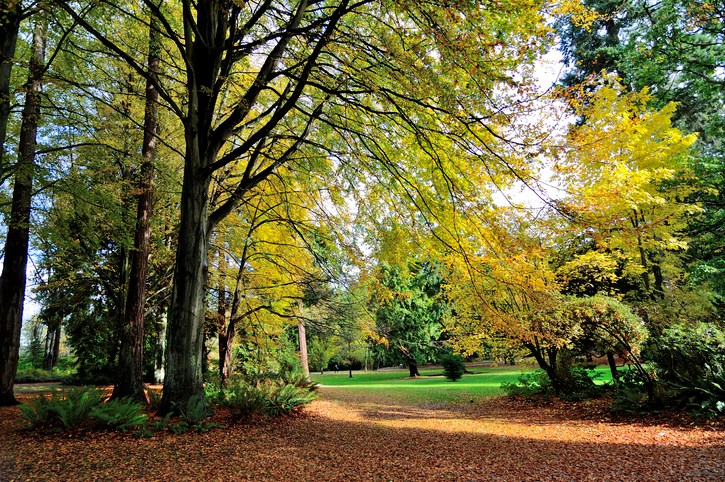 Stanley Park | Vancouver, British Columbia
There isn't just one trail here — there are many to choose from. And any of them will give you the ultimate fall hiking experience. With 8 million people visiting this park every year, Stanley Park is one of the top tourist destinations in Vancouver.
One of the best things about this spot is the fact that it feels remote, but is not. It is tucked away in nature, but with all of the comforts of city life nearby.
Speaking of nature, you're going to love what you see here. Stanley Park is Vancouver's first park, and has held its designation as a "greenspace" for over 130 yeras. With beaches, Canada's largest aquarium, a water park, pools, and trails aplenty, there is more space than you'll know what to do with.
And why is fall the best time to visit here?
The fall colors here will just blow you away. It seems as if you've never seen a gold as golden as the tones here in Stanley Park, and the trails are close enough to the city that you can warm up with a nice cup of tea.
KOAs nearby:
Lynden / Bellingham KOA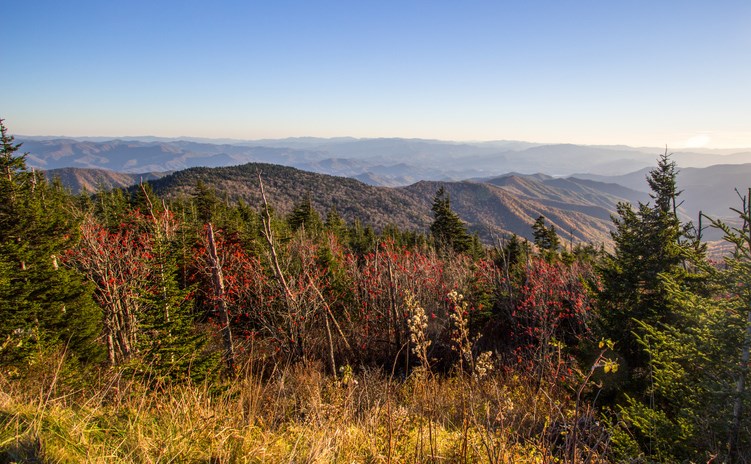 Mount LeConte | Gatlinburg, Tennessee
The Great Smoky Mountains are incredible any time of the year but fall is when they really shine. Split between Tennessee and North Carolina, these mountains wow people from all over the year.
And the best hike to do while visiting this area (in our opinion) is Mount LeConte. Just be sure you're prepared for an adventure. This mountain is the third-highest peak in the Great Smoky Mountains and its height of nearly 7,000 feet does pose a challenge.
However, it is well worth it. While venturing on this hike you'll pass through a cave via the Alum Cave Trail and you may even spot some llamas carrying gear up to the lodge via Trillium Gap. And don't even get us started on the colors.
You will swear you've jumped right into a painting with all the golds, reds, and yellows that make these mountains the most majestic thing you'll see all fall.
KOAS nearby:
Townsend / Great Smokies KOA Holiday
Pigeon Forge / Gatlinburg KOA Holiday
Cherokee / Great Smokies KOA Holiday
Gatlinburg East / Smoky Mountains KOA Holiday
Newport / I-40 / Smoky Mountains KOA Journey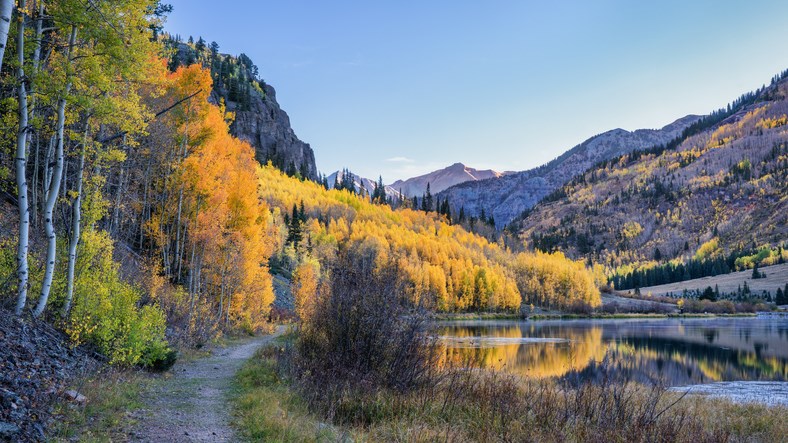 Lower Crystal Lake Trail | Breckenridge, Colorado
Colorado has no shortage of beautiful trails to explore during the fall so whatever you pick, you're not going to go wrong.
However, we highly suggest the Lower Crystal Lake Trail. This trail takes you up to over 12,000 feet where you will see all the splendor of fall foliage beneath you. It's great to get up above the trees you typically see in this area and get a peek at the vast colors. Though you will certainly love the golden aspens that litter this whole trail.
Though the trail is steep, it is worth it, especially when you get to enjoy the small lake at the top. Just be ready to power through the first ¾ of a mile because it can be a bit of a doozy.
Plan for about 4 hours roundtrip on this one, with some time along the way for photos of the beautiful colors that surround you.
KOAs nearby:
Carbondale / Crystal River KOA Holiday
Denver West / Central City KOA Holiday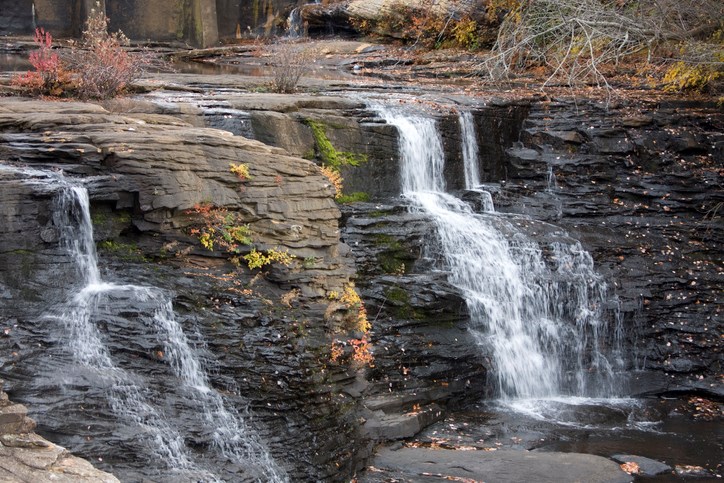 DeSoto Falls | Vogel State Park
As one of Virginia's oldest state parks, Vogel State Park becomes a national hot spot once fall hits.
You may have heard of the Blue Ridge Mountains, but have you ever seen them? It's time you do. The shades of red, yellow, and gold are enough to make you feel like it's too good to be true.
And there are plenty of beautiful trails to enjoy here during your autumnal adventures. But if you're looking for a great family-friendly one, we suggest DeSoto Falls.
This trail leads through some gorgeous areas of Vogel and ends at the trail's namesake falls that boast a drop of over 100 feet, and that drop goes right down into a gorgeous natural rock amphitheatre. There is also an unofficial trail that will take you to the base of the falls, so keep your eyes peeled for that.
With an elevation gain of less than 400 feet and a length of less than 1.5 miles, this trail is great for kids and others for whom hiking is not a regular activity.
KOAs nearby:
Murphy / Peace Valley KOA Holiday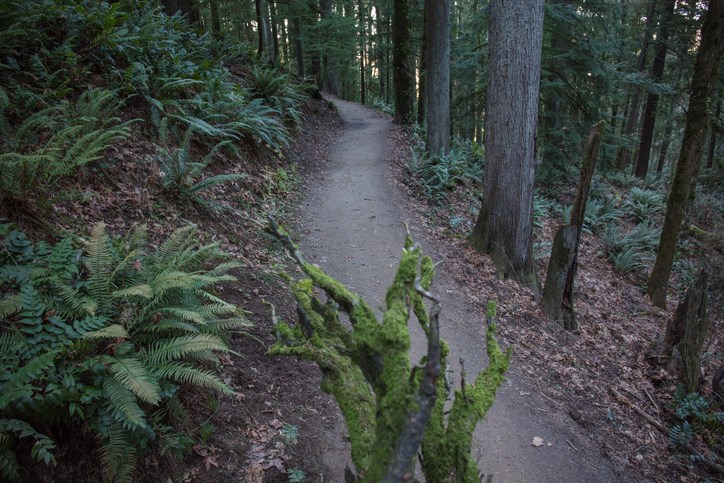 Wildwood Trail | Portland, Oregon
Calling Forest Park its home, Wildwood Trail is a great place to explore over 30 miles of Portland's beautiful outdoors.
You will be in the thick of the forest on this trail, with the city of Portland nearby. The first 5 miles of the trail see pretty heavy traffic, given its proximity to the city. But there is much to see, including the famous Pittock Mansion and the Stone House a.k.a the Witch's Castle.
Once you get beyond these sites, you won't see nearly as many people, but you will see lots of nature. And you will love this nature in the fall. The colors that Portland blooms into during the fall are what make this such an iconic Pacific Northwest city.
You can either opt to do part of the trail or if you're really feeling ambitious, it is possible to do the entire thing in one day. If the latter is the case, we do recommend bringing along plenty of water, snacks, and rain gear. Portland is known for its rainy weather and you want to be prepared if you're planning to spend some time out in nature.
KOAs nearby:
Cascade Locks / Portland East KOA Holiday
Longview North / Mount St. Helens KOA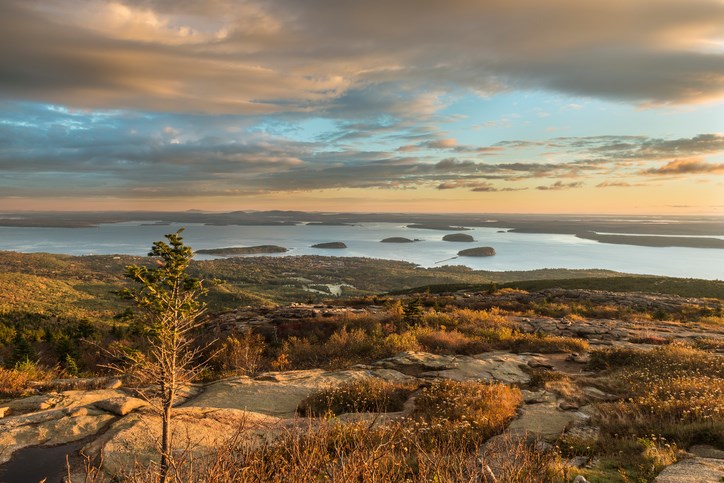 Cadillac Mountain | Acadia National Park
The coastal mountains of Maine make for some epic scenery any time of year. But once fall rolls around and the dreamy fall colors hit the trees, you'll be running as fast as you can to get out here.
And when you do make your way to Acadia National Park, be sure to hike up Cadillac Mountain. The trails here are closed to cars and most are unpaved, so you will really feel one with nature as you pass by the technicolor trees.
Cadillac Mountain is the highest point in the North Atlantic seaboard, measuring in at 1,530 feet.
When you do venture to the mountain, try to make it happen in time for sunrise. That way, you will be in the first place in the entire United States that sees the sunrise (from October to March).
The views along this trail will not disappoint, and we promise the early morning start will be well worth it.
KOAs nearby:
Bar Harbor / Oceanside KOA Holiday
Bucksport / Fort Knox KOA Holiday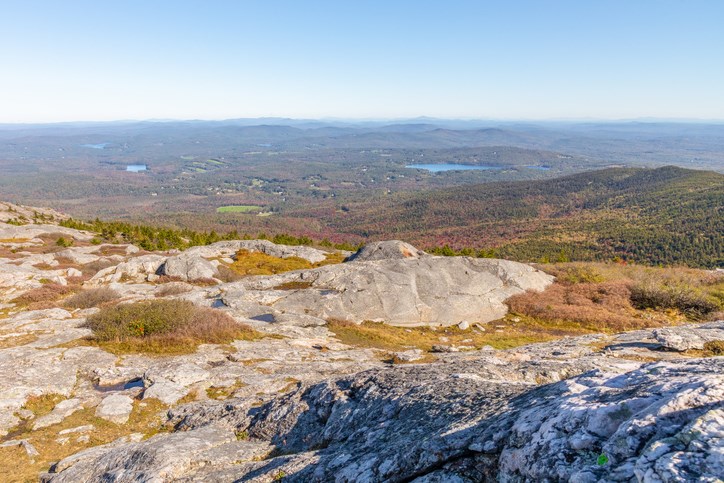 Mount Monadnock | Jaffrey, New Hampshire
This is a well-traveled hike that sees a great deal of people enjoying the beautiful scenery. Over 125,000 people per year, actually, making it one of the most popular hikes in the world. Though you may be turned off by the crowds — don't be. The primary traffic happens in the warmer months here, so by hitting it in the fall, you'll miss out on the crazy crowds.
And even if you do run into some people, it won't even matter because the views you'll soak in at the top will make everything else seem to disappear.
It is quite a trek up this over 3,000-foot peak, though. Especially if you take the White Dot Trail up and the White Cross Trail down. Those are the most direct routes, but not necessarily the easiest — it just depends on the type of experience you are looking to have.
Traversing this trail in the fall will guarantee a display of leaves of every color you've ever seen in your autumnal dreams.
And once you get to the top, you'll be able to see all the way to Boston on one side, and Mount Washington on the other. Quite a spread!
KOAs nearby:
Brattleboro North KOA Journey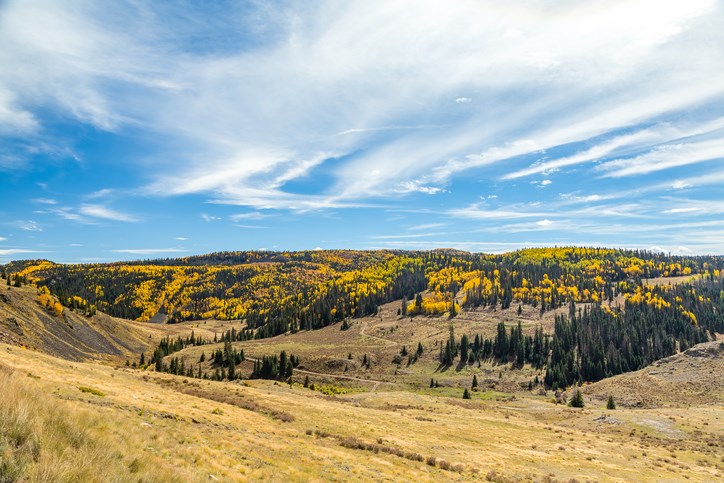 Aspen Vista Trail | Santa Fe, New Mexico
Hit Santa Fe before the winter crowds for the underrated fall hikes in the area.
Our top pick for the area is the Aspen Vista trail. Though it is over 11 miles long, dedicating an entire day to the hike is something you won't regret doing. The sights you'll see along the way will keep you distracted with the distance you have left to go.
This is especially true in the fall. The vibrant colors you will find here create a new adventure in itself on the trail, and provide a completely different experience than hiking Aspen Vista Trail other times of the year.
There is an elevation gain on this trail that is gradual, but you will notice it, so be sure you're ready for it. There is far more to do on this hike than just hike. Aside from the views of the fall foliage, you'll also spot plenty of birds and other wildlife that will make this a memorable hike.
KOAs nearby:
Santa Fe KOA Journey
Las Vegas, New Mexico KOA
Albuquerque North / Bernalillo KOA Journey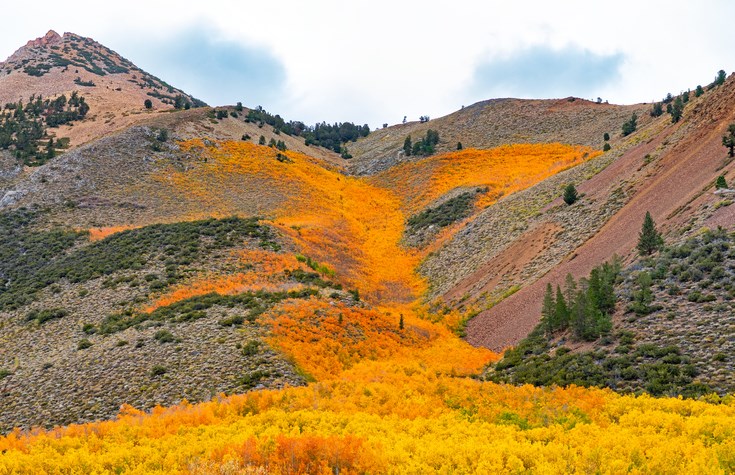 Bishop Creek Canyon | Bishop Creek, California
Sandwiched between Las Vegas and San Francisco, the Sierra Nevadas are quite a sight to see.
When fall hits this part of central California, expect to see some seriously beautiful colors. The high elevation of these mountains make for some stunning scenery. Sprinkled with aspen and cottonwood trees, you'll find yourself in heaven during the fall here.
Add in high alpine lakes, and the color contrasts you'll find in Bishop Creek Canyon will quickly make this your new favorite hike.
There are a number of different trails in this area that make for a great hike, and they range in difficulty from family-friendly to something you'll only want to trek on if you're highly experienced.
Our favorite may be Long Lake due to its accessibility to a number of different hiking levels. This trail is 5.5 miles round-trip, so won't take up your entire day, and offers amazing views along the way — including Long Lake.
KOAs nearby:
Visalia / Sequoia National Park KOA Journey
---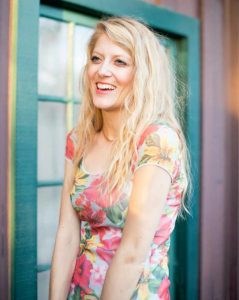 Leslie, a.k.a. Copy Girl, is a copywriter who gets butterflies from telling stories through words.
Her voice comes from a place filled with passion, dreams, and lots of sugar. "Cake over steak" is her go-to motto.
With over 10 years of experience in crafting words, and years of embarking on travels that have taken this Montana girl to some incredible places, Leslie love the adventures of both body and mind her writing takes her on.
Everywhere she goes, she takes this advice with her:
"Hold on to your divine blush, your innate rosy magic, or end up brown." – Tom Robbins, Jitterbug Perfume
To see what Leslie's up to in the writing world, visit her website here.
---