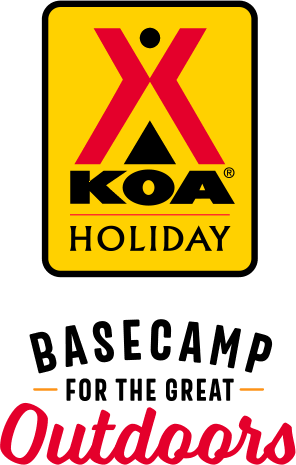 KOA Holiday Campgrounds
Whether you're exploring the local area or hanging out at the campground, KOA Holidays are an ideal place to relax and play. There's plenty to do, with amenities and services to make your stay memorable. Plus, you'll enjoy the outdoor experience with upgraded RV Sites with KOA Patio® and Deluxe Cabins with full baths for camping in comfort. Bring your family, bring your friends, or bring the whole group – there's plenty of ways to stay and explore.
KOA Holidays Feature:
RV Sites with a KOA Patio®
Deluxe Cabins with full baths
Premium Tent Sites
Group meeting facilities
Directions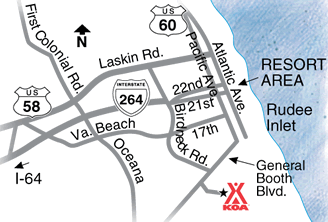 From I-264E, take exit #21A, First Colonial, and turn right. Follow First Colonial; it will become Oceana Blvd. At General Booth Blvd., turn left. Go 0.2 mile and turn in at the KOA sign on your right.
Get Google Directions
Sep 15, 2021
Great set up, beautiful accommodations and friendly staff!!!!
Sep 14, 2021
It was a fun Saturday night. There was a good band. The location was very convenient. The jets were annoying Friday night until 11:30, but amazing too.
Sep 14, 2021
Love this place.
Sep 13, 2021
Very nice campground clean bathrooms and all the staff were nice and hospitable I would recommend this campground to everyone
Sep 13, 2021
Overall, we enjoyed our stay. We especially liked the Saturday night activities - food trucks and live band. The main drawback to the campground is the noise from the jets. Friday night was bad and we were awakened several times by the noise. Saturday night was quiet and we slept much better.
Sep 13, 2021
Great trip!! I will definitely be returning :)
Sep 08, 2021
We had a great time! Everyone was very helpful and pleasant.
Sep 08, 2021
What a great place to stay the staff was friendly and accommodating and it's clean and organized
Sep 07, 2021
As always, it was a very nice stay. The campground was clean as was the facilities. I wish I could have gotten to the new zip line area. It's nice to see the grounds expanding and new things being added. The only suggestion I would make is to have 2 lifeguards on duty for the pools. One guard for both is not enough, especially after seeing how busy it was on Sunday the 5th of September.
Sep 07, 2021
Muy Agradable
Sep 07, 2021
We had a great stay and a great tent site. The campground always has something going on and it's a lot of fun. It's a family place, but the kids aren't running wild like other places we have stayed in Virginia Beach. KOA has a very friendly staff and they are extremely helpful. We will be back!
Aug 30, 2021
The staff is fantastic. While 2 of my grandkids and I were putting up our tent a large tree branch fell and hit my hip and scratched my granddaughters leg then fell on the water spout and broke it off spraying water everywhere. They were quick and repairing the pipe and moving my site. I can't remember everyone's name but Red, Linda, and manager Paula were understanding and compassionate.
Aug 30, 2021
The clean bathrooms and showers make camping there so enjoyable. Thank you.
Aug 29, 2021
My favorite part was being escorted to my camp site.
Aug 24, 2021
It's nice place but there were so many mosquitoes!
Aug 23, 2021
I gave a 4 star because there is still room for improvement like the restrooms/shower room. I hope there is someone can clean it in the morning, afternoon & evening because a lot of people are going to use it and we don't know those people much better to keep it clean so that's it's safe for us to use specially the kids. But other than that the place is very clean and green. Def would come b
Aug 20, 2021
Our stay was great and all staff were friendly and very helpful!
Aug 20, 2021
Everyone enjoyed. Bathrooms very nice. This KOA charges an additional $6 per child over age 6 which can add up, so probably will select one that doesn't charge as they all offer pretty much the same amenities for kids. I have the rewards card which offers 10 percent off your stay, but only 1 site, I had a tent site and cabin, so not 10 percent off my stay, not sure if all KOAs have same policy.
Aug 17, 2021
The front desk was not super friendly nor was most of the cleaning crew. We stayed one night as there was a really bad storm so we had to check out early. Went to the front desk for a second time and they were like why did you come up I said to make sure we didn't need to check out with you he said no bye.
Aug 17, 2021
Staff was extremely nice,bathrooms and showers clean. Will definitely go there again.
Aug 17, 2021
The most sweetest and supportive staff of any place I've stayed! We felt safe, wanted and comfortable the whole time and cannot wait to go back this fall!! Definitely worth the 5 hour drive!
Aug 16, 2021
Great friendly staff , clean bathrooms , tons of fun for families and kids !
Aug 15, 2021
The staff was always so pleasant and a pleasure to deal with. There were plenty of things to do, and the facilities were always clean. Looking forward to our next trip!
Aug 13, 2021
We had a great time! The kids loved the jump pads and the pool!
Aug 12, 2021
We had a wonderful stay! Campground was very clean and tidy. I loved that the bathrooms and showers were all individual and they were cleaned several times a day. Staff was very helpful, kind and inviting. They even helped when our car wouldn't start! We will definitely be back!
Aug 11, 2021
Wifi went out after 10pm.. they charged me for 4 bundles of wood.. we only got 3.. picnic table needs to be replaced.. couldn't sit on it without getting a splinter. But staff was very nice.
Aug 10, 2021
A very busy KOA with lots to do a friendly atmosphere and hey only 15 minutes away from the beach..
Aug 09, 2021
Amazing staff, very clean facilities!
Aug 09, 2021
We really enjoyed our time there! We had lots of fun!
Aug 04, 2021
Best campground I have ever stayed at! I'm very impressed with KOA staff and the cleanliness of the shower/bathrooms! I became a member simply because my very 1st stay at KOA campgrounds was AWESOME!!!
Aug 03, 2021
Had a great time. Hard working friendly staff. Very clean.
Sep 18, 2021
Wonderful experience camping here. Nice size lot; very friendly host. A guide led us to our lot. Electric and water hookup; access to clean bathrooms. Lovely family friendly environment; campfires and country music. After 11pm, quiet and dark. Shuttle access to the beach. Convenient location close to the city and the beach but far from the loud noise. Love it!
- Mary Lopatic on Google
Sep 16, 2021
Beautifully maintained, clean stocked restrooms. Friendly staff.
- Robbin May on Google
Sep 07, 2021
Very nice campground. Amenities are well kept. Close to the beach (remember parking in 9th Street garage if you want to drive) or take the bus in.
- Ryan Fatzinger on Google