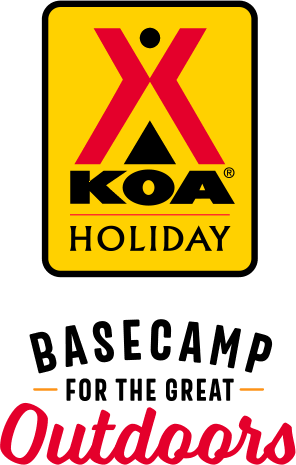 KOA Holiday Campgrounds
Whether you're exploring the local area or hanging out at the campground, KOA Holidays are an ideal place to relax and play. There's plenty to do, with amenities and services to make your stay memorable. Plus, you'll enjoy the outdoor experience with upgraded RV Sites with KOA Patio® and Deluxe Cabins with full baths for camping in comfort. Bring your family, bring your friends, or bring the whole group – there's plenty of ways to stay and explore.
KOA Holidays Feature:
RV Sites with a KOA Patio®
Deluxe Cabins with full baths
Premium Tent Sites
Group meeting facilities
Directions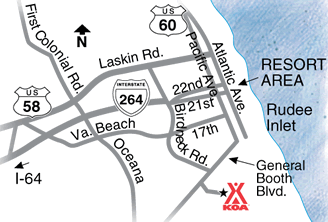 From I-264E, take exit #21A, First Colonial, and turn right. Follow First Colonial; it will become Oceana Blvd. At General Booth Blvd., turn left. Go 0.2 mile and turn in at the KOA sign on your right.
Get Google Directions
Sep 23, 2021
very nice clean facility.. we did not use any of the pools or activities as we had an event in VA Beach. Nice dog park area which is why we do KOA's. Our trailer was not too close to another and we appreciate that. I do wish though that at check in, the staff would ask if we have any points to use. I had free nights and forgot to use them. I wish the staff at all KOA's would ask about the points
Sep 22, 2021
Have stayed at many KOA campgrounds. This is the one that keeps me a member. Beautiful property, great amenities and great staff.
Sep 22, 2021
Staff is amazing! Super nice people. Facility was well kept and clean. Exceeded my expectations. Thanks!
Sep 21, 2021
Third time there in the last 13 months. It's are home away from home!!
Sep 21, 2021
Nice campground with full facilities. Staff was kind and helpful when I needed a mobile tech. Was rather loud during some daylight hours with fighter jets from the NAS across the street practicing touch and goes, but quiet during dark hours. Still a little pricey for services offered.
Sep 21, 2021
Great facility. Lots of amenities. Friendly and helpful staff. Couldn't ask for a better experience.
Sep 21, 2021
Well kept campground and all the staff is very friendly. We stay there at least three to five times a year!!!
Sep 21, 2021
My go to KOA
Sep 21, 2021
There was so many fun family things to do. Corn hole, ping pong etc. And the pool was still open after season. Thank you.
Sep 21, 2021
Nice People, Bellas Personas, Gracias.
Sep 20, 2021
Really loved everything about the resort. Was very impressed.
Sep 20, 2021
Just a quick weekend trip to attend a festival in Va Beach, was great as it always is when we stay there. Easy check-in, friendly people/staff and very accommodating. Easy to navigate the area and set-up in the sites, overall was a great weekend mini-getaway for us.
Sep 20, 2021
Staff is rude.
Sep 20, 2021
Great location, friendly staff, clean campground. There was a persistent sewer smell throughout the Property
Sep 19, 2021
Very nice RV park and well kept.
Sep 18, 2021
Great service! Love the Saturday nite band and the food trucks!!!! LOVE! highly recommend
Sep 18, 2021
Excellent customer service campground nice & Clean & Friendly people Enjoyed my stay We will come back again & yes will recommend family & friends Thank Y'all GOD Bless
Sep 18, 2021
This is the best KOA we have stayed in. The staff are very friendly. The park is clean. Lots of playground space for kids. The sites are pretty large. Premium sites have patio furniture and concrete pads. It's close to the beach. We will definitely be staying here again!
Sep 17, 2021
Insects in the grass- got bit everywhere- dirt on the lot and in the rv couldn't keep it out- pool was dirty- lady in tent was accosting everyone nearby
Sep 16, 2021
Very nice KOA but would like to see better cable selections could find no local channels
Sep 16, 2021
We're full-time, traveling RVers and have stayed at countless KOAs. As we were setting up, we were charged by a KOA staff member's pit bull. They tied the dog to their trailer and left it unattended. It charged us from underneath the trailer and about gave me and my dog a heart attack. Mgmt was not helpful whatsoever and we received not even a simple apology or assurance it would be taken care of.
Sep 16, 2021
Only stayed for one night. No reservations, it was a quick decision as we were headed back home to Myrtle Beach. I know we had koa points to use, but as it turned out we left early, and the office was closed. We had stayed there years ago. So, we weren't able to use them.
Sep 15, 2021
We stayed in the premium sites with a patio and patio furniture. The park is clean and everyone is nice. We had a great weekend with band, food trucks and crafts for the kids.
Sep 15, 2021
Our first time at a KOA. The personal service was so nice; a Guide to our spot who brought our firewood with him; nice level spots; camp site trash pick up; and the showers and bath house were super clean! The only reason it wasn't 5 star was no one mentioned the proximity to the naval air base & the fighter jets noise! I guess I need to do a bit more research. Despite that we'd stay here agai
Sep 14, 2021
It was Wonderful, Peaceful, and a lot of things in the area to do, and not far from the Beach. Customer Service was Great, Ms. Barb was the best, great personality, and fun to be around she made us feel so welcome, She's Very Sweet and we enjoy Camping there.
Sep 14, 2021
Great amenities. Clean campground. Friendly and helpful staff. Sites are small.
Sep 14, 2021
The stay was great place to spend time with family.
Sep 14, 2021
Very friendly and helpful staff.
Sep 13, 2021
We stayed for the member appreciation weekend. It was a good time with food trucks, activities, and a live band. The staff is always kind, helpful, and welcoming.
Sep 13, 2021
Other than the Navy jets flying over us everything was great
Sep 13, 2021
This KOA was very clean and the grounds were very well kept. Lots of amenities and activities for everyone. Only complaint was that the water pressure was a little low.
Sep 13, 2021
Very helpful staff.
Sep 13, 2021
Always a nice place to stay
Sep 13, 2021
Very nice KOA, super clean, and well maintained. Our spot could use a little more gravel to help when it rains (i.e. Mud!). Especially liked the easy access to the bike trail for the great three mile ride to the beach. I will be back.
Sep 13, 2021
Very nice campground - we had a great time - lots of stuff to do, very clean!
Sep 13, 2021
Wonderful time everyone was so nice and staff was awesome!! Love the entertainment and food � �!! Love love love it!!!
Sep 13, 2021
This place was perfect. Reasonably level FHU site. Shady spot. Bike trail access directly across the street and an easy 3 mile ride straight to the boardwalk. Staff were everywhere keeping the place clean and functioning. Office staff very helpful. Food trucks and a band on Saturday in the pocket park were really terrific! I'll be back!
Sep 12, 2021
Excellent campground, so much to do and great games & entertainment throughout the weekend.
Sep 11, 2021
We both were quite satisfied. Thank You
Sep 10, 2021
Check in was super easy and most staff was friendly and helpful.We booked an upgraded patio site which was in a horrible location.Every camper that entered the campground had to drive past our site.Couldn't enjoy the patio in the evening because we kept being blinded by the headlights of all vehicles that drove past the site. Not sure why you would put the most expensive sites on the main road in.
Sep 10, 2021
I camp at Va Beach KOA several times a year and I have never had a bad experience. The staff are amazing and very helpful.
Sep 10, 2021
Stay here for 3 nights on 10 day trip. Very nice campground sites are close. Nice pool and game area for family. They had food truck one night of our stay which was nice break.
Sep 09, 2021
Nice staff, great accommodations and well kept. There are lots of things to keep everyone busy.
Oct 11, 2021
We love it here at KOA, VA beach
- Larry Hicks on Google
Oct 10, 2021
Cooler than I thought. Clean, well run, and lots to do. I was super impressed.
- Lee Palmer on Google
Oct 05, 2021
Pleasant place to relax, only thing was it would of been nice to know that there was a cemetery on the grounds. They should of showed a little more respect by fencing off the area to keep people from walking over the Graves even though there was a nice plaque with the names .it should of been off limits. If I would of known this little detail I would have picked another campground.
- Alex Wolf on Google