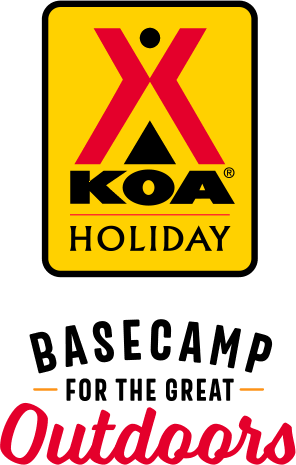 KOA Holiday Campgrounds
Whether you're exploring the local area or hanging out at the campground, KOA Holidays are an ideal place to relax and play. There's plenty to do, with amenities and services to make your stay memorable. Plus, you'll enjoy the outdoor experience with upgraded RV Sites with KOA Patio® and Deluxe Cabins with full baths for camping in comfort. Bring your family, bring your friends, or bring the whole group – there's plenty of ways to stay and explore.
KOA Holidays Feature:
RV Sites with a KOA Patio®
Deluxe Cabins with full baths
Premium Tent Sites
Group meeting facilities
Directions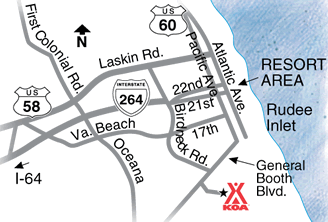 From I-264E, take exit #21A, First Colonial, and turn right. Follow First Colonial; it will become Oceana Blvd. At General Booth Blvd., turn left. Go 0.2 mile and turn in at the KOA sign on your right.
Get Google Directions
Sep 13, 2021
We stayed for the member appreciation weekend. It was a good time with food trucks, activities, and a live band. The staff is always kind, helpful, and welcoming.
Sep 13, 2021
Other than the Navy jets flying over us everything was great
Sep 13, 2021
This KOA was very clean and the grounds were very well kept. Lots of amenities and activities for everyone. Only complaint was that the water pressure was a little low.
Sep 13, 2021
Very helpful staff.
Sep 13, 2021
Always a nice place to stay
Sep 13, 2021
Very nice KOA, super clean, and well maintained. Our spot could use a little more gravel to help when it rains (i.e. Mud!). Especially liked the easy access to the bike trail for the great three mile ride to the beach. I will be back.
Sep 13, 2021
Very nice campground - we had a great time - lots of stuff to do, very clean!
Sep 13, 2021
Wonderful time everyone was so nice and staff was awesome!! Love the entertainment and food � �!! Love love love it!!!
Sep 13, 2021
This place was perfect. Reasonably level FHU site. Shady spot. Bike trail access directly across the street and an easy 3 mile ride straight to the boardwalk. Staff were everywhere keeping the place clean and functioning. Office staff very helpful. Food trucks and a band on Saturday in the pocket park were really terrific! I'll be back!
Sep 12, 2021
Excellent campground, so much to do and great games & entertainment throughout the weekend.
Sep 11, 2021
We both were quite satisfied. Thank You
Sep 10, 2021
Check in was super easy and most staff was friendly and helpful.We booked an upgraded patio site which was in a horrible location.Every camper that entered the campground had to drive past our site.Couldn't enjoy the patio in the evening because we kept being blinded by the headlights of all vehicles that drove past the site. Not sure why you would put the most expensive sites on the main road in.
Sep 10, 2021
I camp at Va Beach KOA several times a year and I have never had a bad experience. The staff are amazing and very helpful.
Sep 10, 2021
Stay here for 3 nights on 10 day trip. Very nice campground sites are close. Nice pool and game area for family. They had food truck one night of our stay which was nice break.
Sep 09, 2021
Nice staff, great accommodations and well kept. There are lots of things to keep everyone busy.
Sep 09, 2021
twodays two nights awesome
Sep 08, 2021
Large campground with plenty of activities. Well maintained. Trolleys that go to beach.
Sep 08, 2021
We had a lovely stay! The park is very well maintained, the spots are roomy, there are activities galore and the staff are the most genuinely nice people we have met. The military planes that fly over head remind us that this is America,the land of the free! We will definitely come again!
Sep 08, 2021
Plenty of stuff to do! Trolly rides to beach were nice as well. Beautiful weather and very clean campground. We will def be back!
Sep 08, 2021
Impressed, good and friendly staff, plenty to do "activities" with in the campground. Clean rest rooms. We were there over Labor day and had a fun time, campers arounds us were all good and friendly. Family wants to go back
Sep 08, 2021
Wonderful people and nice place
Sep 07, 2021
Level spot, clean facilities, friendly staff what more could you ask for.
Sep 07, 2021
Very friendly and attentive employees, very clean Campground. Will go be for sure!!
Sep 07, 2021
Your cable needs an overhaul. It worked about 30% of the entire 3 day weekend. Park is somewhat overpriced & overcrowded. Probably look elsewhere next time.
Sep 07, 2021
Super friendly staff. Great amenities. We loved it. The beach trolley was very convenient. Don't know why we were the first ones I out row and we got the smallest site but other than that it was perfect.
Sep 07, 2021
Everyone had a wonderful weekend at KOA VA Beach. We loved the live entertainment and all of the activities that were offered over Labor day. the icing on the cake were the food trucks! I have never seen Food Trucks at a campground! Ingenious idea. We also loved the convenience and value of the trolley. We used it to go to the beach on Sunday and the kids loved it. Overall cleanliness very good!
Sep 07, 2021
The Labor Day activities included a live band Saturday evening that played through to after 9pm. Sunday morning there was a marathon that also had a live band playing next to the campground with music starting at 7am! So getting a quiet evening or morning around the campfire was not in the cards on this trip.
Sep 07, 2021
This was a great campground with many things to do for both kids and adults. We will be back for sure!
Sep 07, 2021
It was a wonderful week, well almost a week, and we had a great time with family and friends. Staff was great!
Sep 07, 2021
Had a very nice time camping and spending time with friends.
Sep 07, 2021
It was great being at VB KOA again this year.
Sep 07, 2021
The staff were extremely professional and accommodating. The pool was not too crowded, live music was great, and my daughter loved the bouncy floor. Overall great experience and would absolutely recommend to anyone interesting in camping near VA Beach.
Sep 07, 2021
Outstanding enjoyed our stay. Look forward to being at va beach koa in the future
Sep 07, 2021
Nice campground. The area I was in (200's) has trees, grass and a bit of space between sites. Staff was very helpful - my reservation was for a week and I was in the sun. They offered me a spot starting the next day for the remainder of my stay which was in a shadier area. Great customer service !!
Sep 07, 2021
We camped with a tent on a site with electric and water and loved every bit of it. Plenty of bathrooms and showers that you didn't feel as though you had to hike to get to one. Everyone was respectful and having a great time. Staff was so friendly and helpful and the park itself was well kept and provided fun for the whole family.
Sep 07, 2021
This is one of the best campgrounds. So many activities. Shuttle to the beach and area stores was a welcome plus. The staff was the very best. They assisted us with a mechanical problem and a emergency medical situation. They stopped many times to see how things were going. The staff came to sign my grandson's cast and say good by to us and our dogs ( they even took time to remember their names)
Sep 07, 2021
Amazing place! Awesome environment and staff!
Sep 07, 2021
Great staff, clean restrooms, giant pool. One of our favorite KOA s
Sep 06, 2021
Lots of things to do. You need better oversight as I do not need to hear drunks playing cornhole until 2am and screaming. Its bad enough you heard the bean bags hitting the wood every 10 seconds. Also, people had fire outside firepit and loud music
Sep 06, 2021
Thank y'all for working with me to get a camp site on a short notice?
Sep 05, 2021
Good except we lost power for about 5 hours on my last day
Sep 07, 2021
Very nice campground. Amenities are well kept. Close to the beach (remember parking in 9th Street garage if you want to drive) or take the bus in.
- Ryan Fatzinger on Google
Sep 05, 2021
One of the best KOAs I've been to facilities and activities and staff are excellent.
- Kevin Anderson on Google