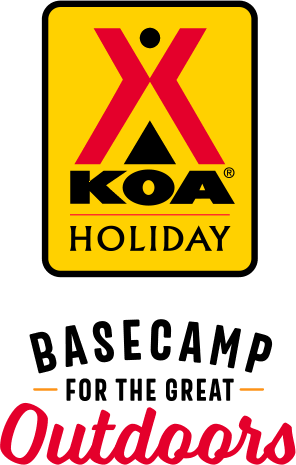 KOA Holiday Campgrounds
Whether you're exploring the local area or hanging out at the campground, KOA Holidays are an ideal place to relax and play. There's plenty to do, with amenities and services to make your stay memorable. Plus, you'll enjoy the outdoor experience with upgraded RV Sites with KOA Patio® and Deluxe Cabins with full baths for camping in comfort. Bring your family, bring your friends, or bring the whole group – there's plenty of ways to stay and explore.
KOA Holidays Feature:
RV Sites with a KOA Patio®
Deluxe Cabins with full baths
Premium Tent Sites
Group meeting facilities
Directions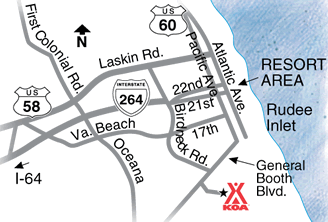 From I-264E, take exit #21A, First Colonial, and turn right. Follow First Colonial; it will become Oceana Blvd. At General Booth Blvd., turn left. Go 0.2 mile and turn in at the KOA sign on your right.
Get Google Directions
Sep 20, 2021
Beautiful, we are so happy to stayed with you guys this weekend, we are going to reserve a couple more weekends before heat gone
Sep 20, 2021
Very welcoming place with nice cabins and nice staff
Sep 18, 2021
Our stay was wonderful! The accommodations were very clean, the patio area of our cabin was so nice. I wish we would have had more time to stay!
Sep 17, 2021
The visit was overall great but the bed was too squeaky and everytime someone turns around it made so much noise and the kids wake up like at 2 in the morning due to it.
Sep 17, 2021
The campground is nice however I was disappointed with the amount of cob webs that were in the bedroom I went to relax but found myself being housekeeping. I to take the broom and clean the cob webs off the walls. The dust on the lamps and ceiling fan was horrible and the air conditioner did not cool as it should. I let the clerk know and she acted as if she did not care. Poor customer service.
Sep 16, 2021
Great restful camping with great friends, enjoyed camping for my first stay in Virginia.
Sep 16, 2021
The deluxe cabin was was wonderful. We loved the pocket park and live band/food trucks.
Sep 15, 2021
We were only there two days but we are already planning to go back for a longer stay. I love the texts letting you know what's going on and everything was clean and everyone super nice and helpful. Can't say enough positive things about them. Truly loved it. Our cabin was awesome as well. Super comfortable and perfect size for our family
Sep 15, 2021
nice facilities. big campground. too noise due to jets flying over the campground until midnight.
Sep 13, 2021
It was a bit too pricey for camping, but it was a nice campground, everything was clean, and kitchen and other supplies were included. I had a good time. Friendly staff.
Sep 13, 2021
Very nice campground, friendly atmosphere the people that work there were great, maybe a little more water pressure at shower would be nice, other than that it was a very nice place to stay.
Sep 13, 2021
I truly enjoyed my stay at your campground. The cabin was just beautiful and very clean. There were activities for all ages. The customer service was excellent. Looking forward to staying at your VA Beach location again in the near future.
Sep 12, 2021
very nice! room clean, but would have liked to have dishes in out cabin.
Sep 11, 2021
Virginia Beach KOA is a very nice place to stay, we really enjoyed it, however, there were few things that became annoyed. First, the grill regulator was faulty and then the bedroom ceiling lights was not working either. Second, the bathroom tub water valve was loose and lastly the kitchen table was against the refrigerator door. The staff was very helpful and we appreciated their service. Md
Sep 11, 2021
Everything was as described. Cabin was clean and comfortable. My wife and I will be back. Thank you so much for an affordable and relaxing alternative to the downtown hotels.
Sep 10, 2021
We have a daughter that lives in Virginia Beach Virginia and we live in NE Alabama. We try to see her at least 2 times per year. We have stayed other places but we like yall best! The only complaint I had with this stay was the floors were not real clean when we arrived.
Sep 10, 2021
very clean friendly and had a great time !
Sep 09, 2021
The people were so friendly and accommodating. We were in a site that got flooded from the rain and they switched us to a dry one. Seriously the best campground for customer service and friendliness. I have been there twice and will be back!
Sep 08, 2021
Me gusto mucho, el personal muy amable ,los baños limpios lo único que no me termino de convencer fue el aire acondicionado no enfrió mucho ,pero en general muy contenta el lugar es bonito
Sep 08, 2021
Very clean campground, nice amenities, wish they had a few more hands on activities for kids like arts n crafts, dodgeball, ballon toss etc other than just the amenities. BUT we still had a great stay
Sep 06, 2021
E lugar es increíble, esta fue nuestra tercera vez. Todo muy limpio y seguro. Si recomendaría es mejorar la condiciones de las camas y de los sofacamas ya que son bien incomodos.
Sep 05, 2021
Booked this because of the waterslides only to find out that not a single slide was available to us throughout our stay. Very disappointing. Cabin was clean though and staff was very polite.
Sep 05, 2021
Everything was amazing!
Sep 04, 2021
We stayed in a cabin. It was very nice and very clean upon our arrival. We swam in the pools and the water was nice and warm. All the KOA workers did a great job and we saw them continuously throughout our stay cleaning grills and sites and getting other cabins getting ready for new guests. Everyone was very friendly. We enjoyed our stay and would return.
Sep 03, 2021
We rented the 6 person cabin and it was clean and perfect for 4 of us.Gas grill is provided and an outside table with chairs and a fire pit.Pool area was nice and camp store well stocked and reasonable!
Sep 01, 2021
Lots of fun things for the kids. Very clean. Exceptional lifeguard on duty Saturday from 10 to 4. Plan to come again real soon. Had a great weekend. Music was great. Location is great and the trolley is really nice to use.
Sep 01, 2021
Nos divertimos en familia!
Sep 01, 2021
Great facilities and friendly staff. Plenty of stuff to do on site with the convenience of nearby beaches and attractions just an easy trolley ride away. Very family friendly and the your neighbors are equally courteous.
Sep 01, 2021
We enjoyed all of the activities and the cabin, will return!
Sep 01, 2021
We had a couple problems the mini fridge didn't work. Gator the maintenance man was outstanding . It was late at night and went and got us a new one . With a smile . Very friendly guy . Appreciate him .
Aug 31, 2021
Thank You for the Amazing stay!! This is my second time coming to KOA Virginia Beach and it won't be my last. The staff is great, extremely polite and very approachable and made our stay rememberable as always. The Deluxe Cabin is the go-to, very cozy and the out door set up is perfect for night time activities. I will definitely be posting some content on my social media!
Aug 31, 2021
Absolutely Fabulous! We had a great cabin. It was nice to have a patio dining set instead of a picnic table. My family was delighted.
Aug 30, 2021
Hello, Our stay was amazing except for the few issues we had once entering the cabin. Our cabin had hair in the bathroom sink. The counters were really dusty in the kitchen and bathroom. The bathroom toilet was also not as clean as it should have been! We arrived two hours early to be told it wasn't ready, it clearly was not cleaned prior to us arriving. Otherwise we enjoyed out weekend stay
Aug 30, 2021
This was our 4th time, first time staying in cabin. It was more equipped than I expected. Had a wonderful stay, lots of activities for all ages. Pools were great, especially with the heat. Location is great. Definitely will be back. Great job to all!
Aug 30, 2021
It was a great stay. Loved the cabin. But u could use new air conditioners. The one in our cabin did not stay cold enough and the door didnt close very well except when it was locked. But other then that it was great.
Aug 30, 2021
The cabin air conditioner sucks really bad hardly cools anything � had to go buy a fan just to be able to stand it. The mattress on bed are more like prison mattress I slept in a camping chair for 3 days. My husband is hurting from it he called off work the day after we got home from it. The park is nice and workers are friendly.
Aug 30, 2021
It was a great stay look forward to coming back soon
Aug 29, 2021
We had an awesome time the cabin was clean and fully stocked we made cookies on the grill one night the staff was very polite professional and helpful and we felt safe enough to let our kids go to the playground alone. Will definitely be back soon Norman Camden
Aug 29, 2021
The Deluxe cabin was exactly what we were looking for for our bachelor party. Tons of amenities on the campground. Great stay. If you're over 6' tall the bunk beds make for a rough nights sleep.
Aug 28, 2021
Very nice campground and all the staff was very helpful and friendly and it's only 10 minutes from the beach! I highly recommend KOA!
Aug 28, 2021
We had a fantastic time! We appreciated the convenience of the trolley and the cleanliness of the cabin.
Aug 28, 2021
We thought we were getting a campground with certain amenities but most were closed despite the website clearly stating they were available. One of the 2 pools was closed (the large one making the small one very crowded) the activities room was closed, there were no bike rentals, the camp store closed at 7pm. The pool slide was just nonexistent. At one point there was no water at all. Awful.
Aug 28, 2021
Todo muy bien pero los baños necesitan más limpieza
Sep 18, 2021
Wonderful experience camping here. Nice size lot; very friendly host. A guide led us to our lot. Electric and water hookup; access to clean bathrooms. Lovely family friendly environment; campfires and country music. After 11pm, quiet and dark. Shuttle access to the beach. Convenient location close to the city and the beach but far from the loud noise. Love it!
- Mary Lopatic on Google
Sep 16, 2021
Beautifully maintained, clean stocked restrooms. Friendly staff.
- Robbin May on Google
Sep 07, 2021
Very nice campground. Amenities are well kept. Close to the beach (remember parking in 9th Street garage if you want to drive) or take the bus in.
- Ryan Fatzinger on Google