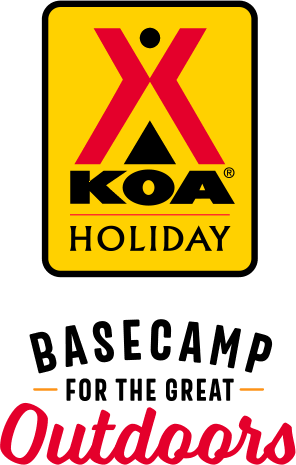 KOA Holiday Campgrounds
Whether you're exploring the local area or hanging out at the campground, KOA Holidays are an ideal place to relax and play. There's plenty to do, with amenities and services to make your stay memorable. Plus, you'll enjoy the outdoor experience with upgraded RV Sites with KOA Patio® and Deluxe Cabins with full baths for camping in comfort. Bring your family, bring your friends, or bring the whole group – there's plenty of ways to stay and explore.
KOA Holidays Feature:
RV Sites with a KOA Patio®
Deluxe Cabins with full baths
Premium Tent Sites
Group meeting facilities
Directions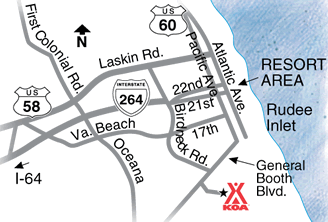 From I-264E, take exit #21A, First Colonial, and turn right. Follow First Colonial; it will become Oceana Blvd. At General Booth Blvd., turn left. Go 0.2 mile and turn in at the KOA sign on your right.
Get Google Directions
Aug 03, 2021
Lovely place to stay . Super clean and stuff very professional . My kids really enjoyed the lawn activities. Hope to return soon�
Aug 02, 2021
Great facility with plenty of activities. Staff is super friendly and helpful.
Aug 02, 2021
Had a few issues like fridge went out and microwave went out but we're tanking care of ASAP great customer service and friendly staff
Aug 02, 2021
We absolutely loved all that was available for the kids to do and the staff were all super nice. We didn't use the shuttle service but that is great that it is available to those who do want to use it! Location is also fantastic. Just a quick 10 minute drive to the beach and only 5 minutes from the aquarium. We will be back
Aug 01, 2021
Cabin was nice and the nice. Would have been to have silverware
Aug 01, 2021
The staff was great, super friendly and helpful! The cabin was nice, the AC has been leaking for a while and it was evident that the flooring was rotten beneath the vinyl flooring. The wifi didn't work well at all, even after calling to try to get it fixed. However, these are the only complaints we have on our overall great experience!
Aug 01, 2021
Overall, our stay was fantastic! Staff is super friendly, store was very accommodating - loved that they brought ice and firewood to cabins/campers if ordered. The KOA campgrounds had lots of things for the little ones to do, and salt water pools were amazing! Critiques: Internet was pretty sub-par. Called IT number for help but no access still - we didn't have wifi for the week. Will visit agai
Jul 31, 2021
I stayed for four four nights with my grandchildren and wood was stolen from camp site and an employee was talking badly about me over his walkie and making rude comments. Very disappointed
Jul 30, 2021
Deluxe cabin was great for our young family. The kids had a blast, and the campground is close to plenty of attractions in the area.
Jul 28, 2021
Very welcoming and clean! Absolutely we'll be back. Our kids had a blast as well. Lots to do and very kid/pet friendly.
Jul 28, 2021
The stay and campground are awesome my only complaint is the terrible WIFI.
Jul 27, 2021
The campground was nice though the sites were very close together. I paid for a cabin in the woods with A/C and also paid a pet fee to bring my dog with us. The first day, I got several calls from the office because my dog barked inside the cabin, during the day. I booked a cabin for the sole purpose of A/C for the dog. The complainer should have been told you are a "pet friendly" campground!
Jul 27, 2021
Perfect stay! We were in a deluxe cabin and it was awesome! We were in town for a softball tournament, and enjoyed being able to cook on the grill, and not being crammed in a hotel!! The staff were amazing!!
Jul 27, 2021
It was ok, but having trees cut down early in the morning when trying to sleep is not the best. In addition some of the amenities like the slide are only available on the weekend which is not great for ppl who are staying during the week.
Jul 26, 2021
We had a beautiful cabin and the staff working here was the best
Jul 26, 2021
Clean cabin. Friendly staff
Jul 26, 2021
As always, no matter the location - KOA standards are top notch. From amenities, to services and staff, KOA makes your camping experience one to remember
Jul 26, 2021
Amazing so much for the kids to do ! & it was so clean , I have never been to a campground with such a clean bathroom ! So close to beach access .
Jul 26, 2021
It was fabulous. Perfect location. Lyn was very helpful with all of our questions and fun to talk to. I did bring my own bike and asked the brown haired woman at the bike rental about a few trails. Her tone was a bit negative as she told me that the beach was very far..like at least 5 miles away. Tone plays a huge factor into your words.
Jul 24, 2021
Un lugar acogedor, limpio.
Jul 24, 2021
We had a great time at the KOA! The ladies in the shop were very friendly and helpful! The amenities at the campground kept our kids entertained and the trolley to the beach was awesome. We will absolutely come back!
Jul 22, 2021
Awesome as always
Jul 21, 2021
Everything was fantastic except the pool had some yuckiness.
Jul 21, 2021
Amazing vacation with tons of activities for kids, will be coming back again.
Jul 20, 2021
Stayed in a loft. The loft was hot. 3 kids slept on pull out bed. Kinda disappointed.
Jul 20, 2021
Staff was EXCELLENT! Polite, helpful, cheerful. Lifeguards were AMAZING!! (ESP Michelle) Grounds were clean and well kept. Cabin was adorable. Pool was clean & tables/chairs as well. Store had good variety snacks/drinks/keepsakes/camping supplies. All the games & entertainment were great!!! No complaints at all! Uncle Dave's kettle corn was a yummy vendor one night!
Jul 20, 2021
Beautiful campground, clean bathrooms, many activities and friendly staff!
Jul 20, 2021
I understand that the # of people staying at the park was alot. It would be beneficial to have add'l bathroom cleanings in a day. Sometimes it was gross. We stayed in Cabin 604. There was a horrible leak that came through the wall outlet. Texted and they sent someone out quickly to let us know its ok to still plug things in but the leak was still a lot through the multiple rainstorms.
Jul 19, 2021
The employees were friendly, the store and activities were well maintained. The bathrooms could have been cleaner and there are only 2 stalls in the women's room. We stayed in a 4 person cabin but I would not stay in that again. The bed was horrible and they hung lights at the back of the bed so you couldn't sit up in bed.
Jul 18, 2021
Overall an excellent experience. One thing that can be improved though is thicker mattresses in the camping cabins. Ours was very uncomfortable and multiple neighbors we had during our stay brought the mattresses up in conversation without any prompting.
Jul 18, 2021
The staff was very helpful and friendly, the cabin we stayed in was clean and comfortable and the service was great. We will be returning to the VA KOA Campground on our next vacation.
Jul 17, 2021
We enjoyed a deluxe cabin-Wonderful way to spend some quality time with your teenagers! Beach, campfires, Go-carts, Mini golf, shopping, pool, bike rentals, and great restaurants. Next time we will reserve time to zip line too. Second time at this location and will definitely be back!
Jul 17, 2021
GM and his wife were so great- my family and i had the best stay- enjoyed the pool and the zip line and the food trucks! Would love to see a splash pad added! Highly recommend this KOA!
Jul 17, 2021
Amazing campground! Beautiful property!
Jul 17, 2021
Our stay was wonderful, as usual ! The staff went above and beyond to help us with any needs during the stay. Just a couple of things to note- floors could be a bit more clean in the loft area of handi capped camp, the area between the frig and the counter could be checked as part of the normal routine for cleaning, and the mattress on the couch bed may need to be replaced. Trip was great.
Jul 15, 2021
We've been going to KOA for years now....this place is perfectly placed not even 10 minutes from ALL main attractions...absolutely recommend...sweet woman checked us in!!! An absolute must visit!!!
Jul 14, 2021
Staff very helpful
Jul 13, 2021
It was a nice park but there was a night where the police showed up to a site near us and another night where people at an RV site were in a loud shouting match. The front desk staff didn't know about local attractions. We asked for activities for us and our young kids. They suggested going to Jamestown about an hour away. We ended up finding out about Hunt Club Farm, 10 min away & it was great!
Oct 18, 2021
Great camping experience
- thomas honor on Google
Oct 16, 2021
Love it here!
- Eric Schmidt on Google
Oct 14, 2021
We really enjoyed our overnight stay here. The campground is clean and there's tons of friendly staff running around all day doing stuff. Definitely going back.
- Gerald Hines on Google