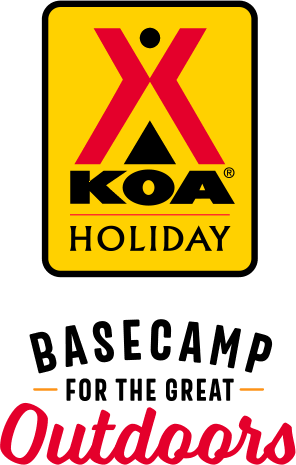 KOA Holiday Campgrounds
Whether you're exploring the local area or hanging out at the campground, KOA Holidays are an ideal place to relax and play. There's plenty to do, with amenities and services to make your stay memorable. Plus, you'll enjoy the outdoor experience with upgraded RV Sites with KOA Patio® and Deluxe Cabins with full baths for camping in comfort. Bring your family, bring your friends, or bring the whole group – there's plenty of ways to stay and explore.
KOA Holidays Feature:
RV Sites with a KOA Patio®
Deluxe Cabins with full baths
Premium Tent Sites
Group meeting facilities
Directions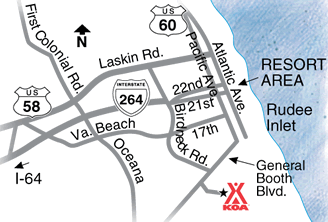 From I-264E, take exit #21A, First Colonial, and turn right. Follow First Colonial; it will become Oceana Blvd. At General Booth Blvd., turn left. Go 0.2 mile and turn in at the KOA sign on your right.
Get Google Directions
Oct 16, 2021
Very pleased with the cleanliness and overall campground, as well as friendliness of the staff
Oct 14, 2021
Friendly staff, excellent location.
Oct 10, 2021
Campsites are way to close together in the wooded cabins. Bathrooms are nasty and doors don't lock.
Oct 09, 2021
We had a deluxe cabin site 722. Everything you needed was there. Clean and well maintained. My only complaint was we wanted to extend our stay and they couldn't accommodate us.
Oct 08, 2021
Very comfortable, well maintained restrooms and friendly staff
Oct 08, 2021
Our stay was nice. Friendly staff and nice amenities. Our deluxe cabin appeared aesthetically clean but there was a used toothbrush in the fold out couch when we took it down. When my girls went to use the linens left on their beds, there were notes from previous campers folded up inside them.
Oct 07, 2021
This was our first time at a KOA and we love it!! Now that we have a little boy, we were hoping for a family friendly experience. Once I found out about the Fall Festival, I was that much more excited. Our son loved the glow party and petting zoo! My husband and I even had fun too. Keith and his team did such a stellar job. Keith was a pleasure to visit with and had such a warm, positive energy!
Oct 07, 2021
One of the cleanest campgrounds I have ever stayed in. The staff goes above and beyond to ensure the facilities are being maintained and that everyone is having an enjoyable experience. The amenities were great and the activities planned exceeded our expectations. I look forward to returning to this campground soon!
Oct 07, 2021
Very nice campground. Stayed in one of the small cabins for one night. It was set back in the wooded area and nice. The bathroom/showers were close. The only downside was the cleanliness of the bathroom/showers, it would have been nice if they were clean or at least checked to insure more cleanliness.
Oct 06, 2021
Very clean, well equipped, roomy cabin. We had 3 adults and 2 children. The grounds are nice with lots for the family to do. What a relaxing stay!
Oct 05, 2021
Stayed two nights in a cabin. Very comfy. Wasn't there much for the amenities, but they were numerous. Would definitely stay here again
Oct 04, 2021
Very clean and kid friendly!
Oct 03, 2021
On two occasions there was no hot water in the shower. Other than that it was every thing and more than I expected.
Sep 29, 2021
We chose not to have a kitchen this stay because we were visiting friends. We will definitely choose an Airbnb for future trips. Our cabin was crazy expensive for what we got. If one of us wanted to walk passed the other, one of us had to sit on the bed to allow the other to walk by. If it wasn't so expensive I wouldn't have minded. I'm glad you now allow dogs in the cabin.
Sep 29, 2021
We stayed for a long weekend. The cabin we occupied was filled with everything we needed to make our stay comfortable. Really cute private patio area with a grill in the rear of the unit. Guest services were customer-friendly and very accomodating. Communication of activities throughout the weekend was great!
Sep 28, 2021
It was a nice relaxing time for my wife and I, we were actually checking it out for future stays with our gang of kids and grandkids, we will be booking provably 3 luxury cabins in the near future. They are really comfortable and very well kept.
Sep 28, 2021
Great weekend, grandchildren had a blast
Sep 28, 2021
Fabulous stay. Bless.
Sep 27, 2021
I think the charge was way too high for the cabin. Advertised as a deluxe cabin. There were only two windows with screens. There was no outside light where the grill was There were no plates, cups, silverware or utensils. Even though other places at the same location had them Not even a little plastic cups like you get in a hotel I really think you just raised the price for that wee
Sep 27, 2021
Thanks for the pool!!
Sep 24, 2021
the staff was fine. coffee pot in cabin did not work, only gave half cup. they replaced it with one that did not work at all. when we were trying to enjoy morning coffee with our friends a worker fired up the loudest leaf blower Iv'e ever heard and started blowing leaves around an empty cabin right in front of us. use a little common sense. The placed was clean.
Sep 23, 2021
Very relaxing and nice Cabin!! Great Weekend with Family.
Sep 21, 2021
Cabin was clean, had everything you needed, very nice. Outside was amazing as well, nice outside furniture, grill. Would definitely recommend this place, want to come back with our camper next time!
Sep 21, 2021
By far one of the better campgrounds we have stayed at and we are LOCAL! There are so many amenities; cornhole, rocking chairs, hammocks, ziplines, Trollies to the oceanfront (boardwalk), bath houses everywhere, clean grounds, friendly staff!! We will definitely be back!
Sep 20, 2021
Beautiful, we are so happy to stayed with you guys this weekend, we are going to reserve a couple more weekends before heat gone
Sep 20, 2021
Very welcoming place with nice cabins and nice staff
Sep 18, 2021
Our stay was wonderful! The accommodations were very clean, the patio area of our cabin was so nice. I wish we would have had more time to stay!
Sep 17, 2021
The visit was overall great but the bed was too squeaky and everytime someone turns around it made so much noise and the kids wake up like at 2 in the morning due to it.
Sep 17, 2021
The campground is nice however I was disappointed with the amount of cob webs that were in the bedroom I went to relax but found myself being housekeeping. I to take the broom and clean the cob webs off the walls. The dust on the lamps and ceiling fan was horrible and the air conditioner did not cool as it should. I let the clerk know and she acted as if she did not care. Poor customer service.
Sep 16, 2021
Great restful camping with great friends, enjoyed camping for my first stay in Virginia.
Sep 16, 2021
The deluxe cabin was was wonderful. We loved the pocket park and live band/food trucks.
Sep 15, 2021
We were only there two days but we are already planning to go back for a longer stay. I love the texts letting you know what's going on and everything was clean and everyone super nice and helpful. Can't say enough positive things about them. Truly loved it. Our cabin was awesome as well. Super comfortable and perfect size for our family
Sep 15, 2021
nice facilities. big campground. too noise due to jets flying over the campground until midnight.
Sep 13, 2021
It was a bit too pricey for camping, but it was a nice campground, everything was clean, and kitchen and other supplies were included. I had a good time. Friendly staff.
Sep 13, 2021
Very nice campground, friendly atmosphere the people that work there were great, maybe a little more water pressure at shower would be nice, other than that it was a very nice place to stay.
Sep 13, 2021
I truly enjoyed my stay at your campground. The cabin was just beautiful and very clean. There were activities for all ages. The customer service was excellent. Looking forward to staying at your VA Beach location again in the near future.
Sep 12, 2021
very nice! room clean, but would have liked to have dishes in out cabin.
Sep 11, 2021
Virginia Beach KOA is a very nice place to stay, we really enjoyed it, however, there were few things that became annoyed. First, the grill regulator was faulty and then the bedroom ceiling lights was not working either. Second, the bathroom tub water valve was loose and lastly the kitchen table was against the refrigerator door. The staff was very helpful and we appreciated their service. Md
Sep 11, 2021
Everything was as described. Cabin was clean and comfortable. My wife and I will be back. Thank you so much for an affordable and relaxing alternative to the downtown hotels.
Sep 10, 2021
We have a daughter that lives in Virginia Beach Virginia and we live in NE Alabama. We try to see her at least 2 times per year. We have stayed other places but we like yall best! The only complaint I had with this stay was the floors were not real clean when we arrived.
Oct 11, 2021
We love it here at KOA, VA beach
- Larry Hicks on Google
Oct 10, 2021
Cooler than I thought. Clean, well run, and lots to do. I was super impressed.
- Lee Palmer on Google
Oct 05, 2021
Pleasant place to relax, only thing was it would of been nice to know that there was a cemetery on the grounds. They should of showed a little more respect by fencing off the area to keep people from walking over the Graves even though there was a nice plaque with the names .it should of been off limits. If I would of known this little detail I would have picked another campground.
- Alex Wolf on Google