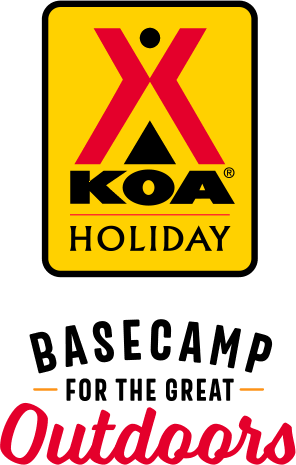 KOA Holiday Campgrounds
Whether you're exploring the local area or hanging out at the campground, KOA Holidays are an ideal place to relax and play. There's plenty to do, with amenities and services to make your stay memorable. Plus, you'll enjoy the outdoor experience with upgraded RV Sites with KOA Patio® and Deluxe Cabins with full baths for camping in comfort. Bring your family, bring your friends, or bring the whole group – there's plenty of ways to stay and explore.
KOA Holidays Feature:
RV Sites with a KOA Patio®
Deluxe Cabins with full baths
Premium Tent Sites
Group meeting facilities
Directions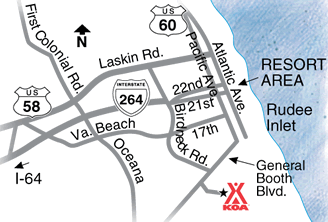 From I-264E, take exit #21A, First Colonial, and turn right. Follow First Colonial; it will become Oceana Blvd. At General Booth Blvd., turn left. Go 0.2 mile and turn in at the KOA sign on your right.
Get Google Directions
Aug 21, 2021
Great facilities and staff - far better than we expected. Minor problems with lack of hot water and burned out lights - had we stayed one more night I'm sure these would have been fixed
Aug 20, 2021
Campground is clean and well taken care of. Patio sites are nice, but could be just a little longer. WiFi is almost useless, but that's what you find at most campgrounds. One thing we didn't like was watching very young children driving golf carts unsupervised. My wife stopped a camp attendant and asked if they had a rule about that. He just shrugged his shoulders and said 'oh well. ? Can u
Aug 20, 2021
Excellent place to camp. We had the cabin and they were great. Nice having a deck and patio with plenty of shade. This was our 2nd time here and enjoyed it. Plenty to do for kids and adults and close to the beach. Will be back!
Aug 20, 2021
Very helpful staff - as new RVers, we were happy to see the staff in the yellow golfcarts stop by to see if we needed any help - nice facilities - close to everything.
Aug 20, 2021
We stayed 3 nights. Our 4th visit there. Park is clean and very well organized with plenty for the kids to do!
Aug 20, 2021
Our stay was great and all staff were friendly and very helpful!
Aug 20, 2021
We had a wonderful stay at this campground! Everything is clean and well-maintained. Our 6 person Deluxe Cabin was modern, roomy, and stocked with all the necessities to make our stay comfortable. The shuttle service to the beach was convenient and an extra bonus to the campground. We would definitely stay here again!
Aug 20, 2021
Great location for those visiting family in the tidewater area or for those looking to enjoy water-sports and boardwalk fun at the beach.
Aug 20, 2021
Very nice. Friendly staff and clean facilities.
Aug 20, 2021
Everyone enjoyed. Bathrooms very nice. This KOA charges an additional $6 per child over age 6 which can add up, so probably will select one that doesn't charge as they all offer pretty much the same amenities for kids. I have the rewards card which offers 10 percent off your stay, but only 1 site, I had a tent site and cabin, so not 10 percent off my stay, not sure if all KOAs have same policy.
Aug 19, 2021
Loved Virginia Beach KOA! Great RV resort and nice people. Great facilities and amenities, lots to do. Tons for kids, especially the giant water slide, it was cool. Made me wish I was a kid.
Aug 19, 2021
We liked the store, the playground, the pool and the staff was very friendly. BUT the bathrooms were old and filthy. Also,after it rained, the area surrounding our picnic area was nothing but a huge, sinking sand/mud puddle. We were told it would dry up quickly. When it didn't, they did find a better spot for us. We will stay at a different campground next visit. We expected more from a KOA.
Aug 19, 2021
The staff are friendly and helpful but the activities were limited The slide was only open for an hour once or twice a day No kids crafting or games scheduled with staff leading. They only had outdoor games that you need other people to play with so an only child would be board One pool closed due to no lifeguard. Hire somebody please. It would help with social distancing. No issues with internet
Aug 19, 2021
We had a great time. The site we had was very nice and close to a bath house and the camp store. We were pleasantly Surprised at the variety of activities and toys that were available to us. All of the camp employees very nice and extremely helpful. The only negative comment we have concerns the lack of water pressure. We needed to remove our water filter to get more than a trickle.
Aug 19, 2021
This is a great campground. We thoroughly enjoyed the amenities. Staff was friendly and helpful. Well kept common areas. One, thing i would suggest is a cleanup of the actual sites when manpower improves. Otherwise, we liked it. Will be returning at some point.
Aug 19, 2021
Great campground. We've stayed here multiple times and it's one of our favorites.
Aug 19, 2021
Great time nice helpful staff
Aug 19, 2021
Just a 2 night stay to pick up our grandchildren, wish it was longer! Had a great time tons to do and the staff were the friendliest we've ever encountered.
Aug 19, 2021
Great location and friendly staff.
Aug 19, 2021
VA BEACH KOA HOLIDAY WAS VERY FRIENDLY, CLEAN AND FULL OF THINGS TO DO ALL DAY LONG. THE STAFF WAS EXCEPTIONAL; ALWAYS SMILING AND HELPFUL WITH ANY INQUIRY KR REQUEST. OUR CABIN WAS NICE AND CLEAN AND FULL IF EVERYTHING WE NEEDED.
Aug 19, 2021
The employees are super friendly and extremely helpful. I really enjoyed the amenities that the campground offered. One thing that I didn't enjoy was that it's not very close to the actual beach. There is a shuttle which is nice but it's not super convenient for a large family and everything you'd need to spend the day at the beach.
Aug 18, 2021
Luckily, my spot was dry during all the rain we had. However, the spaces around me were pretty flooded. The internet was pretty bad as I had to purchase a separate plan from AT&T so I could have reliable internet. Also, I was sure to keep my area tidy......a lot of spaces around me were looking pretty junky.
Aug 18, 2021
This is a very large campground. There are plenty of amenities for all ages to take advantage of. The staff is very helpful and friendly. The sites are fairly close together and the average site does not have a lot of space between sites. We had shade, which was very nice. Sadly, we only stayed one night and rain came in early and we did not get a chance to walk around as much as we wanted.
Aug 18, 2021
This KOA has beautiful pools, nice store, rentals, etc.) Friendly staff. Clean park. However, many have sites have no stones/grass along camper. We came to the KOA after a rainstorm and our site & site of people aside of us was surrounded b MUD. Many roads have deep holes, need stones.. Not enough showers. We did get to move to a new site after complaining about the mud. We would stay again.
Aug 18, 2021
Nice clean facilities and grounds. Nice pools and plenty activities set up for kids and adults.
Aug 18, 2021
Very clean, quiet surroundings. Beautiful pool, and facilities in general were great. LOVED the shuttle to and from the boardwalk. It was extremely convenient. Definitely would stay again.
Aug 17, 2021
Already recommended this place to my Facebook RV groups. Outstanding place to stay. Excellent customer service and great clean grounds.
Aug 17, 2021
Very nice park, staff was great, tons of stuff for kids
Aug 17, 2021
The front desk was not super friendly nor was most of the cleaning crew. We stayed one night as there was a really bad storm so we had to check out early. Went to the front desk for a second time and they were like why did you come up I said to make sure we didn't need to check out with you he said no bye.
Aug 17, 2021
had a great time
Aug 17, 2021
First time staying with you. Will definitely come back!!!!. Park was clean & orderly. Neighbors friendly. Staff VERY courteous & friendly. Thank you so much!!! Keith & Kim Holt. Roanoke, VA
Aug 17, 2021
Staff was extremely nice,bathrooms and showers clean. Will definitely go there again.
Aug 17, 2021
Our stay at the Va Beach Holiday KOA. Was what I was hoping for. My expectations for a fun and pleasant camping experience for my grandchildren to build happy memories on was exactly what I was hoping for. Thank you KOA for making camping a great experience for us. The grounds, facilities, pools and cabins were clean and there was plenty of activities to do.
Aug 17, 2021
Super clean facilities, Awesome pool, endless activities for the whole family to enjoy. Close to fun activities and attractions.
Aug 17, 2021
The most sweetest and supportive staff of any place I've stayed! We felt safe, wanted and comfortable the whole time and cannot wait to go back this fall!! Definitely worth the 5 hour drive!
Aug 16, 2021
We enjoy vacationing at the KOA in Virginia Beach because it's kept clean.
Aug 16, 2021
The staff in the store/registration were very friendly & helpful. We like how easy it was to register and buy trolley tickets. The guys on the golf carts picked up trash promptly. Very clean campground! Love that there was a trolley stop at the campground!
Aug 16, 2021
We had a wonderful time. My son and family stayed in 8 person cabin. They were all comfortable while as always our campsite was as nice. the amenities keep the grandchildren busy during those transition of events for the day. Staff was outstanding and friendly.
Aug 16, 2021
Big campground, lots of activities for the whole family. Only downfall is some sites are tight while others are decent size. Staff was polite and the campground is quite after dark for the most part.
Aug 16, 2021
Everything great except the cable service. I complained and they immediately fixed it but then it went right back out. All other services very good. Site 215.
Aug 16, 2021
Very professional and friendly staff. Super cleaned and spacious campground, we loved the amenities and its daily activities. The transportation to the beach is a great and convenient service, the beach is just a few minutes from the campground. My family and I enjoyed our stay.
Sep 07, 2021
Very nice campground. Amenities are well kept. Close to the beach (remember parking in 9th Street garage if you want to drive) or take the bus in.
- Ryan Fatzinger on Google
Sep 05, 2021
One of the best KOAs I've been to facilities and activities and staff are excellent.
- Kevin Anderson on Google