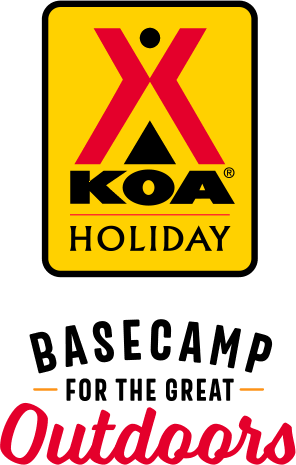 KOA Holiday Campgrounds
Whether you're exploring the local area or hanging out at the campground, KOA Holidays are an ideal place to relax and play. There's plenty to do, with amenities and services to make your stay memorable. Plus, you'll enjoy the outdoor experience with upgraded RV Sites with KOA Patio® and Deluxe Cabins with full baths for camping in comfort. Bring your family, bring your friends, or bring the whole group – there's plenty of ways to stay and explore.
KOA Holidays Feature:
RV Sites with a KOA Patio®
Deluxe Cabins with full baths
Premium Tent Sites
Group meeting facilities
Directions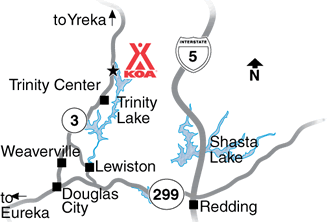 From I-5 South, (if in a car or under 25 ft.) take Hwy 3 Exit in Yreka and drive 70 miles south to Trinity Center. If over 25 ft, we recommend continuing south to Redding, turn west of 299 West, drive 40 miles west to Weaverville, then take Hwy 3 north 30 miles to Trinity Center.
From I-5 North, take Hwy 299 West Exit to Redding, turn west on 299 West, drive 40 miles west to Weaverville, then take Hwy 3 north 30 miles to Trinity Center.
This business operates under a special permit on land under the jurisdiction of the Forest Service.
Get Google Directions
Jun 05, 2018
Great place, very clean friendly,family atmosphere. Amazing little burger place next door! We'll be back!
May 30, 2018
I was not told that there would be extra charge for 4 of the 6 people being adults. We were not refunded our kayak rental, which was canceled due to wind.
CAMPGROUND RESPONSE / COMMENTS:
We apologize you were not informed that our site rate is based on 2 person occupancy. Charles did refund the kayak rentals to your card Sunday afternoon, it usually takes a few days to show up in your account
Oct 02, 2017
So great having a full lake this year. Wendy is friendly, outgoing! She was very helpful to us.
Sep 19, 2017
We have been staying in this camp ground for over 40 years, its our happy place .I gave it a 3 for this year as the sewer lines are in bad need of some work. we had the smell of sewage for most of the season.The crew did what they could, but it is more then they can handle. I'm sure Wendy has let the powers above know of this problem. Thanks for your time and we will see you next year. Russ
Sep 11, 2017
We have been staying there for 17 years now and we love the lake and fishing. Grand children love your pool and play ground. Wendy and her ten were great this year
Sep 06, 2017
The bathrooms were very dirty, and not restocked very often. There were no garbage cans to remove trash to make sure critters stayed out of campsite. Reception was dishonest about how much smoke was in the air when we called to inquire about air quality due to fires.
Sep 06, 2017
Great place to bring the whole family,Really nice people working there, helpful. Plenty of activities.
Sep 06, 2017
My family love it. My wife doesn't like camping but this camping trip she loves it!
Aug 24, 2017
Beautiful campground. Great facilities and lovely hosts. I wish we could have stayed longer!
Aug 23, 2017
Enjoyed our stay. It was nice to have a place to ride our bikes and fun to see the kids enjoying the bikes for rent and the pool. Thanks for letting us check in after hours!
Aug 23, 2017
security never patrolled the camp at night and at one in the morning i found three guys in my camp, I dont know what they were doing there but they jumped out onto the road and walked away. There is no cell phone service here so I couldnt call the police, so I packed up and left. What a waste of my time and money. They need to get it together here and patrol the camp.
Aug 22, 2017
Staff was extremely kind and helpful. Had a great time.
Aug 21, 2017
Everything was great.
Aug 17, 2017
friendly helpful staff. Bathhouses need some upgrades.
Aug 13, 2017
nice grounds special if you have a boat thank you F Bernal
Aug 08, 2017
Fun time, lots more skunks this year. Wish there was some produce in the store.The new base rock made it a bit difficult to ride a bike. Patching pot holes would have been a better solution. Still would not go anywhere else. Love Trinity KOA
Aug 08, 2017
Great place to spent vacation, very friendly staff Will come back next year if lake is usable
Aug 08, 2017
Campsites we're clean, bathrooms we're discussting, toilet overflowed one evening running out of the bathroom onto the dirt, no one shut it down or hosed out the bathroom floor, toilet paper was flowing everywhere out side, for the 5 days we were there, Never were the bathrooms clean morning noon or night.
Aug 08, 2017
great fix of things to do. friendly helpful staff.
Aug 07, 2017
We really enjoyed our stay. One concern is that the KOA policy of allowing very long term site reservations leads to less feeling of camping and more living in established residences. Some folks can be prickly about sharing "their space".
Aug 07, 2017
We had a great time at the KOA & are already planning another trip! It's a great family environment and extremely well kept! I highly recommend this campground!
Aug 06, 2017
This campground has potential to be an awesome family campground. The cleanliness of the campground this year was seriously lacking. In particular with the bathrooms and regular trash pickup around the sites. Also no activities were offered throughout the week which was a dissappointment. Hopefully they will turn themselves around to become a clean family friendly campground again!
Aug 01, 2017
Great place to camp providing the lake has water.
Aug 01, 2017
Need to update the bathrooms Need more activities for the kids
Jul 31, 2017
need to upgrade restroom facilities
Jul 31, 2017
Love it there !! The only thing that could be better is the cleanliness of the restrooms !!
Jul 31, 2017
We come to Trinity Lake KOA About once a year. We love, love love it up there. Can't wait to go back. Thank you. However I must say we do miss the Shinners being a part of the KOA They did so many kid activities. They are greatly missed.
Nov 10, 2020
It was a great vacation at the Trinity Lake KOA Holiday (7-10 September). There were almost no visitors at this time. We lived in two tents in Forest Loop 2 #158. Available for use (within walking distance (2 minutes)): - restroom, - shower - dishwashing station - laundry There was a drinking water tap next to our tent. At the entrance you can find many additional free entertainment for every taste (see attached photos). There was a small shop at the reception (you can buy firewood, fishing rods and other useful things for camping). Unfortunately at this time it was the end of the season and we were not able to rent kayaking. I recommend going to the lake, just put on high shoes and pants (a lot of dry and tall grass). I would like to mention that the staff have always been friendly and helpful. P.s. Pet friendly Thank you very much, we will come again soon!
- Ekaterina Terekhova on Google
Sep 11, 2020
Best place ever
- Alma R on Google
Sep 05, 2020
This is a great place to come with family. They have a lot to do and it is very clean. We were there for the Labor Day weekend. Unfortunately, when we showed up the smoke from all the fires all over California had shifted to Lake Trinity. My son has very bad allergies and was having trouble breathing so we had to cut our trip short. We went to the front desk to explain and they were so kind and helpful and even refunded the days we were not going to be there for. The staff here is more kind then any other place we have camped at. I would definitely recommend this place and we will be coming back for sure!
- Monika Sierra on Google