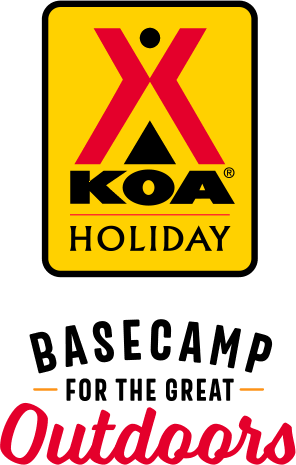 KOA Holiday Campgrounds
Whether you're exploring the local area or hanging out at the campground, KOA Holidays are an ideal place to relax and play. There's plenty to do, with amenities and services to make your stay memorable. Plus, you'll enjoy the outdoor experience with upgraded RV Sites with KOA Patio® and Deluxe Cabins with full baths for camping in comfort. Bring your family, bring your friends, or bring the whole group – there's plenty of ways to stay and explore.
KOA Holidays Feature:
RV Sites with a KOA Patio®
Deluxe Cabins with full baths
Premium Tent Sites
Group meeting facilities
Directions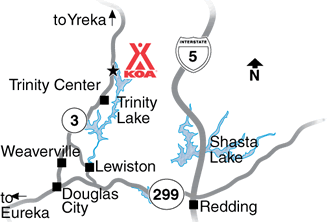 From I-5 South, (if in a car or under 25 ft.) take Hwy 3 Exit in Yreka and drive 70 miles south to Trinity Center. If over 25 ft, we recommend continuing south to Redding, turn west of 299 West, drive 40 miles west to Weaverville, then take Hwy 3 north 30 miles to Trinity Center.
From I-5 North, take Hwy 299 West Exit to Redding, turn west on 299 West, drive 40 miles west to Weaverville, then take Hwy 3 north 30 miles to Trinity Center.
This business operates under a special permit on land under the jurisdiction of the Forest Service.
Get Google Directions
Jun 19, 2021
We purchased a patio (Premium) site #3 which as right at the end of the busiest areas for cars, ATVs, dirt bikes and the pool. In the beginning dogs were loose running around and one wet Lab stuck half of his body in our dogs great. But most of all, paying premium I expected to get a clean spot. The BBQ was filthy even inside by the tank. The grills were dirty. Horrible place.
Jun 19, 2021
Fast and easy reservation, friendly staff. We got a great spot.
Jun 18, 2021
Too many quads ,motorcycles and golf carts being driven around by kids that are not of age some maybe 6 or 7 yrs old . At one time a quad with three young girls on it and the driver on her cell phone. How can that be safe for others walking around. I see liability problems for your facility in the future just so you know
Jun 18, 2021
We enjoyed being close enough to other campers so we felt safe but far enough where we had some privacy. The staff were really nice and the grounds were well kept.
Jun 17, 2021
Beautiful campground with roomy campsites (we had an rv site) Very clean facilities, great pet area. Loved the pool too. We had a nice and relaxing stay. Keep up the good work!
Jun 14, 2021
It was awesome. Very clean and everyone was so friendly .
Jun 14, 2021
This was our second year and we love it... Unfortunately due to California's on-going drought, Trinity lake was very inaccessible and a bummer for all, but it wasn't hot the week we stayed so we did not rely on the lake to endure the heat... More like jackets and sweater, lol Still, what a beautiful place...!!!
Jun 14, 2021
Stayed 4 days in a "Delux Cabin" but 3 days no hot water and water shut off twice while there for broken main somewhere.
Jun 14, 2021
Great staff. Got on problems immediately. There is a burger stand on site. It's run by a private party, but is closed unfortunately. The train storage behind burger stand needs a lock on door. Kids wanted to play in there. The pool was nice and we'll maintained, but the bottom needs fixed... A little rough.
Jun 14, 2021
It was a perfect place to camp, the only thing that we did not like was that bathroom weren't bright enough at dark or in the showers, the cleaning wasn't done often, but they were cleaner then others. Bathrooms are my big pet peeve if they mention they are running water in a camping park that is busy. Bikes needed to be updated or fix, hard to peddle. Only reason I took a start…. But we lov
Jun 13, 2021
Save your money do not go to this KOA if you plan on staying in a cabin. They are more worried about the money than they the experience they should've been providing That I have come to expect from a KOA Shame on you Trinity Lake KOA for being such an eyesore to all the other KOA's in the KOA family Mr. Peterson. Date of stay June 10 11th departing on the 12th cabin 16 Coob333@gmail.c
Jun 12, 2021
Nice, shaded spots. Campground was within walking distance to the lake and just a short drive to the main marina. Several outdoor games for the whole family. Courteous staff. Will definitely be coming back!
Jun 12, 2021
We had a very nice stay. The campground was clean and the staff was very friendly and efficient. The store was lacking supplies and didn't open until 10 on the day we left, so no coffee for the road.
Jun 10, 2021
The roadways are very narrow. Just as I was about to hook up my sewer hose, the sewer line for my row backed up. The gentleman who did the repair was very conscientious and kept me informed. I wish I had gotten his name as he was very courteous.
Jun 09, 2021
Quiet, large spaces, friendly workers and many options to keep busy and have fun.
Jun 09, 2021
The Trinity Lake KOA has dirty smelly water. You couldn't drink it. We loved the location, the people, the campground. Site #23, had orange water kept coming out of the faucet. The hosts confirmed and moved us. We had just installed a brand new water filter. After 10 days of camping, the water filter was dark brown and needed to be replaced. You need bottled water to drink.
Jun 07, 2021
Enjoyed the stay , staff was great.
Jun 07, 2021
GREAT CAMPGROUND NICE STAFF .
Jun 03, 2021
My wife and I booked a 7 night stay. This was the first time we stayed at this KOA. The staff was very accommodating as we extended our stay after making the initial reservation for the first 4 nights. They were able to keep us in the same spot for all 7 nights. The grounds were well kept and the bathrooms/showers were clean. The signage could be improved and the snack shop was closed.
Jun 02, 2021
Very nice campground, it a little hard to get to coming from the North but very pretty and clean and quiet, the lake is very low and that's sad.
Jun 02, 2021
Would have been great. Except are dirbike got stolen along with my kids bikes. Highly recommend that the koa installs camera's
Jun 01, 2021
It was great!
Jun 01, 2021
The place is nice and clean. But the store basically did not have any food to buy, not even the coffee pods! No one came for use towel pickup and fresh towel delivery. And there is no internet anywhere except near the KOA store. What is the point of paying so much if the amenities are so poor?
Jun 01, 2021
The stay was great. I didn't really see all of the campground because we mostly were at our cabin or the lake. I will say the shower pressure in cabin 120 was very poor and the shower was really tiny and hard for us to bathe kids. Other than that it was pretty gosh darn amazing.
Jun 01, 2021
We had a great time at the Trinity KOA! Can't wait to stay again soon. We were in a trailer site right next to the pool which was perfect for the kids!
Jun 01, 2021
We had a fun stay, but for $750 for 3 nights I was expecting better. Could use more signage around the alternate entrances to the campground so it is easier to identify as KOA. Night time check in process could use improving. It was near impossible to track down adequate coffee supply. K-cups were not available for purchase a the store as advertised. "Gourment" coffee bar was closed.
Jun 01, 2021
Busy and completely packed holiday weekend. Highly recommend if you like Dirt Bikes/ Quads, close spaces with your neighbors, easy access to trails to lake and pool with tons of people. Clean facility, lots of shaded trees, bike/Kayak rentals and 2 playgrounds for kids. Sites are dusty, gravel rock with a picnic table and firepit. Fun for everyone.
Jun 01, 2021
Beautiful campground. Staff are knowledgeable and extremely helpful. Felt like being in a faraway place with the forest all around. The only bummer is the cali drought and the low lake level. Highly recommend
Jun 01, 2021
Great location, facilities were clean, and Staff were friendly.
Jun 01, 2021
It was a bummer that the snack bar wasn't open (the kids were looking forward to it), but understandable given the pandemic situation.
Jun 01, 2021
Great Place!! We had a Great time, kinda was bummed about no WiFi but guess that was good to be able to just concentrate on Fun!!!!
Jun 01, 2021
The constant engine noise of people going by on off road vehicles of every kind was not what I'd hoped for for my camping experience. And quiet hours didn't mean a lot with people still being quite noisy until after 1am. I ended up leaving a night early because it was far from the relaxing time I'd hoped for.
Jun 01, 2021
We had a great time! The lake is beautiful and the community and people are so friendly and welcoming. We loved seeing all the dirt bikes and atv's since we have a little bmx rider in our family. The amenities were a great touch and the staff were amazing. We will definitely come back again soon! Thank you!
Jun 01, 2021
Great 2 night stay at campsite 190. Great staff, lots of activities, clean campsites with plenty of space, clean facilities. Highly recommend for families with kids.
May 28, 2021
Beautiful area. Hosts very accommodating and friendly
May 28, 2021
Staff is very friendly and helpful, especially the woman at check in. Some spaces are laid out at awkward angles to each other, but the area is heavily wooded for great afternoon shade. Bathrooms and showers were very clean and well maintained. If you are planning any water sports, be sure to check the lake level and ability to launch your water toys!
May 25, 2021
Great staff. had an amazing time. The beauty of the park is outstanding!!
May 24, 2021
I would have given it 5 stars but we did not have hot water.
May 24, 2021
Call me at 916 370 6737 and I will tell you how bad the stay was this time. Not enough room in this comment field explain all of the issues with our stay.
Jun 17, 2021
Beautiful campground with roomy rv sites. Clean facilities, pool, pet area. We had a great time hanging out and relaxing. Keep up the good work!
- Lori Lares on Google
Jun 14, 2021
Camp sights are super nice had a great time staff are great.
- mark farnsworth on Google
Jun 07, 2021
Always absolutely love staying at Trinity KOA. One of the best spots if in or near Trinity County
- Cora Shearer on Google