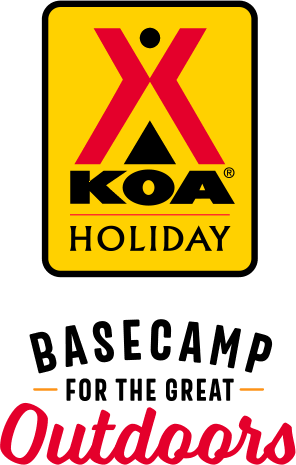 KOA Holiday Campgrounds
Whether you're exploring the local area or hanging out at the campground, KOA Holidays are an ideal place to relax and play. There's plenty to do, with amenities and services to make your stay memorable. Plus, you'll enjoy the outdoor experience with upgraded RV Sites with KOA Patio® and Deluxe Cabins with full baths for camping in comfort. Bring your family, bring your friends, or bring the whole group – there's plenty of ways to stay and explore.
KOA Holidays Feature:
RV Sites with a KOA Patio®
Deluxe Cabins with full baths
Premium Tent Sites
Group meeting facilities
Directions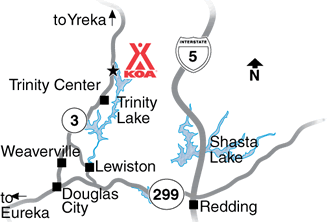 From I-5 South, (if in a car or under 25 ft.) take Hwy 3 Exit in Yreka and drive 70 miles south to Trinity Center. If over 25 ft, we recommend continuing south to Redding, turn west of 299 West, drive 40 miles west to Weaverville, then take Hwy 3 north 30 miles to Trinity Center.
From I-5 North, take Hwy 299 West Exit to Redding, turn west on 299 West, drive 40 miles west to Weaverville, then take Hwy 3 north 30 miles to Trinity Center.
This business operates under a special permit on land under the jurisdiction of the Forest Service.
Get Google Directions
Sep 14, 2021
We have a claim filed for our trailer & have gotten no response �� If you can contact them to please call me 707-499-0464.
Sep 09, 2021
Lots of fun options but dirty, needs repaving, lots of gravel or rock added to sites, etc. The pool is a disaster, constantly dirty due to dirt surrounding and kids and balls going back and forth from dirt to water. The pool also need to be resurfaced and should have turf or cement around it instead of dirt. People always seem to be gathered under the only few umbrellas at one end of the pool
Aug 27, 2021
We stay there all summer long and love the camp and all the friends we have made there. Great place to stay
Aug 23, 2021
Campground in need of some maintenance. One washer out of three in one of the laundry rooms not working. Propane sales unavailable. Much of the campground street lighting was not working. Very dusty conditions. Campground could use some gravel. Been coming to this campground for years and the maintenance is lacking.
Aug 09, 2021
The deluxe cabins were great. Very clean and updated. The pictures online do not do it justice and should be updated with new pictures. Only complaint is the water pressure in the shower. It is WAY too low and needs to be fixed :)
Aug 08, 2021
I have been coming to the Trinity Lake KOA for over 38 years, back when it was Wyntoon Resort and campground. My family, friends, and I have had our same campsites for over 22 years, as our same dates and sites are always held for us as long as we reserve the following year prior to checking out during our current years stay. Apparently that system is no longer honored, and we lost our sites.
Aug 08, 2021
I have been coming to Trinity Lake for over 50 years. It's my home away from home! My kids come and now my grandkids come! It's a family tradition!
Aug 08, 2021
Everything was great! Only downside was the forest fire smoke!
Aug 07, 2021
Great stay as always. Been coming up here for many years. Lake level was very low this year ( no docks) so we had to improvise and anchored our boats offshore or beached them for the night. Maybe you could offer outdoor movies at night on large screen with popcorn and snacks/ice cream available. Some campgrounds draw many large circles on ground to mark safe areas for groups to place their chairs
Aug 07, 2021
Enjoyed it year after year, but lake water level is very low, road construction very close, need a blender in the cabins,
Aug 07, 2021
We loved the cabin that we were in. It had a the creature comforts that made our stay even more pleasant than we imagined. The decorations were warm and inviting. The staff were very helpful and friendly. Our family enjoyed the kayaking!
Aug 05, 2021
We have been coming to this KOA for 13 years. The upkeep and the cleaning of the cabins (inside) was not as quality as it was in the past. I found the cleaning crew and the towel exchange employees to be less than stellar. There was a hesitancy to help when issues came up. Hoping the new owners will improve the situation.
Aug 05, 2021
Our family stays here every year. It's our favorite campground! The staff is super friendly and helpful and there's lots to do. Already looking forward to our next stay!
Aug 05, 2021
First time staying in a KOA, and will be our last. Major construction against the cabins that has taken out a lot of the trees, flood lights and a traffic light out our front door. Really depressing. Lake was extremely low, Mini Kat was never open, store food was mostly expired. The staff were very nice and tried to help, but there wasn't much. Proabably better in an RV.
Aug 03, 2021
Trinity Lake KOA is a wonderful RV and tent camping park. Unfortunately the 60 year old park is showing its age. Water and septic system problems...not good. The interim manager worked hard to correct issues...thank you Sarah. Hopefully the new KOA franchise owner will be up to the challenge of much need infrastructure maintenance. I've been a annual guest since 1970 and will be back next year
Aug 02, 2021
The people were awesome and so nice! Unfortunately, the bathroom was not clean and the toilet paper was wet most the week in the ladies restroom. In addition, the sewer backed up in all of the RV sites. Again, everyone was so nice and helpful but just a little disappointed in the bathroom and sewer situation.
Aug 02, 2021
The only thing that was super frustrating was that we arrived early, (about 10:15AM) and drove to our site to see if it was empty. It was. We drove to check in to see about paying the early check in fee, and the lady up front made us wait until 11 to "check and see if the site was empty". So we were waiting in the heat with two kids for something we knew was clear and clean.
Aug 01, 2021
The lake level was so low that the docks could not be floated this year. We have dealt with that in previous years but other than that the campground and people were perfect. The manager met with our group and set us up for next year. We are looking forward to 2022!!
Aug 01, 2021
Campsites were good, some harder than others to park an RV in, but still great. Unless you have Verizon cell service, don't count on any connectivity. The stores "wifi" barely passes as dialup speeds, and there is no cable. No connectivity of internet or cell is concerning during wildfire season. Overall I'd stay again, but probably earlier in the season.
Aug 01, 2021
Beautiful location and campground. You might want to add directions for late arrivals to OPEN the box for their info. I finally asked a mom and her son parked at the store if they in fact had a reservation. They were very relieved when I opened the box revealing the info. they needed.
Aug 01, 2021
We have been going here for 30 years. Campground was NOT in good shape this year. We heard it sold, maybe if that is why? Bathrooms were dirty, most all had showers and/or toilets not working and wet toilet paper. Only 2 laundry rooms open with 1 of 3 machines in service. Pool was not clean. Sewer main backed up in ours and surrounding RV sites. Gas pumps out, hamburger shack closed. Next year??
Aug 01, 2021
We had a great spot, almost no neighbors during our stay, campground was quiet, restrooms were okay, but not great. Location is remote enough to keep traffic down and give you a good place to disconnect from the world. If you like exploring dirt roads or hiking, this is a great location. Temps were in around 100 all week, but camping in the trees was pretty comfortable.
Jul 31, 2021
Lights out at our site. 3/8 crushed rock on top of old asphalt. Very dangerous for motorcycles. Bicycles as well I'm sure. Bathrooms pretty dirty for a KOA. Unusual from my experience.
Jul 31, 2021
Laundry facilities were closed in our area. Only one washing machine and dryer working in area next to us. Store closed at 5pm…very early for summer hours. No block ice.
Jul 31, 2021
At first everything was pretty good, the staff is excellent, and friendly. Problem is, was I went on a camping trip to get some peace and quiet, but the last few days I was there, they were doing construction early morning right near my site, that I paid a lot of money for. They "Bobcat" must've drove back and forth by my tent nearly 20 times starting at 7am, and sounded like a garbage truck. Awfu
Jul 30, 2021
Good stay just bats or mice in wall of bedroom in cabin 6. Also store hours were a bit short. Asked for more garbage bags twice that we never received. Otherwise was a good stay as expected.
Jul 30, 2021
The staff was super amazing. It's not their fault. But outside our cabin was road construction and it was SO noisy. Beeping and grinding all the time we were camping. And the cabin next to us had construction pounding going on. So the noise level was not relaxing or peaceful. Our cabin was perfect. Had everything we needed and absolutely the most comfortable bed ever. Just bad timing for us.
Jul 30, 2021
The Brochure shows a huge lake. Drive all that way to find a dried up bed of rocks. The electrical plug at my site was making some fizzing cracking noises
Jul 30, 2021
The camp store and food shack hours were inconvenient as both as both appeared to close at 5 pm. The location was pretty with the sites buried within the trees, but the sites themselves were too crammed together.
Jul 28, 2021
We had 48 people in 10 sites. The water was off in all 4 tent loops the 9 days we were there: 2 of the 4 bathrooms were closed. The manager, Sara Hohstroh said they were " working on the situation". She said the tent sites were rustic and not required to have water. I have been coming here since 1982. There has always been water and my site had a faucet, which she denied. Temp 105, unsafe
Jul 28, 2021
we spent 3 nights at a 1 bedroom cabin which met all our needs. We used the pool which was very clean and refreshing. Most amenities cost extra, such as bicycles. the store had limited supplies and there were no nearby cafes or restaurants; the snack bar wasn't open.
Jul 27, 2021
Campground has deteriorated since last year, poor conditions overall, needs gravel on roads, leaking water spigot at campsite, wifi a joke even at office, tree stumps need to be removed, a car got stuck on one at site 2.
Jul 27, 2021
We've been vacationing at KOA for many years. This year we were "underwhelmed". The staff was friendly but had changed, our cabin was home for several mice, in need of many repairs & missing several kitchen items. We like staying there & will probably return, just seems like $170 per night should provide a better quality lodging.
Jul 26, 2021
Drunk people screaming all night, kids to find golf carts thru park way too fast, dogs running free even though its posted to keep on leash. This could be an awesome KOA if they had camp host that actually made people follow the rules.
Jul 26, 2021
Our reservation was a last minute one. We were treated by such kindness by all the staff, loved our site, enjoyed our neighbors, and grateful for the icy cold swimming pool with day time temps reaching 100 degrees. It was fun to ride the short mile to Trinity Lake for a lake swim. We even rode our bikes to a nearby town, Coffee Creek, to hear a fun Bluegrass concert at Trailhead Pizza.
Jul 25, 2021
Disappointed with the lack of upkeep on the property. Electrical, sewer and water issues kept occurring. Lights in camp loops weren't on at night. Water shut off to campsites overnight. RVs no allowed to dump for days because septic was over full. Been coming here for 38 years, and never seen issues like this. I hear it's being sold. Seems like KOA is holing it together with bandaids till then.
Jul 25, 2021
Stayed in cabin 10 for 4 nights. The cabin was spacious, clean and had everything we needed to prepare and cook meals (including a full size fridge). Really enjoyed sitting on the patio and enjoying the beautiful trees. The A/C worked great too.
Jul 25, 2021
We were in a campsite right next to campers that stayed up with loud music until about 3am. The campsite was not very full. I wish we would had been more spread out so that we were not right next to other sites since the campground was so empty. Despite the signs that say quite time by 10pm there was no one enforcing that hence our neighbors staying up with loud music so late.
Jul 25, 2021
The lake is almost gone and the other campers where loud and obnoxious which wouldn't be a problem except that my site, #16 was on top of there sites. Spacing in that area is a problem.
Aug 16, 2021
Clean bathrooms, kind employees, tent camp area was very clean and quiet. Out of all the Koa's we tent camped in from the Bay Area, CA to Seattle, WA this was a favorite and one we will definitely be booking with again.
- Brandy T on Google
Aug 06, 2021
Good campground. We stayed in cabin 103: one bedroom plus sleeper sofa in the family room. Included all the amenities of the decent hotel plus everything for barbeque and camp fire. One of the best cabins we stayed in. The Lake is one mile away and there is no swimming beach. We rented kayak for $25 and they brought to the lake on electric car. Campground included a small store with ice, drinks and other items. Water in the pool was refreshing. Cabins are located about 1000 feet away from the general campground and it is more quite.
- American Riviera Tours on Google