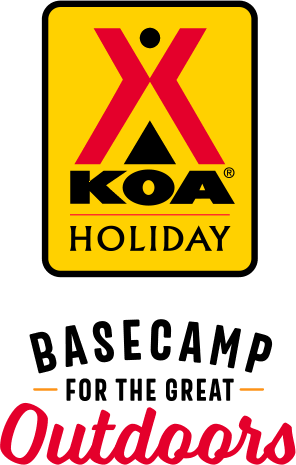 KOA Holiday Campgrounds
Whether you're exploring the local area or hanging out at the campground, KOA Holidays are an ideal place to relax and play. There's plenty to do, with amenities and services to make your stay memorable. Plus, you'll enjoy the outdoor experience with upgraded RV Sites with KOA Patio® and Deluxe Cabins with full baths for camping in comfort. Bring your family, bring your friends, or bring the whole group – there's plenty of ways to stay and explore.
KOA Holidays Feature:
RV Sites with a KOA Patio®
Deluxe Cabins with full baths
Premium Tent Sites
Group meeting facilities
Directions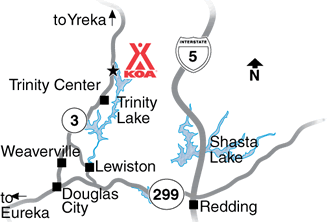 From I-5 South, (if in a car or under 25 ft.) take Hwy 3 Exit in Yreka and drive 70 miles south to Trinity Center. If over 25 ft, we recommend continuing south to Redding, turn west of 299 West, drive 40 miles west to Weaverville, then take Hwy 3 north 30 miles to Trinity Center.
From I-5 North, take Hwy 299 West Exit to Redding, turn west on 299 West, drive 40 miles west to Weaverville, then take Hwy 3 north 30 miles to Trinity Center.
This business operates under a special permit on land under the jurisdiction of the Forest Service.
Get Google Directions
Sep 15, 2020
Best place to camp. Amazing facilities, activities, staff. It has everything you need for a short or long stay on a beautiful lake.
Sep 15, 2020
Another great year at the lake. A bit busier due to the pandemic, but Wendy and her staff took it in stride. Great job in a difficult year. Can't wait to be back next year, hopefully maskless.
Sep 15, 2020
We love to stay at the Trinity Koa! Wendy and her team makes everything great. Already counting the days till May!
Sep 15, 2020
The Staff there is very nice and the park is exceptionally clean. Loved it
Sep 14, 2020
Great Campground. Site 107 is awesome, but it needs something to cap the sewer other than an elbow sitting on the pipe with a cap in it. Maybe put the cap in the pipe coming out of the ground, not in the elbow, which was loosely attached to the pipe in the ground. And the manager I talked to said they haven't had any complaints. Except mine, of course. :)
Sep 14, 2020
The facilities were clean & nice. We were moved after one day from our campsite to an RV site. Which was a very big inconvenience .
Sep 14, 2020
We had a mice time. Facility was clean and the staff was great.
Sep 09, 2020
Beautiful area. Large sites. Family friendly.
Sep 09, 2020
RV sites are too close tp one another. Staff is very friendly.
Sep 08, 2020
Always friendly staff. Great location and close to home.
Sep 08, 2020
Great place Been coming for several years
Sep 08, 2020
I think a trash dumpster would be a better option, bathroom very dirty. All in all was OK.
Sep 08, 2020
Nice place for family time. We enjoyed our stay very much. The only complaint is the dog poop. So many dogs and people were not picking up after them.
Sep 08, 2020
We always enjoy our stay here! The staff at the KOA are always so helpful and respectful they kept us informed about the local fires. Even with the smokey skies we had a great annual labor day trip!!
Sep 08, 2020
We enjoyed our stay, and loved playing mini golf. However, it was quite noisy with all of the motorcycles and can ams driving up and down the road all day long.
Sep 08, 2020
Great location and would have been better if lake wasn't so low. Not KOAs fault though! Friendly and helpful staff with good amenities. Would like to have known the pool was closed but not a big deal.
Sep 07, 2020
We found Trinity Center KOA back in June when we decided to go camping for a week but no campgrounds around us were open. So glad we found this campground!!! We went back in September the week before Labor Day and enjoyed the lake while no one was there. The campground has a little shack for food and this time we ate there for dinner one night. The burger, fries and milkshake were great.
Sep 07, 2020
Not a fan of this camp. Site #3 shouldn't even be a site. I barely squeezed in there. (My trailer is not even that big.) Very very crowded and loud. Only great thing about this place were the hosts. Other then that, its very likely that I won't be coming back to this one.
Sep 05, 2020
Great place to stay with family! The staff was super friendly. We would definitely visit this campsite again.
Sep 04, 2020
I have stayed in a lot of parks in my 74 years, but like the last time I was here , the quiet time after 10 pm, is not enforced. Friday the 21st of Aug. several groups continued to be loud and party well after midnight. I complained several times to different people, and was told that the night person had quit. Another staff person said a 17 y o was the only person on duty at night. Will not be ba
Sep 03, 2020
The upgraded site was a nice surprise. It was pleasant sitting outside in the evening and having coffee at the table for breakfast.
Aug 31, 2020
This was our first time to Trinity Lake KOA. We enjoyed the amenities (playground, big tic-tac-toe, etc.) and the place was clean and pretty quite. If you plan on coming in the hotter months, make sure the pool is open. Unfortunately, due to COVID the pool was closed and the lake, if it's low, plan on getting muddy. We never made it to the water...too much mud to wade through. Not the KOA's fault.
Aug 29, 2020
No WiFi or cable was hard but the rest was great.
Aug 26, 2020
First time we got a site with a patio and absolutely loved it! We were not crowded. Plan to do it again. The staff was friendly and helpful. The facility clean and well maintained.
Aug 25, 2020
Overall we like to the park but there were several issues. The showers did not have hot water. Also, my 18-year-old niece had a peeping Tom filming her through the bathroom window with his cell phone. We had to file a report with the Trinity County Sheriff. The peeping Tom used a sawhorse found on the property to stand on to look through the window and film her.
Aug 25, 2020
We just stayed over night but the park was very nice and we had an easy checkin. We will be coming back soon.
Aug 24, 2020
Nice large site, we would ask for this site again. Great for walking the dogs. Love the snack bar. My only negative is that they don't carry much in their store.
Aug 24, 2020
Nice camp ground and friendly staff. The only thing was there was trash spread across a localized across from our campsite (R11). Looks like a bear got into the trash.
Aug 24, 2020
Very friendly staff and everything was super clean
Aug 24, 2020
Nice and quiet thanks
Aug 24, 2020
Outside of fires and smoke it's a beautiful place to camp.Of course KOA has no control over fires in the neighboring area! A great campground! Wonderful amenities like bocce ball, mini golf
Aug 24, 2020
Clean bathrooms and campsites. Our campsite was unlevel at the end of it and there were some potholes on one side. Glaring bright led string lights and the many strings of lights from the 2 long term campers campsites behind our fire area which made it hard to see the stars. the loud talkingthat didn't stop until 1:20 from their group one night. One of the men used a lot of bad words.
Aug 23, 2020
Everything was very nice. The campgrounds were great the people were friendly. The only issue we had was with the lake! With the water being down so low it just wasn't worth it to even go down to the lake with the kids. The swimming pool was closed, so there was no water fun at all.
Aug 22, 2020
The staff were very friendly and helpful with our site and information about the area. Very quiet at night. Restrooms were very clean.
Aug 21, 2020
Beautiful wooded sites. Staff is very pleasant and helpful. Very relaxing campground.
Nov 10, 2020
It was a great vacation at the Trinity Lake KOA Holiday (7-10 September). There were almost no visitors at this time. We lived in two tents in Forest Loop 2 #158. Available for use (within walking distance (2 minutes)): - restroom, - shower - dishwashing station - laundry There was a drinking water tap next to our tent. At the entrance you can find many additional free entertainment for every taste (see attached photos). There was a small shop at the reception (you can buy firewood, fishing rods and other useful things for camping). Unfortunately at this time it was the end of the season and we were not able to rent kayaking. I recommend going to the lake, just put on high shoes and pants (a lot of dry and tall grass). I would like to mention that the staff have always been friendly and helpful. P.s. Pet friendly Thank you very much, we will come again soon!
- Ekaterina Terekhova on Google
Sep 11, 2020
Best place ever
- Alma R on Google
Sep 05, 2020
This is a great place to come with family. They have a lot to do and it is very clean. We were there for the Labor Day weekend. Unfortunately, when we showed up the smoke from all the fires all over California had shifted to Lake Trinity. My son has very bad allergies and was having trouble breathing so we had to cut our trip short. We went to the front desk to explain and they were so kind and helpful and even refunded the days we were not going to be there for. The staff here is more kind then any other place we have camped at. I would definitely recommend this place and we will be coming back for sure!
- Monika Sierra on Google