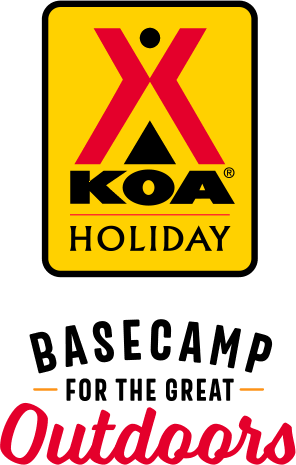 KOA Holiday Campgrounds
Whether you're exploring the local area or hanging out at the campground, KOA Holidays are an ideal place to relax and play. There's plenty to do, with amenities and services to make your stay memorable. Plus, you'll enjoy the outdoor experience with upgraded RV Sites with KOA Patio® and Deluxe Cabins with full baths for camping in comfort. Bring your family, bring your friends, or bring the whole group – there's plenty of ways to stay and explore.
KOA Holidays Feature:
RV Sites with a KOA Patio®
Deluxe Cabins with full baths
Premium Tent Sites
Group meeting facilities
Directions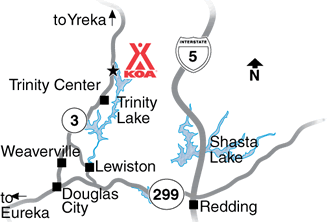 From I-5 South, (if in a car or under 25 ft.) take Hwy 3 Exit in Yreka and drive 70 miles south to Trinity Center. If over 25 ft, we recommend continuing south to Redding, turn west of 299 West, drive 40 miles west to Weaverville, then take Hwy 3 north 30 miles to Trinity Center.
From I-5 North, take Hwy 299 West Exit to Redding, turn west on 299 West, drive 40 miles west to Weaverville, then take Hwy 3 north 30 miles to Trinity Center.
This business operates under a special permit on land under the jurisdiction of the Forest Service.
Get Google Directions
Sep 08, 2020
Loved it. My one and only complaint, is the mattress. We had four cabins in all. Everyone said the same thing. We are bringing our own mattress pads next year.
Sep 08, 2020
it was a Family reunion and everything was Amazing
Sep 01, 2020
We loved the park and the helpful staff. The grounds are well-maintained and our porch swept prior to our arrival. The cabin could have been cleaner. The floors were dirty (they made our bare feet dirty) and the rugs were dirty. The oven was also dirty with food soiled foil left on the racks. Appreciate the towel service every other day!
Sep 01, 2020
So easy and clean , store is wonderful and staff was so helpful
Sep 01, 2020
Stayed in a cabin had everything we needed. Even with highway so close couldn't hear it when inside. Everyone very nice. The water down very low should have brought the kayaks but there are many other things to fill your time.
Aug 31, 2020
Grounds are really nice. Cabin's could use a bit of TLC, mainly the bathroom.
Aug 24, 2020
It was so relaxing. The cabin was really nice and very clean but I spent my time on the deck! Staff were friendly and helpful.
Aug 24, 2020
The staff was very friendly! We had a late evening check in and they had left us very helpful directions, only suggestion is provide sponges for washing the dishes and maybe update the AC in cabins... we were there on a very humid weekend and our AC was pretty dated and didn't work . Otherwise great staff and good food at the cafe!
Aug 22, 2020
We had a beautiful and relaxing time. Staff was very pleasant and the cabins were clean and comfortable. A few issues, but were immediately resolved. It was sad that the water was so low that is was hard to enjoy the lake which is one of the reasons we came up there. Beautiful weather.
Aug 20, 2020
I've been camping at Trinity Center for more than 15 years but this is the first time staying in the cabins. The bathroom has some sort of mold on the shower door. Enough said. I will be back but will never stay in those cabins again.
Aug 20, 2020
This was our first time staying at the Trinity Lake KOA. We had a great time and the kids really enjoyed playing mini golf and riding the trikes. Our two bedroom cabin was very clean, in good condition, and comfortable. We will be back!
Aug 17, 2020
Overall, our stay was great...staff was all very friendly and helpful, the kids LOVED the park and miniature golf. However, the sheets on the pull out bed were dirty and we had to ask for clean ones, and the filter on the air conditioner indicated that it needed to be cleaned so the AC didn't work properly.
Aug 17, 2020
Everything was great
Aug 15, 2020
They need put more atención an cleaning tha cabin o there and tha everything was nice
Aug 13, 2020
Cabin clean , bed very comfortable, nice to have air conditioning, very peaceful, staff friendly & attentive.!!
Aug 08, 2020
The kayaks on the lake were a highlight for us. We brought water shoes so the mud did not bother us. Great staff. Thank you!
Aug 07, 2020
My family only stayed 2 nights, but really enjoyed being there. The facility was nice. Cabins were cute and clean. Will come back again.
Aug 03, 2020
Everything was great. Was disappointed by the treatment of the registration agent at the front. I don't know her name. She was a young white women with an accent. Very rude when checking in and out.
Jul 30, 2020
Unfortunately we had an ok time. The cabin we enter was not at cleaning standards. The store staff was awesome and a pleasure deal with. They house keeping crew was rood. We complain about our room and then the next day was confronted by the cleaning staff witch made us feel very uncomfortable the entire time as we got dirty looks. I would make a suggestion and have more towel Exchanges.
Jul 30, 2020
Used to be Wyntoon. Still a lovely lake. Large tent campsites. Cabins are a little dirty and old , but fine for those that would rather not pitch a tent. Staff very nice. Snack bar privately owned and a bit disorganized with hours not open as posted and long lines. Staff At office store conscientious regarding COVID precautious, but no precautions at snack shack. Area is absolutely beautiful!
Jul 28, 2020
The first cabin we were assigned was flooded. We then waited for a different cabin. When checked into that cabin, it was very obvious it was not cleaned appropriately. We did not expect perfection, however during a pandemic I believe it's very important to have properly cleaned. We were also never offered any refund or discount. Considering the amount we paid, this was unacceptable.
Jul 28, 2020
My only concern was sanitation. We sanitized the cabin before we used. Light bulbs need to be replaced.
Jul 26, 2020
We rented 3 cabins, 2 RV spaces and 2 campsites. I rented them several months before and checked back frequently to get the RV sites and cabins near each other. None were near each other and there was no attempt to get them close. I do not understand this? Otherwise it was clean pickers up garbage daily. The campsites were next on each other
Jul 25, 2020
The cabin we stayed in was a bit more rustic than other KOA cabins we have rented in other locations. The campground is in the woods and we had a nice back deck. The amenities were great, mini golf, playground and ping pong were lots of fun! We were disappointed that the snack bar was never open during our stay. Also it would have been nice to have ice cube trays available to use in cabin.
Jul 25, 2020
We had to inform management about the lack of cleanliness of our cabin. The pull out bed was actually disgusting. We took photos. The experience was disappointing and frustrating. Staff was understanding and provided a free night. It helped but we left feeling pretty upset. The snack shop and pool were closed too which didn't help but wasn't KOA management fault.
Jul 25, 2020
I had a great time it is a nice and clean place although we ran into a rattlesnake at our cabin and the sofa bed was dirty and uncomfortable need new furniture other than that it was a great time the people are great
Jul 21, 2020
Due to Covid-19, pool was closed. There was a large group that stayed up late Monday night and were very loud. Otherwise, great!
Jul 21, 2020
The sofa bed was like sleeping on coils... it needs to be changed. Was inconvenient for us as we had 4 people, it was very uncomfortable.
Jul 20, 2020
As always, we enjoyed our time at the Lake Trinity KOA. We stayed in the deluxe 2 bedroom cabin w/ patio and it was excellent. I do think the bathroom could do with some sprucing up (mold in the shower corner, old fixtures). Everything was functional, though. Staff was friendly and helpful. Check-in and check-out were seamless and easy. Looking forward to next year.
Jul 20, 2020
This is an annual trip when we can make it, 14 family members total (4 cabins). Always a good time. Cabins are always clean and provide everything we need. Staff at office very accommodating.Can't wait for next year!!!!
Jul 20, 2020
Power was out when we arrived mid July - no storms or obvious weather conditions. Farther from swimming, beach, or water access than expected. Nice remote location if you enjoy getting out of town.
Jul 14, 2020
I love the staff at KOA! Everyone was so friendly and welcoming, even during this confusing time. We had a quiet, peaceful stay in our little cabin. The park seems popular, its a great location, and people have lots of activities to choose from, or like us, no activities. We simply had time to recharge. The park is clean, we got to see wildlife, and Trinity lake is close enough to walk to.
Jul 13, 2020
Staff was wonderful and helpful. Any issues I had were quickly resolved I e faulty circuit breaker and laundry
Jul 11, 2020
Enjoyed our stay. Cabin was comfortable and quiet!
Jul 10, 2020
We stayed in a very clean cute cabin located a distance away from the center of the campground and appreciated how quiet and peaceful it was. It was really very nice. The only thing I'd like to suggest is that the personnel at the registration office should be better informed about the area. No one at the front desk was able to direct me to the local hiking trails or knew anything about the area.
Jul 10, 2020
perfect in every way, thanks!
Nov 10, 2020
It was a great vacation at the Trinity Lake KOA Holiday (7-10 September). There were almost no visitors at this time. We lived in two tents in Forest Loop 2 #158. Available for use (within walking distance (2 minutes)): - restroom, - shower - dishwashing station - laundry There was a drinking water tap next to our tent. At the entrance you can find many additional free entertainment for every taste (see attached photos). There was a small shop at the reception (you can buy firewood, fishing rods and other useful things for camping). Unfortunately at this time it was the end of the season and we were not able to rent kayaking. I recommend going to the lake, just put on high shoes and pants (a lot of dry and tall grass). I would like to mention that the staff have always been friendly and helpful. P.s. Pet friendly Thank you very much, we will come again soon!
- Ekaterina Terekhova on Google
Sep 11, 2020
Best place ever
- Alma R on Google
Sep 05, 2020
This is a great place to come with family. They have a lot to do and it is very clean. We were there for the Labor Day weekend. Unfortunately, when we showed up the smoke from all the fires all over California had shifted to Lake Trinity. My son has very bad allergies and was having trouble breathing so we had to cut our trip short. We went to the front desk to explain and they were so kind and helpful and even refunded the days we were not going to be there for. The staff here is more kind then any other place we have camped at. I would definitely recommend this place and we will be coming back for sure!
- Monika Sierra on Google