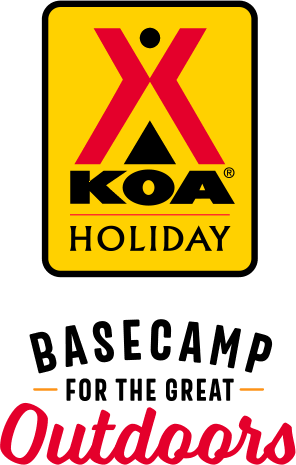 KOA Holiday Campgrounds
Whether you're exploring the local area or hanging out at the campground, KOA Holidays are an ideal place to relax and play. There's plenty to do, with amenities and services to make your stay memorable. Plus, you'll enjoy the outdoor experience with upgraded RV Sites with KOA Patio® and Deluxe Cabins with full baths for camping in comfort. Bring your family, bring your friends, or bring the whole group – there's plenty of ways to stay and explore.
KOA Holidays Feature:
RV Sites with a KOA Patio®
Deluxe Cabins with full baths
Premium Tent Sites
Group meeting facilities
Directions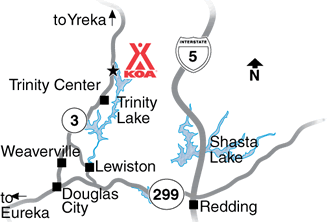 From I-5 South, (if in a car or under 25 ft.) take Hwy 3 Exit in Yreka and drive 70 miles south to Trinity Center. If over 25 ft, we recommend continuing south to Redding, turn west of 299 West, drive 40 miles west to Weaverville, then take Hwy 3 north 30 miles to Trinity Center.
From I-5 North, take Hwy 299 West Exit to Redding, turn west on 299 West, drive 40 miles west to Weaverville, then take Hwy 3 north 30 miles to Trinity Center.
This business operates under a special permit on land under the jurisdiction of the Forest Service.
Get Google Directions
Sep 12, 2020
Unfortunately the family next to us was very loud past midnight and staff did not enforce any of the rules to be quiet after 10pm.
Sep 10, 2020
very noisy, dirty bathrooms, moterbikes making /trowing dust in campsites ,camp oposite bathroom !! disaster not a pleasure at all came back early
Sep 09, 2020
Always a great time here!! We'll be back in May :)
Sep 09, 2020
We come to this campground a few times a year and absolutely love it. The staff is great and always trying to make your stay more enjoyable. This place truly has it all and is why we come back year after year.
Sep 08, 2020
We stayed 4 days, 3 nights and overall had a great experience. We tent camped and enjoyed our space. I noticed the 10pm noise curfew is not very enforced but we were a bit away from the noise so it didn't bother us too much. Wish the pool could have opened since everything else was.
Sep 08, 2020
The campground is very nice. Especially the tent camp sites where we stayed. Lots of space for each tent camp site in the forest. Staff and facilities were very nice. Only negative in the campground was that the swimming pool was closed due to COVID-19. Would recommend coming in spring or summer to avoid the smoke from wildfires, and the lake level was really low over Labor Day weekend.
Sep 07, 2020
I really enjoyed my stay. People were very friendly and the campsite was amazing. It was clean and sanitary.
Aug 31, 2020
Great site lots of room, nice stuff members well organized
Aug 26, 2020
Lake, hiking, bicycling, large clean facilities to rest after day of activities
Aug 25, 2020
Amazing! gorgeous campgrounds! Shaded tent site. Lot's of things to do on camp grounds and at the lake 5 minute drive away.
Aug 25, 2020
This was our first KOA experience and we are hooked! It was peaceful and a great get away. There were an excessive amount of flies and bees, but it's nature and that is beyond your control. I was impressed with how the bathrooms were kept up on and very thankful!
Aug 25, 2020
Had a great time. Well set up. The facilities were clean and well stocked. Was pleased that it was pet friendly.
Aug 24, 2020
Wish there were more hiking trails and swimming areas around. Nearest trail was a 35 minute drive. The campground itself was very good.
Aug 24, 2020
I would definitely recommend trinity lake KOA. The bathrooms are extremely clean, staff is super friendly, garbage is frequently picked up and it is very well organized.
Aug 24, 2020
Absolutely wonderful! The campground was so clean and well organized.
Aug 18, 2020
We had a wonderful time staying here! The only downside is we feel like we didn't get enough. We will definitely be back and stay for a longer time! Facilities were clean and they have showers. Cute store and cafe, and close to the lake. Everyone was quiet and respectful. Just an overall wonderful campground!
Aug 18, 2020
It is an awesome place for everybody and even if you have pets.. lots of stuff to do to keep busy with activities and always cleans bathrooms and showers. You have the lake and if you have ATV's They have lots of trials hiking fishing boating. Etc. best place ever
Aug 18, 2020
The only issue was the mini Kat snack bar was out of almost everything(bread, nacho cheese, ice cream etc.) and super over priced I think this could definitely be improved
Aug 16, 2020
Our KOA stay was great. The only blemish was the camper who came into site 182 right next to us on our last day. He became drunk, loud, and belligerent that night. He was raving like a lunatic, threatening violence with an axe against neighbors (not us) over their barking dog. Eventually, the cops showed up at 2 a.m., and by next morning he was gone. Not KOA's fault, though. It happens.
Aug 16, 2020
The facility was in decent shape however the "Street Lamps" that are on all night long shine into the tents and is very difficult for some folks. Also, at this location there is short road along the side of the camp group that leads to the lake and there were a lot of very loud vehicles of various types that went out of their way to make a lot of noise, even at night and it was very disturbing.
Aug 14, 2020
This was such an amazing trip, I extended it for two additional days. Customer service was great, the folks at KOA genuinely care about the campers experience. I am already working on returning next week! :)
Aug 12, 2020
Everything was great and the staff on site was amazing. They kept everything clean.
Aug 10, 2020
We tent camped for one week and had a wonderful time! Everyone was extremely friendly and helpful.
Aug 10, 2020
The first night there was a very loud group that had many more people in their site than they should have, loudly partying until one in the morning. The bathrooms had toilets that were not flushing and locks that didn't work. Not worth the money for what we got.
Aug 10, 2020
We first got there late cause we were behind and somehow our reservation got messed up but they were able to put us in an RV spot even though we we're there with a tent. We didn't unpack at the spot, just put up the tent to sleep and immediately left the next morning. 9 hours max. And they still charged us for using an RV spot!! They seem to care more about money than helping their customers.
Aug 09, 2020
The grounds and tent sites are beautiful! Quick access to the lake which was nice. Bathrooms were clean and being cleaned multiple times a day which made myself and my family very comfortable during the pandemic.
Aug 05, 2020
Peaceful stay in a great campsite.
Aug 03, 2020
We enjoyed the campground; however, we were disappointed in the lack of sanitation/cleaning of the bathrooms. Trash didn't get emptied on a regular basis and often times it was overflowing. No soap in the soap dispenser and the sinks rarely got wiped down. Was told the bathrooms got cleaned 3 times a day (that was not the case). Preferred tent sites were spacious/kids loved put put and gaga ball
Aug 03, 2020
The KOA staff are great and accommodating with ride to/from airport. Tent sites great. Too bad water level low and long walk. Grandkids had fabulous fun with rented tricycles.
Aug 03, 2020
Our site was very rocky but decent
Aug 03, 2020
It was a nice camp site I really like the fact that they were flat and Spacious but the bathrooms were disgusting. Many people did not have their dogs on leashes... Almost hit a dog because it's owner was throwing a ball for it right in front of my moving truck. Also the lake isn't meant for beach swimming at all.... many people were getting stuck in the mud before reaching the water.A bit pri
Aug 03, 2020
We had a great stay we rented kayak and paddle boards it was great fun!
Aug 03, 2020
The restrooms and showers were filthy. The campsite was very nice. However because of the COVID virus and the unsanitary conditions of the restrooms and showers I would not recommend to travelers to stay at your campground.
Aug 03, 2020
The lake isn't a great spot if you don't have a motorboat so we spent most our time in camp. The shoreline was too muddy I wouldn't return without a different boat, to that lake which was the draw. Tent site very overpriced (72.30/nt) didn't see the value other than cornhole. The bathrooms were disgusting, poorly maintained. No extra Covid safety measures in place big disappointment
Aug 02, 2020
Been coming to the lake for 31 years that says alot.
Aug 01, 2020
Wonderful camp sites, nice accommodation, mostly clean and serviced restrooms (poor water pressure in the lady's Showers) very nice and helpful Staff. I was Tent camping Tuesday thru Thursday and there were many Open Sites. However I was a little dismayed why new arrivals were not spread out a little more, instead of stacking Tent Sites together, Recommend spacing when possible. We will return
Aug 01, 2020
Great place and excellent location. The only problem was the campground location which is next to the main road and unfortunately there was a big party goin on across the road from our location that did not let us enjoy the night quietly. Other wise everything is great at this place.
Jul 31, 2020
Bathrooms were disgusting the entire time.
Jul 30, 2020
Highlight of our year!
Jul 30, 2020
Our family had an amazing time on our family vacation. Very clean KOA and so many things for the kids to do even with the pool closed.
Jul 27, 2020
I highly recommend the cabin!! Just bring your clothes and food and you're all set.
Jul 26, 2020
This KOA gets VERY crowded. The tent sites are large and spacious, but can get loud with people talking and dogs barking. The bathrooms and showers were okay, but messy with used Paper towels and toilet paper on the ground. Also the showers leaked all over the floor making a muddy mess and there was a tone of hair balled up in each of the shower drains. If they cleaned more often it would help.
Jul 25, 2020
Outside of an altercation between other campers that resulted in the local police being called it was great. Site was clean and the location has all the amenities one could hope for.
Nov 10, 2020
It was a great vacation at the Trinity Lake KOA Holiday (7-10 September). There were almost no visitors at this time. We lived in two tents in Forest Loop 2 #158. Available for use (within walking distance (2 minutes)): - restroom, - shower - dishwashing station - laundry There was a drinking water tap next to our tent. At the entrance you can find many additional free entertainment for every taste (see attached photos). There was a small shop at the reception (you can buy firewood, fishing rods and other useful things for camping). Unfortunately at this time it was the end of the season and we were not able to rent kayaking. I recommend going to the lake, just put on high shoes and pants (a lot of dry and tall grass). I would like to mention that the staff have always been friendly and helpful. P.s. Pet friendly Thank you very much, we will come again soon!
- Ekaterina Terekhova on Google
Sep 11, 2020
Best place ever
- Alma R on Google
Sep 05, 2020
This is a great place to come with family. They have a lot to do and it is very clean. We were there for the Labor Day weekend. Unfortunately, when we showed up the smoke from all the fires all over California had shifted to Lake Trinity. My son has very bad allergies and was having trouble breathing so we had to cut our trip short. We went to the front desk to explain and they were so kind and helpful and even refunded the days we were not going to be there for. The staff here is more kind then any other place we have camped at. I would definitely recommend this place and we will be coming back for sure!
- Monika Sierra on Google