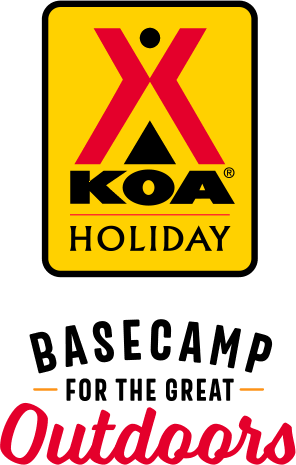 KOA Holiday Campgrounds
Whether you're exploring the local area or hanging out at the campground, KOA Holidays are an ideal place to relax and play. There's plenty to do, with amenities and services to make your stay memorable. Plus, you'll enjoy the outdoor experience with upgraded RV Sites with KOA Patio® and Deluxe Cabins with full baths for camping in comfort. Bring your family, bring your friends, or bring the whole group – there's plenty of ways to stay and explore.
KOA Holidays Feature:
RV Sites with a KOA Patio®
Deluxe Cabins with full baths
Premium Tent Sites
Group meeting facilities
Directions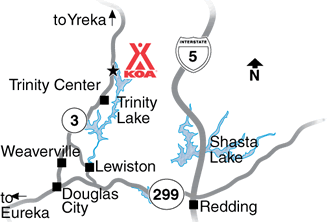 From I-5 South, (if in a car or under 25 ft.) take Hwy 3 Exit in Yreka and drive 70 miles south to Trinity Center. If over 25 ft, we recommend continuing south to Redding, turn west of 299 West, drive 40 miles west to Weaverville, then take Hwy 3 north 30 miles to Trinity Center.
From I-5 North, take Hwy 299 West Exit to Redding, turn west on 299 West, drive 40 miles west to Weaverville, then take Hwy 3 north 30 miles to Trinity Center.
This business operates under a special permit on land under the jurisdiction of the Forest Service.
Get Google Directions
Jul 02, 2019
The best time ever great park
Jun 27, 2019
We loved the spacious tent sites. Plenty of room between sites. The staff was extremely friendly. All in all our experience was great except the bathroom was dirty. TP and paper towels on the floor. Mud in the sink and all over the floor. Perhaps this was just a rare occurrence as KOA's are usually very clean. But we would stay there again.
Jun 25, 2019
It was our first time camping at a KOA, and Trinity KOA did not let us down! It's very family friendly, lots of games, rentals, a pool! My kids loved it, we will definitely be back!
Jun 24, 2019
We camp here every other weekend and this past weekend had a bear encounter, so it would be nice if the sites had bear boxes.
Jun 15, 2019
The KOA staff and the host Steve where awesome, the kamp grounds meet all expectations with the showers and laundry rooms also the fishing was a complete success, this was my 4th time staying here and will differently visit many more times in the future
Jun 10, 2019
We enjoy being in the woods and this KOA is that; the site in which we stayed was clear of debris and to supplement the wood we brought, the early season wood left behind by Mother Nature kept us warm and in a good mood. The grounds people were friendly and the office staff was on the ball. It was a good stay, our 3rd; any time we go camping and are in the area we will be at this KOA.
May 20, 2019
We enjoyed our recent stay. The lake is full, but it was disappointing to find the docks not set up. Launching a boat is a bit difficult without a decent launch ramp. It's early in the season so hopefully soon it will all be ready to go.
Sep 08, 2018
Spacious campground. Well tended. Bathrooms are somewhat dated. Pleasant staff.
Sep 05, 2018
More children activities please
Sep 04, 2018
My family and I had a wonderful stay. Had all the amenities plus much more, staff was great and courteous. Thanks
Aug 13, 2018
This is our 29th year at this camp ground that makes a statement.
Aug 05, 2018
I was continually harassed and discriminated against by the management (Wendy) and the employees. My family has been staying at this campground for over 35 years and we have never been treated so poorly. The manager never once spoke to for 15 days that we stayed there and when I tried to reserve my site for next year they told me the site "was closed." My attorney has already been contacted.
Aug 05, 2018
We have been going to this location for over 35 years. This year manager Wendy and employee Vickie made this trip possibly our last. They were rude and demeaning. They actually told me it is time to find another location. We have never had problems in all the years we have gone there. Please have Corporate Office contact me. This Manager has taken the ambiance away from Trinity KOA.
Jul 25, 2018
Loved the way I saw people helping other people due to the fires that were going on. Great service, especially the young lady that was assisting people.
Jul 24, 2018
Had a bunch of fun with the family . The lake was supper close . Didn't use the pool this year. Awesome that there is bingo a couple nights a week . Family members had cabins and they were nice also
Jul 22, 2018
Bee hive in trees kids stung
Jul 17, 2018
We love Trinity lake
Jul 16, 2018
Wonderful experience. We will be back.
Jul 15, 2018
Wonderful family friendly campground with lots of activities for the kids. Showers, flushing toilets and garbage pick up each morning made a week long campout easier. Lots of trees for shade too.
Jul 13, 2018
Great stay. I appreciated the extra security this year compared to last year. I also preferred the change this year with reserving sites for the future.
Jul 12, 2018
Had a wonderful time! Been coming up every summer for 29 years! I love passing the tradition down to my toddler! Everyone was super friendly, the pool was always clean, i liked the store hours, it was great the mini kat was open every day, bathrooms were always clean, trash always picked up, it was nice seeing koa employees driving around at night to keep the noise at a minimum. We loved it!
Jul 12, 2018
The campground is nice and clean. Bathrooms, pool and store conveniently located. My only complaint is when I reserved my site I was told that I could choose any of the campsites available when we arrived. The entire camping area was extremely vacant and the woman who checked me in was kinda rude and at first said that I couldn't change sites but I was allowed to reluctantly. She had to change a
CAMPGROUND RESPONSE / COMMENTS:
Thank you for your feedback. Sounds like there was a little miscommunication of policy on our part to the staff. Our apologies.
Jul 10, 2018
We were placed between two large groups near the road, it was rather loud. The facilities were nice and the pool was lovely. It was overall very pleasant.
Jul 09, 2018
The KOA staff are super nice and friendly. The security staff at night do not enforce the 10p quiet rule and unfortunately it took a lot away from our night time experience. Speed laws should be enforced as well. This is a family place but many individuals have zero respect for others or nature and can get very rowdy!
Jul 09, 2018
Mariam that works in the store is very unfriendly. I was woke up at 7:30 am from a dirt bike ripping up and down the street of out campground. Lots of motorized vehicles (quads, golf carts)being driven by under age drivers, only a matter of time before an accident.
Jul 08, 2018
The tent camp was clean, everything was as it should be. Only gripe was that I left my USB battery pack to charge in the bathroom and had it stolen. Any chance you could rent out charging lockers ( a locker to charge personal electronics) or metered electrical outlets at the tent campsites?
CAMPGROUND RESPONSE / COMMENTS:
Thank you for your feedback. We hope to have some charging lockers available soon.
Jul 07, 2018
Enjoyed the first night but the second night not so much. There was a group next to us (more than 6 people and more than max two car limit) that were excessively loud , using profane language and smoking marijuana, which was conducive for our children to be around. Not sure why there are KOA campsite rules if no one is around to enforce them.
Jul 07, 2018
Quiet campground, clean.
Jul 07, 2018
Koa is my preferred campgrounds to enjoy the outdoors. However it was crazy expensive and activities were not included. Also each time I took a shower it was trickling cold water only and management did not seem to care at all, camping somewhere with showers is WHY I paid the crazy prices (that have risen substantially since my last stay).
CAMPGROUND RESPONSE / COMMENTS:
Thank you for your feedback. We have addressed the water pressure issue in the bathhouse.
Jul 06, 2018
Great tent campsites enjoyed our stay.
Jul 04, 2018
Friendly Staff. Clean pool. Well stocked store. Great time!
Jul 02, 2018
My son-in-law, his son and I stayed two nights at the Trinity KOA. We stayed in a different site than we normally do and had a pleasant time. We visited the campsite to check out backpacking trails for a backpacking trip in three weeks-just before our annual camping trip to Trinity KOA, Some nieces, nephews and their children and I plan to backpack for three days prior to our Trinity KOA gathering
CAMPGROUND RESPONSE / COMMENTS:
We look forward to seeing you again soon.
Jun 20, 2018
Amazing KOA!
Jun 19, 2018
We had a blast! I absolutely love that the kids were able to color their own backpacks, totes, and pillow case covers. Something they could take home and always remember our stay.
CAMPGROUND RESPONSE / COMMENTS:
Glad you had a great time
Jun 18, 2018
We had the best customer service with every interaction. We were left alone and able to enjoy our company. The grounds were immaculant. We were so pleased we bought a membership amd will be using it to explore other local KOAs with our 5 teenagers.
Jun 17, 2018
Beautiful campground with lots of space between campsites. Tent camping that is. Clean showers and clean grounds. Very professional at the front check in with a small store with basics. Great stay.
Nov 10, 2020
It was a great vacation at the Trinity Lake KOA Holiday (7-10 September). There were almost no visitors at this time. We lived in two tents in Forest Loop 2 #158. Available for use (within walking distance (2 minutes)): - restroom, - shower - dishwashing station - laundry There was a drinking water tap next to our tent. At the entrance you can find many additional free entertainment for every taste (see attached photos). There was a small shop at the reception (you can buy firewood, fishing rods and other useful things for camping). Unfortunately at this time it was the end of the season and we were not able to rent kayaking. I recommend going to the lake, just put on high shoes and pants (a lot of dry and tall grass). I would like to mention that the staff have always been friendly and helpful. P.s. Pet friendly Thank you very much, we will come again soon!
- Ekaterina Terekhova on Google
Sep 11, 2020
Best place ever
- Alma R on Google
Sep 05, 2020
This is a great place to come with family. They have a lot to do and it is very clean. We were there for the Labor Day weekend. Unfortunately, when we showed up the smoke from all the fires all over California had shifted to Lake Trinity. My son has very bad allergies and was having trouble breathing so we had to cut our trip short. We went to the front desk to explain and they were so kind and helpful and even refunded the days we were not going to be there for. The staff here is more kind then any other place we have camped at. I would definitely recommend this place and we will be coming back for sure!
- Monika Sierra on Google