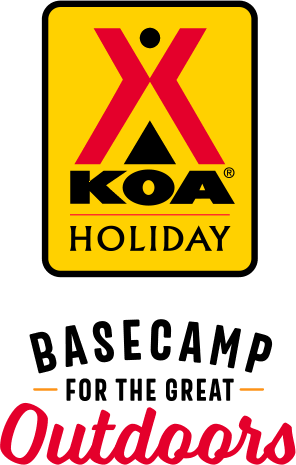 KOA Holiday Campgrounds
Whether you're exploring the local area or hanging out at the campground, KOA Holidays are an ideal place to relax and play. There's plenty to do, with amenities and services to make your stay memorable. Plus, you'll enjoy the outdoor experience with upgraded RV Sites with KOA Patio® and Deluxe Cabins with full baths for camping in comfort. Bring your family, bring your friends, or bring the whole group – there's plenty of ways to stay and explore.
KOA Holidays Feature:
RV Sites with a KOA Patio®
Deluxe Cabins with full baths
Premium Tent Sites
Group meeting facilities
Directions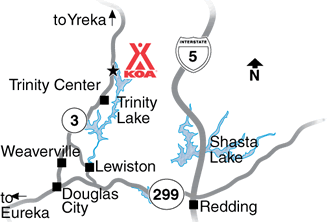 From I-5 South, (if in a car or under 25 ft.) take Hwy 3 Exit in Yreka and drive 70 miles south to Trinity Center. If over 25 ft, we recommend continuing south to Redding, turn west of 299 West, drive 40 miles west to Weaverville, then take Hwy 3 north 30 miles to Trinity Center.
From I-5 North, take Hwy 299 West Exit to Redding, turn west on 299 West, drive 40 miles west to Weaverville, then take Hwy 3 north 30 miles to Trinity Center.
This business operates under a special permit on land under the jurisdiction of the Forest Service.
Get Google Directions
Jul 25, 2020
I had a great time it is a nice and clean place although we ran into a rattlesnake at our cabin and the sofa bed was dirty and uncomfortable need new furniture other than that it was a great time the people are great
Jul 25, 2020
Beautiful well laid out campground with many amenities.
Jul 25, 2020
We got to enjoy ourselves to the fullest and had a super great time enjoying the the California sun.
Jul 24, 2020
Our stay was rough because of our RV but the camping was amazing at this KOA. Take a short walk to the lake to swim. Everyone was kind they got us in a day early. There is a lot for the kids all ages too do. Also fresh hamburgers and ice cream right there. Don't be afraid to be at this one it is very clean also
Jul 24, 2020
Very spacious camp sites & clean bathrooms. Firewood (burns too rapidly as well so bring your own) and ice is overpriced but I get it. It's unfortunate that the lake has depleted so much.
Jul 23, 2020
So great, the campground was nice and clean - though there were lots of people there it didn't feel that crowded!
Jul 23, 2020
The camp site size is great. There were plenty of space. The first night the bathrooms were locked due to power outage. There was no communication or back up toilet. The second night, my daughter (8 yrs old) and I took a shower that lasted maybe 2 minutes because the water was not warming up. Hours later my husband took a shower only to find cold water. It was not worth $180 camping for 2 nights
Jul 22, 2020
Once again we had a wonderful family oriented trip.That is why we keep coming back. Staff is always helpful and pleasant. The only thing that could have been better was the operation of the Mini Kat restaurant. This is a huge part of the experience at the KOA and management this year was poor. Staff was always very nice but they kept running out of common foods and ice cream.
Jul 22, 2020
we enjoyed our stay very much and will come again!
Jul 22, 2020
So friendly , clean and fun for the whole family . The store was the cutest with everything that you could need . They had rentals for watercraft and a little hamburger/ snack shack !!!
Jul 21, 2020
Due to Covid-19, pool was closed. There was a large group that stayed up late Monday night and were very loud. Otherwise, great!
Jul 21, 2020
Very relaxing environment with many activities.
Jul 21, 2020
We camp here every month. Beautiful scenery, clean facilities and friendly staff!
Jul 21, 2020
Site was next to bathrooms, which was very noisy. Also bathrooms were not clean. Would not stay here again.
Jul 21, 2020
The sofa bed was like sleeping on coils... it needs to be changed. Was inconvenient for us as we had 4 people, it was very uncomfortable.
Jul 20, 2020
As always, we enjoyed our time at the Lake Trinity KOA. We stayed in the deluxe 2 bedroom cabin w/ patio and it was excellent. I do think the bathroom could do with some sprucing up (mold in the shower corner, old fixtures). Everything was functional, though. Staff was friendly and helpful. Check-in and check-out were seamless and easy. Looking forward to next year.
Jul 20, 2020
This is an annual trip when we can make it, 14 family members total (4 cabins). Always a good time. Cabins are always clean and provide everything we need. Staff at office very accommodating.Can't wait for next year!!!!
Jul 20, 2020
We had a wonderful camping experience at Trinity KOA. Thank you!
Jul 20, 2020
Power was out when we arrived mid July - no storms or obvious weather conditions. Farther from swimming, beach, or water access than expected. Nice remote location if you enjoy getting out of town.
Jul 19, 2020
Have been coming here with family group for over 30 years. Beautiful area. Everyone seemed to be doing a good job with social distancing.
Jul 19, 2020
Not happy about additional charge for noon arrival! Camp was clean prior to arrival and no additional needs For setup!!
Jul 19, 2020
Wonderful stay. Really wish you would confine motorcycles to loop 4. Too noisy. Too reckless.
Jul 19, 2020
Great location! My family and I have camped here many times and once again didn't disappoint. Friendly staff and clean campgrounds. Bathrooms always stocked and usable. Look forward to 2021 trip which is already booked. Thx KOA Trinity crew
Jul 19, 2020
Very nice stay. Great store
Jul 18, 2020
We have stayed there for many years and we love it. This year there were a lot of problems with the electricity which was difficult because it was really hot. On the last night of our stay we got yelled at by our neighbor for running our generator. Also I know the KOA doesn't own the Mini Kat but it would be nice to know what their hours are. Marina was great! We'll be back.
Jul 17, 2020
Wendy and her staff do a good job in the store at maintaining social distancing and face coverings.However, the restroom cleanliness has always been a problem. With COVID-19 we thought the restrooms would be cleaner than they were. Even though the pool was not open, it wasn't maintained. The pool was green and the lawn area needs to be replaced. It has always been full of weeds instead of lawn.
Jul 17, 2020
The campsite was very nice. Your website stated that the campsite we reserved had a sandy bottom area which it did NOT have. We would have brought softer padding if we had known. The bathrooms, under Covid,we would have expected to be rigorously cleaned every day. They were not. The staff knew almost nothing about regional hikes, and there was barely any info or maps available. Still we had fun.
Jul 17, 2020
Staff super friendly and helpful. Great facilities and activities. Beautiful setting.
Jul 17, 2020
The setting was beautiful; however, the power shut off EVERY day we were there for at least 2 hours, leaving us with no AC in 100+ degree heat, and the employees didn't seem to be very worried about it. They would fix it but it often didn't seem to be a priority. The employees also seemed to have no info about places to go to get in the lake (not well informed about the area).
Jul 16, 2020
We always have a great time at Trinity KOA but their bathrooms are not cleaned often enough. They are dirty, often run out of soap, paper towels and toilet paper. We were told that cuz of COVID they would be cleaned more often...no evidence of that!
Jul 16, 2020
need someone to empty garbage cans on docks daily, everyday the garbage cans were over flowing and trash stacked all around them from the previous days, the camp sites where clean and staff very nice
Jul 15, 2020
Great time, my kiddos really enjoyed all the things. The only downside was that the bathroom #1 was not kept very well. Always out of soap, toilet paper and paper towels. Otherwise it was a great time and we can't wait to come back.
Jul 15, 2020
had difficulty finding campground once we finally arrived campsites not clearly marked and was unable to find our camp site and left going further down the road. This by far was the worst KOA campground we have come across. We have stayed at 5 other KOA campgrounds with no problems in last two months. Over several years have been to too many to count KOA campgrounds with no problems.
Jul 14, 2020
We love Trinity Lake KOA!
Nov 10, 2020
It was a great vacation at the Trinity Lake KOA Holiday (7-10 September). There were almost no visitors at this time. We lived in two tents in Forest Loop 2 #158. Available for use (within walking distance (2 minutes)): - restroom, - shower - dishwashing station - laundry There was a drinking water tap next to our tent. At the entrance you can find many additional free entertainment for every taste (see attached photos). There was a small shop at the reception (you can buy firewood, fishing rods and other useful things for camping). Unfortunately at this time it was the end of the season and we were not able to rent kayaking. I recommend going to the lake, just put on high shoes and pants (a lot of dry and tall grass). I would like to mention that the staff have always been friendly and helpful. P.s. Pet friendly Thank you very much, we will come again soon!
- Ekaterina Terekhova on Google
Sep 11, 2020
Best place ever
- Alma R on Google
Sep 05, 2020
This is a great place to come with family. They have a lot to do and it is very clean. We were there for the Labor Day weekend. Unfortunately, when we showed up the smoke from all the fires all over California had shifted to Lake Trinity. My son has very bad allergies and was having trouble breathing so we had to cut our trip short. We went to the front desk to explain and they were so kind and helpful and even refunded the days we were not going to be there for. The staff here is more kind then any other place we have camped at. I would definitely recommend this place and we will be coming back for sure!
- Monika Sierra on Google