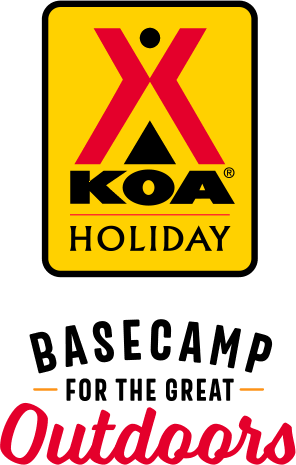 KOA Holiday Campgrounds
Whether you're exploring the local area or hanging out at the campground, KOA Holidays are an ideal place to relax and play. There's plenty to do, with amenities and services to make your stay memorable. Plus, you'll enjoy the outdoor experience with upgraded RV Sites with KOA Patio® and Deluxe Cabins with full baths for camping in comfort. Bring your family, bring your friends, or bring the whole group – there's plenty of ways to stay and explore.
KOA Holidays Feature:
RV Sites with a KOA Patio®
Deluxe Cabins with full baths
Premium Tent Sites
Group meeting facilities
Directions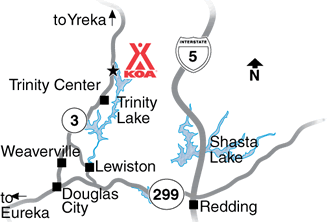 From I-5 South, (if in a car or under 25 ft.) take Hwy 3 Exit in Yreka and drive 70 miles south to Trinity Center. If over 25 ft, we recommend continuing south to Redding, turn west of 299 West, drive 40 miles west to Weaverville, then take Hwy 3 north 30 miles to Trinity Center.
From I-5 North, take Hwy 299 West Exit to Redding, turn west on 299 West, drive 40 miles west to Weaverville, then take Hwy 3 north 30 miles to Trinity Center.
This business operates under a special permit on land under the jurisdiction of the Forest Service.
Get Google Directions
Aug 03, 2020
Very lax security showers taken over by transients no Locks so you have to worry about theft,site littered with garbage,rules ignored cut our stay after 1 night Peter
Aug 03, 2020
This was our first trip there, we will be back for sure! It is a pretty busy park, but it has tons of activities to do. Our favorite part was being able to drive right to the lake from the campground. Bring an EZ-UP and some floaties and enjoy.
Aug 03, 2020
We enjoyed the campground; however, we were disappointed in the lack of sanitation/cleaning of the bathrooms. Trash didn't get emptied on a regular basis and often times it was overflowing. No soap in the soap dispenser and the sinks rarely got wiped down. Was told the bathrooms got cleaned 3 times a day (that was not the case). Preferred tent sites were spacious/kids loved put put and gaga ball
Aug 03, 2020
The bathrooms were in terrible condition our whole stay. I had to report the overflowing garbage cans to the front office staff several times. This is the first time I have stayed at a KOA where I didn't feel comfortable using their bathrooms.
Aug 03, 2020
The KOA staff are great and accommodating with ride to/from airport. Tent sites great. Too bad water level low and long walk. Grandkids had fabulous fun with rented tricycles.
Aug 03, 2020
Our site was very rocky but decent
Aug 03, 2020
It was a nice camp site I really like the fact that they were flat and Spacious but the bathrooms were disgusting. Many people did not have their dogs on leashes... Almost hit a dog because it's owner was throwing a ball for it right in front of my moving truck. Also the lake isn't meant for beach swimming at all.... many people were getting stuck in the mud before reaching the water.A bit pri
Aug 03, 2020
Everything was great. Was disappointed by the treatment of the registration agent at the front. I don't know her name. She was a young white women with an accent. Very rude when checking in and out.
Aug 03, 2020
We had a great stay we rented kayak and paddle boards it was great fun!
Aug 03, 2020
The restrooms and showers were filthy. The campsite was very nice. However because of the COVID virus and the unsanitary conditions of the restrooms and showers I would not recommend to travelers to stay at your campground.
Aug 03, 2020
The lake isn't a great spot if you don't have a motorboat so we spent most our time in camp. The shoreline was too muddy I wouldn't return without a different boat, to that lake which was the draw. Tent site very overpriced (72.30/nt) didn't see the value other than cornhole. The bathrooms were disgusting, poorly maintained. No extra Covid safety measures in place big disappointment
Aug 02, 2020
Been coming to the lake for 31 years that says alot.
Aug 01, 2020
Check-in was quick and easy. Our campsite had ample space for a 36 ft RV and additional car. It seemed to be well maintained and it was quiet.
Aug 01, 2020
Wonderful camp sites, nice accommodation, mostly clean and serviced restrooms (poor water pressure in the lady's Showers) very nice and helpful Staff. I was Tent camping Tuesday thru Thursday and there were many Open Sites. However I was a little dismayed why new arrivals were not spread out a little more, instead of stacking Tent Sites together, Recommend spacing when possible. We will return
Aug 01, 2020
The dog area garbage not emptied, cold showers in evening, and waste slow at R88 sight, almost like full septic. Other than those it was awesome and such a beautiful campground. We are talking about coming back.
Aug 01, 2020
Great place and excellent location. The only problem was the campground location which is next to the main road and unfortunately there was a big party goin on across the road from our location that did not let us enjoy the night quietly. Other wise everything is great at this place.
Jul 31, 2020
Bathrooms were disgusting the entire time.
Jul 30, 2020
We've been coming to Trinity Lake KOA for many years. Wendy and her crew are always very welcoming and work hard to take good care of all her guests.. She has completed a lot of upgrades to the campground including refurbishing the campsites, office/store and recreational facilities. The marina and boat docks are the best on the lake. Definitely, deserves the KOA Founder's Award for Excellence!
Jul 30, 2020
Highlight of our year!
Jul 30, 2020
Unfortunately we had an ok time. The cabin we enter was not at cleaning standards. The store staff was awesome and a pleasure deal with. They house keeping crew was rood. We complain about our room and then the next day was confronted by the cleaning staff witch made us feel very uncomfortable the entire time as we got dirty looks. I would make a suggestion and have more towel Exchanges.
Jul 30, 2020
Used to be Wyntoon. Still a lovely lake. Large tent campsites. Cabins are a little dirty and old , but fine for those that would rather not pitch a tent. Staff very nice. Snack bar privately owned and a bit disorganized with hours not open as posted and long lines. Staff At office store conscientious regarding COVID precautious, but no precautions at snack shack. Area is absolutely beautiful!
Jul 30, 2020
Our family had an amazing time on our family vacation. Very clean KOA and so many things for the kids to do even with the pool closed.
Jul 29, 2020
I have been staying at this campground for 50 years (KOA operated for the last ~ 20 years) It is as wonderful as ever. Wendy, the KOA manager, does a fantastic job keeping the place in good working order. The yellow shirted staff are very friendly and helpful. The marina could use a few more boat slips. We'll be back again and again.
Jul 29, 2020
Great family park.
Jul 29, 2020
It was wonderful but too hot, not your fault of course and we found out that the end of May and June are cooler so we will be seeing you next June, guaranteed. We loved the place.!!!
Jul 29, 2020
Poorly kept campground. Some of the profits should be put back into up keep.
Jul 29, 2020
Great service from beginning to end. We wanted to move our kids from their tent site to our RV site and it happened with no issues at all! Great employees at the office/ general store. Quiet site. Large site! We're hoping to come back again next year.
Jul 28, 2020
The first cabin we were assigned was flooded. We then waited for a different cabin. When checked into that cabin, it was very obvious it was not cleaned appropriately. We did not expect perfection, however during a pandemic I believe it's very important to have properly cleaned. We were also never offered any refund or discount. Considering the amount we paid, this was unacceptable.
Jul 28, 2020
My only concern was sanitation. We sanitized the cabin before we used. Light bulbs need to be replaced.
Jul 28, 2020
We were assigned site #38. It was oddly configured. Fire pit and picnic table on hook up side of trailer with heavy traffic area within less than 10 feet of fire pit. While KOA has no control over Lake levels, we had to negotiate a shoreline of muck to get kayaks into water. I would not go again during low lake levels and would not stay at Site #38 again. Friendly, courteous, helpful staff
Jul 28, 2020
The drive through sites are so so close that your chairs are sitting in your neighbors sewer line. We stayed in #61 the 2nd night and it was very nice and spacious. My only suggestion for this pretty and friendly park would be to dig out a few of the rocks and boulders that you have to clear to park your RV. Nice store for amenities and well kept camp sites! Super friendly staff and we will return
Jul 27, 2020
While I understand that more people are camping this summer due to pandemic restrictions, I felt this KOA did not take the impact of the increased influx of people seriously. The staff was very courteous, but overwhelmed. The garbage was stacked up, the bathrooms were dirty and under supplied. I feel they needed another 5 people working to keep up with the needs of the compers.
Jul 27, 2020
I highly recommend the cabin!! Just bring your clothes and food and you're all set.
Jul 27, 2020
Last minute midweek 2 night stay @ #41. Although not level, we had no neighbors! We didn't use any of the facilities however, the grounds are clean and appear in great shape. The store has a few staples yet no prices on most items. Tristan was very helpful while he conducted price checks & an additional night stay. While "new" he was utmost polite & conducted himself in a professional manne
Jul 26, 2020
Great place just wish the pool was opened but we understand.
Jul 26, 2020
We rented 3 cabins, 2 RV spaces and 2 campsites. I rented them several months before and checked back frequently to get the RV sites and cabins near each other. None were near each other and there was no attempt to get them close. I do not understand this? Otherwise it was clean pickers up garbage daily. The campsites were next on each other
Jul 26, 2020
This KOA gets VERY crowded. The tent sites are large and spacious, but can get loud with people talking and dogs barking. The bathrooms and showers were okay, but messy with used Paper towels and toilet paper on the ground. Also the showers leaked all over the floor making a muddy mess and there was a tone of hair balled up in each of the shower drains. If they cleaned more often it would help.
Jul 26, 2020
The campsites were too close together. The wifi didn't work unless you were by the office or pool. They charged four bucks min for their special coffee drinks. Couldn't get a regular customer of coffee. The signage to get around the park needs to be clearer. We ended up driving out rv into the tent area. Staff was not very friendly but not rude.
Jul 25, 2020
The cabin we stayed in was a bit more rustic than other KOA cabins we have rented in other locations. The campground is in the woods and we had a nice back deck. The amenities were great, mini golf, playground and ping pong were lots of fun! We were disappointed that the snack bar was never open during our stay. Also it would have been nice to have ice cube trays available to use in cabin.
Jul 25, 2020
We had to inform management about the lack of cleanliness of our cabin. The pull out bed was actually disgusting. We took photos. The experience was disappointing and frustrating. Staff was understanding and provided a free night. It helped but we left feeling pretty upset. The snack shop and pool were closed too which didn't help but wasn't KOA management fault.
Jul 25, 2020
Outside of an altercation between other campers that resulted in the local police being called it was great. Site was clean and the location has all the amenities one could hope for.
Nov 10, 2020
It was a great vacation at the Trinity Lake KOA Holiday (7-10 September). There were almost no visitors at this time. We lived in two tents in Forest Loop 2 #158. Available for use (within walking distance (2 minutes)): - restroom, - shower - dishwashing station - laundry There was a drinking water tap next to our tent. At the entrance you can find many additional free entertainment for every taste (see attached photos). There was a small shop at the reception (you can buy firewood, fishing rods and other useful things for camping). Unfortunately at this time it was the end of the season and we were not able to rent kayaking. I recommend going to the lake, just put on high shoes and pants (a lot of dry and tall grass). I would like to mention that the staff have always been friendly and helpful. P.s. Pet friendly Thank you very much, we will come again soon!
- Ekaterina Terekhova on Google
Sep 11, 2020
Best place ever
- Alma R on Google
Sep 05, 2020
This is a great place to come with family. They have a lot to do and it is very clean. We were there for the Labor Day weekend. Unfortunately, when we showed up the smoke from all the fires all over California had shifted to Lake Trinity. My son has very bad allergies and was having trouble breathing so we had to cut our trip short. We went to the front desk to explain and they were so kind and helpful and even refunded the days we were not going to be there for. The staff here is more kind then any other place we have camped at. I would definitely recommend this place and we will be coming back for sure!
- Monika Sierra on Google