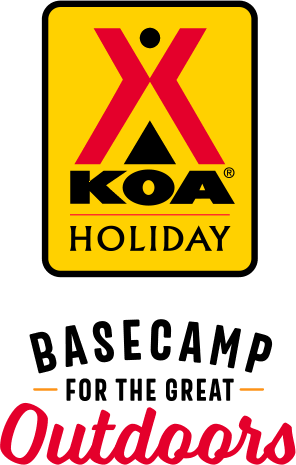 KOA Holiday Campgrounds
Whether you're exploring the local area or hanging out at the campground, KOA Holidays are an ideal place to relax and play. There's plenty to do, with amenities and services to make your stay memorable. Plus, you'll enjoy the outdoor experience with upgraded RV Sites with KOA Patio® and Deluxe Cabins with full baths for camping in comfort. Bring your family, bring your friends, or bring the whole group – there's plenty of ways to stay and explore.
KOA Holidays Feature:
RV Sites with a KOA Patio®
Deluxe Cabins with full baths
Premium Tent Sites
Group meeting facilities
Directions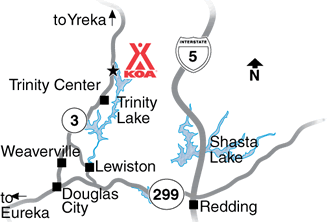 From I-5 South, (if in a car or under 25 ft.) take Hwy 3 Exit in Yreka and drive 70 miles south to Trinity Center. If over 25 ft, we recommend continuing south to Redding, turn west of 299 West, drive 40 miles west to Weaverville, then take Hwy 3 north 30 miles to Trinity Center.
From I-5 North, take Hwy 299 West Exit to Redding, turn west on 299 West, drive 40 miles west to Weaverville, then take Hwy 3 north 30 miles to Trinity Center.
This business operates under a special permit on land under the jurisdiction of the Forest Service.
Get Google Directions
Aug 17, 2020
Good time, our kids had a ball
Aug 16, 2020
Had a great time. Camp is well maintained and they are doing a good job managing COVID19 restrictions. Wish the Mini Kat restaurant was as good as it was back in the day.
Aug 16, 2020
We had a relaxing stay. I like that it had an enclosed pet area. The sites are closer together than I like but it was clean and offered quite a few things to do for kids. I would stay again!
Aug 16, 2020
Our KOA stay was great. The only blemish was the camper who came into site 182 right next to us on our last day. He became drunk, loud, and belligerent that night. He was raving like a lunatic, threatening violence with an axe against neighbors (not us) over their barking dog. Eventually, the cops showed up at 2 a.m., and by next morning he was gone. Not KOA's fault, though. It happens.
Aug 16, 2020
Wish the water level was a little higher, but I know KOA has no control over that. Everything was top notch. We will definitely be back!
Aug 16, 2020
The facility was in decent shape however the "Street Lamps" that are on all night long shine into the tents and is very difficult for some folks. Also, at this location there is short road along the side of the camp group that leads to the lake and there were a lot of very loud vehicles of various types that went out of their way to make a lot of noise, even at night and it was very disturbing.
Aug 15, 2020
They need put more atención an cleaning tha cabin o there and tha everything was nice
Aug 15, 2020
We had a great time at you KOA, thank you for everything, we'll be back.
Aug 14, 2020
This was such an amazing trip, I extended it for two additional days. Customer service was great, the folks at KOA genuinely care about the campers experience. I am already working on returning next week! :)
Aug 13, 2020
Cabin clean , bed very comfortable, nice to have air conditioning, very peaceful, staff friendly & attentive.!!
Aug 12, 2020
Nice big campsites. Beautiful place. First night people behind us were very loud in tell 1am.
Aug 12, 2020
We had a great time. we rented the bikes. 2 out of 5 of them broke we were offered a refund. The campground was clean and well kept up. The price was a little high for the area.
Aug 12, 2020
Beautiful location with lots of trees and space between campsites
Aug 12, 2020
Everything was great and the staff on site was amazing. They kept everything clean.
Aug 11, 2020
This was my 49th year staying here. It was the worst year I have ever had. The water being shut off for 2 days at a full hook-up site. The flies were terrible. The staff had very few friendly people. Your gas prices were very high. ( $4.49 and at Trinity Center $3.65) I doubt that I will ever stay here again.
Aug 11, 2020
Although we had a leak under our trailer and had to have our water turned off the last day of our stay; it was a great trip. Glad we helped them locate the leak they were looking for for a while. Can't wait to go back when the pool is open.
Aug 11, 2020
On the pool side was my 1st time staying on that side. Dont like it. It's the party side there to relax not listen to loud people
Aug 10, 2020
I have been coming to Trinity Lake for 54 years. It's my favorite lake and my favorite camping place.
Aug 10, 2020
We tent camped for one week and had a wonderful time! Everyone was extremely friendly and helpful.
Aug 10, 2020
The only good thing I can say about this park is that the food at the walk-up burger joint (Mini Kat) was really good. Burger and shake was awesome. The camp is not close to the lake, people with their motorized vehicles and loud animals abounded and there was absolutely no cell service or TV reception/cable.
Aug 10, 2020
No fishing access,, sites very small,, water and electricity turned off without notice,, I would not not recommend this particular KOA John P
Aug 10, 2020
The first night there was a very loud group that had many more people in their site than they should have, loudly partying until one in the morning. The bathrooms had toilets that were not flushing and locks that didn't work. Not worth the money for what we got.
Aug 10, 2020
We really enjoyed the experience. The two issues were the power going out and the water going out, however we know that these things were completely out of your hands and it actually added to the fun. We will likely stay again.
Aug 10, 2020
We first got there late cause we were behind and somehow our reservation got messed up but they were able to put us in an RV spot even though we we're there with a tent. We didn't unpack at the spot, just put up the tent to sleep and immediately left the next morning. 9 hours max. And they still charged us for using an RV spot!! They seem to care more about money than helping their customers.
Aug 09, 2020
The grounds and tent sites are beautiful! Quick access to the lake which was nice. Bathrooms were clean and being cleaned multiple times a day which made myself and my family very comfortable during the pandemic.
Aug 09, 2020
No curbside check-in. Check in had plexiglass, masks and occupancy limits but limits were not enforced and a teenager made contact in store. My spouse is immunocompromised and we know two people have died from COVID. Other campers ignored infection control guidelines. Crowds of unmasked foul-mouthed kids roamed unattended and did not respect social distance anywhere. Loud. Terrible internet.
Aug 08, 2020
Very accommodating
Aug 08, 2020
The kayaks on the lake were a highlight for us. We brought water shoes so the mud did not bother us. Great staff. Thank you!
Aug 07, 2020
My family only stayed 2 nights, but really enjoyed being there. The facility was nice. Cabins were cute and clean. Will come back again.
Aug 06, 2020
We had a great time. Campsites are large. Lots of room for my son to ride his bike around safely. Found some good hiking trails and there is always the lake for a good time.
Aug 06, 2020
This KOA is one of our favorites and we always look forward to returning.
Aug 05, 2020
Very clean. The bathrooms, showers and campsite were always clean. Trash was picked up twice a day. Will definitely come back. Great snack bar. The mini golf and tricycles were so fun. Our neighbors were partying until 3am, but we mentioned to management and they spoke to them the next day. Other than that, great stay!
Aug 05, 2020
Peaceful stay in a great campsite.
Aug 04, 2020
Great place to go camping. Second time here and a great time.
Aug 04, 2020
Pool was closed. Lake was hot and you had to slog through mud in order to swim. Seems that 75% of the KOA's we stayed at allowed swimming. There is no unity in the KOA system. Maybe next year will be better
Aug 03, 2020
I just finished a 9 night stay here and could have stayed another week! It is safe for the kids and just feels like home to me.
Nov 10, 2020
It was a great vacation at the Trinity Lake KOA Holiday (7-10 September). There were almost no visitors at this time. We lived in two tents in Forest Loop 2 #158. Available for use (within walking distance (2 minutes)): - restroom, - shower - dishwashing station - laundry There was a drinking water tap next to our tent. At the entrance you can find many additional free entertainment for every taste (see attached photos). There was a small shop at the reception (you can buy firewood, fishing rods and other useful things for camping). Unfortunately at this time it was the end of the season and we were not able to rent kayaking. I recommend going to the lake, just put on high shoes and pants (a lot of dry and tall grass). I would like to mention that the staff have always been friendly and helpful. P.s. Pet friendly Thank you very much, we will come again soon!
- Ekaterina Terekhova on Google
Sep 11, 2020
Best place ever
- Alma R on Google
Sep 05, 2020
This is a great place to come with family. They have a lot to do and it is very clean. We were there for the Labor Day weekend. Unfortunately, when we showed up the smoke from all the fires all over California had shifted to Lake Trinity. My son has very bad allergies and was having trouble breathing so we had to cut our trip short. We went to the front desk to explain and they were so kind and helpful and even refunded the days we were not going to be there for. The staff here is more kind then any other place we have camped at. I would definitely recommend this place and we will be coming back for sure!
- Monika Sierra on Google