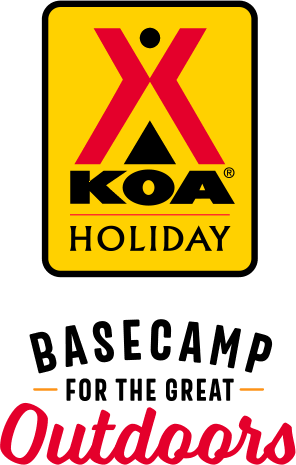 KOA Holiday Campgrounds
Whether you're exploring the local area or hanging out at the campground, KOA Holidays are an ideal place to relax and play. There's plenty to do, with amenities and services to make your stay memorable. Plus, you'll enjoy the outdoor experience with upgraded RV Sites with KOA Patio® and Deluxe Cabins with full baths for camping in comfort. Bring your family, bring your friends, or bring the whole group – there's plenty of ways to stay and explore.
KOA Holidays Feature:
RV Sites with a KOA Patio®
Deluxe Cabins with full baths
Premium Tent Sites
Group meeting facilities
Directions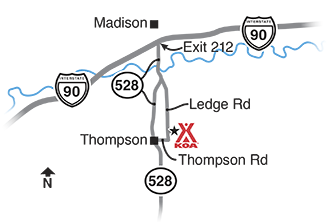 Located only 4 miles off Route 90 Exit 212/Route 528. Take 528 South 2 miles to Ledge Rd. Head east 2 miles; campground is on the left.  Road is dirt for about a mile.
If you would like to stay off dirt as much as possible.  Take 528 South past Ledge Rd.  Take the round about in the Thompson Square and head east on Thompson Rd.  Take a left on Ledge Rd. at the bottom of the hill.  You will still be on dirt but for a much shorter amount of time... less than 1/4 mile.
Get Google Directions
Oct 12, 2021
Although the campground seemed nice, from the minute I stepped into the office and interrupted the kids on their phones, my visit went downhill. Not only did they make me feel unwanted, the kids actually acted like I was putting them out by checking in. Then they gave me a map and circled what ended up being a non existent or unmarked site. I tried calling the office 3 times and they wouldn't answ
Oct 09, 2021
So appreciate the ease of late night arrival! Love the dining shelter!!!! Tent sites were big! Bathrooms so clean, and hooray for all gender designation! Love the Halloween theme and the playgrounds. Other campers were friendly. Thank you!
Oct 04, 2021
One of the nicest KOAs I've stayed at. They had a little of everything. Staff was friendly. Restrooms, showers and laundry space were clean. Internet worked well. The only negative was that the bathrooms were quite a walk from the tent sites.
Sep 20, 2021
My kids had a blast. Very clean family friendly place.
Aug 16, 2021
This is not my fifth year in a row camping at this campground. For the past few years we have been able to look forward to something new being added for the guests. New owners = pool no longer heated, bathrooms by office were filthy, the roads are full of potholes, no beautiful landscaping, sites had to breathe such as mulch piles and broken tree limbs limiting your space. Hope they do better nxt
Aug 16, 2021
My family reunion has been here for years, alot of us rent cabins and tent sites. Once koa took over it seemed this place was adding something new every year.. after this year I'm very concerned. It seemed like it hasnt been upkept in the same way as prior years. The gravel roads were AWFUL. I hit a pothole and broke an led strip on my underbody. $50. Id write more but Im out of space to type.
Aug 16, 2021
So many fun things for the family to do. The campground is well maintained. The staff was friendly and helpful. Our family had a great stay.
Aug 14, 2021
Our camp site was ok. Too close to next campsite. The lake inflatables were fun, nice staff. The golf cart we rented for $53 kept dying and barely ran, very loud. Maintenance had to push it to the registration office because it completely died, and we only had it for one night. All registration said was, "yea, we know its an old cart". I felt I got ripped off on the golf cart rental.
Aug 11, 2021
The 11:00 quiet curfew is not being emphasized or monitored. Our neighbor was up and loud until 3:00 am. There were no scheduled activities for the kids like they've always had in the past which was a real bummer. The lake activities aren't being maintained and they're we're not improvements done to the playground that's been under construction for over a year.
Aug 10, 2021
Clean tent sites, clean bathrooms, lots of activities. We had a great time!
Aug 10, 2021
One night quick camping stay. lots to do around the area. The bathrooms were unkept but you are camping so that's expected. Stayed at a tent site. Pretty rocky area for your tent not much grass to set up on. However it was awesome they had covered areas over a picnic table for rain times at each camp site.
Aug 09, 2021
My friends and I have come to this campgrounds once a year for the last 23 years. The improvements every year are just phenomenal. As clean of a campgrounds as I have ever seen. The pool is great. I wish the pizza shop was open later than 6 p.m. Over all though, a terrific place to camp out.
Jul 26, 2021
Very disappointed in the site we got. It was very muddy with huge ruts in it with no grass. We were moved to another site with the same issues. We were told there was no where else to move us even though we seen plenty of empty sites. Another family also wanted to camp the same weekend as us and they were told it was full even though there were plenty of empty sites. The ruts should have been rake
Jul 18, 2021
I know that you have no control over the weather but we tented in Aspen site and spent the week with mud literally up to our ankles!! And when a storm went through and blew our tent over and flooded us ever worse. The only help given to us was a shovel and the opportunity to take down our large tent and move at 10pm on our last night!! I would like someone to call me to review my experience.
Jul 10, 2021
Staff was very friendly. Lots of stuff to do. Had a great time so did my 4 year old daughter. But the amount of trash at the campsite and playground was pretty nasty.
Jul 09, 2021
We love the improvements to the tent sites! The covered platform/extra platform are wonderful additions, and made our stay that much more enjoyable. We stayed at Cherry in 2019 and it poured the entire night making our site 80% under water the next morning. I saw where it is still very primitive, but the other sites are vastly improved. One negative is the temp in the bathhouse. We used 2 &
Jul 07, 2021
It was wonderful! They were very helpful and accommodating. Great activities for the kids!
Jul 06, 2021
I was one of a number a family members who stayed this weekend. Lots of fun for the kids. Bathrooms/showers are clean and spacious. Camp staff was great. Delivered wood and ice to our sites when we called the office. Had a broken step on my sisters cabin deck and the maintenance dept was on it quickly and showed great concern for our safety.
Jul 06, 2021
Our site was awesome and the fireworks were fantastic! Looking forward to coming back!
Jul 01, 2021
We loved our stay. The kids had plenty to do and even though it was raining on and off they could still play on the playground and jump on the pillow jumper. the camp was well maintained and so much fun.
Jun 21, 2021
It would have been perfect if the pool was actually heated.
Jun 21, 2021
Had a great stay originally we were in Butternut but switched to Cedar upon check in. The campsite was nice but there was litter behind the wood structure and some other litter spread throughout.
Jun 19, 2021
I was only there briefly. I came in late save it was hard to find my tent site. Fortunately I found someone who showed me where it was. Everything was clean and I felt comfortable. Thank you
Jun 19, 2021
Fun, clean, and plenty secluded! Great campground, highly recommend!
Jun 18, 2021
Loved the addition of the canopies at all the sites. Really enhanced the experience.
May 22, 2021
Very lovely stay everyone was nice at the front desk, we felt very welcomed. Very beautiful spot with nice lakes and trails. Will come back every time we camp
May 18, 2021
We are experienced tent campers but this was our first time staying at a KOA property. Our stay at this location was fantastic. The tent site was large, included 2 picnic tables on a wooden platform and the entire site was shaded and nicely mulched. We were set back from RV sites which was appreciated. Our daughter loved the playgrounds and the staff was very friendly. We will certainly be back!
Sep 29, 2020
Always an awesome time!!
Sep 15, 2020
The Thompson KOA is what we call the child's paradise! There is so much to do and keep them busy, our kids just love it!
Sep 15, 2020
Amazing time, yet again. Thank you for giving my family another fun weekend!
Aug 31, 2020
An excellent campground with extremely nice sites. Lots of things to do.
Aug 26, 2020
Soooo nice to have private bathroom while camping. You guys have taken a lot of time to take care of details of the finer points of camping. The swimming toys and extra pool nicely landscaped is a gem! Love the privacy all natural fencing between campers. This dog lovers retreat is unique to add special attention for dogs. Love this place and all is has to offer!! Now about horses...�
Aug 25, 2020
We love staying at the Thompson/Grand River Valley KOA! Beautiful park, great owners, friendly staff and LOTS of fun things to do!
Aug 18, 2020
Love it here. A lot to do. Everyone is super nice. Great campsites!
Oct 12, 2021
We really enjoyed our stay here! Had a Deluxe Cabin for 2 nights and it had many amenities included which made our packing much easier. Amenities aren't listed clearly on website. (Bedding,Towels, dishcloths,cups, plates,bowls,silverware, microwave, small fridge, coffee maker, toaster,(nostove),propane grill(they furnish propane,) dish soap, garbage bags, toilet paper, etc. Great kids park with a huge bouncing pillow. Large dog park! Swimming pool, ponds, beautiful views and landscaping. If you're into Halloween this place fills up and most everyone decorates their places! I guess it is a big deal for all ages! (We stayed Sept. 29-Oct1)
- Sherry on Google
Sep 23, 2021
Nice place with lots of amenities.
- Matthew Ebert on Google
Sep 17, 2021
🌾 I love the folks KOA hires to run their campgrounds. The employees are always polite, always helpful, always happy and pleasant. For example, today K'Lora and Evan were working in the office. Not only were they Super wonderful when we checked in, they found my missing phone. And when I came to the office to see if it had been turned in, K'Lora said, " I'm so glad you came to get it; I noticed it only had 3% battery so we charged it in case someone called it". I mean, how considerate was that? 😊 Thompson KOA has worked To make improvements to the campground a little bit each year and it really is a special place to come. The lake is gorgeous. The pool is nice and well-kept. The grounds are always well kept and they try to make each campsite special in its own way for every visitor by adding something special to each site either for privacy or comfort.
- mary d on Google