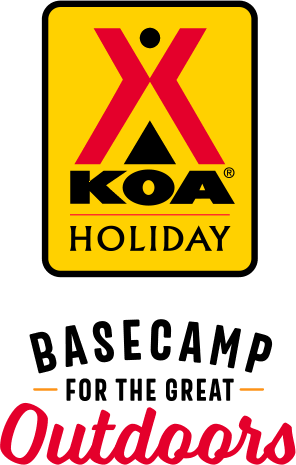 KOA Holiday Campgrounds
Whether you're exploring the local area or hanging out at the campground, KOA Holidays are an ideal place to relax and play. There's plenty to do, with amenities and services to make your stay memorable. Plus, you'll enjoy the outdoor experience with upgraded RV Sites with KOA Patio® and Deluxe Cabins with full baths for camping in comfort. Bring your family, bring your friends, or bring the whole group – there's plenty of ways to stay and explore.
KOA Holidays Feature:
RV Sites with a KOA Patio®
Deluxe Cabins with full baths
Premium Tent Sites
Group meeting facilities
Directions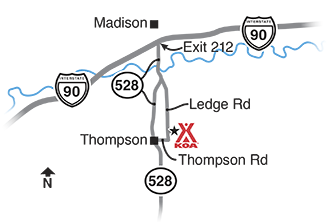 Located only 4 miles off Route 90 Exit 212/Route 528. Take 528 South 2 miles to Ledge Rd. Head east 2 miles; campground is on the left.  Road is dirt for about a mile.
If you would like to stay off dirt as much as possible.  Take 528 South past Ledge Rd.  Take the round about in the Thompson Square and head east on Thompson Rd.  Take a left on Ledge Rd. at the bottom of the hill.  You will still be on dirt but for a much shorter amount of time... less than 1/4 mile.
Get Google Directions
Jun 20, 2021
From difficulty checking in computer system, shower houses not maintained.Flowers not weeded, grass not cut. NO ice cream, pizza. Price of wood $8/6 sticks, sparse store stock, The play areas pillows (pond & playground) not inflated properly . Staff pleasant and appologetic , was a great camp ground, New Management has to way to go to previous standards.
Jun 20, 2021
nice place to camp with kids....bummer that the heated pool was cold and could not swim, they dont sell worms or maggots for fishing
Jun 20, 2021
Very nice facility. Staff was very friendly and helpful. Special thanks to the maintenance crew. They went out of their way to help us when we needed it.
Jun 19, 2021
Wonderfully clean. Fun for the kids
Jun 19, 2021
upon arrival, check in was smooth and fast. Campsite was very clean,ready for setup and spacious. Lots of activities for kids and pool was very clean. Enjoyed quiet evenings and bike riding through the park.
Jun 19, 2021
Beautiful, quiet, friendly, fun, clean, responsive, lots to do! Best campsite we've been to!
Jun 19, 2021
Fantastic place for a family vacation!!! Love all the amenities and cleanliness. Staff is so helpful and nice. Will be back again!
Jun 19, 2021
I was only there briefly. I came in late save it was hard to find my tent site. Fortunately I found someone who showed me where it was. Everything was clean and I felt comfortable. Thank you
Jun 19, 2021
Beautiful campsite. Very friendly staff. Golf carts need some work, the gas models do not run very well. Store could use a few more grocery items, like donuts! Overall, a very nice KOA!
Jun 19, 2021
Fun, clean, and plenty secluded! Great campground, highly recommend!
Jun 18, 2021
We were there for 3 nights and enjoyed it tremendously. We had trouble with one dryer but an employee took care of us!
Jun 18, 2021
This was our first ever camping experience and it was great! It could not have gone any better. Everyone there was so nice and your staff are so friendly and always willing to help!
Jun 18, 2021
Loved the addition of the canopies at all the sites. Really enhanced the experience.
Jun 17, 2021
Kenny at the desk was extremely professional, pleasant and engaging. The older gentleman that escorted us to our site was just as nice and spoke with us while we were there to ensure that we were happy. Another groundskeeper that we encountered was just as engaging and informative about the new playground structure and the construction of the bounce pad. He was very proud if the place
Jun 17, 2021
It was short but very nice grounds. Lots of room between rv's and very pet friendly!!! Will be back for a longer stay in the furture.
Jun 16, 2021
We had a wonderful stay in the large cabin and are looking forward to staying in the cabin again next year.
Jun 16, 2021
It was very nice and relaxing. �ϋ� We rented a golf cart, and it could use a tune up.
Jun 15, 2021
All employees were very friendly and attentive. We had a great site right across from the lake....we will definitely be returning.
Jun 15, 2021
Loved this park and wished we had more time there. We will definitely be going back. It was beautiful and clean. The staff was great.
Jun 14, 2021
Dogs barking the entire time and kids running through our campsite constantly.
Jun 14, 2021
**2021 Edit** 2019 Rising Star, 2021 Falling Star Our first visit to this particular KOA was in 2020. We had a great time and made reservations for 2021. When I read that the campground had been purchased by KOA corporate, I was excited to see what new changes would await us upon arrival. A lack of attention to detail is obvious; unkempt landscaping, dusty, rutted roads, pizza stand is closed.
Jun 14, 2021
Enjoyed the campground, very friendly staff and very accommodating. Only thing that need to change is the 11:00 checkout time is too early. No time to make a nice breakfast and pack everything up. Most campgrounds check out is at 1:00pm - why so early there? Even noon would be better than 11:00am. Felt rushed when camping is supposed to be relaxing. Last year it was at noon, why did it change?
Jun 14, 2021
Stayed in a cabin for 3 nights and had a blast! Pool area was great and pond was clean and fun as well. Cabins were clean too.
Jun 14, 2021
Lots of fun. Need more rental golf carts.
Jun 14, 2021
I have no complaints about anything, just a concern and a suggestion. I suggest preventing birds from nesting in the rafters of the individual pavilions, and eliminating carpenter bees from the structure as well. There are humane ways to accomplish both. Those birds and bees in the pavilion structure are the only things I desire to have been different.
Jun 14, 2021
This is one of the nicest campgrounds we've stayed in. It's perfect for families, very clean, and had great staff!
Jun 14, 2021
Loved the campground and had a lot of fun with the family and dogs. My dog loved to be able to go swimming � Only thing you need to work on is making the sites leveraged. We had a heck of a time to get it leveled, do did our neighbors. Other than that it was great... oh yeah you need to open your icecream stand � Staff was very friendly and helpful.
Jun 13, 2021
Very clean campground everyone Very nice
Jun 12, 2021
Excellent stay
Jun 12, 2021
Loved the campground. The text messaging feature to staff was super helpful to us. Only negative was that the kitchen ware could be more comprehensively listed on the site for what is available for the deluxe cabin. (If it was we both missed it) All the public place were super clean and people were friendly. Felt really safe given the pandemic.
Jun 12, 2021
Love the cabin we stay in. Will be back with family next time.
Jun 11, 2021
My family had a lot of fun at the campground! The cabin was nice and clean and the staff were friendly. We like this place so much, we are coming back in September!
Jun 11, 2021
We stayed in a deluxe cabin. It was greater than what I expected. There was so much to do there and in the area" and the staff was courteous and accommodating. My kids and I had a great week and will definitely return. This was the best KOA property we have visited yet!
Jun 17, 2021
New owner same great place... Thanks Glenn and Kenny!!
- Dan Doughty on Google
Jun 14, 2021
So many good thing's about this place! Roomy spaces, beautiful ponds and so dog friendly! Even a doggie beach for our fur baby :) Well kept and very clean. Staff was very friendly and helpful too. Definitely will be back!
- Ann Van Pelt on Google
Jun 13, 2021
What an amazing place to stay! Super clean staff very friendly this place is beautiful so much to do for all ages. Great camp store close to attractions Price is very reasonable i will definitely be back
- Judith L Martinez on Google