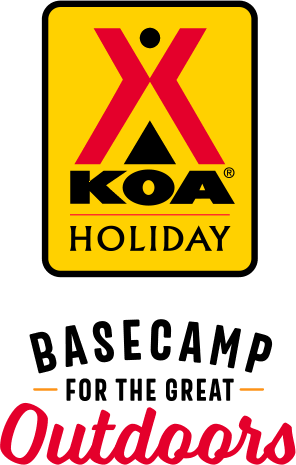 KOA Holiday Campgrounds
Whether you're exploring the local area or hanging out at the campground, KOA Holidays are an ideal place to relax and play. There's plenty to do, with amenities and services to make your stay memorable. Plus, you'll enjoy the outdoor experience with upgraded RV Sites with KOA Patio® and Deluxe Cabins with full baths for camping in comfort. Bring your family, bring your friends, or bring the whole group – there's plenty of ways to stay and explore.
KOA Holidays Feature:
RV Sites with a KOA Patio®
Deluxe Cabins with full baths
Premium Tent Sites
Group meeting facilities
Directions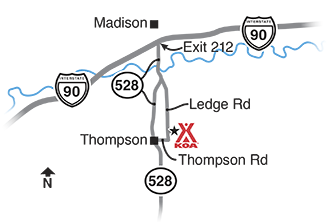 Located only 4 miles off Route 90 Exit 212/Route 528. Take 528 South 2 miles to Ledge Rd. Head east 2 miles; campground is on the left.  Road is dirt for about a mile.
If you would like to stay off dirt as much as possible.  Take 528 South past Ledge Rd.  Take the round about in the Thompson Square and head east on Thompson Rd.  Take a left on Ledge Rd. at the bottom of the hill.  You will still be on dirt but for a much shorter amount of time... less than 1/4 mile.
Get Google Directions
Mar 31, 2021
Cheryl & Don were very accommodating. The camp ground was close enough to my work and it was wonderful that they had a site for me in the winter that had sewer water and electric hookups. Dennis E Leary
Mar 22, 2021
quick two night trip. Really enjoyed our stay in the cabin.
Jan 14, 2021
Very nice campground. Always making improvements and the owners are great people.
Jan 10, 2021
Don and Cheryl go out of their way to make sure everyone has the opportunity to have the best season ever! Even through this season of Covid madness, they planned socially distant activities to entertain everyone, from the kids to grandparents, all while still providing space for personal relaxation. And they still managed to make more improvements and added new amenities for all to enjoy!
Jan 10, 2021
This is the best overall campground we have stayed at for many years. The staff is professional, helpful, knowledgeable about campers camping and local area, and very friendly. The campground host's live music, tons of activities, included a small fishing lake, swimming pond with sand beach and water slide. They also have a large heated swimming pool. St night the can become a very quiet and stays
Jan 10, 2021
A lovely campground with super friendly and efficient staff! You get a feeling of serenity the minute you pull in the driveway!
Dec 15, 2020
Love this place my second home. Don and Cheryl are great!
Dec 14, 2020
These people and their crew do an amazing job. This is a great place to stay, everything is clean and orderly. Weekenders come in and when they leave employees clean the site including the fire pits for the next person.
Dec 02, 2020
Beautiful, peaceful campground
Dec 02, 2020
It was awesome. A beautiful place to camp. Everyone was very friendly. Already made reservations for next spring. Can't wait for it to open in the spring.
Nov 07, 2020
I've been here for over a year and a half because of work. The owners are awesome and plan many events. They have done a great job with COVID this year. Upgrades done each year and kids are loving it here.
Nov 07, 2020
If I could rate this campground 10 stars I would !!! We are fortunate enough to travel a lot and we try to stay mostly at KOA Campgrounds . This campground is the best campground in every aspect ! Friendly staff, easy checking, BEAUTIFULLY landscaped, large, level lots, TONS a of activities! Can't say enough good things about this campground !!!
Nov 03, 2020
We loved everything about your park. It was our first visit. Staff so friendly! We will be back!
Nov 02, 2020
This is kind of late getting back to you but our stay was fantastic. Our site was awesome, Thanks Again and we will return for sure.
Oct 29, 2020
Friendly staff; clean campsite and facilities. Highly recommend.
Oct 29, 2020
Beautiful, unique, and clean. We stayed late in the fall but will be back next summer. The owners and staff are Wonderful!
Oct 27, 2020
Beautiful fall setting, wonderful owners and staff as usual. Sad the season is ending. Can't wait for next season!
Oct 27, 2020
Been. Monthly for 2+ years now. Everything is top rate. Don & Cheryl and family are amazing hosts, and work very hard to make it the best.
Oct 27, 2020
Very clean and beautiful KOA. The staff is very knowledgeable, very friendly and they will go out of their way to help you in anyway needed. There are so many fun things to do, it's a lifetime of great memories with family and friends.
Oct 27, 2020
One of our favorite campgrounds. Even though the weather was chilly, and there was a lot of mud from all the rain, we still had a wonderful time! The staff is always so friendly and helpful!
Oct 27, 2020
This is our 2nd stay at this KOA, and we like it a lot, so many things to do!! Our neighbors were a little out of hand Saturday night, but I can overlook that, I have reservations for next summer!!!
Oct 27, 2020
Always a great stay
Oct 27, 2020
We had a great time as first time family campers. The cabin was clean and cozy. Will definitely be returning!
Oct 27, 2020
One of the best RV parks we've stayed at! Super clean, really well landscaped, very friendly staff. Our spot even had a private fenced in little yard for the dogs. We would definitely stay here again!
Oct 27, 2020
Awesome campground! Staff are all very friendly. Sites are clean and well maintained. Quick check-in. Could use a little more gravel on roadways to make walking easier and less muddy. We love staying here with our trailer and will return next year.
Oct 27, 2020
It was a wonderful time, Everything was perfect, including the sweet orange kitty . Enjoyed spending time with him
Oct 27, 2020
Staff was friendly and helpful during our stay!
Oct 27, 2020
They were very nice and helpful if I had any issues which were minor. This campground has much to offer for activities . Would stay there again!
Oct 26, 2020
A great visit! Love your views and the fall colors this time! See you next season!
Oct 26, 2020
Cabin 8 is our favorite. Right on the fishing lake. It was so clean too. I'm talking spotless! The clorox wipe I took to wipe the kitchen, bathroom, etc was as white after wiping as it was when I pulled it out of the can. Not even a fingerprint on a window or door. Big refrigerator/freezer, microwave, toaster, coffee maker. Hooks to hang wet suits. Been here 2x already. will be back.
Oct 25, 2020
Great place.
Oct 25, 2020
As usual we had a very nice stay at the campground, despite the weather (huge thunderstorms). Wi-Fi was strong.
Oct 24, 2020
I stayed for 5 months (2020). The grounds were beautifully maintained. The entertainment for both children and adults was outstanding. There were lots of fun activities and plenty of friendly neighbors. The owners and employees were always friendly and helpful. I'm looking forward to returning in 2021.
Oct 21, 2020
Staff very helpful and nice. Spots are spacious. My visit was only a two night and end of season. I was very impressed and will be checking it out this summer.
Oct 20, 2020
During our stay someone stole our mini propane bottle
Oct 20, 2020
Perfect camping!
Oct 20, 2020
We stayed at SP2 which was awesome. We were aligned into our spot to best use the structure and the sewer / water / electric. Everything was well done and we booked for next year already.
Oct 20, 2020
We love camping here! The sites are very nice and the comfort stations are wicked clean. The owners are great!
Oct 20, 2020
Awesome as always! Sad to see the season end.
Nov 01, 2020
Amazing KOA. We have always had excellent and friendly staff. The camp ground is immaculate and the sites are perfect. We have stayed many times here and we have never had a bad experience. I stayed out there for a golf outing in the area I called ahead to drop off the camper many hours before check in. After the outing I came back to my camper placed on my site.
- Nick Occhionero on Google
Oct 20, 2020
We have stayed at many, many KOA's and this has to be one of our favorites! The grounds and facilities are immaculate. We were here for one night with our pups and stayed in one of the teepees (there are 3 of them) that are along the pond, what a view! Very spacious inside, nice to have a mini fridge and air conditioning. One thing to be aware of is that there is no latch for the entrance in to the teepee and the tarp that zips up (the front door) doesn't completely reach the ground so there is a gap. We were concerned about maybe critters getting in, which didn't happen. We did put all of our food in the car at night. Also concerned about the dogs maybe sneaking out so we placed our suitcase and cooler to block that area (worked out perfectly). We walked around the campground in the morning checking out the different accommodation options and Halloween decorations that alot of folks had put up, seems like there are quite a bit of permanent, semi-permanent sites here. Staff was super friendly, easy check in and check out process. It's nice that they are gated so you have to check in to gain access to the campground. The location is off the beaten path but just a short drive to some of the wineries in the area. We loved it and plan to go back next season!
- MelissaLasVegas on Trip Advisor
Oct 19, 2020
This KOA with a western country theme has it all for families and friends. Fishing, boat and cart rentals and so much more. Wish we had stayed longer. Very relaxing.
- Craig Stow on Google